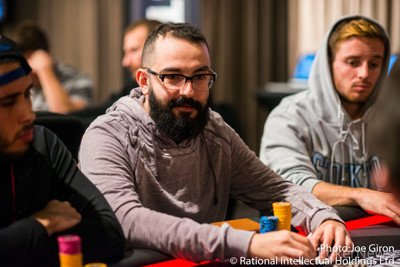 PokerStars Festival New Jersey has seen two starting flights come and go, and it's time for everyone to get together under one roof to compete for the first time in the tournament, as Day 2 is set to begin at 11 a.m. local time with 70 runners.
Ruben Costa, who topped Day 1a with a stack of 222,500, is the man to catch for the moment. Others entering Day 2 with hefty stacks include John Gulino (196,700), Ryan Hohner (157,300), New Jersey regulated online market whiz Michael Gagliano (144,900), Dan Howe (138.900), and Survivor star Tyson Apostol (135,200).
Team PokerStars will also be represented, as Randy Lew, Victor Ramdin, and Barry Greenstein will all take to the felt when cards are in the air at 11 a.m. local time.
The schedule as of now calls for another 10 levels of play, each lasting one hour. There will be an 80-minute dinner break after the sixth level, so there's another grueling day of poker ahead. Blinds will begin at Level 11 (800/1,600/200). Keep an eye here throughout the day for all of the live updates.
Nível: 11
Blinds: 800/1,600
Ante: 200
Nível 11 : 800/1,600, 200 ante
The call to shuffle up and deal came with a few announcements from Tournament Director Mike Ward.
Apparently the plan today is to play down to just three tables remaining.
If they get close when the tournament reaches the 18th level, they'll stop play then. They've cancelled the dinner break as well, and without that, they should reach Level 18 around 8 p.m., giving players the chance to enter the 3rd Annual Chad Brown Charity Tournament, a $200 event with unlimited $100 reentries that starts at that time.
If there are still six tables in play at 8 p.m., Ward says they will play on.
Nível 11 : 800/1,600, 200 ante
Michael Gagliano has wasted no time getting involved on Day 2.
On a board of
, Gagliano bet 13,000 from the cutoff when Asher Conniff checked to him out of the big blind. Conniff jammed for about 40,000 more, and Gagliano folded.
The very next hand, five players saw a
flop for a raise. Action checked to Gagliano in the hijack, and he fired 9,500. Only the player on his right called. That played led for 11,000 on the
turn and Gagliano called. Both quickly checked the
, and the cutoff announced his hand but we couldn't hear it. Gagliano said it was no good, and his opponent nonetheless turned over
. Gagliano showed
to take it with aces.
Nível 11 : 800/1,600, 200 ante
Anthony Garofalo was all in from midlle position for about 30,000 with
, drawing slim against Ryan Hohner in early position with
.
The board came down
, no help to Garofalo, locking up the pot for Hohner.
Nível 11 : 800/1,600, 200 ante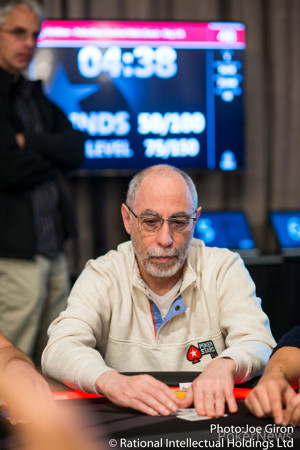 Team PokerStars is off to a rough start.
Barry Greenstein saw a
flop for a raise from middle position against a player in the big blind, who check-called 5,000. Greenstein barreled again for 7,800 on the
turn, and his opponent put in 15,000. The dealer made him put in 600 more for a legal raise, and Greenstein nonetheless folded after some time.
At another table, Victor Ramdin called the all-in shove of an early-position player who had about 11,000. Ramdin held kings and was fading only a pair of deuces, but his opponent called for a backdoor heart flush and got there with the
river.
Nível 11 : 800/1,600, 200 ante
Bernard Gallagher raised to 4,000 from under the gun, Eli Kim three-bet to 9,800 from the button, Gallagher four-bet to 24,500, Kim five-bet to effectively 50,000, and Gallagher called all in.
Gallagher:

Kim:
The board ran out
, giving Kim a pair of aces to eliminate Gallagher.
Jogador
Fichas
Progresso

Eli Kim

133,000

35,800

Bernard Gallagher

Eliminado
Nível: 12
Blinds: 1,000/2,000
Ante: 300
Nível 12 : 1,000/2,000, 300 ante
Jogador
Fichas
Progresso

David Johnston

185,000

93,500

Dan Howe

144,000

5,100

Peter Smyth

135,000

55,800

Seung Woo Yoo

132,000

59,900

David Vamplew

120,000

24,600

David Levitch

111,000

14,100

Jack Duong

93,000

-18,300

Nick Aguilera

74,000

-36,200

Carlos Chadha

31,000

-9,800