€25,500 Single-Day High Roller I
Dias: 1
€25,500 Single-Day High Roller I
Dia 1 Terminado

Nível 18 : 25,000/50,000, 5,000 ante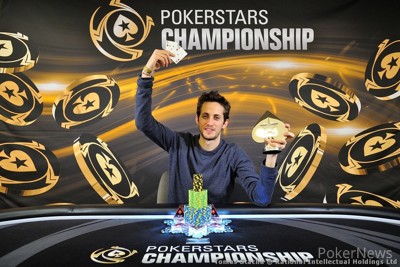 A bunch of EPT champions, some bracelet winners, a WSOP Main Event victor, and a lot more high rollers gathered in the Hilton Hotel in Czech Republic's capital for the first of two Single-Day High Roller events at the PokerStars Championship Prague. After just 11 hours of play, Albert Daher lifted the trophy. Daher beat a field of 50 entries, taking home €324,727 for his hard day of work, the biggest prize of his career by some margin.
| Position | Player | Country | Prize | Prize in US$ | Original Prize |
| --- | --- | --- | --- | --- | --- |
| 1 | Albert Daher | Lebanon | €324,727* | $384,090* | €386,000 |
| 2 | Ryan Riess | United States | €278,475* | $329,382* | €278,700 |
| 3 | Mikalai Vaskaboinikau | Belarus | €239,098* | $282,806* | €177,600 |
| 4 | Adrian Mateos | Spain | €134,800 | $159,424 | |
| 5 | Oleksii Khoroshenin | Ukraine | €104,000 | $122,998 | |
| 6 | Rocco Palumbo | Italy | €79,600 | $94,141 | |
| 7 | Bartlomiej Machon | Poland | €64,300 | $76,046 | |
* A three-handed deal was struck
Play got underway just after midday with 3 tables. The field eventually grew to 37 entrants, 13 of which did a reentry to grow the prize pool to €1,225,000.
Timothy Adams, who won the €50,000 Super High Roller earlier this week, was the first to bust. Adams got it in before the flop with queens to Ole Schemion's kings and found no help. Not much later, after the first break, Adams would be the first to bust again as he got it in with kings to Roccco Palumbo's ace-queen. An ace on the turn guaranteed Adams would not cash, as just a single reentry into this event was allowed.
All the big names in poker present in Prague entered the event. Dominik Nitsche, Ivan Luca, Bryn Kenney, and Stephen Chidwick were just some of the high rollers that tried their luck but would eventually fail as they all busted midway through the day.
Sam Greenwood, Stefan Schillhabel, and Mustapha Kanit came closer to cashing but wouldn't make the cut either. Sam Greenwood bubbled the final table as he lost with tens to WSOP Champion Ryan Riess' ace-king. Stefan Schillhabel exited after getting a bad beat by Albert Daher. Schillhabel, who's had quite the year cashing for millions, got it in good with ace-king to Daher's ace-queen but the latter made Broadway on the river to send the German to the rail. As a rare feat, the bubble then started without a single German player still left in.
Mustapha Kanit would be the unlucky last player to depart without making the money. He found himself on the short side and shoved from the big blind over a small blind open. Daher called with aces and Kanit tabled king-queen. No help on the flop, turn, or river and Kanit bubbled the €25,500 Single-Day High Roller.
That left 7 players guaranteed €64,300. The one to pick up that amount was Polish high roller Bartlomiej Machon. He lost with ace-eight to Mikalai Vaskaboinikau's king-queen as the flop brought a queen.
Next to go was Rocco Palumbo after losing with ace-four to Daher's queen-eight. A queen on the flop ended it all for Palumbo who had to settle for 6th place, worth €79,600.
Daher had over half the chips in play after that hand but it wasn't the end of it by any means. Players kept on doubling up and it took a bit before Oleksii Khoroshenin exited in 5th place. The EPT Vienna champion lost with jack-ten suited to Adrian Mateos' kings and the tournament was 4-handed.
Adrian Mateos was leading after that hand but a series of unfortunate hands made him into the shortest not even 2 levels later. He first doubled Ryan Riess and eventually busted to Daher with ace-four against ace-king.
With just three players remaining, play continued until Riess requested a short break.
| Player | Chip Count | Big Blinds |
| --- | --- | --- |
| Albert Daher | 2,605,000 | 52 |
| Ryan Riess | 1,395,000 | 28 |
| Mikalai Vaskaboinikau | 1,000,000 | 20 |
When Riess returned from the bathroom, the three started talks of a deal as Albert Daher and Mikalai Vaskaboinikau were both tired.
Riess was firm in stating he was willing to play. In the end, though, the three found some common ground but then Riess found out the tournament would be over, and the trophy would go to Daher who was the overwhelming chip leader. Riess demanded to get ICM after that, and eventually got his way as Vaskaboinikau was willing to give up some. With that, the tournament was over and Daher was crowned champion.
In two days time, another €25,500 Single-Day High Roller will commence. Before that, the Main Event starts Day 2 and PokerNews will be once again on the ground to bring you all the updates.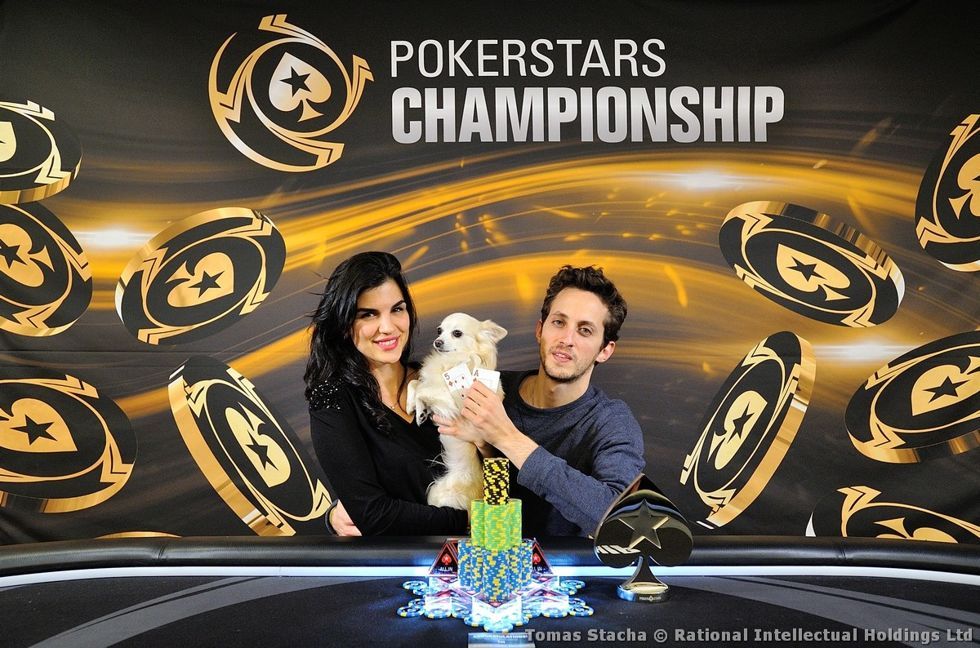 Nível 18 : 25,000/50,000, 5,000 ante
The tournament has been paused and the 3 remaining players are discussing a deal. Here are the exact chip counts:
Nível 18 : 25,000/50,000, 5,000 ante
Ryan Riess opened the action with a raise to 110,000 on the button and Albert Daher three-bet to 350,000 in the small blind. Riess called and the flop fell
. A quick bet of 210,000 by Daher did the trick to force a fold and the trio then headed into a short break as previously requested by Riess.
Nível: 18
Blinds: 25,000/50,000
Ante: 5,000

Nível 17 : 20,000/40,000, 5,000 ante
Small blind Adrian Mateos shoved and big blind Ryan Riess beat him in the pot for his last 925,000.
Adrian Mateos:

Ryan Riess:
The flop made Mateos the heavy favorite:
. The turn, however, brought the
making Riess a straight. The
river was a blank and Riess doubled.
The next hand, Mateos shoved the button for his last 345,000 and big blind Albert Daher called.
Adrian Mateos:

Albert Daher:
This time there wasn't as much excitement as the board ran out
and Mateos bowed out in 4th place.
Nível 17 : 20,000/40,000, 5,000 ante
Ryan Riess raised to 80,000 on the button and picked up a call by Mikalai Vaskaboinikau in the big blind. The duo checked the
flop and Vaskaboinikau bet the
turn for 50,000, Riess called. On the
river, Vaskaboinikau now made it 125,000 to go and Riess asked "What do you have buddy?" Within the 30 seconds shot clock, Riess called and Vaskaboinikau shook his head before turning over
for queen-high and a busted flush draw.
Riess raked in the pot with
for ace-queen high and boosted his stack slightly.
The next hand, Albert Daher raised to 140,000 on the button and quickly called the shove of Vaskaboinikau in the small blind.
Mikalai Vaskoinikau:

Albert Daher:
Both players had suited aces and the Belorussian was the player in need of help. After a board of
, he indeed got there on the river and tapped the table before quickly apologizing.
Jogador
Fichas
Progresso

Albert Daher

1,500,000

-250,000

Adrian Mateos

1,400,000

-155,000

Ryan Riess

1,300,000

130,000

Mikalai Vaskaboinikau

840,000

170,000

Nível 17 : 20,000/40,000, 5,000 ante
Adrian Mateos opened the button for 80,000 and small blind Ryan Riess shoved for 560,000. The big blind folded, Mateos called.
Adrian Mateos:

Ryan Riess:
The board came
and Riess doubled while Albert Daher claimed to have had seven-eight and Mikalai Vaskaboinikau claimed to have had ace-seven.
Jogador
Fichas
Progresso

Adrian Mateos

1,555,000

-445,000

Ryan Riess

1,170,000

555,000
Nível 17 : 20,000/40,000, 5,000 ante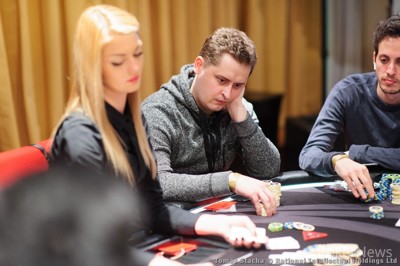 After returning from the break, Adrian Mateos scooped the first two hands and Oleksii Khoroshenin then raised to 105,000 on the button. Albert Daher asked for his stack size and shoved from the big blind, Khoroshenin folded.
Only moments later, the action started once again with a raise by Mateos, who made it 90,000 to go. Khoroshenin moved all in for around 850,000 from one seat over in the cutoff and Mateos snap-called once the he was to act again.
Oleksii Khoroshenin:

Adrian Mateos:
After the
flop, Khoroshenin let out a dry "that's a good flop" and all four opponents cracked up in laughter. Neither the
turn nor the
river brought a miracle and Daher joked "welcome to Adrian's world." Khoroshenin racked up yet another High Roller cash and received €104,000 for his 5th place finish.
Nível: 17
Blinds: 20,000/40,000
Ante: 5,000