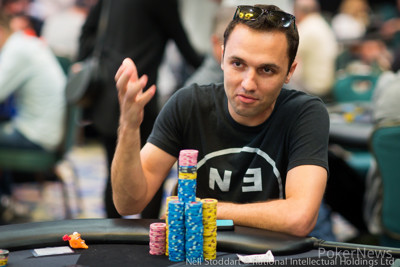 The 2017 PokerStars Championship Bahamas Main Event closed registration at the start of Day 2. The event attracted a total of 738 players with 699 of those registering on Day 1a and 1b and the remainder coming in before the start of play on Day 2. 28 players who won a ticket via a Spin & Go never showed up to play, but their buy-ins were added to the prize pool. With a total prize pool of $3,376,712, first place is paying $480,012 and a min cash is worth $7,260.
Aaron Paul headlined Day 1b and most of Day 2. He was, however, unable to find a bag at the end of the six levels. The Breaking Bad star was short and eventually got his remaining chips in the middle with ace-nine. Daniel Colman called with queen-ten and Paul was immediately on his feet to sweat the result of the hand. The flop and turn ran out an ace, king and two jacks; giving Colman the nut straight but Paul was live if he managed to find a way to make a full house on the river. The deuce was a brick, though, and Paul was sent to the rail with only nine spots to go until the bubble would burst.
Play ended at the end of Level 14, shortly after Noah Boeken was eliminated by Tom Janssens on the bubble. Janssens raised the cutoff and Boeken, a former EPT Copenhagen champion and Master Classics of Poker winner, jammed his remaining 15,800 all in from the big blind. Janssens called and tabled ace-five, while Boeken had the dominating pocket tens. Janssens smashed the river to make a straight, sending Boeken home in 144th place on the stone bubble.
Nick Maimone bagged the most chips at the end of the day with 689,000, with Daniel Colman close behind with 620,000. Maimone is no stranger to The Bahamas as he took second in a $5,000 event in 2015 and took down the $25,000 High Roller last year for just shy of a million dollars. Even though Maimone has just under two million in live recorded cashes, he has only a single recorded win. He'll look to book his second one later this week.
Other notable players to find a bag tonight include Pascal Lefrancois (484,500), Mike McDonald (436,000), Sylvain Loosli (374,000), Cliff Josephy (242,500), Team PokerStars Pros Jason Mercier (281,000) and Barry Greenstein (95,000) and Team Online's Jaime Staples (211,500).
Familiar faces who made it to Day 2 but did not move on include William Kassouf, Marc-Andre Ladouceur, Maria Ho, Mustafa Kanit, Jason Koon and Team PokerStars Pros Vanessa Selbst, Daniel Negreanu and Victor Ramdin.
Day 3 fires up tomorrow at noon with 125 players returning to play another six levels on the road to crowning a winner in the first-ever PokerStars Championship Bahamas Main Event. Blinds will start at 2,000/4,000 when the players return. Stay with us here at PokerNews for more live coverage!
| Table | Seat | Player | Country | Chip Count |
| --- | --- | --- | --- | --- |
| 1 | 1 | Dorian Rios Pavon | Venezuela | 52,000 |
| 1 | 2 | Nacho Barbero | Argentina | 77,500 |
| 1 | 3 | Will Failla | United States | 39,500 |
| 1 | 4 | Donys Ivan Agnelli Rojas | Venezuela | 175,000 |
| 1 | 5 | Jacques Der Megreditchian | France | 84,000 |
| 1 | 6 | Thomas Bo Markussen | Denmark | 29,500 |
| 1 | 7 | Axat Tulsidas Mawji | United Kingdom | 169,500 |
| 1 | 8 | Michael Vela | United States | 440,500 |
| | | | | |
| 2 | 1 | Dan Høidahl | Norway | 33,500 |
| 2 | 2 | Bradley Snider | United States | 29,000 |
| 2 | 3 | Allon Allison | Canada | 252,000 |
| 2 | 4 | Paul Knebel | Germany | 31,000 |
| 2 | 5 | Scott Stewart | United States | 115,500 |
| 2 | 6 | Harrison Gimbel | United States | 204,000 |
| 2 | 7 | Sam Chartier | Canada | 157,000 |
| 2 | 8 | Mike McDonald | Canada | 436,000 |
| | | | | |
| 3 | 1 | Michael Zuckerman | United States | 77,000 |
| 3 | 2 | Smit Trivedi | United Kingdom | 149,000 |
| 3 | 3 | Luke Haward | United Kingdom | 8,000 |
| 3 | 4 | Arnaud Mattern | France | 27,500 |
| 3 | 5 | Valentin Messina | France | 302,500 |
| 3 | 6 | Thomas Muehlemann | Switzerland | 93,500 |
| 3 | 7 | Byron Kaverman | United States | 286,000 |
| 3 | 8 | Hendrik Latz | Germany | 317,500 |
| | | | | |
| 4 | 1 | Pascal Lefrancois | Canada | 184,500 |
| 4 | 2 | Esther Taylor | United States | 35,000 |
| 4 | 3 | Pablo Mariz | Canada | 41,000 |
| 4 | 4 | Kevin Andriamahefa | Canada | 173,500 |
| 4 | 5 | Myung Shin | United States | 204,000 |
| 4 | 6 | Stein Vegar Rødseth | Norway | 99,500 |
| 4 | 7 | Rasmus Glæsel | Norway | 322,000 |
| 4 | 8 | Nick Maimone | United States | 689,000 |
| | | | | |
| 5 | 1 | Francois Billard | Canada | 20,000 |
| 5 | 2 | Bradley Marsh | Canada | 126,500 |
| 5 | 3 | Fabio Freitas | Brazil | 149,000 |
| 5 | 4 | Raul Martinez | Spain | 186,000 |
| 5 | 5 | Pedro Baptista Martinho Cabeca | Portugal | 428,500 |
| 5 | 6 | Francisco Benitez | Uruguay | 188,500 |
| 5 | 7 | Benjamin Philipps | United Kingdom | 250,500 |
| 5 | 8 | Jeremey Grayson | Canada | 50,000 |
| | | | | |
| 6 | 1 | Czeslaw Szerszen | United States | 145,500 |
| 6 | 2 | Murad Akhundov | Azerbaijan | 224,500 |
| 6 | 3 | Michael Bartholomew | Canada | 46,500 |
| 6 | 4 | Yakov Onuchin | Russia | 244,500 |
| 6 | 5 | Jason Mercier | United States | 281,500 |
| 6 | 6 | Brian England | United States | 72,500 |
| 6 | 7 | Robert Zipf | Germany | 51,000 |
| 6 | 8 | Ronan Gorey | Ireland | 202,500 |
| | | | | |
| 7 | 1 | Likith Govindaiah | United States | 100,000 |
| 7 | 2 | Ramiro Petrone | Argentina | 265,000 |
| 7 | 3 | Davidi Kitai | Belgium | 44,000 |
| 7 | 4 | Diego Gomez | Spain | 152,500 |
| 7 | 5 | Bernard Lee | United States | 35,500 |
| 7 | 6 | Tom Janssens | Belgium | 229,500 |
| 7 | 7 | Steven Kerr | Canada | 22,000 |
| 7 | 8 | Erling Voje | Norway | 49,500 |
| | | | | |
| 8 | 1 | Mariano Martiradonna | Italy | 108,000 |
| 8 | 2 | Nenad Medic | Canada | 97,500 |
| 8 | 4 | Massimo De Mario | Italy | 128,000 |
| 8 | 5 | Benjamin Wittams-Smith | United Kingdom | 25,000 |
| 8 | 6 | James Martyn | Canada | 210,000 |
| 8 | 7 | Kliment Tarmakov | Canada | 140,500 |
| 8 | 8 | James Tian | United States | 147,500 |
| | | | | |
| 9 | 1 | Harry Ratchford | United States | 22,000 |
| 9 | 2 | Jorge De Oliveira Lopez | Portugal | 90,000 |
| 9 | 3 | Nick Mossa | Canada | 62,500 |
| 9 | 4 | Chance Kornuth | United States | 97,500 |
| 9 | 5 | Ami Alibay | Canada | 300,500 |
| 9 | 6 | Rex Clinkscales | United States | 428,500 |
| 9 | 7 | Marcin Kapkowski | Poland | 274,000 |
| 9 | 8 | Aleksei Opalikhin | Russia | 387,500 |
| | | | | |
| 10 | 1 | Lucian Voigt | Germany | 167,500 |
| 10 | 2 | Allen Kessler | United States | 152,500 |
| 10 | 3 | Michael Gentili | Canada | 190,000 |
| 10 | 4 | Nadezhda Magnus | United States | 200,500 |
| 10 | 6 | John Engledow | United Kingdom | 136,500 |
| 10 | 7 | Christian Harder | United States | 232,000 |
| 10 | 8 | Jan Kralik | Czech Republic | 203,500 |
| | | | | |
| 11 | 1 | Gaelle Baumann | France | 217,500 |
| 11 | 3 | Erick Brenes Cuadra | Costa Rica | 68,000 |
| 11 | 4 | Eric Semel | United States | 43,000 |
| 11 | 5 | Barry Greenstein | United States | 95,000 |
| 11 | 6 | Florian Haiduc | Romania | 250,000 |
| 11 | 7 | Mikko Turtiainen | Finland | 160,000 |
| 11 | 8 | Matthew Wantman | United States | 92,000 |
| | | | | |
| 12 | 1 | Gautam Lillaney | Jamaica | 155,000 |
| 12 | 2 | Marius Cazacu | Romania | 145,000 |
| 12 | 3 | Adrian Mateos | Spain | 204,500 |
| 12 | 4 | Paul Fisher | United States | 32,500 |
| 12 | 5 | Damien Steel | Canada | 257,000 |
| 12 | 6 | Stig Moen | Norway | 205,000 |
| 12 | 7 | Vincent Moscati | United States | 17,500 |
| 12 | 8 | Mattias Priolo | Sweden | 274,000 |
| | | | | |
| 13 | 1 | John Dibella | United States | 80,000 |
| 13 | 2 | Jackduyph Duong | United States | 142,000 |
| 13 | 3 | Kyle Zechner | Canada | 113,500 |
| 13 | 4 | James Juvancic | United States | 431,500 |
| 13 | 5 | Dan Colman | United States | 620,000 |
| 13 | 6 | Martin Raus | Canada | 19,500 |
| 13 | 7 | Patrick Stacey | Cayman Islands | 111,500 |
| 13 | 8 | Justin Ouimette | Canada | 133,500 |
| | | | | |
| 14 | 1 | Joaquin Walter | Uruguay | 125,000 |
| 14 | 2 | Sylvain Loosli | France | 374,000 |
| 14 | 3 | Andrew Ryan | United States | 307,500 |
| 14 | 4 | Richard Seymour | United States | 110,000 |
| 14 | 5 | Daniel Weinman | United States | 167,000 |
| 14 | 6 | Erik Lemarquand | Canada | 49,000 |
| 14 | 7 | Tony Tran | United States | 298,000 |
| 14 | 8 | Lucas Greenwood | Canada | 173,000 |
| | | | | |
| 15 | 1 | Andjelko Andrejevic | United States | 103,500 |
| 15 | 2 | Ryan Riess | United States | 249,500 |
| 15 | 3 | Jaime Staples | Canada | 211,500 |
| 15 | 4 | Benoit Galland | Canada | 39,000 |
| 15 | 5 | Cliff Josephy | United States | 242,500 |
| 15 | 6 | Shawn Buchanan | Canada | 286,500 |
| 15 | 7 | Alan Schein | United States | 112,500 |
| 15 | 8 | Willliam Batista Arruda | Brazil | 360,000 |
| | | | | |
| 16 | 1 | Stanislav Miroshkin | Russia | 44,000 |
| 16 | 2 | Pedro Da Cunha Cavalieri Doro | Brazil | 61,500 |
| 16 | 3 | Rodrigo Cordoba | Argentina | 364,500 |
| 16 | 4 | Michael Scarborough | United States | 108,000 |
| 16 | 5 | Michael Bills | United States | 162,500 |
| 16 | 6 | Paul Ephremsen | United Kingdom | 182,500 |
| 16 | 7 | Pratyush Buddiga | United States | 177,500 |
| 16 | 8 | Benjamin Zamani | United States | 81,000 |