Nível 8 : 400/800, 100 ante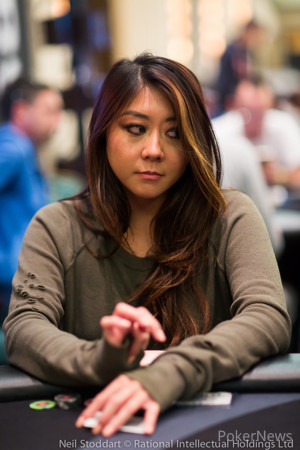 With about 9,000 in the pot, on a board reading
, Maria Ho checked from the big blind. A player in middle position bet 3,500, and Andre Akkari called from the hijack. Action was back on Ho and she called as well.
The turn was the
. Ho reached into her stack and led out for 7,700. The player in middle position thought about it for a while and opted to fold. Akkari motioned for Ho to move her arm so he could take a look at her stack. She moved her arm and Akkari called.
The river was the
. Ho paused for a moment and checked to Akkari.
Akkari wasted no time and put out a bet of 16,000. Ho had a total of 16,100 behind, leaving her with a single ante should she call and lose the hand.
Ho immediately said, "I'm going to rule out king of diamonds, ten of hearts. King-jack of diamonds - now that's possible."
Ho was clearly in agony over the decision, but said, "You wouldn't bluff me without the nut flush would you? Now that would be a mistake because I'm not good enough to fold a flush. It was my New Year's resolution to learn how to fold flushes."
Ho apologized to the table and said she would make a decision at the next one-minute mark on the tournament clock. She cut out the chips she needed to call and realized she had one ante left. Ho said, "If I do call, I'm not putting this last chip in. That's for sure."
She continued to talk out loud and discuss what his range of hands would be. She even asked Akkari, "Are you bluffing me one in four times?" Eventually, Ho tossed in the 16,000 in chips, indicating a call.
Akkari rapped the table and said, "Nice hand" as he tabled
for a set of nines. Ho showed
for a queen-high flush and raked in the pot.