$5,000 Main Event
Dias: 1a
$5,000 Main Event
Dia 1a Começado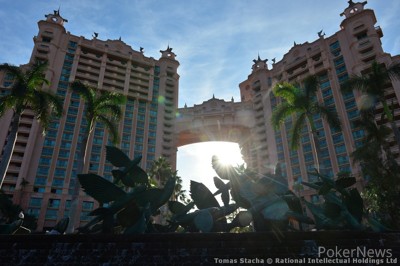 The inaugural PokerStars Championship Bahamas kicked off January 6th and runs all the way through January 14th at the Paradise Island's Atlantis Resort. While the PokerStars Championship Bahamas is new, its predecessor, the PokerStars Caribbean Adventure or simply the PCA, has been around for some time. A look back at the former champions in this elite event.
| Year | Entrants | Prize Pool | Champion | Prize |
| --- | --- | --- | --- | --- |
| 2004 | 221 | $1,657,500 | Gus Hansen | $455,780 |
| 2005 | 461 | $3,487,200 | John Gale | $890,600 |
| 2006 | 724 | $5,647,200 | Steve Paul-Ambrose | $1,388,600 |
| 2007 | 937 | $7,063,842 | Ryan Daut | $1,535,255 |
| 2008 | 1,136 | $8,562,976 | Bertrand Grospellier | $2,000,000 |
| 2009 | 1,347 | $12,674,000 | Poorya Nazari | $3,000,000 |
| 2010 | 1,529 | $14,831,300 | Harrison Gimbel | $2,200,000 |
| 2011 | 1,560 | $15,132,000 | Galen Hall | $2,300,000 |
| 2012 | 1,072 | $10,398,400 | John Dibella | $1,775,000 |
| 2013 | 987 | $9,573,900 | Dimitar Danchev | $1,859,000 |
| 2014 | 1,031 | $10,070,000 | Dominik Panka | $1,423,096 |
| 2015 | 816 | $7,915,200 | Kevin Schulz | $1,491,580 |
| 2016 | 928 | $4,500,800 | Mike Watson | $728,325* |
Back in 2004, the PCA was a WPT event which took place aboard the Royal Caribbean Voyager of the Seas cruise ship. Gus "The Great Dane" Hansen won the first PCA Main Event ever, topping a field of 221 entrants in the $7,500 Main Event to get his hands on $455,780.
Since 2005, the PCA took place at the Atlantis Paradise Island and it was John Gale who was triumphant on the island first, beating 460 other players in the $8,000 Main Event to win $890,600, which is still his largest live tournament score to date.
The first PCA Main Event to award a six-figure prize came 12 months later when Steve Paul-Ambrose outlasted 723 opponents to scoop $1,388,600 before Ryan Daut won a famous heads-up battle with Isaac Haxton in 2007 to win $1,535,255.
Daut's victory was the final PCA flying under the World Poker Tour banner because, from 2008 on, the PCA became part of the European Poker Tour. Quite fittingly, the first EPT edition of the PCA was won by a European, Team PokerStars Pro Bertrand "ElkY" Grospellier, who became the first player to secure a payout of at least $2 million from the PCA Main Event.
The largest first place prize was awarded in 2009 when a massive field of 1,347 players were outlasted by Poorya Nazari. Until his win, Nazari had only won $94,832 from live tournaments but his PCA victory added a colossal $3 million to his lifetime winnings. Nazari's haul is officially the largest PCA Main Event score in the festival's history, but rumors suggest that it was third-place finisher Benjamin Spindler (official payout $1,100,000) who was the biggest winner after a three-way deal was made.
Harrison Gimbel took down the 2010 PCA Main Event and returned home with $2,200,000 more than he arrived in the Bahamas with, before Galen Hall triumphed in 2011, which was the PCA with the most entrants on record at 1,560. Hall turned his $10,300 into a most welcome $2,300,000.
John Dibella was crowned the 2012 champion. Dibella won $1,775,000 and went on to play more poker in 2013 and 2014, winning approximately $370,000 before trailing off slightly since.
Bulgarian pro Dimitar Danchev enjoyed the biggest cash of his career when he topped a field of 987 in the 2013 PCA Main Event and collected $1,775,000. Since his huge win, Danchev has become a familiar face in the biggest tournaments around the world.
In 2014, a relatively unknown Polish player by the name of Dominik Panka entered the $10,300 PCA Main Event along with 1,030 other players. Several days later, Panka played some breathtaking poker and was the last man standing in the tournament, meaning he was rewarded with $1,423,096. Panka went on to win the €10,300 High Roller at EPT Deauville later that month, almost reach the final table of the EPT Barcelona Main Event later in 2014 and win almost €350,000 by finishing third in the EPT Malta Main Event in 2015.
The penultimate PCA Main Event, and the last Main Event to feature a $10,300 buy-in, was taken down by American Kevin Schulz. Schulz came out on top of a field of 816 players and padded his bankroll with $1,491,580.
Finally, Canadian superstar Mike Watson got his hands on an EPT title when he navigated his way through a talented final table at the 2016 PCA Main Event. He defeated Anthony Gregg heads up to become the last PCA Main Event champion, an accolade that came with a $728,325 prize.
2017 PokerStars Championship Bahamas
The PokerNews Live Reporting team is heading to the Bahamas to bring you our trademark superb coverage of the PokerStars Championship Bahamas. Our team will be reporting on the $5,300 Main Event and several side events.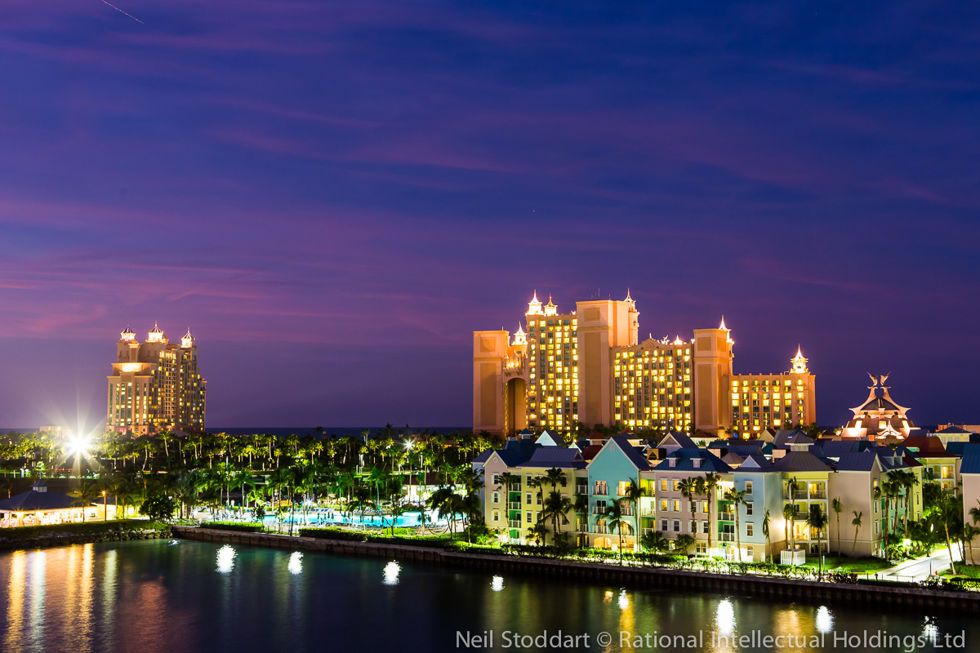 Day 1 a of the inaugural PokerStars Championship Bahamas awaits, players from all over the world will flock to the Grand Ballroom of the Atlantis Resort here on Paradise Island to play one of the biggest events of the year this morning.
Last year, Mike Watson won the event after striking a deal with Anthony Gregg who finished runner-up after finishing in that very same spot back in 2009 as well. Watson took home $728,325, a smaller prize than in recent years with the buy-in halved to $5,000.
Play begins at 11 AM sharp (in about two hours) with a total of eight levels on the schedule for the first day of play. The players all start with a stack of 30,000, worth 300 big blinds as the first level will be 50/100 with no ante. Levels, as always, will be 75 minutes long on the first two days of play, only to grow to 90 minutes long the following days.
PokerNews.com will be your one-stop shop with live updates, chip counts and photos today. There will be no live stream just yet, James Hartigan and Joe Stapleton will take up the microphones from Day 2 onwards. Suggestions? People you want us to follow? You know something we don't? Take to Twitter and send your tweets to our @PokerNews-account to reach us.
| Level | Duration | Small Blind | Big Blind | Ante |
| --- | --- | --- | --- | --- |
| 1 | 75 minutes | 50 | 100 | - |
| 2 | 75 minutes | 75 | 150 | - |
| | 20-minute break | | | |
| 3 | 75 minutes | 100 | 200 | 25 |
| 4 | 75 minutes | 150 | 300 | 50 |
| | 20-minute break | | | |
| 5 | 75 minutes | 200 | 400 | 50 |
| 6 | 75 minutes | 250 | 500 | 75 |
| | 75-minute dinner break | | | |
| 7 | 75 minutes | 300 | 600 | 100 |
| 8 | 75 minutes | 400 | 800 | 100 |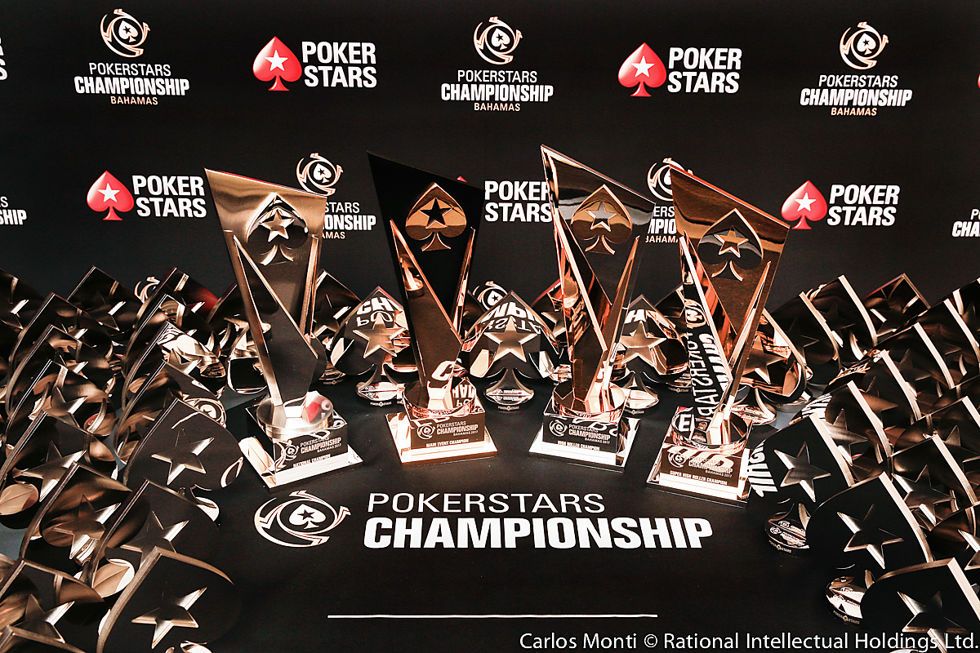 Nível: 1
Blinds: 50/100
Ante: 0
Paul Corrigan called a bet of 250 preflop from the big blind and went heads up to a flop of
. There, he checked to a c-bet of 600 and made the call. The turn brought a fourth spade on the board with the
landing, but again Corrigan check-called a bet, this time of 800 chips.
On the river of
, both Corrigan and his opponent checked it down and Corrigan's
was good enough to topple
.
Nível 1 : 50/100, 0 ante
Over at Table 17, action folded to the player on the button and he limped. Dan Shak came along from the small blind, the player in the big checked his option, and three players saw a flop of
.
All three players checked, the
appeared on the turn, and Shak led out for 300. The player in the big blind released, the button called, and the
completed the board on the river. Shak bet again, this time 600, and his opponent paid it off.
Shak tabled the
for two pair, and it was good as the player on the button sent his cards to the muck.
Jogador
Fichas
Progresso

Dan Shak

31,000

1,000
Nível 1 : 50/100, 0 ante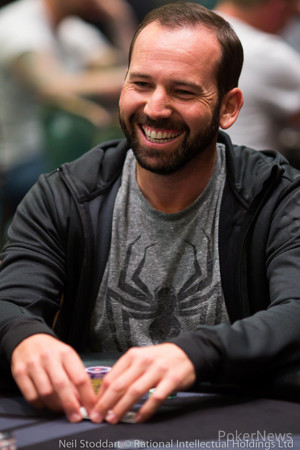 Famed golfer Sergio Garcia is in the house and just took a seat in the Main Event. Garcia fired in a satellite to the Main Event last night, which is when PokerNews caught up with him. Garcia allowed that he has a goal to win a PokerStars spade trophy but admitted his only real poker goal is to have fun at the tables and unwind.
Read about Garcia's outlook on poker, what he's been up to on the golf course and more right here.

Nível 1 : 50/100, 0 ante
The tournament started at 11 a.m. sharp this morning, with 109 players sitting down ready for action. That number is sure to increase with people signing up throughout the day as registration remains open till the start of play on Day 2.
Day 1a is traditionally the quieter day of the two starting days. A lot of the (Spin & Go) qualifiers are signed up for Day 1b, which sways a lot of the players buying in to go for Day 1b as well. On top of that, many choose to play 1b because a lot of the high rollers play Day 1a since those players intend to play the $50,000 Single-Day High Roller on Day 1b.
Here's a look at the distribution of players between the two starting days in recent years:
Action has been steady so far in the Bahamas, and Ronan Gorey has been one of the players who has begun to chip up early.
On a board reading
, with about 1,100 in the pot already, Gorey led out for 500 from the small blind. The big blind called.
The river was the
. Gorey led out for 650 this time, and his opponent thought for a moment before raising to 3,000. Gorey wasted no time and called.
The big blind tabled
for a pair of nines. Gorey revealed
for the a straight to the queen, sending the pot his way.
Nível 1 : 50/100, 0 ante
Mitchell Towner is one of the recreational players who made the trek down to the PokerStars Championship Bahamas. Though he has far less experience than many of his opponents, Towner has a score that's the envy of almost any of them: this past summer, he won the $1,500 Monster Stack at the World Series of Poker for $1,120,196 against a field of nearly 7,000 runners.
Towner told PokerNews after the big win that he barely plays any poker, merely consuming about an hour of poker content a week. He didn't expect to be playing much in the near future but has evidently found time to continue his amateur poker career, and we'll keep track of his progress here on Day 1a of the Main Event.