Bill Perkins Gives to the People, Stirs Up Prop Action at PokerStars Championship Bahamas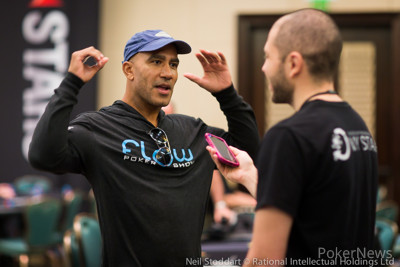 Bill Perkins may be known as a high-living, big-spending baller, but it wasn't always that way.
Years ago, Perkins worked as a clerk. In need of more income to make ends meet, he took on night work as a limo driver. Chauffeuring people miles above him on the income scale opened Perkins' eyes to a whole different lifestyle.
"It was motivating," he said. "Just seeing people enjoying life and what their excess capital afforded them."
Now that Perkins has made his millions and become a member of the class he once looked to as inspiration, he wants to help those who are in his old proverbial shoes. So, he had an idea. Why not stake a bunch of micro-stakes grinders into some events at the PokerStars Championship Bahamas? He could turn it into a contest and use it to promote his Twitch channel.
The idea turned out to be a bit impractical because "it was too complicated working the money." But, Perkins pivoted to giveaways of PokerStars Championship Bahamas packages that would cover rooms, airfare and $1,500 worth of tournament buy-ins to 20 lucky players who tuned in to his channel.
Twitch giveaways are nothing new, but Perkins decided to take things to a level that's rarely, if ever, seen.
"Why not amp it up?" he said of his thought process. "I think that's a better promotion for my show than, here's a t-shirt and a mug."
Perkins' channel itself can be a window into his lifestyle. He plays cash games and streams from his sleek boat, altering his playing style and making things fun for his audience. Micro-grinders and poker superfans make up much of his audience and he saw a perfect opportunity to give them a taste of the life he loves, just as driving a limo once gave him a taste of extravagance.
"The way I look at poker is it's kind of a lifestyle," he said. "It's not just grinding and a job, it's also traveling to places, meeting people, having fun and playing in a competitive...I'm going to call it a sport.
"Most of them are playing for a lot smaller stakes, so giving them $1,500 in buy-ins allows them to have that experience. A lot of people who were watching the show trying to get in are poker fanatics or grinders. I thought it was just a great thing to do. Bringing them to the Bahamas... there's waterslides and dolphins and stingrays and turtles and beach and sand and poker and pros. I want everybody to share that experience."
Those people include amateur poker player Dan Jones, who hails from London.
As Jones related in a featured listing on the PokerStars Blog, he faithfully tuned in to all of Perkins' broadcasts but failed to win any of the packages given away. Then, Perkins offered a final lifeline for those looking to score the dream poker vacation. Perkins announced he would be giving away a package to whoever could post the funniest comment on his girlfriend's Instagram page.
Jones racked his brain for clever ideas and decided his best bet was a recreation of an Instagram post of the bikini-clad woman. He donned a bathing suit owned by his own girlfriend and posed in his bathtub, sporting a sign reading "send me 2 the PCA" in reference to the now-retired PokerStars Caribbean Adventure that has become the PokerStars Championship Bahamas.
Perkins must have gotten a good chuckle out of the ploy because he tabbed Jones as the winner. The wealthy venture capitalist has enjoyed the overall response he has gotten from the poker community with his giveaways, something that's clear from his animated, earnest description of his goals.
"Just get people excited," Perkins said. "This is what I want to strive for. People might come down to the Bahamas and not bink it but go home and be re-invigorated with either passion for the game or travel."
He confirmed more giveaways will take place for future events, particularly if he finds time in his schedule for destination events in Europe. He squashed rumors of a pile of World Series of Poker packages, though.
"That was a joke," Perkins said with a laugh. "Joe Ingram put out a joke of 500 packages. The number keeps gaining. I'm rich, but I'm not that rich."
He's rich enough to fire away in the $100,000 Super High Roller here at the PokerStars Championship Bahamas, at least. And here, Perkins is doing another thing he's widely known for: stirring up prop action with side bets and challenges. Things aren't going too deep yet, as Perkins and his fellow high rollers engaged in an early game of Lodden Thinks for $1,000 per question.
"I'm crushing them right now," Perkins declared on first break of the event. "Well, I'm only up $4K."
The best question and response so far, he said, came with the following query: "What's the number of people on Friday night and Saturday morning who have sexual intercourse in North America?"
The massage therapist serving as the thinker apparently came up with 200 million.
"I'm doing life wrong if this many people are having sex," Perkins joked. "I gotta stop playing poker."
Perkins has famously been the source of a number of physical challenge props, inciting Dan Bilzerian to undertake what ended up being a controversial bicycle journey last year. He also made an infamous prop bet with Antonio Esfandiari that wound up with "The Magician" disqualified from the Main Event here last year.
Nothing like that has been booked so far, but Perkins did say he's working on some ideas.
"I want to get Kevin Hart; he thinks he's in shape," Perkins said of the popular American actor who is also participating in the Super High Roller. "He's working out, posting pictures of himself doing all kinds of crazy stuff in the morning. He works out a lot, so we should test him for like $50K.
"No lunges... we don't want anyone peeing in bottles any more. Allegedly."