Swimming Pigs, High Cholesterol Iguanas and a Bunch of Sharks

Is there life after death?
Are there creatures on other planets?
Can pigs swim?
Those are some of the great questions of life. Unfortunately, for most of them, getting to the bottom of them is just about impossible.
When I got to The Bahamas for the inaugural PokerStars Championship, I had the unique opportunity to answer the last of those. Instead of Googling it, I set out on an adventure to see proof of swimming pigs. The title of the tour, "Visit the Swimming Pigs of The Bahamas!" already kind of gave it away, but I had to see with my own eyes to make sure.
And so the PokerNews camera crew and I sat in the hotel lobby at 8 a.m. to start our journey through the Caribbean Sea. It was 8:30 when the minivan picked us up — because that's The Bahamas, chill man. When we arrived in the marina, besides rose wine, crisps and energy bars, the boat was loaded with grapes and carrots. While I was all ready for some healthy food after a period of excessive Christmas dinners, the fruit and vegetables turned out to be not for me.
The powerboat we boarded had three 300 horsepower Yamaha V6 Four Stroke outboard motors, and Captain Troy was putting them to good use. Within minutes, the Atlantis resort was nothing but a small dot on the beautiful Bahamian horizon before dissolving entirely.
After about 90 minutes of swishing through the water, we arrived at one of the smaller islands of Exuma, a district of The Bahamas consisting of some 360 small islands. While we were all ready to see some swimming pigs, the first animals we would encounter were a whole lot slimmer and weren't swimming at all (although they can — I saw Planet Earth II). With the excessively hard music still playing, we descended to see hundreds of iguanas running around on a small rock of an island.
Our tour guide supplied us with grapes and pointy sticks and set us on our way. The only request was not to stab the iguanas with the sticks (note: I wasn't really planning to do that anyway). And so we moved to the beach and fed the sometimes hesitant iguanas. One of the sneaky creatures planned a big attack, coming out of nowhere to bite my finger. That little bite was probably his revenge for us giving him diarrhea and high cholesterol, but I didn't know that at the time so I was still pissed off at him. Other than that, everything was peachy.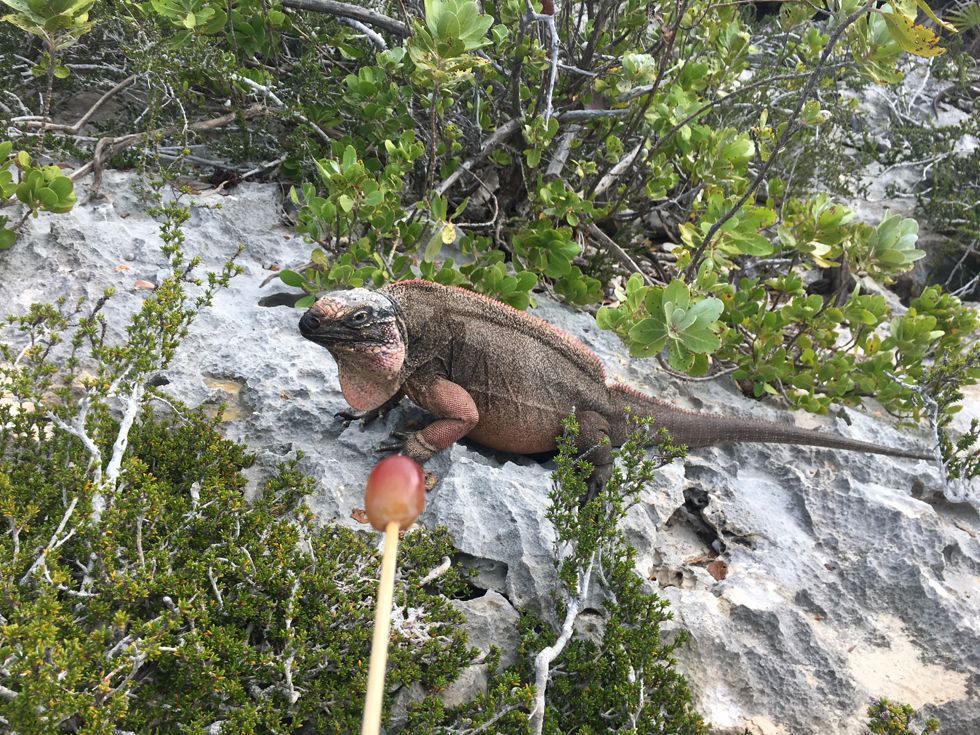 After running through all our grapes, we set foot for the boars after which the tour is named. Another hour of navigating through the water at 53 miles per hour, we arrived at Pig Beach. Dozens of pigs, and many more tourists, initially wandered the beach. Some of them, only prompted to do so by pesky tourists like me who lured them into the water with vegetables, were actually swimming. After the other tourist boats left, it was just our crew cuddling and feeding the pigs.
According to Wikipedia, the pigs are said to have been dropped off on Big Major Cay by a group of sailors who wanted to come back and cook them. The sailors, though, never returned; the pigs survived on excess food dumped from passing ships. One other legend has it that the pigs were survivors of a shipwreck and managed to swim to shore, while another claims that the pigs had escaped from a nearby islet. Others suggest that the pigs were part of a business scheme to attract tourists to the Bahamas. If I was a betting man, and I am, my money would be on the latter.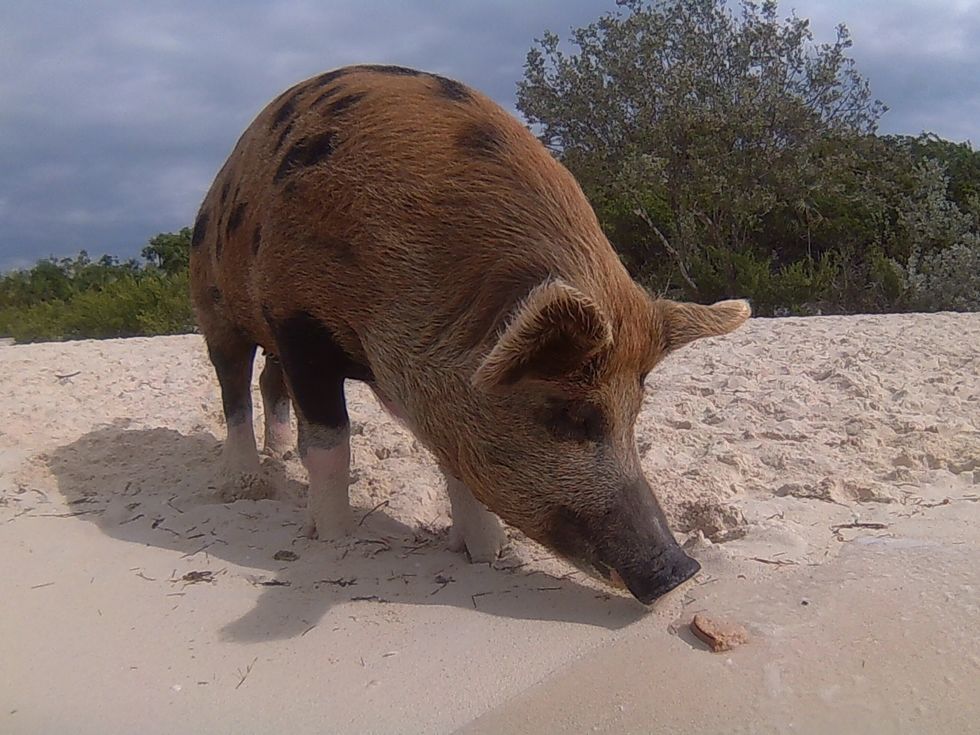 Anyhow, the pigs seemed to enjoy themselves just fine and were only annoyed once when one of the ladies tried to ride them. They just flounced in the water a bit, sniffed the beach looking for roots and truffles they never seemed to find, and just minded their own business.
I filled the gigabytes of storage on my GoPro and iPhone with photos and videos of these beautiful animals, just to show my family and friends proof that pigs can actually swim. They're not Michael Phelps by any means — really my 2-year-old nephew is probably a better swimmer — but they manage. When they smell food, they're on it. According to our guide, they fancy hot dogs better than vegetables, but they had stopped feeding them fast food not too long ago. Probably gave them diarrhea and high cholesterol.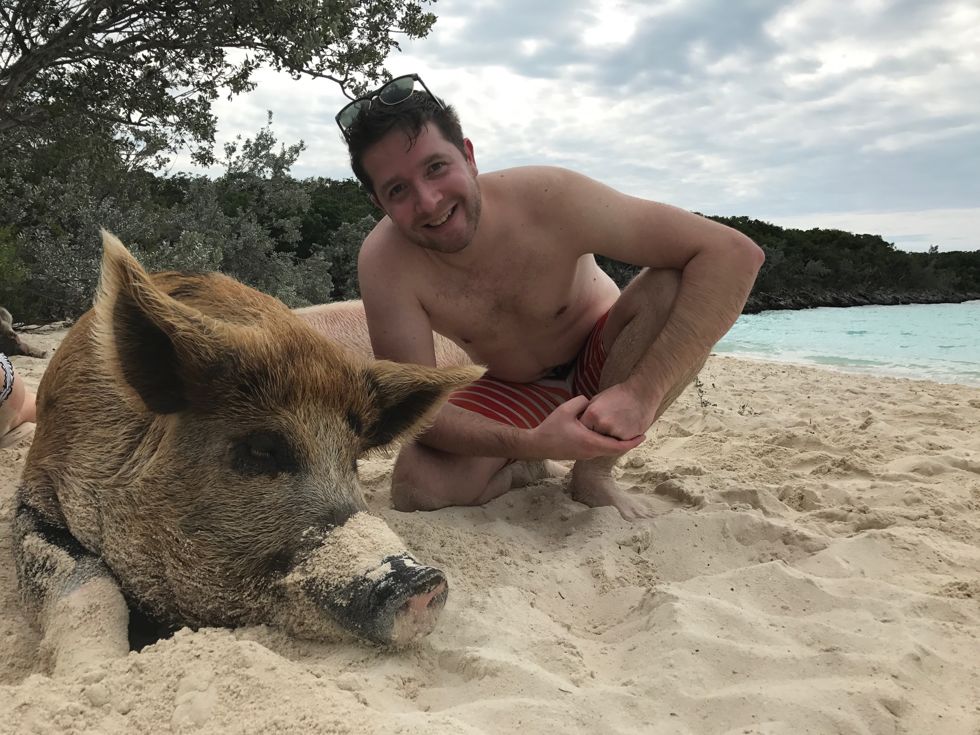 With no more carrots to hand out, we once again boarded our boat to have lunch at one of the bigger islands close by. Outside was another animal begging to be fed by humans. Nurse sharks swarmed around a few steps that descended into a little bay and I couldn't wait to jump in. Last time I was in the proximity of sharks was in a big cage in South-Africa over the summer, but this time no steel was necessary to protect me. Nurse sharks were harmless, our guide told me. That was all I needed to hear and I splashed in the water to feel their sandpaper-like skin. They turned out to be not completely harmless, as one of the girls was bitten. But she had it coming since she stuck her hand in one of the shark's mouths.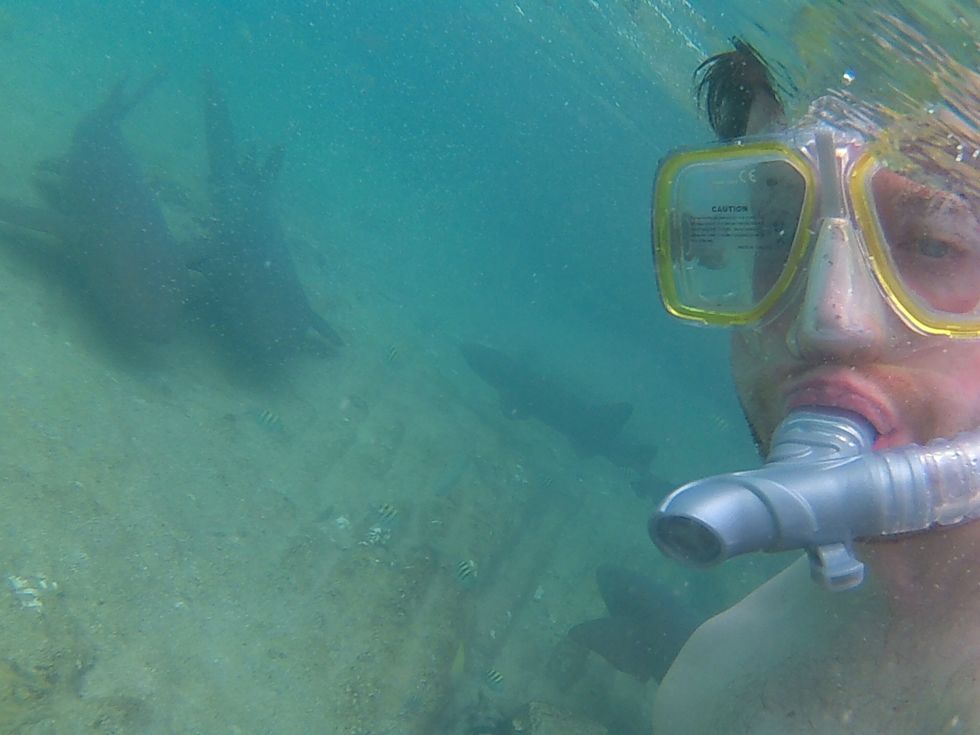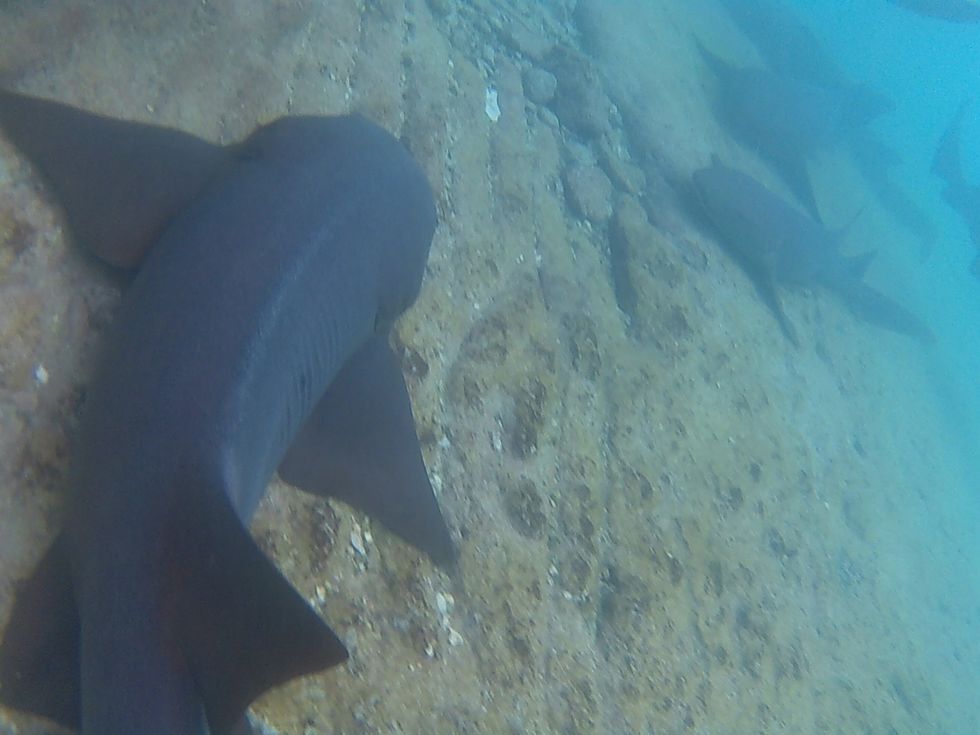 Less than three hours later, we were back on Paradise Island and my big adventure had come to an end. I had a wonderful day in the sun, but I do feel a bit weird with having visited these animals turned tourist attractions.
I'll be covering all the big events at the PokerStars Championship this festival, and I couldn't be happier. What a privilege it is to be in a place where the sun always seems to smile, animals swim that I didn't know could swim, and poker is played all day long.
I'm pretty busy, but I'll see if I can find a definitive answer to the other big life questions here in The Bahamas as well. Not today, though, as I'm swimming with the sharks again, though now talking about the poker players that signed up for the $100,000 Super High Roller. The only pig that I'll be feeding today is me myself when I go to Anthony's for dinner tonight. I promise.