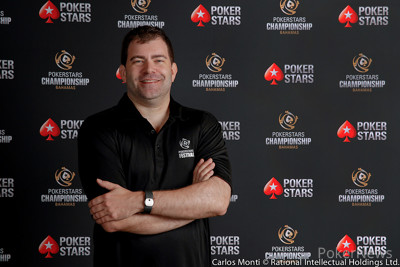 It's a new year and a new poker tournament. While the tournament here in The Bahamas was known as PokerStars Caribbean Adventure up untill last year, now it's the PokerStars Championship Bahamas. We talked about that change and more with PokerStars Department Head of Live Poker Operations Neil Johnson.
PokerNews: There's a different logo on the tables.
Neil Johnson: There's also more gold-colored branding in the room.
Besides the different logo, it does feel like the same event it was last year. What has changed for you?
Ironically, the change that I'm most interested in seeing actually has very little to do with the rebranding of the event. We have so many Spin & Go qualifiers and that really makes a big difference. We started it in Monaco and there really was a different vibe in the venue with all these people who had gotten in for €10 or €20.
This event, the one in The Bahamas, has always been a very reg-heavy event, probably the reg-heaviest event of the year because we get more of the US guys. But now, I'm expecting a little more of a 2007 kind of vibe here. A lot of people are going to come to this event who've never been here before. The weather has been gorgeous since we got here, so it looks like we're really able to show off both Atlantis and the event.
As far as the actual rebrand itself, I think it has a minimal impact on places like Barcelona, Monaco and here in The Bahamas. You'll see a significant impact on places like Panama and Macau which haven't done these massive festivals with big buy-ins and the heavy push of Spin & Go qualifiers.
It's the same, but different. It's everything that players have come to expect from what is a PokerStars live event. All that still exists, all that's still here. If anything, things have been simplified. The registration, structures, payouts and rake models are standardized. Before, we had differences from region to region and from venue partner to venue partner. We hope that that, for the players, everything gets a bit easier.
I'm as nostalgic as the next person. I've been on the tour since Season 1 so Prague was a sad time for me with the EPT saying it's farewell. But it hasn't really faded away. It's the same, but different. You and I can talk about going to Copenhagen, Kiev, Loutraki and what not, but for lots of people who have jumped in from Season 10 onward, when things really started to explode, they have no idea what we're talking about. For them, the majority of the destinations will still be there.
These standardizations you talk about are more beneficial for regular players. They're the only ones that actually are affected by this, as they're the only ones that go to places all over the world to play these events. PokerStars, in all other areas really, is more focusing on the recreational players.
That's actually a spot-on observation. The traveling community, or whatever way you want to refer to them — the O'Dwyers, the Ikes, the Timexes of the world — they benefit of the standardization. They now know that if I inform them on Macau having a $50,000 Super High Roller, they'll know it's the same as in Barcelona.
The vast majority of players that come to our events are local players. Their only concern usually is the buy-ins, and they want decent structures. But we still want to give them the same experience. And while the guy who plays the PokerStars Cup in Macau probably won't be playing the PokerStars Cup in Barcelona, it doesn't mean that what we learn from one event doesn't apply to another one. If a player in Macau is happy with the structure and buy-in, one will be in Barcelona as well probably.
And with expanding the festival, we have room to experiment as well. When it was "just" an LAPT for 5 days, we didn't have room to experiment a lot. But because we now have 10 days and we have a lot more events, it gives an opportunity to try a few things out.
Bahamas, Panama, Macau, Monaco and Barcelona have been announced. Is that Season 1 of PokerStars Championship, or is there more to come?
Not all the contracts have been signed yet, but there will absolutely be more. While two 2017 PokerStars festivals have been announced there are plans for more in all the places where PokerStars Tours previously existed. Asia, Europe, LATAM and we've already debuted in North America with Resorts in Atlantic City. So there will definitely be more Festivals and more Championship events to come.
On top of that, there will continue to be the brands players have seen develop within our Live Rooms like Red Dragon, ACOP, and Manila Mega stack as well as our tremendously successful partner, the Brazilian Series of Poker (BSOP).
But the UKIPT, EPT, LAPT and what not were strong brand as well, right?
The brands of the tours were absolutely very strong, but PokerStars, that's the name. As an example, how many people know that the PCA stands for PokerStars Caribbean Adventure?
A couple years back, when we were in a big meeting discussing the possibility to do something like this, I heard an example that kind of swayed me from being against the name change to be for it. Let's say the EPT Grand Final final table has eight Canadians on it, and we're talking big names like Mike McDonald, Daniel Negreanu, and the likes. There would still be nothing we could do to ever get that on Canadian television because the name is "European Poker Tour." There's no amount of money we could pay a television station to get that show on the air and get it watched. At that point in time, I was like, "That makes sense."
I'm very nostalgic for what was lost, and I was bummed at the end of Prague when the EPT came to an end. With the amazing video the TV team made about the 13 years of EPT history rolled, it was very emotional. It almost felt like an "in memoriam" moment while also having a bit of a triumphant feel of, "Look what we all did."
But I consider the opportunities in countries like Panama and Macau so big that it makes up for it. It's much easier now to roll out an event in a place like the States, Canada, Brazil or any other place in the world.
Two weeks ago in Prague, two extra €25,500 Single-Day High Rollers were held at last minute notice, upon request by the players. Players were able to play a high roller every day. What are your thoughts on these impromptu events?
I was surprised actually. When we introduced the Super High Rollers, I was against it, to be honest. At the time, and this was 2011 with Eugene Katchalov winning the first one, it felt to me like something more for Full Tilt and not really a PokerStars thing to do. We actually weren't really sure if it was the right thing to do.
We went with it and we allowed the event to grow gradually. When they started, we didn't want them to be excessive, we didn't want them to be hurting people's bankrolls. Hurting the bankrolls of the players, and the poker economy itself, was a legitimate concern in the early days of PokerStars Super High Rollers. As it has grown, the super high stakes world has moved to a level that didn't exist six years ago. It's a unique subset of the poker world and they have found a way to make it work.
If you've watched over the years, we have gradually grown the schedule of high rollers and super high rollers because we feel the players wanted that. The Single-Day High Roller, and I call them the Bryn Kenney invitational since it was his idea, is an example of that movement to a wider offer of high rollers. Adding a $10,000 event at the start is another example, as is the Pot-Limit Omaha High Roller we've run since Barcelona.
We always felt there had to be a balance. But you see the demand for High Rollers is huge. The Aria runs multiple $25,000 events a month sometimes and the Bellagio had several during their WPT Five Diamond. We've had two open One Drop events and the Super High Roller Bowl in Vegas. So, when the question came during the EPT Prague if an extra €25,000 Single Day High Roller could be organized, we were like, "Why not?"
Will there be multiple of those events here?
I wasn't in Prague so I didn't have the chance to talk to them. I talked to the Super High Roller players and I'm busy adding five-figure events to the Bahamas schedule right now, so there will be more here and more added to future PokerStars Championships.
As requested 6 HR buyins added @PokerStarsLIVE Bahamas @steveodwyer @ikepoker @RealKidPoker @KevinHart4real @bp22… https://t.co/fi1KGbNuoQ

— Neil Johnson (@NeilJPoker)
The EPT always had a Grand Final in Monaco. Are there plans for a season finale for the PokerStars Championships?
Not really. It made a lot of sense when the EPT was launched but things are different now.
The Grand Final in Monaco was always the big thing, the €10,000 event. Bigger buy-in, better structure. It was the reason you got people like Ivey and Antonius and all the American players came over. Nowadays, the buy-ins are huge at every event and the structure is the same for each and every event. To call something the Grand Final implicates that it's bigger and better. And that's not the case with all events standardized.
When the major tours started, they built their schedules around the World Series of Poker. You start after, and you finish before. That's why Barcelona is in August and Monaco is in May. But what makes more sense, and you really want to be doing, is run an event over a calendar year. All our tours, except for the EPT, ran over a calendar year. When we had the chance to reset everything, I was a huge advocate for running it from January through December, instead of August till May. Even backend things like budgets and to be able to cut finances off at year's end, that's huge for an organizer. With that in place, the Grand Final would be in Prague. There's nothing wrong with having a final in Prague, but The Bahamas is 14 days later. No parade, no time to celebrate, things would go straight on to the next season and in my personal opinion is that it's a little unnecessary.
There are absolutely people that like the idea of a Grand Final and I don't believe the idea has been buried — the idea could be resurrected — but for 2017 I don't anticipate a Grand Final.