Who Will Win the $1,100 PCA National Tonight?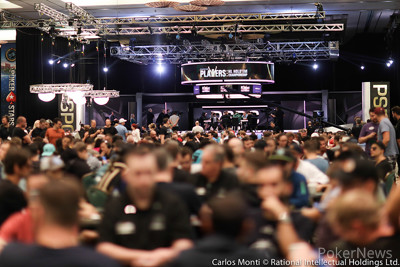 Welcome back to Day 2 of the $1,100 PCA National which will restart at noon local time here at the Atlantis Resort. There were two starting flights in total, attracting 812 entries overall with 122 players making it through to the final stage. A winner will be crowned by the end of today and the total prize pool details will be announced at the start of the day.
Leading the race to the win is Uri Reichenstein with a pretty big lead as he bagged 642,000 during the Day 1a flight. He is followed by Eric Baldwin (470,000), Lawrence Bayley (416,000), Fernand Dos Santos Ferreira (336,000), and Antoine Saout (332,000). The Day 1b chip leader Chanracy Khun is sitting in sixth place in the overall chip count leader board and will be looking to climb that ladder all day long.
Looking at the seat draw, there are some tables that might be more noticeable than others:
• Table #1 has the defending champion Maria Konnikova on there and she'll be sharing the felt with Maria Ho, Robin Hegele, Ramandeep Gujral, and Michael Telker
• Table #2 features Will Givens, Lawrence Bayley, Hoaxiang Wang, Timo Kamphues, and Calvin Anderson
• Table #3 has Brian Altman, Ami Barer, Casey Kastle, Jack Sinclair, and Reichenstein on there
• Table #6 is loaded too for example as Team PokerStars Pro Barry Greenstein is seated there with Scott Margereson, John Andress, and Markus Kuhnen
• Another Team PokerStars representative is Team Online's Randy Lew who is at Table #8 together with Ian Simpson, Jack Salter, Carlos Branco, and Joao Barbosa
• And the list goes on and on
There are too many notable players to mention them all but keep an eye out for players like Dragos Trofimov, Pierre Calamusa, Chino Rheem, Matas Cimbolas, Erwann Pecheux, Mark Ioli, Leo Margets, Adam Levy, and Jon Turner who are all coming into today with an above average stack.
Players like Marvin Rettenmaier, Aliaksei Boika, Joe McKeehen, Danny Tang, Ting Ho, Conor Beredford, Ole Schemion, and [Removed:172] have got some work ahead of them as they bagged an below average stack last night but they've got enough space to work with today as the players return for Level 17.
Level duration will increase to 40 minutes each and Level 17 features a small blind of 3,000, big blind of 6,000, and a big blind ante of 6,000. A break is planned to take place after every three levels with a 80-minute dinner break during the day expected at approximately 6:30-7:45 PM according to the structure. Play will continue until a winner has been crowned or until 4 AM as the poker room will close at that time. If no winner is known by that time, play will end for then and continue the next day at noon.
Make sure to return for the PokerNews updates as the live reporting team will be following along as another tournament here in the Bahamas will wrap with a winner at the finish line!