Nível 39 : 3,500,000/7,000,000, 7,000,000 ante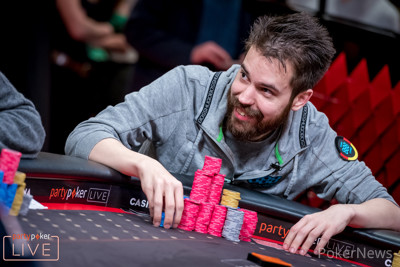 Dominik Nitsche limped with the
and so did Pascal Lefrancois with
, Adam Owen checked his option with
. On the
flop, it was Nitsche that bet 8 million and just Lefrancois called and headed to the
turn.
Lefrancois checked, Nitsche bet 22 million with 50 million behind and Lefrancois called, spiking the
on the river. Nitsche checked behind and was left in dire shape.
Soon after, Nitsche was all in for 45.5 million out of the small blind and initial raiser Stephen Chidwick called on the button.
Dominik Nitsche:

Stephen Chidwick:
Nitsche flopped a gutshot and turned a straight on the
board to double.
Jogador
Fichas
Progresso

Pascal Lefrancois

675,000,000

47,500,000

Stephen Chidwick

120,000,000

-8,500,000

Dominik Nitsche

98,000,000

8,000,000