$1,100 Turbo
Dia 2 Começado
Jogador
Fichas
Progresso

Griffin Benger

20,865,000

David Shao

18,550,000

Jimmy Setna

18,425,000

Andrew Neeme

16,255,000

Alex Fortin Demers

14,850,000

Patrick Braga

14,335,000

Brian Morgan

13,890,000

Henning Wendlandt

13,170,000

Adam daniel Tuk

13,100,000

Mukul Pahuja

12,825,000

Andrew Boujaoude

11,495,000

Antti Ilmari Halme

11,300,000

Tony Dunst

10,865,000

Jason Storozum

10,370,000

Gary Lucci

10,370,000

Carl Martel

10,170,000

Jordan Saccucci

10,170,000

Vincent T Moscati

10,055,000

James Van Staveren

9,900,000

Brian Hastings

9,825,000

Tyler clayton Patterson

9,385,000

Michael Khan

9,380,000

Jesse Cohen

9,215,000

Senthuran Vijayaratnam

9,200,000

Nikola Kocevski

9,150,000
| Table | Seat | Player | Country | Chip Count | Big Blinds |
| --- | --- | --- | --- | --- | --- |
| 49 | 1 | Arnaud Bonhomme-lemieux | Canada | 3,940,000 | 20 |
| 49 | 2 | Lawrence Ma | United States | 8,710,000 | 44 |
| 49 | 3 | Brian Hastings | United States | 9,825,000 | 49 |
| 49 | 4 | Sasan Mehrabian | Canada | 3,110,000 | 16 |
| 49 | 5 | Robert Cohen | Canada | 2,905,000 | 15 |
| 49 | 6 | Carl Thomas West | Canada | 6,525,000 | 33 |
| 49 | 7 | Ian Modder | Canada | 5,185,000 | 26 |
| 49 | 8 | Jeremy Lyons | Canada | 4,690,000 | 23 |
| | | | | | |
| 50 | 1 | Samuel louis Gagnon | Canada | 4,000,000 | 20 |
| 50 | 2 | Richard Berenbaum | Canada | 4,670,000 | 23 |
| 50 | 3 | George Ciuciureanu | Canada | 5,200,000 | 26 |
| 50 | 4 | John Senycz | Canada | 3,460,000 | 17 |
| 50 | 5 | Rickey Lee | United States | 3,350,000 | 17 |
| 50 | 6 | Konstantin Shukhman | Canada | 8,070,000 | 40 |
| 50 | 7 | Sebastien Soares | Canada | 995,000 | 5 |
| | | | | | |
| 51 | 1 | Tony Dunst | United States | 10,865,000 | 54 |
| 51 | 2 | Senthuran Vijayaratnam | Canada | 9,200,000 | 46 |
| 51 | 3 | Younan Beddaoui | Canada | 3,300,000 | 17 |
| 51 | 4 | Jean-philippe Piquette | Canada | 4,240,000 | 21 |
| 51 | 5 | Ryan Godson | Canada | 6,940,000 | 35 |
| 51 | 6 | Eric Lachapelle | Canada | 4,750,000 | 24 |
| 51 | 7 | James Pillon | Canada | 3,100,000 | 16 |
| 51 | 8 | Ko Maddock | Canada | 2,020,000 | 10 |
| | | | | | |
| 52 | 1 | Alex Fortin Demers | Canada | 14,850,000 | 74 |
| 52 | 2 | Mark Dube | United States | 3,520,000 | 18 |
| 52 | 3 | Thomas John Haney | united kingdom | 5,100,000 | 26 |
| 52 | 4 | Joshua Abiscott | Canada | 4,550,000 | 23 |
| 52 | 5 | Nicolas Patricio Yunis | Canada | 2,910,000 | 15 |
| 52 | 6 | Michael Ferrer | Canada | 1,915,000 | 10 |
| 52 | 7 | Zheng-Yi Xie | Canada | 1,960,000 | 10 |
| 52 | 8 | Kurtis Lee David Brooks | Canada | 3,815,000 | 19 |
| | | | | | |
| 53 | 1 | Shawn Daigle | Canada | 3,685,000 | 18 |
| 53 | 2 | Sadan Turker | united kingdom | 4,575,000 | 23 |
| 53 | 3 | Jimmy Lehouiller | Canada | 8,445,000 | 42 |
| 53 | 4 | Gianluca Cedolia | Canada | 8,580,000 | 43 |
| 53 | 5 | Carl Martel | Canada | 10,170,000 | 51 |
| 53 | 6 | Adam daniel Tuk | Canada | 13,100,000 | 66 |
| 53 | 7 | Eric Leblond | Canada | 3,965,000 | 20 |
| 53 | 8 | Ramesh Arya | Canada | 8,370,000 | 42 |
| | | | | | |
| 54 | 1 | Gabriel Attiave | Canada | 3,880,000 | 19 |
| 54 | 2 | Jimmy Setna | Canada | 18,425,000 | 92 |
| 54 | 3 | Giovanni Massa | Canada | 4,260,000 | 21 |
| 54 | 4 | Lawrence Whyte | United States | 2,630,000 | 13 |
| 54 | 6 | Francois Goulet | Canada | 8,800,000 | 44 |
| 54 | 7 | Samuel Guillen | Canada | 4,760,000 | 24 |
| 54 | 8 | Mukul Pahuja | United States | 12,825,000 | 64 |
| | | | | | |
| 55 | 1 | Jason Storozum | Canada | 10,370,000 | 52 |
| 55 | 2 | Marcello Simonetti | Canada | 2,400,000 | 12 |
| 55 | 3 | Daniel Heimiller | United States | 6,595,000 | 33 |
| 55 | 4 | Shaun Deeb | United States | 6,645,000 | 33 |
| 55 | 5 | Vineet Pahuja | United States | 5,260,000 | 26 |
| 55 | 6 | Dawn Nobles | | 4,925,000 | 25 |
| 55 | 7 | Arnold Yaxley | Canada | 5,955,000 | 30 |
| 55 | 8 | Tait Benoit | Canada | 2,085,000 | 10 |
| | | | | | |
| 56 | 1 | James Mcdermott | Canada | 1,575,000 | 8 |
| 56 | 2 | Jordan Saccucci | Canada | 10,170,000 | 51 |
| 56 | 3 | Kurt Jewell | | 9,110,000 | 46 |
| 56 | 4 | Rong Xu | Canada | 5,655,000 | 28 |
| 56 | 5 | Dave Jeanneau-Cyr | Canada | 3,690,000 | 18 |
| 56 | 6 | Dean Hutchison | Scotland | 8,000,000 | 40 |
| 56 | 7 | Paul Hartman | Canada | 2,780,000 | 14 |
| 56 | 8 | Andrew Boujaoude | Canada | 11,495,000 | 57 |
| | | | | | |
| 57 | 1 | Arman Soltani | Canada | 6,825,000 | 34 |
| 57 | 2 | Alexander james Allison | Canada | 1,955,000 | 10 |
| 57 | 3 | Anthony Dalpra | Canada | 7,805,000 | 39 |
| 57 | 4 | Michael Benko | Canada | 7,450,000 | 37 |
| 57 | 5 | Michael Levy | Canada | 2,500,000 | 13 |
| 57 | 6 | Jean pierre Hetu | Canada | 2,950,000 | 15 |
| 57 | 7 | Pinto S | Canada | 5,355,000 | 27 |
| 57 | 8 | Ian Tang | Canada | 3,995,000 | 20 |
| | | | | | |
| 58 | 1 | Baron Ha | Canada | 5,500,000 | 28 |
| 58 | 2 | Charles Dalton shapiro | Canada | 3,450,000 | 17 |
| 58 | 4 | Laurence Grondin | Canada | 8,315,000 | 42 |
| 58 | 5 | Aaron scott Massey | United States | 5,750,000 | 29 |
| 58 | 6 | Karim-olivier Kamal | Canada | 6,890,000 | 34 |
| 58 | 7 | Aaron Overton | United States | 5,540,000 | 28 |
| 58 | 8 | Chi Tsang | Canada | 7,310,000 | 37 |
| | | | | | |
| 59 | 1 | Dylan thimothy Maille thibault | Canada | 5,485,000 | 27 |
| 59 | 2 | Sterling Hinds | Canada | 3,850,000 | 19 |
| 59 | 3 | Rubens Tarzia | Canada | 5,785,000 | 29 |
| 59 | 4 | Jose Ivan Montes | | 7,750,000 | 39 |
| 59 | 5 | Andre Oliveira | Brazil | 3,150,000 | 16 |
| 59 | 6 | Michael Nolan | Canada | 3,905,000 | 20 |
| 59 | 7 | Mathieu Ranger | Canada | 5,605,000 | 28 |
| 59 | 8 | Amirpasha Emami | Canada | 1,865,000 | 9 |
| | | | | | |
| 60 | 1 | Jonas Mackoff | Canada | 8,580,000 | 43 |
| 60 | 2 | Patrick Braga | Canada | 14,335,000 | 72 |
| 60 | 3 | Michael Khan | Canada | 9,380,000 | 47 |
| 60 | 4 | Asem Alsaadi | Canada | 3,850,000 | 19 |
| 60 | 5 | Gary Lucci | Canada | 10,370,000 | 52 |
| 60 | 7 | Anthony De iuliis | Canada | 2,640,000 | 13 |
| 60 | 8 | Stephen Smith | Canada | 3,250,000 | 16 |
| | | | | | |
| 61 | 1 | Nikola Kocevski | Canada | 9,150,000 | 46 |
| 61 | 2 | Ruben Perceval | Canada | 7,475,000 | 37 |
| 61 | 3 | Benoit Forcier | Canada | 6,975,000 | 35 |
| 61 | 4 | John Reading | United States | 2,225,000 | 11 |
| 61 | 5 | Samuel Roussy-majeau | Canada | 5,215,000 | 26 |
| 61 | 6 | Brent Mccue | Canada | 5,885,000 | 29 |
| 61 | 7 | Douglas James | Canada | 5,295,000 | 26 |
| 61 | 8 | Amin Akhlaghi | Canada | 7,685,000 | 38 |
| | | | | | |
| 62 | 1 | David Shao | Canada | 18,550,000 | 93 |
| 62 | 2 | Krzysztof Birecki | Canada | 3,085,000 | 15 |
| 62 | 3 | Martin Nadeau | Canada | 3,845,000 | 19 |
| 62 | 4 | Michael Fletcher | England | 5,790,000 | 29 |
| 62 | 5 | Carlo Nini | Canada | 8,485,000 | 42 |
| 62 | 6 | Daniel Andrei | Canada | 1,390,000 | 7 |
| 62 | 7 | Jacques Iza | canada | 5,325,000 | 27 |
| 62 | 8 | Michael Linster | United States | 6,540,000 | 33 |
| | | | | | |
| 63 | 1 | Henning Wendlandt | Austria | 13,170,000 | 66 |
| 63 | 2 | Adeel aman Bangash | Canada | 1,890,000 | 9 |
| 63 | 3 | Marvin Rettenmaier | united kingdom | 4,325,000 | 22 |
| 63 | 4 | Tyler clayton Patterson | United States | 9,385,000 | 47 |
| 63 | 5 | Michel Dubreuil | Canada | 3,415,000 | 17 |
| 63 | 6 | Adam Peltier | Canada | 8,795,000 | 44 |
| 63 | 7 | Antti Ilmari Halme | Austria | 11,300,000 | 57 |
| 63 | 8 | Jeosafat Alejandro Cruz | Mexico | 3,470,000 | 17 |
| | | | | | |
| 64 | 1 | Ricci Kwan | Canada | 2,780,000 | 14 |
| 64 | 2 | Lily Kornik | Quebec | 2,675,000 | 13 |
| 64 | 3 | Brian Morgan | Canada | 13,890,000 | 69 |
| 64 | 4 | Robert Cicchelli | Canada | 1,670,000 | 8 |
| 64 | 5 | Philippe Calouche | Canada | 5,600,000 | 28 |
| 64 | 6 | Zakhar Galper | Israel | 5,675,000 | 28 |
| 64 | 7 | Tony Lei | Canada | 4,535,000 | 23 |
| 64 | 8 | Dylan Wilkerson | United States | 5,290,000 | 26 |
| | | | | | |
| 67 | 1 | Nicolas Malo majeau | Canada | 2,911,000 | 15 |
| 67 | 2 | Nicholas Soller | Canada | 3,450,000 | 17 |
| 67 | 3 | Timothy Ulmer | Canada | 2,300,000 | 12 |
| 67 | 4 | James Van Staveren | | 9,900,000 | 50 |
| 67 | 5 | Benjamin Maurice Dobson | united kingdom. | 5,010,000 | 25 |
| 67 | 6 | Jason Conforti | Canada | 4,045,000 | 20 |
| 67 | 7 | Scott Hill | Canada | 1,485,000 | 7 |
| 67 | 8 | Jamie Sequeira | Canada | 6,120,000 | 31 |
| | | | | | |
| 68 | 1 | Ambrose Ng | Canada | 3,250,000 | 16 |
| 68 | 2 | Francis Collins | Canada | 3,090,000 | 15 |
| 68 | 3 | Jesse Cohen | United States | 9,215,000 | 46 |
| 68 | 4 | Benjamin Keeline | | 5,575,000 | 28 |
| 68 | 5 | Vincent T Moscati | United States | 10,055,000 | 50 |
| 68 | 6 | Edouard Dupuis | Canada | 5,780,000 | 29 |
| 68 | 7 | Griffin Benger | Canada | 20,865,000 | 104 |
| 68 | 8 | Andrew Neeme | United States | 16,255,000 | 81 |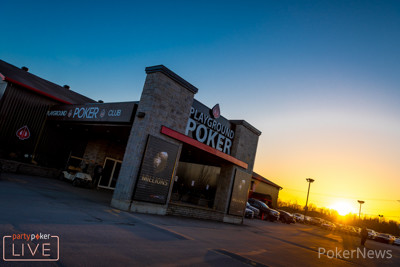 It is going to be another fun day of poker inside the Playground Poker Club as the partypoker MILLIONS North America $1,100 Turbo is set to resume play on Day 2. The chip leader is Canada's own Griffin Benger and he will be leading a field of 140 players. The tournament will be playing until there is one person left with the title.
Benger accumulated 20,865,000 chips on Day 1A and it still stands as the biggest stack after Day 1B finished. Other players that round out the top five stacks include David Shao (18,550,000), Jimmy Setna (18,425,000), Andrew Neeme (16,255,000), and Alex Demers (14,850,000).
Some notable faces that will be going for the title tomorrow include Antti Halme (11,300,000), Tony Dunst (10,865,000), Gary Lucci (10,370,000), Brian Hastings (9,825,000), and the $1,100 Open winner Karim-Olivier Kamal (6,890,000).
The blinds will resume on level 18 at 80,000/160,000 with a 160,000 button ante. The day is set to play as many 30-minute blind levels as it takes until the winner is crowned. There will be a 15-minute break every five levels and no dinner break.
The PokerNews live reporting team will be updating until there is a winner.
Nível: 18
Blinds: 80,000/160,000
Ante: 160,000
Nível 18 : 80,000/160,000, 160,000 ante
There was an all in from under the gun for 995,000 and Samuel louis Gagnon called from the button. Gagnon tabled
and his opponent flipped over
.
The board ran out
and Gagnon's set was good for an elimination.
Nível 18 : 80,000/160,000, 160,000 ante
The cutoff opened to 340,000 and Alexander Allison three-bet all in from the small blind for 4,550,000. Anthony Dalpra shoved over the top from the big blind for around 7,500,000 and the cutoff folded. Players flipped over their hands and Allison would be at risk of elimination.
Anthony Dalpra:

Alexander James Allison:
The flop came down
and Dalpra would now need to dodge a queen to secure the pot. The
on the turn and
on the river did not help Allison and Dalpra scooped in the pot.
Nível: 19
Blinds: 100,000/200,000
Ante: 200,000
Nível 19 : 100,000/200,000, 200,000 ante
The flop read
and Armen Soltani bet 340,000 into a pot of around 850,000. Pinto S called and the turn came the
. Pinto S checked to Soltani who then bet 850,000. Pinto S called and the river fell the
.
Pinto S checked again to Soltani who then quickly shoved all in for around 5,750,000 and Pinto S waited a few moments before folding. Soltani pulled in a good pot and it brought him over the 8 million chip mark.
Jogador
Fichas
Progresso

Pinto S

1,925,000

-3,430,000
Nível: 20
Blinds: 125,000/250,000
Ante: 250,000