Nível 13 : 1,000/2,000, 300 ante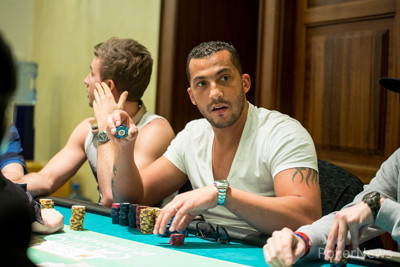 What started rather slowly turned into a reentry festival for the 2016 Marrakech Poker Open Main Event. With a buy-in of 10,000 Moroccan dirhams (MAD), 220 entries generated a prize pool of 1.914 million MAD to be split among the top 27 spots. A minimum cash is worth 18,000 MAD, and the winner can look forward to a payday of 440,000 MAD on Sunday.
These numbers convert to approximately $200,000 for the prize pool, $1,850 for a min-cash, and $45,600 for the winner.
After 13 levels of 45 minutes each, it was Anas Tadini who bagged up the most chips with 330,000. Tadini was also among those to fire multiple bullets, but his success came from winning two crucial flips. First, he won with sevens versus ace-king. Second, he won with ace-king against the pocket queens of Pieyre Maggi in the last level of the night to claim the overnight lead.
Almost one-third of the field, 69 to be exact, consisted of reentries. Several notables such as Erwann Pecheux, Paul-Francois Tedeschi, Guillaume Darcourt (three bullets), and Guillaume Diaz (four bullets) entered multiple times without bagging up chips for Day 2.
They were joined on the rail by Spanish Poker League champion Toufik Ouirini, Sarah Herzali, Rebecca Gerin, Abdelhadi Kondah, Selim Oulmekki, 2014 WPT Marrakech champion Mostafa Boukri, and Leo Margets.
There were some 55 players left with other big stacks and notables including Fahd (305,700), Abdenbi Abida (288,200), Dominique Terzian (244,800), Philippe Ktorza (215,200), Alexandre Viard (176,300), Said El Yousfi (120,000), and World Series of Poker bracelet winner Barny Boatman (110,600). Mohamed Ali Houssam, winner of the 2011 WPT Marrakech, bagged up 77,500 chips, and Isabel Baltazar (62,000) was the last woman in the field.
Full chip counts and the Day 2 table draw will be provided as soon [I]PokerNews/I] receives them, and action for Day 2 will kick off at 2 p.m. local time on Saturday. Play will continue until the final table of the nine is realized, and there's plenty of room for some great poker to be witnessed with one-hour levels and blinds starting at 1,200/2,400/300.
Make sure to tune back in on Saturday for continued coverage of the 2016 Marrakech Poker Open Main Event.