€2,200 EPT National High Roller
Dias: 2
Nível 21 : 8,000/16,000, 16,000 ante
Jogador
Fichas
Progresso

Freek Scholten

660,000

Aleksandar Tomovic

646,000

Bjorn Kozenkai

620,000

[Removed:102]

535,000

Tobias Heinsdorf

397,000

John Sarailis

330,000

Piotr Wiecek

319,000

Janosch Hain

308,000

Valeriu Rosca

180,000

Ji Zhang

140,000

Julien Martini

113,000
Nível 21 : 8,000/16,000, 16,000 ante
Jan Schwippert opened for 32,000 in the cutoff and small blind Gab Yong Kim made it 104,000 to go. Schwippert called and it appeared the
flop checked through. The
turn definitely checked through, leading to a
river. Kim bet 65,000 and Schwippert slid in a sizable raise to 215,000.
Kim thought about 30 seconds and flicked in a call but couldn't beat
for a backdoor flush.
Nível 21 : 8,000/16,000, 16,000 ante
"All in and call!" was overheard by a dealer on Table 7 with the board reading
. Eric Fournier was the one at risk in the big blind and Dmitry Yurasov was the one looking to send him to the rail.
Eric Fournier:

Dmitry Yurasov:
Fournier's sixes were in trouble against Yurasov's flopped pair of kings and he was unable to improve any further as the turn
and river
finished the runout, resulting in his elimination from the tournament as Yurasov earned the pot to bring him ever-closer to the million-mark.

Nível 21 : 8,000/16,000, 16,000 ante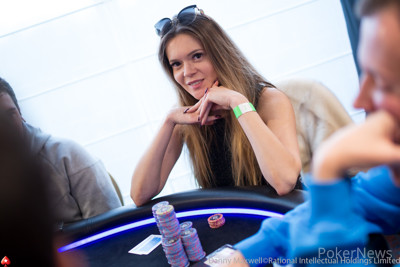 Maryna Khatskevich raised from under the gun to 35,000 and it folded back around to big blind Jose Quintas. Quintas opted to push all in for effectively 396,000 as he covered Khatskevich. She thought about it for a while and eventually got the clock called on her by Clement Richez. She had ten seconds left when she announced a call.
Maryna Khatskevich:

Jose Quintas:
Quintas needed to hit an ace but gained some backdoors on the
flop. He had some extra direct outs after the
on the turn but the
on the river was safe for Khatskevich to double up.
Nível 21 : 8,000/16,000, 16,000 ante
On a
flop, big blind Mario Navarro shoved all in for about 70,000 and Urmo Velvelt called in early position. Both had flush draws but Navarro's
was inferior to
.
The
turn improved Navarro to a leading pair, but he made a losing flush on the
river.
Nível 21 : 8,000/16,000, 16,000 ante
The following players were eliminated in 72-95th place, earning €4,360 for their efforts.

Nível 21 : 8,000/16,000, 16,000 ante
Filip Holmqvist raised all in from early position for his last 88,000 and Jose Quintas isolated with a jam of a little under 500,000 from the button. The player in the big blind had less than 10 big blinds in front of him and he wanted a count of the Holmqvist his stack. He ended up folding and Quintas and Holmqvist opened up.
Filip Holmqvist:

Jose Quintas:
The board ran out
and Holmqvist wasn't able to hit anything to stay alive in the €2,200 EPT National High Roller.
Nível: 21
Blinds: 8,000/16,000
Ante: 16,000
Nível 20 : 6,000/12,000, 12,000 ante
The remaining 61 players are on their first 20-minute break of the day.
Nível 20 : 6,000/12,000, 12,000 ante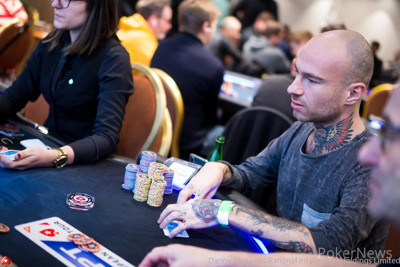 There was around 120,000 in the middle on a board of
in a heads-up pot between Dominykas Mikolaitis in the big blind and Clement Richez, who was in middle position. Mikolaitis had checked to Richez and action was back on him facing a bet of 35,000. He took about a minute and then check-raised to 125,000. Richez thought for about 35 seconds and called.
The river came
and Mikolaitis announced he was all in. Richez immediately called.
Dominykas Mikolaitis:

Clement Richez:
"Wow," said Mikolaitis realizing his second-nuts was up against the stone nuts of Richez. "It's insane," he added.
His chips were pushed Richez's way and a floor man came to walk him to the payout desk.
"Good luck, guys," said Mikolaitis as he made his way from the table. Meanwhile, Richez has continued to accumulate and now finds himself with what looks to be 2.5 million in front of him going to the first break of the day.