€5,300 Main Event
Dias: 1b
€5,300 Main Event
Dia 1b Começado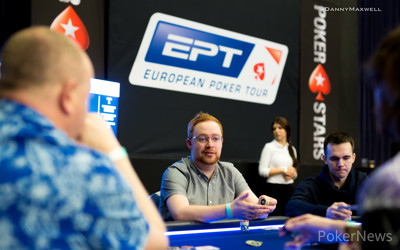 In two hours from now at 12 p.m. local time, the second starting day of the 2016 PokerStars.com EPT Season 13 Malta €5,300 Main Event gets underway at the Casino Portomaso. With plenty of sunshine outside and many of the online grinders returning to the felt after their Sunday sessions, a bigger field is expected than the 134 entries of yesterday's Day 1a, of which 61 bagged up chips last night.
The numbers to beat thus far for all hopefuls today are Dan Shak's 185,100 and Pasi Sormunen's 183,600, more than six times the starting stack over the course of eight 75-minute levels. All participants receive 30,000 in chips and there will be a break of 20 minutes every two levels and a 75-minute dinner break after level six, play will come to an end around midnight local time.
Last year, the EPT stopped twice on Malta. Jean Montury emerged victorious in the EPT11 Malta Main Event after outlasting a field of 895 players to claim a career-best payday of €687,400. And in October 2015, Niall Farrell defeated a 651-entry strong field in heads up against Alen Bilic to lift the trophy.
Many of the regular faces in the High Roller events took to the felt yesterday already with mixed success and as of 12.30 p.m. local time, the €10,300 Single-Day High Roller also kicks off as well. Who will make a big step towards history in the second-last EPT before the rebranding to the PokerStars Festivals next year? The PokerNews live reporting team will be on hand to cover the action for both tournaments, so stay tuned and check back regularly.
Nível: 1
Blinds: 50/100
Ante: 0
Nível 1 : 50/100, 0 ante
Jogador
Fichas
Progresso

Jacek Pustula

30,000

30,000

Benny Glaser

30,000

30,000

Bart Kuiper

30,000

30,000

Rasmus Agerskov

30,000

30,000

Vicente Delgado

30,000

30,000

Pierre Calamusa

30,000

30,000

Team Pro

Jimmy Guerrero

30,000

30,000

Jason Tompkins

30,000

30,000

Andrea Cortellazzi

30,000

30,000

Eugene Katchalov

30,000

30,000

Andreas Hoivold

30,000

30,000

Martin Staszko

30,000

30,000

Andrey Andreev

30,000

30,000

Yury Gulyy

30,000

30,000

Johan Guilbert

30,000

30,000

Antoine Saout

30,000

30,000
Day 1b is just five minutes underway and there are already more players than yesterday on day 1a. At the moment 176 players registered for this second starting day, outnumbering yesterday's 134 runners.
We expect the field will continue to grow over the first few levels, so the hopes are high on a big turn out for day 1b.
Nível 1 : 50/100, 0 ante
Alexander Ivarsson bet the heads-up flop of
for 700 and Sai Wu called in the cutoff. On the
turn, Ivarsson bet 1,800 and Wu said "call" then asked "how much?" before tossing in the chips. On the
river, Ivarsson checked and Wu bet 3,000. Ivarsson called after some consideration and Wu showed the
, Ivarsson had that beat with
.

Nível 1 : 50/100, 0 ante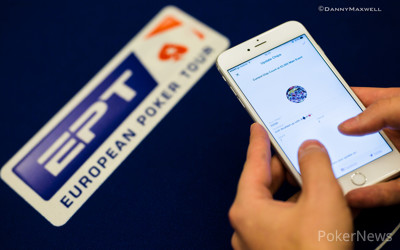 The PokerNews MyStack App is available for players here at the PokerStars EPT Malta, allowing players to directly update their chip count on the PokerNews Live Reporting page for their friends and family to see.
You can download the app for iPhone or Android now to get started. Then, create a new PokerNews account or update your current one to start updating your status immediately. Your followers can see all the live action that you're involved in.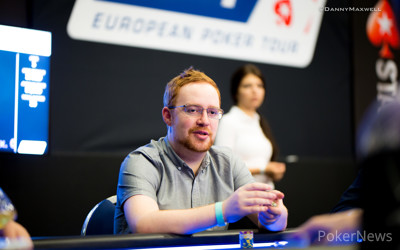 The reigning champion of EPT Malta, Niall Farrell just took his seat at table 7. Last year, in season 12 of the European Poker Tour, Farrell topped a field of 651 players. He banked €534,330 with his win and didn't do so bad in the events afterwards.
This summer he finished eighth in the $111,111 One Drop High Roller at the WSOP, ended second in a $1,500 No Limit Hold'em Shoot Out and sixth in a $2,500 No Limit Hold'em tournament.
Today, he started his quest to extend his reign here in Malta and score another big payday.
Nível 1 : 50/100, 0 ante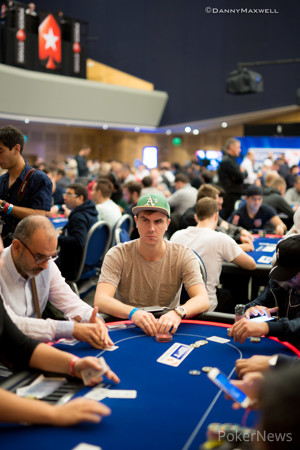 There were some gasps on the table still after the dealer had announced seat open on table 23. Jimmy Guerrero couldn't really believe it either, but apparently Sai Wu had sent over her remaining stack entirely to Alexander Ivarsson. The first seat open after 14 minutes! This is not a record for the EPT though, but surely one of the fastest exits ever.
As per Ivarsson, this is what happened. Wu limped in, the cutoff raised to 375 and Ivarsson three-bet to 1,000 on the button, only Wu called. On the
flop, Wu checked, Ivarsson bet 1,200 and then faced a raise to 2,700. Ivarsson reraised to 6,700 and Wu called. After the
turn, Ivarsson bet 6,000 and received a call before checking the
river. Wu shoved for 13,000 with
and Ivarsson more than happily called with
for the full house.
Nível 1 : 50/100, 0 ante
Simon Amyot raised to 325 and received three callers in Michael Awad, Andrea Cortellazzi and Maxim Toldin. On the
flop all three players checked. On the
turn, Toldin bet 800 out of the big blind and Amot min-raised to 1,600. Awad called and Cortellazzi folded. Toldin then made it 4,500 to go and both opponents called.
The
fell on the river and Toldin checked. Amyot bet 10,000 and Awad folded. Toldin asked for a count on the bet, then folded and the table was shown the
.
Jogador
Fichas
Progresso

Simon Amyot

42,000

42,000

Andrea Cortellazzi

29,000

-1,000

Maxim Toldin

25,000

25,000

Michael Awad

25,000

25,000