PokerStars SCOOP Returns May 10 With $40 Million in Guaranteed Prizes
Nível 24 : 20,000/40,000, 5,000 ante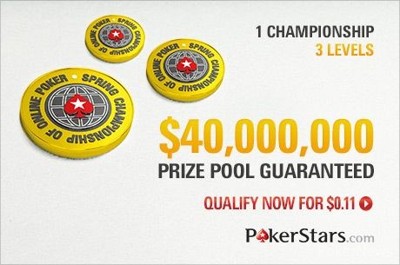 Online poker players from around the world are gearing up for the 2015 Spring Championship of Online Poker (SCOOP) starting this Sunday on PokerStars.
The annual poker festival takes place from May 10-24, featuring 46 events types - or 138 events in total - broken out into low, medium, and high buy-ins with a mouth-watering $40 million in guaranteed prize pools.
Every day during the 15-day poker festival features three different events types, with the first-day featuring four different events. The series kicks off on May 10 at 8:00 am ET with SCOOP-01-L: $11 NL Hold'em featuring a $75,000 guarantee, SCOOP-01-M: $109 NL Hold'em [Sunday Kickoff SE] with a $150,000 guarantee, and SCOOP-01-H: $1,050 NL Hold'em with a $300,000 guarantee.
The series caters to both low-limit and high-limit players with event buy-ins ranging from $7.50 to $21,000, with each event featuring a big guaranteed prize pool.
While most of the events are in no-limit hold'em, the schedule also features just about every poker variant PokerStars offers including limit hold'em, pot-limit Omaha, H.O.R.S.E., eight-game, 2-7 single draw, and badugi. Additionally, there are many different formats on the schedule including freezeout, turbo, heads-up, knockouts, rebuys, shootouts, and Zoom poker.
The highlight of the SCOOP are the three Main Events taking place on May 24 at 2:30 pm ET. The low SCOOP Main Event features a $1 million guaranteed prize pool for a $109 buy-in, the medium Main Event features a $2 million guaranteed prize pool for a $1,050 buy-in, and the high Main Event features a $4 million guaranteed prize pool for a $10,300 buy-in.
Russia's Ivan "vandir4rek" Soshnikov won last year's $10,300 SCOOP Main Event, beating out 657-players to win $1,048,000 as part of a three-way deal.
Players have a chance to qualify into all the SCOOP events cheaper via satellites running around the clock on PokerStars. Satellites start at just $0.11 or one FPP giving many poker players a chance to play in this year's SCOOP.
Here's a look at the schedule for the 2015 PokerStars SCOOP:
Sunday, May 10
08:00 ET - Event 01, $11 / $109 / $1,050: No Limit Hold'em - SCOOP Kickoff (2-Day Event)
11:00 ET - Event 02, $27 / $215 / $2,100: No Limit Hold'em [6-Max, Progressive Super-Knockout] (2-Day Event)
14:30 ET - Event 03, $27 / $215 / $2,100: No Limit Hold'em (2-Day Event)
17:00 ET - Event 04, $11 / $109 / $1,050: No Limit Hold'em [Turbo]
Monday, May 11
11:00 ET - Event 05, $27 / $215 / $2,100: Fixed Limit Badugi
14:00 ET - Event 06, $7.50 / $82 / $700: No Limit Hold'em [Heads-Up]
17:00 ET - Event 07, $7.50 / $82 / $700: No Limit Hold'em [Rebuys]
Tuesday, May 12
11:00 ET - Event 08, $27 / $215 / $2,100: No Limit 5-Card Draw
14:00 ET - Event 09, $11 / $109 / $1,050: No Limit Hold'em (2-Day Event)
17:00 ET - Event 10, $11 / $109 / $1,050: PL Omaha [6-Max, Rebuys] (2-Day Event)
Wednesday, May 13
11:00 ET - Event 11, $27 / $215 / $2,100: Fixed Limit Triple Draw 2-7
14:00 ET - Event 12, $7.50 / $82 / $700: No Limit Hold'em [Ante Up] (2-Day Event)
17:00 ET - Event 13, $27 / $215 / $2,100: 7-Card Stud
Thursday, May 14
11:00 ET - Event 14, $27 / $215 / $2,100: NL Single Draw 2-7
14:00 ET - Event 15, $11 / $109 / $1,050: No Limit Hold'em [Progressive Super-Knockout] (2-Day Event)
17:00 ET - Event 16, $27 / $215 / $2,100: PL Omaha [Heads-Up] (2-Day Event)
Friday, May 15
11:00 ET - Event 17, $11 / $109 / $1,050: No Limit Hold'em [Big Antes, Rebuys] (2-Day Event)
14:00 ET - Event 18, $27 / $215 / $2,100: No Limit Hold'em [6-Max Shootout]
17:00 ET - Event 19, $27 / $215 / $2,100: FL Omaha Hi/Lo [8-Max]
Saturday, May 16
11:00 ET - Event 20, $27 / $215 / $2,100: No Limit Hold'em [4-Max] (2-Day Event)
14:00 ET - Event 21, $7.50 / $82 / $700: PL 5-Card Omaha [6-Max, 1 Rebuy, 1 Add-On] (2-Day Event)
17:00 ET - Event 22, $7.50 / $82 / $700: No Limit Hold'em [6-Max, Variable Level Times, Ultra-Deep] (2-Day Event)
Sunday, May 17
11:00 ET - Event 23, $27 / $215 / $2,100: No Limit Hold'em [6-Max] (2-Day Event)
14:30 ET - Event 24, $27 / $215 / $2,100: No Limit Hold'em (2-Day Event)
17:00 ET - Event 25, $27 / $215 / $2,100: PL Omaha [6-Max, Turbo, Zoom]
Monday, May 18
11:00 ET - Event 26, $11 / $109 / $1,050: No Limit Hold'em [n-Stack]
14:00 ET - Event 27, $11 / $109 / $1,050: Pot Limit 5-Card Omaha Hi/Lo [6-Max, Rebuys] (2-Day Event)
17:00 ET - Event 28, $27 / $215 / $2,100: 7-Card Stud Hi/Lo
Tuesday, May 19
11:00 ET - Event 29, $27 / $215 / $2,100: PL Omaha [6-Max, Re-Entry Available]
14:00 ET - Event 30, $11 / $109 / $1,050: No Limit Hold'em (2-Day Event)
17:00 ET - Event 31, $27 / $215 / $2,100: FL Hold'em [6-Max]
Wednesday, May 20
11:00 ET - Event 32, $27 / $215 / $2,100: Razz
14:00 ET - Event 33, $27 / $215 / $2,100: No Limit Hold'em [Re-Entry Available]
17:00 ET - Event 34, $27 / $215 / $2,100: NL Omaha Hi/Lo
Thursday, May 21
11:00 ET - Event 35, $27 / $215 / $2,100: 8-Game
14:00 ET - Event 36, $11 / $109 / $1,050: No Limit Hold'em [Progressive Super-Knockout] (2-Day Event)
17:00 ET - Event 37, $27 / $215 / $2,100: PL Omaha Hi/Lo
Friday, May 22
11:00 ET - Event 38, $27 / $215 / $2,100: No Limit Hold'em [1 Rebuy, 1 Add-On] (2-Day Event)
14:00 ET - Event 39, $7.50 / $82 / $700: H.O.R.S.E.
17:00 ET - Event 40, $27 / $215 / $2,100: No Limit Hold'em [Turbo, Zoom]
Saturday, May 23
11:00 ET - Event 41, $55 / $530 / $5,200: Pot Limit Omaha [6-Max, n-Stack]
14:00 ET - Event 42, $215/$2,100/$21,000: No Limit Hold'em [Heads-Up, High-Roller] (2-Day Event)
17:00 ET - Event 43, $27 / $215 / $2,100: No Limit Hold'em [6-Max, Variable Level Times, Progressive Super-Knockout] (2-Day Event)
Sunday, May 24
11:00 ET - Event 44, $27 / $215 / $2,100: No Limit Hold'em [8-Max] (2-Day Event)
14:30 ET - Event 45, $109/$1,050/$10,300: No Limit Hold'em Main Event (2-Day Event)
17:00 ET - Event 46, $11 / $109 / $1,050: No Limit Hold'em SCOOP Wrap-Up [Turbo, Re-Entry Available]