Congratulations to Shurane Vijayaram, Winner of the 2017 Aussie Millions Main Event for $1.6 Million!
Nível 31 : 80,000/160,000, 20,000 ante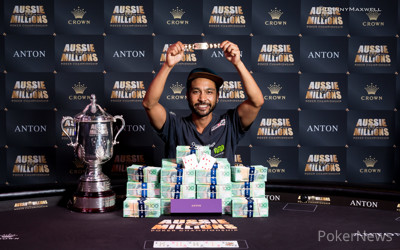 What a final hand to end a fantastic event, and with that Shurane Vijayaram has become the 2017 Aussie Millions Main Event champion!
Vijayaram's AU$1.6 million-victory came after a relatively short heads-up battle with an amazing river call to end the event. Unfortunately for Ben Heath, his all in jam on the river didn't get past Vijayaram, who took his time evaluating the entire hand before making one of the best hero calls you will ever see!
For Vijayaram, the win marked one of the most amazing poker stories you will hear. Only a week ago Vijayaram entered a Sunday night $130-rebuy tournament here at Crown Casino and won himself a seat into the Main Event. One week later and that $130 has turned into a seven-figure score. And that is Vijayaram's first ever recorded cash after never before making the money, in any event, he's played.
At the start of Sunday's final table, seven players remained from a starting field of 725 — the third-largest Aussie Millions Main Event in its 20-year history. First to go was Australia's own Luke Roberts, and he was followed by the only American at the table, WSOP bracelet winner David Olson. Roberts took home AU$215,000, and Olson scored AU$270,000.
The next two places on the payout sheet were filled in by the two most experienced and decorated players at the final table. First, it was Germany's Fedor Holz falling in fifth place for AU$335,000, and then Australia's Jeff Rossiter took fourth for AU$445,000. For Holz, it marked an incredible couple of days after finishing 3rd in the ANTON Jewellery $100,000 Challenge just a night earlier for AU$352,800. Rossiter also made some history, making another deep run here in Melbourne, after finishing in 3rd place back in 2011 for AU$700,000.
Along with the aforementioned Holz, Tobias Hausen was the other German pro at the final table, and he advanced into the tournament's last trio of players. While he held his own throughout the day and even made an additional pay jump courtesy of the Rossiter's elimination, the big stacks of Vijayaram and Heath proved too much to overcome. In the end, he moved all in with ace-jack and was up against Vijayaram jack-ten. Hausen flopped ace to extend his lead but Vijayaram spiked a queen on the turn to make a straight and that left us with two.
Vijayaram entered the heads-up duel with the lead, a lead he held for the most part of the 120-hands leading up to this point, and an entertaining duel it was. Heath tried to pick away at Vijayaram for the entirety of their 29 heads-up hands but could never find that much needed double up to get him back in the game. Eventually, it all had to end and Vijayaram capped off a memorable day with a fantastic call to win it all.
Pokernews spoke to Vijayaram right after his career defining score for his take on his first official live tournament cash.
"Absolutely amazing, it's like a dream!" Gushed a clearly elated Vijayaram.
"I qualified last Sunday night in a AUD$130 rebuy tournament. First Aussie Millions satellite I ever played, this is the fourth-ever tournament I played at Crown. I've played poker for a long time but I'm more a cash game player than a tournament player. I'm just getting back into tournaments now."
Vijayaram will definitely have a story to tell down his local pub the next time he pops in for a few hands of poker.
"Honestly, I was just getting back into pub poker about four months ago. One of the guys at pub poker, and he's here tonight, asked me if had played any Aussie Millions satellites. I was like 'no, I don't really play that often'. But then I thought about it and thought 'maybe I will play.' I went down last Sunday, played it, won it and now I'm here.
Perhaps the most impressive part of the Melburnian native's Aussie Millions adventure was the fact he did not seem fazed by the bright lights and world-class competition.
"I was a little bit intimidated on my Day 2, sitting… on Mustapha Kanit's right. He's a really dangerous player and when I first sat down at the table I was really nervous. But after I had taken on some of those players – I played with Tony Dunst on my Day 1 – I got the confidence to trust my read. That's something that this tournament has really strengthened, trusting my read. Before that, I didn't have as much confidence in my read but having that trust and instinct, the unconscious feeling... it's hard to explain." Said Vijayaram, who went on to state that he didn't want the seasoned pros at the final table and the pressure of the chip lead affect him.
"I already played some really good players during this tournament, better players than I've played in my whole life before…. Having that confidence, and confidence in my game I suppose gave me the belief that I could take these guys on."
Vijayaram's confidence in his reads and his game definitely counted for a lot when it came to heads-up play against seasoned circuit pro Ben Heath.
"It was tough. Ben has probably played a lot more heads up than I have. I've played heads up but I'm not a heads-up specialist by any means. He made it really tough for me. That call on the river in the last hand, that was a tough call and I had to really analyze the hand and think about what he was representing. He was a really tough opponent and he did really well." Stated Vijayaram, who went on to tell Pokernews his plans for his poker windfall.
"I'm going to put it in the bank and not look at it for like a month. Maybe I'll go on a holiday for a couple of weeks and relax. I'll probably pay off my credit card."
The tournament bug will have certainly bitten the Melbournian player and while he said he does not play that many tournaments we're pretty sure that will change going forwards.
"I think it might actually," confirmed Vijayaram, "I've been cashing in some other pub poker tournaments in the last four months. That's part of the reason it gave me the confidence to play this. I think I'll play a bit more tournaments, I really like it now - I really enjoy it."
For Heath, a cool seven-figure payday will definitely be something he can talk about for years to come, but the spotlight tonight is all about Vijayaram.