Cronograma WCOOP 2020: Festival com US$ 80M GTD começa em 30 de agosto no PokerStars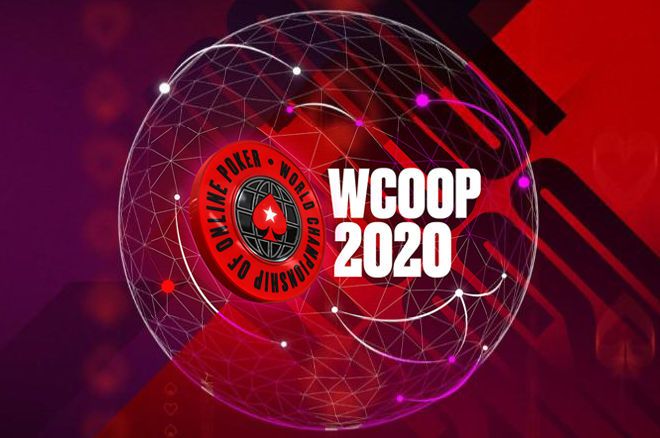 Chegou um dos momentos mais aguardados do ano para os jogadores de torneios de poker online! O PokerStars revelou hoje os detalhes da 19ª edição anual do World Championships of Online Poker (WCOOP), que vai acontecer entre 30 de agosto e 23 de setembro.
WCOOP 2020 com 75 eventos e US$ 80M+ GTD
O festival vai distribuir mais de US$ 80 milhões em prêmios garantidos por um total de 225 torneios. O calendário do WCOOP 2020 é composto por 75 eventos individuais, cada um deles com três níveis de buy-in: Low, Medium e High.
Como sempre, o grande destaque do WCOOP é o Main Event NLHE com buy-in de US$ 5.200, que este ano oferece novamente US$ 10 milhões garantidos. Este torneio pagou pelo menos US$ 1 milhão ao primeiro colocado todos os anos desde 2007 e a lista de campeões incluiu grandes nomes do poker, como J.C. Tran (area23JC), Yevgeniy Timoshenko (Jovial Gent), Fedor Holz (CrownUpGuy) e Steven van Zadelhoff (SvZff).
O início do Main Event NLHE do WCOOP 2020 está programado para 20 de setembro e vai distribuir um total combinado de US$ 13.250.000 milhões garantidos.
Main Event Low: buy-in de US$ 55 com US$ 1,25 milhão garantido
Main Event Medium: buy-in de US$ 530 com US$ 2 milhões garantidos
Main Event High: buy-in de US$ 5.200 com US$ 10 milhões garantidos
Detalhes chave do WCOOP 2020
Número de eventos NLHE: 50
Número de eventos Pot Limit Omaha: 5
Número de eventos de outras variantes: 20
Número de eventos com US$ 1M+ GTD: 23
Torneio mais barato do WCOOP: US$ 2,20 WCOOP-1-L [Phased]
Torneio mais caro do WCOOP: US$ 25.000 WCOOP-25-H NLHE Super High Roller [Sunday Slam]
Maior garantido: US$ 5.200 WCOOP 72-H NLHE [8-Max NLHE Main Event] com US$ 10M GTD
Campeão do Main Event do ano passado: 'BigBlindBets' - US$ 1.665.962
Mais informações anunciadas
O PokerStars também anunciou que vai distribuir US$ 100.000 em prêmios nas Leaderboards Player of the Series e que continuará com o popular formato de satélites Fast Track que rolou durante a Stadium Series.
Os torneios Fast Track oferecem aos jogadores a chance de se classificarem para o WCOOP Main Event através de um sistema de steps, e vão distribuir pelo menos 5 entradas para o US$ 5.200 Main Event todos os dias!
Além disso, o PokerStars também vai distribuir US$ 1,5 milhão em entradas para o US$ 5.200 Main Event através dos sorteio diários WCOOP Sweepstakes — 3 entradas todos os dias entre 30 de agosto e 20 de setembro.
Outra das novidades do WCOOP deste ano são os torneios Sunday Slam com prêmios adicionados. Os jogadores que vencerem um destes torneios especiais realizados aos domingos levarão para casa um Pacote Slam 2021, que inclui os buy-ins para os Main Events do SCOOP, WCOOP e Stadium Series do próximo ano.
Transmissões ao vivo com cartas reveladas
Embora ainda não tenha anunciado os detalhes, o PokerStars confirmou que haverá transmissões ao vivo diárias com cartas reveladas durante o WCOOP. As transmissões serão realizadas no canal do PokerStars no Twitch e contarão com diferentes jogadores de poker e comentaristas.
Cronograma completo do WCOOP 2020
| Data | Hora (ET) | Evento | Detalhes | Garantido |
| --- | --- | --- | --- | --- |
| 30-Aug | 13:05 | WCOOP 02-L | $109 NLHE [8-Max Progressive KO Sunday Slam] | $1.5M Gtd |
| 30-Aug | 13:05 | WCOOP 02-M | $1,050 NLHE [8-Max Progressive KO Sunday Slam] | $2M Gtd |
| 30-Aug | 13:05 | WCOOP 02-H | $10,300 NLHE [8-Max Progressive KO Sunday Slam] | $1.5M Gtd |
| 30-Aug | 14:05 | WCOOP 03-L | $55 PLO [6-Max] | $125K Gtd |
| 30-Aug | 14:05 | WCOOP 03-M | $530 PLO [6-Max] | $250K Gtd |
| 30-Aug | 14:05 | WCOOP 03-H | $5,200 PLO [6-Max High Roller] | $750K Gtd |
| 30-Aug | 15:05 | WCOOP 04-L | $22 NLHE | $100K Gtd |
| 30-Aug | 15:05 | WCOOP 04-M | $215 NLHE | $250K Gtd |
| 30-Aug | 15:05 | WCOOP 04-H | $2,100 NLHE | $500K Gtd |
| 30-Aug | 17:05 | WCOOP 05-L | $5.50 NLHE [8-Max Turbo Progressive KO Mini Sunday Cooldown SE] | $50K Gtd |
| 30-Aug | 17:05 | WCOOP 05-M | $55 NLHE [8-Max Turbo Progressive KO Sunday Cooldown SE] | $250K Gtd |
| 30-Aug | 17:05 | WCOOP 05-H | $530 NLHE [8-Max Turbo Progressive KO Sunday Cooldown SE] | $500K Gtd |
| 31-Aug | 13:05 | WCOOP 06-L | $5.50 NLHE [6-Max Progressive KO] | $75K Gtd |
| 31-Aug | 13:05 | WCOOP 06-M | $55 NLHE [6-Max Progressive KO] | $350K Gtd |
| 31-Aug | 13:05 | WCOOP 06-H | $530 NLHE [6-Max Progressive KO] | $500K Gtd |
| 31-Aug | 14:05 | WCOOP 07-L | $22 PLO8 [6-Max] | $40K Gtd |
| 31-Aug | 14:05 | WCOOP 07-M | $215 PLO8 [6-Max] | $100K Gtd |
| 31-Aug | 14:05 | WCOOP 07-H | $2,100 PLO8 [6-Max] | $200K Gtd |
| 31-Aug | 15:05 | WCOOP 08-L | $11 NLHE [8-Max] | $50K Gtd |
| 31-Aug | 15:05 | WCOOP 08-M | $109 NLHE [8-Max] | $200K Gtd |
| 31-Aug | 15:05 | WCOOP 08-H | $1,050 NLHE [8-Max] | $250K Gtd |
| 01-Sep | 12:05 | WCOOP 09-L | $11 NL 2-7 Single Draw | $10K Gtd |
| 01-Sep | 12:05 | WCOOP 09-M | $109 NL 2-7 Single Draw | $25K Gtd |
| 01-Sep | 12:05 | WCOOP 09-H | $1,050 NL 2-7 Single Draw | $75K Gtd |
| 01-Sep | 13:05 | WCOOP 10-L | $109 NLHE [8-Max Mini Super Tuesday SE] | $350K Gtd |
| 01-Sep | 13:05 | WCOOP 10-M | $1,050 NLHE [8-Max Super Tuesday SE] | $1M Gtd |
| 01-Sep | 13:05 | WCOOP 10-H | $10,300 NLHE [8-Max High Roller] | $1M Gtd |
| 01-Sep | 14:05 | WCOOP 11-L | $11 FLHE [6-Max] | $12K Gtd |
| 01-Sep | 14:05 | WCOOP 11-M | $109 FLHE [6-Max] | $30K Gtd |
| 01-Sep | 14:05 | WCOOP 11-H | $1,050 FLHE [6-Max] | $75K Gtd |
| 01-Sep | 15:05 | WCOOP 12-L | $5.50 NLHE [Heads-Up Progressive Total KO] | $50K Gtd |
| 01-Sep | 15:05 | WCOOP 12-M | $55 NLHE [Heads-Up Progressive Total KO] | $175K Gtd |
| 01-Sep | 15:05 | WCOOP 12-H | $530 NLHE [Heads-Up Progressive Total KO] | $200K Gtd |
| 02-Sep | 13:05 | WCOOP 13-L | $11 NLHE [Midweek Freeze] | $60K Gtd |
| 02-Sep | 13:05 | WCOOP 13-M | $109 NLHE [Midweek Freeze] | $200K Gtd |
| 02-Sep | 13:05 | WCOOP 13-H | $1,050 NLHE [Midweek Freeze] | $400K Gtd |
| 02-Sep | 14:05 | WCOOP 14-L | $11 PLO [6-Max] | $30K Gtd |
| 02-Sep | 14:05 | WCOOP 14-M | $109 PLO [6-Max] | $100K Gtd |
| 02-Sep | 14:05 | WCOOP 14-H | $1,050 PLO [6-Max] | $300K Gtd |
| 02-Sep | 15:05 | WCOOP 15-L | $5.50+R NLHE [8-Max] | $75K Gtd |
| 02-Sep | 15:05 | WCOOP 15-M | $55+R NLHE [8-Max] | $250K Gtd |
| 02-Sep | 15:05 | WCOOP 15-H | $530+R NLHE [8-Max] | $400K Gtd |
| 03-Sep | 13:05 | WCOOP 16-L | $109 NLHE [8-Max Progressive KO Mini Thursday Thrill SE] | $500K Gtd |
| 03-Sep | 13:05 | WCOOP 16-M | $1,050 NLHE [8-Max Progressive KO Thursday Thrill SE] | $1M Gtd |
| 03-Sep | 13:05 | WCOOP 16-H | $10,300 NLHE [8-Max Progressive KO High Roller] | $1M Gtd |
| 03-Sep | 14:05 | WCOOP 17-L | $11 6+ Hold'em [6-Max] | $30K Gtd |
| 03-Sep | 14:05 | WCOOP 17-M | $109 6+ Hold'em [6-Max] | $40K Gtd |
| 03-Sep | 14:05 | WCOOP 17-H | $1,050 6+ Hold'em [6-Max] | $100K Gtd |
| 03-Sep | 15:05 | WCOOP 18-L | $22 NLHE | $75K Gtd |
| 03-Sep | 15:05 | WCOOP 18-M | $215 NLHE | $200K Gtd |
| 03-Sep | 15:05 | WCOOP 18-H | $2,100 NLHE | $400K Gtd |
| 05-Sep | 10:30 | WCOOP 19-L | $5.50 NLHE [Afternoon Deep Stack] | $50K Gtd |
| 05-Sep | 10:30 | WCOOP 19-M | $55 NLHE [Afternoon Deep Stack] | $150K Gtd |
| 05-Sep | 10:30 | WCOOP 19-H | $530 NLHE [Afternoon Deep Stack] | $250K Gtd |
| 05-Sep | 12:05 | WCOOP 20-L | $11 HORSE | $20K Gtd |
| 05-Sep | 12:05 | WCOOP 20-M | $109 HORSE | $50K Gtd |
| 05-Sep | 12:05 | WCOOP 20-H | $1,050 HORSE | $100K Gtd |
| 05-Sep | 13:05 | WCOOP 21-L | $55 NLHE [6-Max Progressive KO] | $250K Gtd |
| 05-Sep | 13:05 | WCOOP 21-M | $530 NLHE [6-Max Progressive KO] | $500K Gtd |
| 05-Sep | 13:05 | WCOOP 21-H | $5,200 NLHE [6-Max Progressive KO] | $500K Gtd |
| 05-Sep | 14:05 | WCOOP 22-L | $11 NL 5-Card Draw | $15K Gtd |
| 05-Sep | 14:05 | WCOOP 22-M | $109 NL 5-Card Draw | $25K Gtd |
| 05-Sep | 14:05 | WCOOP 22-H | $1,050 NL 5-Card Draw | $50K Gtd |
| 06-Sep | 08:05 | WCOOP 23-L | $5.50 NLHE [Mini Sunday Kickoff SE] | $30K Gtd |
| 06-Sep | 08:05 | WCOOP 23-M | $55 NLHE [Sunday Kickoff SE] | $200K Gtd |
| 06-Sep | 08:05 | WCOOP 23-H | $530 NLHE | $400K Gtd |
| 06-Sep | 10:30 | WCOOP 24-L | $11 NLHE [8-Max Progressive KO] | $100K Gtd |
| 06-Sep | 10:30 | WCOOP 24-M | $109 NLHE [8-Max Progressive KO Sunday Warm-Up SE] | $300K Gtd |
| 06-Sep | 10:30 | WCOOP 24-H | $1,050 NLHE [8-Max Progressive KO Sunday Warm-Up SE] | $500K Gtd |
| 06-Sep | 13:05 | WCOOP 25-L | $215 NLHE [8-Max Sunday Slam] | $1M Gtd |
| 06-Sep | 13:05 | WCOOP 25-M | $2,100 NLHE [8-Max Sunday Slam] | $1M Gtd |
| 06-Sep | 13:05 | WCOOP 25-H | $25,000 NLHE [8-Max Super High Roller Sunday Slam] | $2.5M Gtd |
| 06-Sep | 14:05 | WCOOP 26-L | $22 5-Card PLO [6-Max] | $40K Gtd |
| 06-Sep | 14:05 | WCOOP 26-M | $215 5-Card PLO [6-Max] | $100K Gtd |
| 06-Sep | 14:05 | WCOOP 26-H | $2,100 5-Card PLO [6-Max] | $300K Gtd |
| 06-Sep | 15:05 | WCOOP 27-L | $11 NLHE | $50K Gtd |
| 06-Sep | 15:05 | WCOOP 27-M | $109 NLHE | $200K Gtd |
| 06-Sep | 15:05 | WCOOP 27-H | $1,050 NLHE | $300K Gtd |
| 06-Sep | 17:05 | WCOOP 28-L | $22 NLHE [8-Max Turbo Progressive KO Mini Sunday Cooldown SE] | $125K Gtd |
| 06-Sep | 17:05 | WCOOP 28-M | $215 NLHE [8-Max Turbo Progressive KO Sunday Cooldown SE] | $300K Gtd |
| 06-Sep | 17:05 | WCOOP 28-H | $2,100 NLHE [8-Max Turbo Progressive KO Sunday Cooldown SE] | $400K Gtd |
| 07-Sep | 13:05 | WCOOP 29-L | $11 NLHE [Progressive KO] | $150K Gtd |
| 07-Sep | 13:05 | WCOOP 29-M | $109 NLHE [Progressive KO] | $500K Gtd |
| 07-Sep | 13:05 | WCOOP 29-H | $1,050 NLHE [Progressive KO] | $750K Gtd |
| 07-Sep | 14:05 | WCOOP 30-L | $5.50 NLO8 [6-Max] | $15K Gtd |
| 07-Sep | 14:05 | WCOOP 30-M | $55 NLO8 [6-Max] | $50K Gtd |
| 07-Sep | 14:05 | WCOOP 30-H | $530 NLO8 [6-Max] | $100K Gtd |
| 07-Sep | 15:05 | WCOOP 31-L | $5.50 NLHE [4-Max] | $35K Gtd |
| 07-Sep | 15:05 | WCOOP 31-M | $55 NLHE [4-Max] | $125K Gtd |
| 07-Sep | 15:05 | WCOOP 31-H | $530 NLHE [4-Max] | $250K Gtd |
| 08-Sep | 10:30 | WCOOP 32-L | $11 NLHE [Progressive KO] | $75K Gtd |
| 08-Sep | 10:30 | WCOOP 32-M | $109 NLHE [Progressive KO] | $250K Gtd |
| 08-Sep | 10:30 | WCOOP 32-H | $1,050 NLHE [Progressive KO] | $350K Gtd |
| 08-Sep | 13:05 | WCOOP 33-L | $55 NLHE [8-Max Mini Super Tuesday SE] | $350K Gtd |
| 08-Sep | 13:05 | WCOOP 33-M | $530 NLHE [8-Max Super Tuesday SE] | $750K Gtd |
| 08-Sep | 13:05 | WCOOP 33-H | $5,200 NLHE [8-Max High Roller] | $750K Gtd |
| 08-Sep | 14:05 | WCOOP 34-L | $22 8-Game | $30K Gtd |
| 08-Sep | 14:05 | WCOOP 34-M | $215 8-Game | $60K Gtd |
| 08-Sep | 14:05 | WCOOP 34-H | $2,100 8-Game | $150K Gtd |
| 08-Sep | 15:05 | WCOOP 35-L | $22 NLHE [6-Max] | $75K Gtd |
| 08-Sep | 15:05 | WCOOP 35-M | $215 NLHE [6-Max] | $200K Gtd |
| 08-Sep | 15:05 | WCOOP 35-H | $2,100 NLHE [6-Max] | $400K Gtd |
| 09-Sep | 13:05 | WCOOP 36-L | $22 NLHE [Midweek Freeze] | $150K Gtd |
| 09-Sep | 13:05 | WCOOP 36-M | $215 NLHE [Midweek Freeze] | $250K Gtd |
| 09-Sep | 13:05 | WCOOP 36-H | $2,100 NLHE [Midweek Freeze] | $400K Gtd |
| 09-Sep | 14:05 | WCOOP 37-L | $55 PLO [6-Max] | $75K Gtd |
| 09-Sep | 14:05 | WCOOP 37-M | $530 PLO [6-Max] | $200K Gtd |
| 09-Sep | 14:05 | WCOOP 37-H | $5,200 PLO [6-Max High Roller] | $500K Gtd |
| 09-Sep | 15:05 | WCOOP 38-L | $11 NLHE | $50K Gtd |
| 09-Sep | 15:05 | WCOOP 38-M | $109 NLHE | $175K Gtd |
| 09-Sep | 15:05 | WCOOP 38-H | $1,050 NLHE | $300K Gtd |
| 10-Sep | 13:05 | WCOOP 39-L | $55 NLHE [Progressive KO Mini Thursday Thrill SE] | $500K Gtd |
| 10-Sep | 13:05 | WCOOP 39-M | $530 NLHE [Progressive KO Thursday Thrill SE] | $1M Gtd |
| 10-Sep | 13:05 | WCOOP 39-H | $5,200 NLHE [Progressive KO High Roler] | $1M Gtd |
| 10-Sep | 14:05 | WCOOP 40-L | $11 Razz | $15K Gtd |
| 10-Sep | 14:05 | WCOOP 40-M | $109 Razz | $40K Gtd |
| 10-Sep | 14:05 | WCOOP 40-H | $1,050 Razz | $75K Gtd |
| 10-Sep | 15:05 | WCOOP 41-L | $22 NLHE [6-Max] | $75K Gtd |
| 10-Sep | 15:05 | WCOOP 41-M | $215 NLHE [6-Max] | $200K Gtd |
| 10-Sep | 15:05 | WCOOP 41-H | $2,100 NLHE [6-Max] | $400K Gtd |
| 12-Sep | 10:30 | WCOOP 42-L | $11 NLHE [8-Max Progressive KO Afternoon Deep Stack] | $75K Gtd |
| 12-Sep | 10:30 | WCOOP 42-M | $109 NLHE [8-Max Progressive KO Afternoon Deep Stack] | $200K Gtd |
| 12-Sep | 10:30 | WCOOP 42-H | $1,050 NLHE [8-Max Progressive KO Afternoon Deep Stack] | $250K Gtd |
| 12-Sep | 12:05 | WCOOP 43-L | $5.50 NLHE/PLO [6-Max] | $25K Gtd |
| 12-Sep | 12:05 | WCOOP 43-M | $55 NLHE/PLO [6-Max] | $60K Gtd |
| 12-Sep | 12:05 | WCOOP 43-H | $530 NLHE/PLO [6-Max] | $125K Gtd |
| 12-Sep | 13:05 | WCOOP 44-L | $22 NLHE | $150K Gtd |
| 12-Sep | 13:05 | WCOOP 44-M | $215 NLHE | $300K Gtd |
| 12-Sep | 13:05 | WCOOP 44-H | $2,100 NLHE | $400K Gtd |
| 12-Sep | 14:05 | WCOOP 45-L | $11 FL Badugi [6-Max] | $10K Gtd |
| 12-Sep | 14:05 | WCOOP 45-M | $109 FL Badugi [6-Max] | $20K Gtd |
| 12-Sep | 14:05 | WCOOP 45-H | $1,050 FL Badugi [6-Max] | $50K Gtd |
| 13-Sep | 08:05 | WCOOP 46-L | $11 NLHE [8-Max Mini Sunday Kickoff SE] | $50K Gtd |
| 13-Sep | 08:05 | WCOOP 46-M | $109 NLHE [8-Max Sunday Kickoff SE] | $200K Gtd |
| 13-Sep | 08:05 | WCOOP 46-H | $1,050 NLHE [8-Max] | $300K Gtd |
| 13-Sep | 10:30 | WCOOP 47-L | $22 NLHE | $125K Gtd |
| 13-Sep | 10:30 | WCOOP 47-M | $215 NLHE [Sunday Warm-Up SE] | $400K Gtd |
| 13-Sep | 10:30 | WCOOP 47-H | $2,100 NLHE [Sunday Warm-Up SE] | $500K Gtd |
| 13-Sep | 13:05 | WCOOP 48-L | $55 NLHE [8-Max Progressive KO Sunday Slam] | $1M Gtd |
| 13-Sep | 13:05 | WCOOP 48-M | $530 NLHE [8-Max Progressive KO Sunday Slam] | $1.5M Gtd |
| 13-Sep | 13:05 | WCOOP 48-H | $5,200 NLHE [8-Max Progressive KO Sunday Slam] | $1M Gtd |
| 13-Sep | 14:05 | WCOOP 49-L | $22 NLO8 [6-Max Progressive KO] | $50K Gtd |
| 13-Sep | 14:05 | WCOOP 49-M | $215 NLO8 [6-Max Progressive KO] | $100K Gtd |
| 13-Sep | 14:05 | WCOOP 49-H | $2,100 NLO8 [6-Max Progressive KO] | $200K Gtd |
| 13-Sep | 15:05 | WCOOP 50-L | $11 NLHE [6-Max] | $100K Gtd |
| 13-Sep | 15:05 | WCOOP 50-M | $109 NLHE [6-Max] | $250K Gtd |
| 13-Sep | 15:05 | WCOOP 50-H | $1,050 NLHE [6-Max] | $500K Gtd |
| 13-Sep | 17:05 | WCOOP 51-L | $5.50 NLHE [8-Max Turbo Progressive KO Mini Sunday Cooldown SE] | $50K Gtd |
| 13-Sep | 17:05 | WCOOP 51-M | $55 NLHE [8-Max Turbo Progressive KO Sunday Cooldown SE] | $250K Gtd |
| 13-Sep | 17:05 | WCOOP 51-H | $530 NLHE [8-Max Turbo Progressive KO Sunday Cooldown SE] | $400K Gtd |
| 14-Sep | 13:05 | WCOOP 52-L | $5.50 NLHE [6-Max Progressive KO] | $75K Gtd |
| 14-Sep | 13:05 | WCOOP 52-M | $55 NLHE [6-Max Progressive KO] | $350K Gtd |
| 14-Sep | 13:05 | WCOOP 52-H | $530 NLHE [6-Max Progressive KO] | $500K Gtd |
| 14-Sep | 14:05 | WCOOP 53-L | $5.50 PLO8 [8-Max] | $15K Gtd |
| 14-Sep | 14:05 | WCOOP 53-M | $55 PLO8 [8-Max] | $50K Gtd |
| 14-Sep | 14:05 | WCOOP 53-H | $530 PLO8 [8-Max] | $100K Gtd |
| 14-Sep | 15:05 | WCOOP 54-L | $11 NLHE [8-Max Win the Button] | $50K Gtd |
| 14-Sep | 15:05 | WCOOP 54-M | $109 NLHE [8-Max Win the Button] | $175K Gtd |
| 14-Sep | 15:05 | WCOOP 54-H | $1,050 NLHE [8-Max Win the Button] | $250K Gtd |
| 15-Sep | 12:05 | WCOOP 55-L | $22 HORSE | $25K Gtd |
| 15-Sep | 12:05 | WCOOP 55-M | $215 HORSE | $50K Gtd |
| 15-Sep | 12:05 | WCOOP 55-H | $2,100 HORSE | $150K Gtd |
| 15-Sep | 13:05 | WCOOP 56-L | $22 NLHE [8-Max] | $125K Gtd |
| 15-Sep | 13:05 | WCOOP 56-M | $215 NLHE [8-Max Mini Super Tuesday SE] | $400K Gtd |
| 15-Sep | 13:05 | WCOOP 56-H | $2,100 NLHE [8-Max Super Tuesday SE] | $750K Gtd |
| 15-Sep | 14:05 | WCOOP 57-L | $22 FL 2-7 Triple Draw | $15K Gtd |
| 15-Sep | 14:05 | WCOOP 57-M | $215 FL 2-7 Triple Draw | $40K Gtd |
| 15-Sep | 14:05 | WCOOP 57-H | $2,100 FL 2-7 Triple Draw | $100K Gtd |
| 15-Sep | 15:05 | WCOOP 58-L | $5.50 NLHE [8-Max Progressive KO] | $35K Gtd |
| 15-Sep | 15:05 | WCOOP 58-M | $55 NLHE [8-Max Progressive KO] | $125K Gtd |
| 15-Sep | 15:05 | WCOOP 58-H | $530 NLHE [8-Max Progressive KO] | $250K Gtd |
| 16-Sep | 13:05 | WCOOP 59-L | $55 NLHE [8-Max Midweek Freeze] | $175K Gtd |
| 16-Sep | 13:05 | WCOOP 59-M | $530 NLHE [8-Max Midweek Freeze] | $350K Gtd |
| 16-Sep | 13:05 | WCOOP 59-H | $5,200 NLHE [8-Max Midweek Freeze] | $500K Gtd |
| 16-Sep | 14:05 | WCOOP 60-L | $5.50+R PLO [6-Max] | $35K Gtd |
| 16-Sep | 14:05 | WCOOP 60-M | $55+R PLO [6-Max] | $125K Gtd |
| 16-Sep | 14:05 | WCOOP 60-H | $530+R PLO [6-Max] | $300K Gtd |
| 16-Sep | 15:05 | WCOOP 61-L | $11 NLHE [6-Max Progressive KO] | $60K Gtd |
| 16-Sep | 15:05 | WCOOP 61-M | $109 NLHE [6-Max Progressive KO] | $250K Gtd |
| 16-Sep | 15:05 | WCOOP 61-H | $1,050 NLHE [6-Max Progressive KO] | $350K Gtd |
| 17-Sep | 12:05 | WCOOP 62-L | $11 Stud Hi/Lo | $15K Gtd |
| 17-Sep | 12:05 | WCOOP 62-M | $109 Stud Hi/Lo | $35K Gtd |
| 17-Sep | 12:05 | WCOOP 62-H | $1,050 Stud Hi/Lo | $75K Gtd |
| 17-Sep | 13:05 | WCOOP 63-L | $22 NLHE [8-Max Progressive KO] | $250K Gtd |
| 17-Sep | 13:05 | WCOOP 63-M | $215 NLHE [8-Max Progressive KO Mini Thursday Thrill SE] | $500K Gtd |
| 17-Sep | 13:05 | WCOOP 63-H | $2,100 NLHE [8-Max Progressive KO Thursday Thrill SE] | $750K Gtd |
| 17-Sep | 14:05 | WCOOP 64-L | $11 FLO8 [8-Max] | $15K Gtd |
| 17-Sep | 14:05 | WCOOP 64-M | $109 FLO8 [8-Max] | $40K Gtd |
| 17-Sep | 14:05 | WCOOP 64-H | $1,050 FLO8 [8-Max] | $100K Gtd |
| 17-Sep | 15:05 | WCOOP 65-L | $11 NLHE [6-Max] | $60K Gtd |
| 17-Sep | 15:05 | WCOOP 65-M | $109 NLHE [6-Max] | $150K Gtd |
| 17-Sep | 15:05 | WCOOP 65-H | $1,050 NLHE [6-Max] | $250K Gtd |
| 19-Sep | 10:30 | WCOOP 66-L | $5.50 NLHE [Afternoon Deep Stack] | $40K Gtd |
| 19-Sep | 10:30 | WCOOP 66-M | $55 NLHE [Afternoon Deep Stack] | $150K Gtd |
| 19-Sep | 10:30 | WCOOP 66-H | $530 NLHE [Afternoon Deep Stack] | $250K Gtd |
| 19-Sep | 12:05 | WCOOP 67-L | $11 NLO8 [8-Max] | $20K Gtd |
| 19-Sep | 12:05 | WCOOP 67-M | $109 NLO8 [8-Max] | $50K Gtd |
| 19-Sep | 12:05 | WCOOP 67-H | $1,050 NLO8 [8-Max] | $125K Gtd |
| 19-Sep | 13:05 | WCOOP 68-L | $11 NLHE [8-Max Progressive KO] | $150K Gtd |
| 19-Sep | 13:05 | WCOOP 68-M | $109 NLHE [8-Max Progressive KO] | $500K Gtd |
| 19-Sep | 13:05 | WCOOP 68-H | $1,050 NLHE [8-Max Progressive KO] | $600K Gtd |
| 19-Sep | 14:05 | WCOOP 69-L | $109 8-Game | $60K Gtd |
| 19-Sep | 14:05 | WCOOP 69-M | $1,050 8-Game | $150K Gtd |
| 19-Sep | 14:05 | WCOOP 69-H | $10,300 8-Game [High Roller] | $500K Gtd |
| 20-Sep | 08:05 | WCOOP 70-L | $5.50 NLHE [Mini Sunday Kickoff SE] | $35K Gtd |
| 20-Sep | 08:05 | WCOOP 70-M | $55 NLHE [Sunday Kickoff SE] | $175K Gtd |
| 20-Sep | 08:05 | WCOOP 70-H | $530 NLHE | $400K Gtd |
| 20-Sep | 10:30 | WCOOP 71-L | $11 NLHE [8-Max Progressive KO] | $125K Gtd |
| 20-Sep | 10:30 | WCOOP 71-M | $109 NLHE [8-Max Progressive KO Sunday Warm-Up SE] | $500K Gtd |
| 20-Sep | 10:30 | WCOOP 71-H | $1,050 NLHE [8-Max Progressive KO Sunday Warm-Up SE] | $1M Gtd |
| 20-Sep | 13:05 | WCOOP 72-L | $55 NLHE [8-Max NLHE Main Event] | $1.25M Gtd |
| 20-Sep | 13:05 | WCOOP 72-M | $530 NLHE [8-Max NLHE Main Event] | $2M Gtd |
| 20-Sep | 13:05 | WCOOP 72-H | $5,200 NLHE [8-Max NLHE Main Event] | $10M Gtd |
| 20-Sep | 15:05 | WCOOP 73-L | $109 PLO [6-Max PLO Main Event] | $300K Gtd |
| 20-Sep | 15:05 | WCOOP 73-M | $1,050 PLO [6-Max PLO Main Event] | $750K Gtd |
| 20-Sep | 15:05 | WCOOP 73-H | $10,300 PLO [6-Max PLO Main Event] | $1.25M Gtd |
| 20-Sep | 17:05 | WCOOP 74-L | $11 NLHE [8-Max Turbo Progressive KO Mini Sunday Cooldown SE] | $100K Gtd |
| 20-Sep | 17:05 | WCOOP 74-M | $109 NLHE [8-Max Turbo Progressive KO Sunday Cooldown SE] | $400K Gtd |
| 20-Sep | 17:05 | WCOOP 74-H | $1,050 NLHE [8-Max Turbo Progressive KO Sunday Cooldown SE] | $750K Gtd |
| 21-Sep | 13:05 | WCOOP 75-L | $11 NLHE [8-Max Progressive KO Series Saver] | $175K Gtd |
| 21-Sep | 13:05 | WCOOP 75-M | $109 NLHE [8-Max Progressive KO Series Saver] | $600K Gtd |
| 21-Sep | 13:05 | WCOOP 75-H | $1,050 NLHE [8-Max Progressive KO Series Saver] | $1M Gtd |
| 21-Sep | 14:05 | WCOOP 01-L | $2.20 NLHE [Phase 2] | $250K Gtd |
| 21-Sep | 14:05 | WCOOP 01-M | $22 NLHE [Phase 2] | $1M Gtd |
| 21-Sep | 14:05 | WCOOP 01-H | $215 NLHE [Phase 2] | $2M Gtd |