Event #66: $1,500 No-Limit Hold'em
Dias: 1
Event #66: $1,500 No-Limit Hold'em
Dia 1 Começado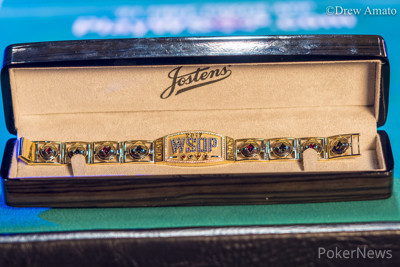 Welcome and get settled in for Event #66: $1,500 No-Limit Hold'em. This is the fifth and final installment of the $1,500 buy-in no-limit hold'em tournaments on this year's World Series of Poker schedule, and it gets going at 11 a.m. as the series races towards its conclusion.
When play commences today, players will play ten 60-minute levels and get a 20-minute break every two levels. Dinner break will take place after Level 6, around 5:40 p.m., and will be 90 minutes long. Players will be given 7,500 in chips to use at their discretion while battling their way towards the coveted WSOP gold bracelet.
This year, four events of this type have already taken place. David "The Dragon" Pham won Event #12, besting a field of 1,739 players to take home his third WSOP bracelet and $391,960. Then, in Event #33, Chris Frank was able to grind his way through, topping a field of 1,698 players to take home $384,833 for his efforts.
Event #52 was conquered by Mohsin Charania to give him the triple crown of poker. He bested a field of 1,580 players to take home $364,438. And most recently, Event #58 was the time for Artur Rudziankov to have his bracelet coming out party after he bested a field of 1,763 players to take home $395,918.
PokerNews has activated the My Stack App for this event, allowing you to directly adjust your chip counts in our live reporting blog using your iPhone or Android phone.
You can download the app for iPhone or Android now to get started. Then, create a new PokerNews account or update your current one to start updating your status immediately. Your followers can see all the live action that you're involved in.
Click here to download the My Stack app for iPhone, or click here to download the My Stack app for Android.
Stay tuned to catch all of the action and excitement brought to you by the PokerNews team.
Cards are in the air and 850 players have taken their seats to begin battling for WSOP supremacy.
Nível: 1
Blinds: 25/50
Ante: 0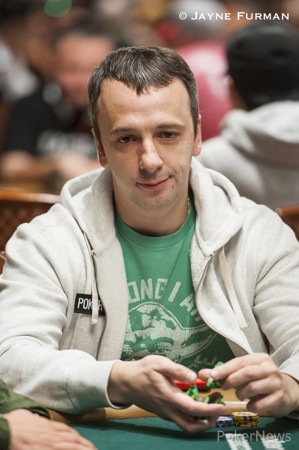 Mikhail Semin is in the field for the kickoff of today's event. He is currently 14th on the WSOP Player of the Year rankings. A strong performance in a large field no-limit hold'em tournament will certainly help bridge the gap between Semin and the current POY leader, John Racener.
Semin has 28 total cashes on his WSOP resume including six final tables in various forms of poker. He has earned $578,599 in tournament winnings.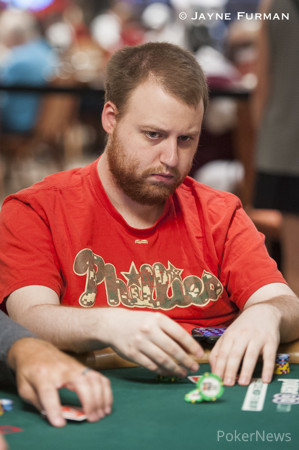 Former WSOP Main Event Champions Joe McKeehen (2015) and Jerry Yang (2007) are in the starting field for Event #66.
McKeehen added a second WSOP gold bracelet this year to a WSOP résumé that includes two circuit rings, 36 cashes, and over $10-million in tournament winnings. McKeehen has also won around $3 million in non-WSOP tournaments.
Yang has nine WSOP cashes and hasn't cashed a WSOP event since the Colossus in 2015. He has $8.5 million in WSOP earnings (most from that Main Event win) and about $200,000 in non-WSOP earnings.
Jogador
Fichas
Progresso

Joe McKeehen

7,500

7,500

Jerry Yang

7,500

7,500
Jogador
Fichas
Progresso

Justin Young

7,500

James Chen

7,500

Bart Hanson

7,500

Jake Schwartz

7,500

Dong Guo

7,500

James Dempsey

7,500

Cole Jackson

7,500

Jeff Tanouye

7,500

Joseph Cheong

7,500

Jonathan Little

7,500

Julie Cornelius

7,500

Jeremy Ausmus

7,500

Mike Leah

7,500

Brian Hastings

7,500

John Morgan

7,500

Craig Varnell

7,500

Adam Owen

7,500

Dennis Phillips

7,500

Ari Engel

7,500

Andy Philachack

7,500

John Cynn

7,500

Mike Wang

7,500

Mike Dentale

7,500
Jogador
Fichas
Progresso

Melissa Gillett

7,500

Sam Cohen

7,500

Vineet Pahuja

7,500

Ryan McKnight

7,500

Kyle Hartree

7,500

Pawan Braich

7,500

Michael Moore

7,500

Marvin Karlins

7,500

Barry Greenstein

7,500

Martin Staszko

7,500

Govert Metaal

7,500

Javier Swett

7,500

Brian Landerman

7,500

Jim Gilbert

7,500

Andres Korn

7,500

Ryan Smyth

7,500
Nível: 2
Blinds: 50/100
Ante: 0
Jogador
Fichas
Progresso

Brian Hastings

14,200

6,700

Darryll Fish

11,200

Haixia Zhang

8,800

Nick Yunis

8,000

Joe McKeehen

7,800

300

Dutch Boyd

7,500

Christopher Moon

6,400

Cole Jackson

5,600

-1,900