Event #58: $1,000 Super Seniors No-Limit Hold'em
Dias: 3
Event #58: $1,000 Super Seniors No-Limit Hold'em
Dia 3 Começado

| ROOM | TABLE | SEAT | PLAYER | COUNTRY | CHIP COUNT |
| --- | --- | --- | --- | --- | --- |
| Amazon | 400 | 1 | Gary Pagel | United States | 420,000 |
| Amazon | 400 | 2 | Randall Bolick | United States | 1,755,000 |
| Amazon | 400 | 3 | Frank Neuhauser | United States | 530,000 |
| Amazon | 400 | 4 | Randall Amon | United States | 800,000 |
| Amazon | 400 | 5 | Randy Levin | United States | 750,000 |
| Amazon | 400 | 6 | Eugene Solomon | United States | 510,000 |
| Amazon | 400 | 7 | Edward Collins | United States | 360,000 |
| Amazon | 400 | 8 | Gregory Baird | United States | 450,000 |
| Amazon | 400 | 9 | B.W. Garrett | United States | 600,000 |
| | | | | | |
| Amazon | 401 | 1 | Marcus Weston | Canada | 60,000 |
| Amazon | 401 | 2 | Al Stonum | United States | 200,000 |
| Amazon | 401 | 3 | Scott Frost | United States | 200,000 |
| Amazon | 401 | 4 | Larry Ormson | United States | 115,000 |
| Amazon | 401 | 5 | Girish Apte | United States | 365,000 |
| Amazon | 401 | 6 | Glenn Gillam | United States | 1 |
| Amazon | 401 | 7 | Alan Perry | United States | 395,000 |
| Amazon | 401 | 8 | Laura Farrell | Canada | 425,000 |
| | | | | | |
| Amazon | 407 | 1 | Joseph Neiman | United States | 975,000 |
| Amazon | 407 | 2 | Skip Plotnicki | United States | 140,000 |
| Amazon | 407 | 3 | Mitchell Lehman | United States | 450,000 |
| Amazon | 407 | 5 | Alan Krockey | United States | 590,000 |
| Amazon | 407 | 6 | Paul Runge | United States | 270,000 |
| Amazon | 407 | 7 | Allen Nielson | United States | 635,000 |
| Amazon | 407 | 8 | Paul McMullin | United States | 415,000 |
| Amazon | 407 | 9 | Peter Wikoff | United States | 310,000 |
| | | | | | |
| Amazon | 408 | 2 | Anthony Simpson | United States | 660,000 |
| Amazon | 408 | 3 | Kathleen Bingman | United States | 180,000 |
| Amazon | 408 | 4 | Robert Michelini | United States | 327,000 |
| Amazon | 408 | 5 | Michael Preston | United States | 310,000 |
| Amazon | 408 | 6 | DID NOT REPORT 1 | United States | 220,000 |
| Amazon | 408 | 7 | Stanley Regula | United States | 615,000 |
| Amazon | 408 | 8 | Everett Carlton | United States | 630,000 |
| Amazon | 408 | 9 | Reginald Powell | United States | 1,565,000 |
| | | | | | |
| Amazon | 409 | 2 | Andrew Bodewin | United States | 1,355,000 |
| Amazon | 409 | 3 | Robert Chow | United States | 1,100,000 |
| Amazon | 409 | 4 | Robert Lerum | United States | 515,000 |
| Amazon | 409 | 5 | Pamela Shandel | United States | 55,000 |
| Amazon | 409 | 6 | David Slaughter | United States | 1,835,000 |
| Amazon | 409 | 7 | Ross Novak | United States | 670,000 |
| Amazon | 409 | 8 | Craig Rank | United States | 965,000 |
| Amazon | 409 | 9 | Gerald Reed | United States | 960,000 |
| | | | | | |
| Amazon | 415 | 1 | Randolph Stone | United States | 215,000 |
| Amazon | 415 | 2 | Steven Nichols | United States | 565,000 |
| Amazon | 415 | 3 | Edward Hayes | United States | 320,000 |
| Amazon | 415 | 4 | Koos Keizer | United States | 675,000 |
| Amazon | 415 | 5 | Sidney Smith | United States | 615,000 |
| Amazon | 415 | 6 | Scott Sukstorf | United States | 265,000 |
| Amazon | 415 | 8 | Bill Stabler | United States | 1,725,000 |
| Amazon | 415 | 9 | Andrew Golmicz | United States | 645,000 |
| | | | | | |
| Amazon | 416 | 1 | G Kirschenbaum | United States | 300,000 |
| Amazon | 416 | 2 | David Smith | United States | 1,080,000 |
| Amazon | 416 | 3 | David Gutfreund | United States | 755,000 |
| Amazon | 416 | 4 | Gary Bain | Canada | 440,000 |
| Amazon | 416 | 5 | Douglas Zaleski | United States | 455,000 |
| Amazon | 416 | 7 | Dennis Munro | Canada | 310,000 |
| Amazon | 416 | 8 | Joseph Richards | United States | 435,000 |
| Amazon | 416 | 9 | Daniel Darmiento | United States | 275,000 |
| | | | | | |
| Amazon | 417 | 1 | Bruce Schulman | United States | 455,000 |
| Amazon | 417 | 2 | Kris Hawkins | United States | 315,000 |
| Amazon | 417 | 3 | Jack Deutsch | United States | 355,000 |
| Amazon | 417 | 4 | Gilbert Johnson | United States | 445,000 |
| Amazon | 417 | 5 | Steve Miller | United States | 1,025,000 |
| Amazon | 417 | 6 | Jean-Luc Adam | United States | 1,140,000 |
| Amazon | 417 | 7 | Stuart Locascio | United States | 620,000 |
| Amazon | 417 | 8 | Rex Smith | United States | 440,000 |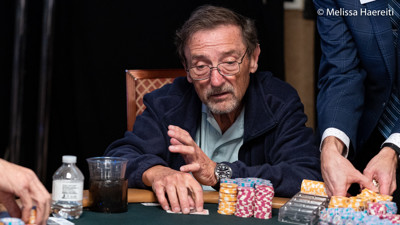 There are 65 players still in the hunt for a WSOP gold bracelet in Event #58: $1,000 Super Seniors No-Limit Hold'em.
Reginald Powell (1,565,000) bagged a top-five chip stack and will be eyeing the first-place prize of $255,631. Powell has more than $280,000 in career earnings but has yet to capture his first WSOP title. Other sizeable stacks heading into Day 3 belong to David Slaughter (1,835,000), Randall Bolick (1,755,000), and Bill Stabler (1,725,000).
WSOP Super Seniors Day 2 Top 10 Chip Counts
| RANK | PLAYER | Country | CHIP COUNT | Big Blinds |
| --- | --- | --- | --- | --- |
| 1 | David Slaughter | United States | 1,835,000 | 92 |
| 2 | Randall Bolick | United States | 1,755,000 | 88 |
| 3 | Bill Stabler | United States | 1,725,000 | 86 |
| 4 | Reginald Powell | United States | 1,565,000 | 78 |
| 5 | Andrew Bodewin | United States | 1,355,000 | 68 |
| 6 | Jean-Luc Adam | France | 1,140,000 | 57 |
| 7 | Robert Chow | United States | 1,100,000 | 55 |
| 8 | David Smith | United States | 1,080,000 | 54 |
| 9 | Steve Miller | United States | 1,025,000 | 51 |
| 10 | Joseph Neiman | United States | 975,000 | 49 |
Players will return for Day 3 on Tuesday, November 2 at 10 a.m local time in the Amazon room. The day will start at Level 21 with blinds of 10,000/20,000 with a big blind ante of 20,000. Play will continue until five players remain.
Keep up with all the updates of this event on PokerNews as well as our continuing coverage of the 2021 World Series of Poker.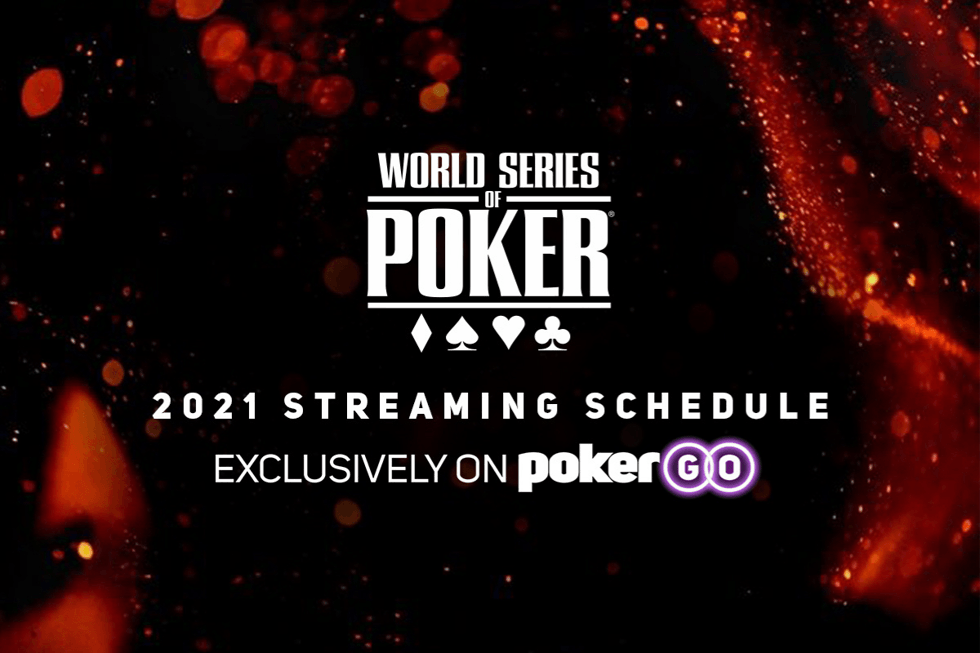 The 2021 World Series of Poker is in full swing, and PokerGO is live streaming many of the events.
PokerGO has partnered with CBS Sports Network to provide WSOP coverage with the likes of Lon McEachern, Norman Chad, and Jamie Kerstetter returning to the WSOP broadcast booth this year, along with PokerNews Podcast co-host Jeff Platt from time to time.
CBS Sports Network will televise 16 pre-produced and edited episodes of the 2021 World Series of Poker Main Event, after striking a multi-year deal earlier this year. This deal sees coverage of the WSOP Main Event return to its original broadcast partner after featuring on CBS Sports Spectacular in the mid-1970s.
All 16 episodes will be televised following the conclusion of the tournament.
PokerGO will provide live streaming duties of the World Championship event starting on Day 1A (November 4) until the end on November 17, except Day 1B (November 5).
Away from the Main Event, there will be additional coverage of more than two dozen tournaments thru November 23, 2021. They include the $50,000 Poker Players Championship and the $250,000 Super High Roller.
Here's a look at the remaining PokerGO live-stream schedule:
*Dates, times, and specific events of this schedule are subject to change.
Remember, poker fans can catch live updates from every single bracelet event from start to finish right here on PokerNews. Make sure to bookmark the 2021 World Series of Poker Hub, with all the reporting, news, interviews, and more from Las Vegas.
If you're not currently subscribed to PokerGO, you can get a monthly subscription for $14.99, a three-month plan for $29.99, and an annual subscription for $99.99. You can also save $10 off an annual subscription by using promo code "PokerNews" at checkout. Click here to subscribe.
Nível: 21
Blinds: 10,000/20,000
Ante: 20,000

Nível 21 : 10,000/20,000, 20,000 ante
Cards are in the air and play is now underway for the remaining super seniors.

Nível 21 : 10,000/20,000, 20,000 ante
Alex Katsman jammed in his 220,000 stack from the hijack and Everett Carlton called on the button.
Alex Katsman:

Everett Carlton:
"Thank you for doubling me up," Katsman said. "Ace on the river."
The
flop provided no help to Katsman, but the
spiked the turn to put him ahead. The
did indeed come on the river as he said, and it wasn't even needed as the turn ace was enough to give him the early double.

Nível 21 : 10,000/20,000, 20,000 ante
Larry Ormson was running low on chips and shoved from early position, he found a caller in Al Stonum.
Larry Ormson:

Al Stonum:
The board came
as both players paired their ace, but Stonum scooped the pot thanks to his king kicker.

Nível 21 : 10,000/20,000, 20,000 ante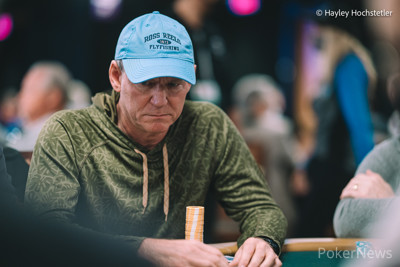 Robert Chow raised from early position and Ross Novak jammed in his stack of about 670,000 in the cutoff. Chow called.
Ross Novak:

Robert Chow:
Novak was in rough shape and needed to improve but couldn't find any help as the board ran out
and he was sent to the rail.

Nível 21 : 10,000/20,000, 20,000 ante
Daniel Darmiento and Douglas Zaleski got all the chips in the middle, with Darmiento at risk.
Daniel Darmiento:

Douglas Zaleski:
The board was
, and Zaleski made a full house to win the pot.
Jogador
Fichas
Progresso

Douglas Zaleski

735,000

280,000

Daniel Darmiento

Eliminado