Day 2 of Event #55: $1,000 Tag Team No-Limit Hold'em saw 242 teams come back to battle, but just 28 remain with Bon Koo - Bienvenido Caballero taking the chip lead into the final day.
Koo and Caballero bagged up an impressive 828,000 to take the lead over William Reymond - Ami Alibay (706,000), and Adam Lamphere - Ao Chen - Yijie Zhang (705,000).
Manig Loeser - Joelle Parenteau - Daniel Weinand (615,000), Johan Lees - Jesse Mason (602,000) and Salah 'Papa' Levy - Francis Mariani - Cord Garcia (585,000) will also come into Day 3 with considerable stacks.
Loni Harwood, along with her teammates Haixa Zhang and Kelly Minkin bagged up 480,000, and Ryan Laplante will also be back tomorrow with Jack Hardcastle, Patrick Truong, and Kevin Gerhart after their four-man team span up a stack worth 245,000.
The duo of Timothy Link and Timothy Lanzone will have the most work to do when play resumes at noon, June 28, as the shortest stack on 105,000.
Action of the day
Only 155 teams were guaranteed to make the money spots today, and it took just over two hours for the money bubble to burst. Tobias Hariefeld - Christian Rudolph and Gerald Dunn - Juan Rodriguez were both eliminated during hand-for-hand play, and due to the fact they were on different tables, they split the $1,502 155th place payout.
Players such as Shaun Deeb and David Peters sat down to help their teams during the middle part of the day. Deeb and Daniel Weinman took 108th place, but Peters and his partner Sasidhar Bobba faired better before they exited in 35th place.
The team of Dara O'Kearney - Alan Widmann - Daiva Byrne and Benny Glaser took 121st place, and Ashley Sleeth - Jesse Sylvia and Dylan Hortin exited in 118th place. Chris Moorman and Jeremy Menard fell in 108th place as Fraser MacIntyre - Barny Boatman - James Akenhead and Yiannis Liperis took 62nd place.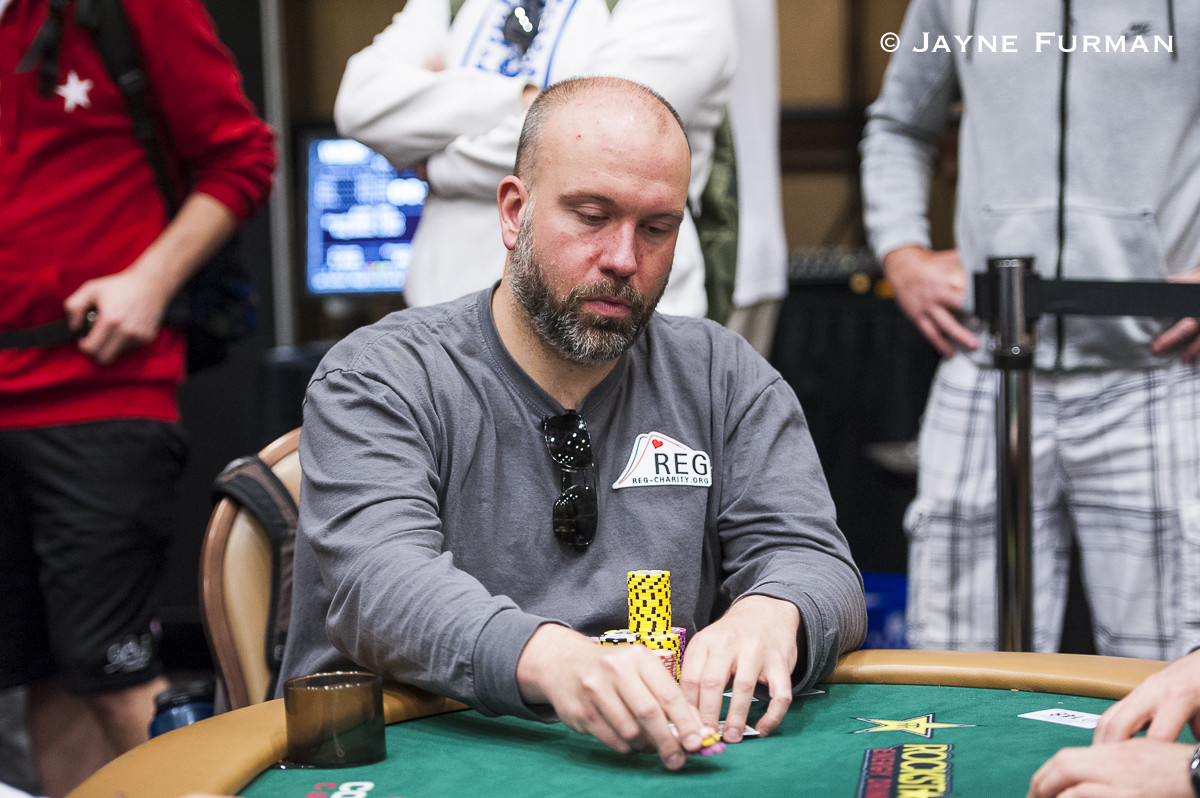 Andrew Barber - Sam Razavi - Dan Smith and Erik Seidel came together to create a team that guaranteed all their winnings to the REG Charity, and it was a job well done after they cashed out for $2,252 in 72nd place.
The duo of Jason Wheeler and Ludovic Geilich had progressed from a 64,500 start-of-day stack to over 200,000 quickly but as the closing levels took place, they could not continue their momentum and ultimately departed the event in 44th place for $3,495.
Juan Ramirez - Isai Coello - Dustin Pattinson came into the day as the chip leaders and built their stack consistently throughout most of the day, but they fell in the final level and took 32nd place for $1,391 per player.
The remaining 28 teams will return at noon on Friday, June 29 to fight it out for the $175,805 first-place and the coveted gold bracelet.
Join PokerNews as the action continues and the 2018 Tag Team champions are crowned.