Darie on Final Table of the PokerStars Blowout Series: $1,050 NLHE [8-Max, The Big Blowout!]

Nível 49 : 250,000-500,000, 62,500 ante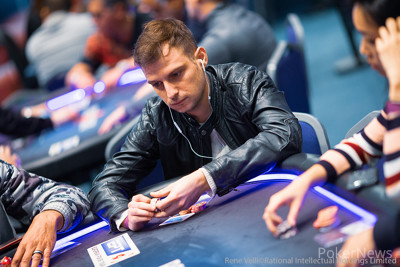 Day 2 of the PokerStars Blowout Series: $1,050 NLHE [8-Max, The Big Blowout!] has come to an end after nine hours and nine players are left to play down to a winner on Tuesday, January 19 at 6:05 p.m. GMT. On Day 1, the tournament attracted 6,490 entries with 1,580 players surviving with chips for Day 2.
As the late registration and reentry period was open until just before the start of Day 2, another 432 players decided to jump in to get to 6,922 entries in total out of 5,292 unique players who reentered 1,630 times. This created a whopping $6,922,000 prize pool for 975 players to get paid. The nine remaining players have secured at least $57,841 but will all be eyeing up that amazing first-place prize of $983,292.
Coming back onto the final table with the chip lead is Lithuania's "arbaarba" who claimed the lead in the last hour of the day when they doubled up through Francisco "Tomatee" Benitez with jacks versus ace-king. They then took some more chips away from Benitez to end up with a commanding lead.
They are followed in the counts by a more familiar name in Vlad "dariepoker" Darie who managed to take out Andreas "daskalos20" Christoforou and double through "Gordon_dReid" in a three-way all-in situation. Completing the top three is Fernando "fviana" Viana who was responsible for the elimination of "nimrod178" for example.
PokerStars Blowout Series: $1,050 NLHE [8-Max, The Big Blowout!] Final Table Chip Counts
| Rank | Player | Country | Chip Count | Big Blinds |
| --- | --- | --- | --- | --- |
| 1 | "arbaarba" | Lithuania | 37,442,906 | 75 |
| 2 | Vlad "dariepoker" Darie | Romania | 28,525,367 | 57 |
| 3 | Fernando "fviana" Viana | Brazil | 21,454,203 | 43 |
| 4 | "Mr. Havener" | Brazil | 21,068,122 | 42 |
| 5 | "adkaf" | Austria | 19,793,176 | 40 |
| 6 | "milanov888" | Bulgaria | 14,237,694 | 28 |
| 7 | "xMFPx" | United Kingdom | 12,521,965 | 25 |
| 8 | Lonnie "thx4urm0n3y" Hallett | Canada | 12,089,686 | 24 |
| 9 | "Gordon_dReid" | Canada | 5,916,881 | 12 |
From over 2,000 Players to a Final Table
With all the new entries in the field, the tournament kicked off with 2,012 players in their seats and with only 975 of them getting paid, the eliminations flew in at a fast pace. Andre "aakkari" Akkari started the day with a shortish stack and couldn't make much more out of them when he shoved his last 11 big blinds in with king-seven and was looked up by "tegiousis" who held ace-six.
In the end, it would only take two hours before the bubble burst when Scott "D_DIGGLER99" Hill took out Breno "Breno2728" Drumond who was forced all-in in the big blind for his last few chips. And then things went a bit crazy for quite a while. More than half of the field was gone within the next hour and 50% of those players were also eliminated by the time the next break came.
"pilaa" won the first Big Blowout title three weeks ago for $485,827 but had to bow out in 64th place when their pocket sixes couldn't hold up against the ace-king of Jorma "jobetzu" Nuutinen. Team PokerStars Online's Lex "L. Veldhuis" Veldhuis had finished in fourth place in the $5,200 NLHE High Roller earlier in the night for $97,257 and would collect $14,029 in this tournament when his ace-queen failed to hit while "Tzitzi989" managed to turn the pair with the ace-jack in their hand.
Kenny "SpaceyFCB" Hallaert took out players like Christian "WATnlos" Rudolph and Gleb "Ti0373" Tremzin but he would end up falling in 22nd place when things went amiss for a while and he lost the remainder of his stack to "milanov888". Kosei "shinbunshi" Ichinose was short for a while too and ended up finishing in 15th place when his king-queen couldn't beat the sevens of "adkaf".
In the end, it would be Benitez who would bubble the final table after first busting "B.J.B. P0ker" in thirteenth place but losing a huge chunk of his stack to "arbaarba". His hole cards in the final hand are unknown as "Mr. Havener" and "adkaf" ended up splitting the pot with a straight while Benitez apparently didn't hit anything good.
Plan for the Final Table
When the nine remaining players return for the final table, they will finish the last four minutes of Level 49 which features a small blind of 250,000, a big blind of 500,000, and a running ante of 62,500. Once that is done, they will move on to Level 50 with a small blind of 300,000, a big blind of 600,000, and an ante of 75,000. The level duration will be increased to 30 minutes and play will continue until a new champion can be crowned.
The PokerStars Twitch Channel will be live with commentary by James Hartigan and Joe Stapleton and guest. A 30-minute security delay will be on the stream as they're providing cards-up coverage of the whole final table from 6:30 p.m. GMT.
PokerNews will be there too from the first raise until the final river has been dealt so make sure to follow along to see what will win what as this is what they are all still playing for:
| Place | Prize |
| --- | --- |
| 1 | $983,292 |
| 2 | $690,040 |
| 3 | $484,249 |
| 4 | $339,831 |
| 5 | $238,483 |
| 6 | $167,361 |
| 7 | $117,448 |
| 8 | $82,422 |
| 9 | $57,841 |