David Peters Retains the Lead After Day 3 With 45 Players Remaining
Nível 18 : 4,000-8,000, 8,000 ante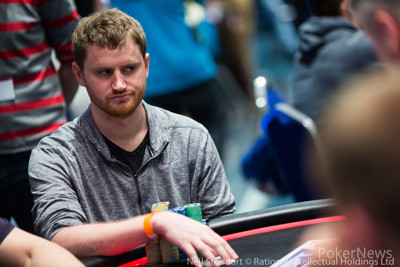 The money bubble has burst on Day 3 of the 2018 PokerStars and Monte-Carlo©Casino €5,300 EPT Main Event and after almost five full levels of 90 minutes each, it was a very familiar name at the top of the counts with 45 players still in contention. David Peters held the top spot when the cards got in the air, and he remained right there at the end of level 18.
Peters bagged up 1,839,000, one of seven players to claim at least one million in chips to their name at the end of Day 3. Second in chips is Javier Fernandez Alonso with 1,650,000 closely followed by Austria's Josip Simunic with 1,547,000. Among the other chip millionaires are Day 1a chip leader Mark Demirdjian (1,190,000), Tomas Jozonis (1,141,000), Triple Crown Champion Davidi Kitai (1,026,000) and Gary Miller (1,020,000).
Three further former EPT Champions are in the hunt to become the second-ever player to win two Main Event titles of the popular live series: Patrik Antonius (778,000), Dimitar Danchev (753,000) and Adrian Mateos (614,000). After the bubble had burst, Mateos was down to a mere 15,000 before mounting an incredible comeback.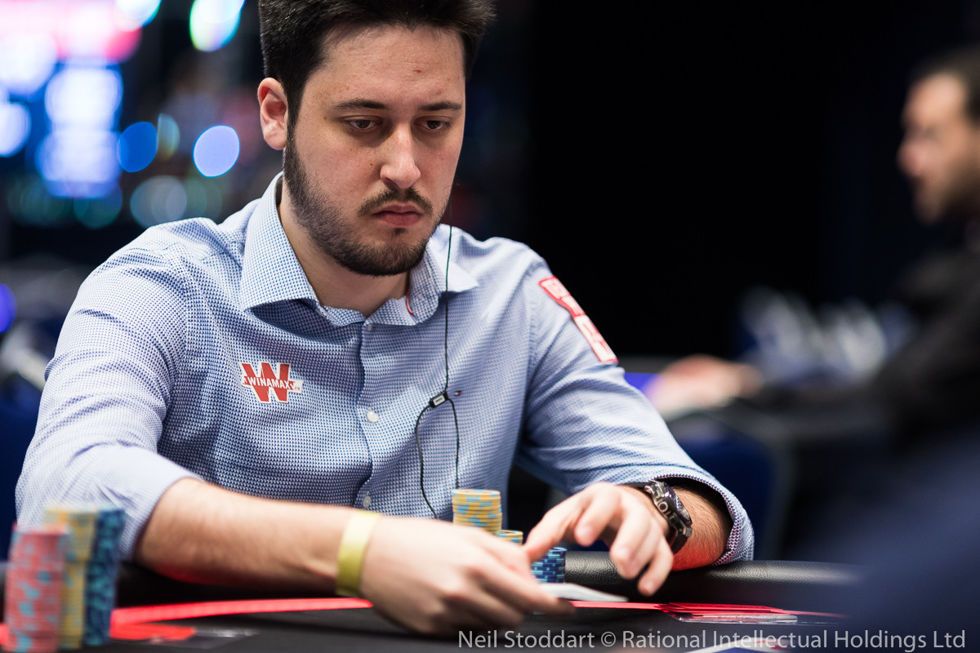 Other notables in a field filled with the who is who of the European and international poker circuit are Ole Schemion (714,000), Stefan Huber (449,000), two-time WSOP Main Event finalist Antoine Saout (329,000), Philipp Gruissem (284,000), Team PokerStars Pro Andre Akkari (218,000) and Maxim Panyak (173,000).
Two former EPT champions took home a share of the €3,768,450 prize pool in Hossein Ensan (80th for €10,300) and Mark Teltscher (48th for €13,600), while other notables to bust in the money on Day 3 included Ryan Riess, Erik Seidel, Leo Margets, Jack Salter, PokerStars Team Pro Randy Lew,Jason Wheeler, Sam Greenwood, Rainer Kempe, Nick Petrangelo and Day 1b chip leader Ali Reza Fatehi.
Among those to miss out on the min cash of €9,400 were such big names as [Removed:17], Pete Chan and Emil Patel. Yan was the first to fall, losing a flip Javier Fernandez Alonso, while Patel was one of two players to send over their stack to Philipp Gruissem in quick succession.
Three players were all in and at risk at different tables, but only Sosia Jiang departed when her pocket kings ended up second-best to the pocket aces of Fernandez Alonso. The money bubble then burst in the second level of the day and it was Jean-Jacques Zeitoun who became the last casualty without anything to show for. Down to fewer than four big blinds, Zeitoun was all in with pocket jacks and Sam Greenwood called with ace-eight to spike an ace on the flop to secure all remaining 111 players a min-cash of €9,400.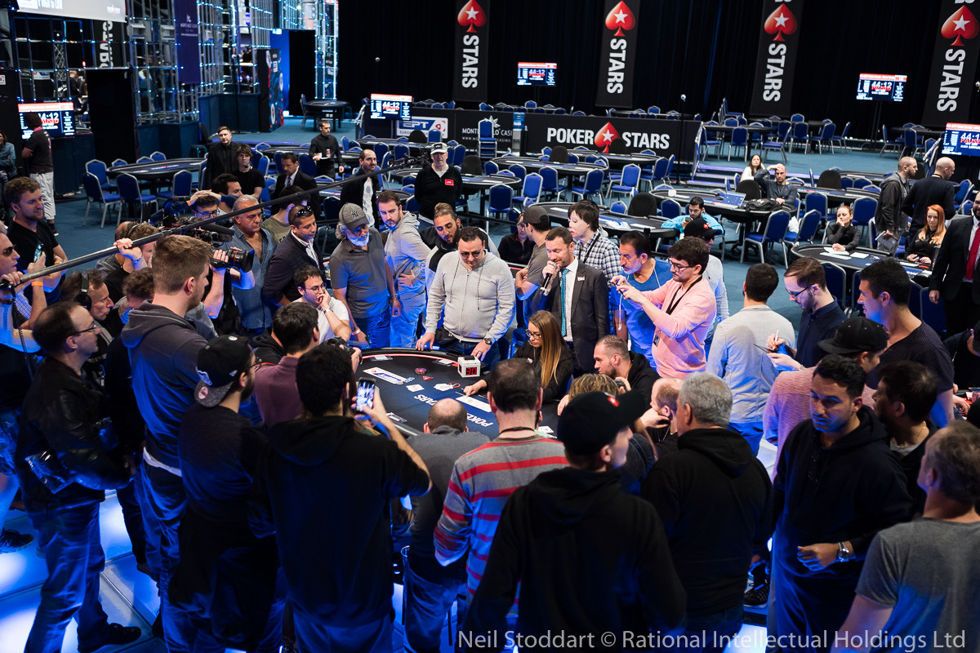 The floodgates opened soon after with several of the shorter stacks joining the rail in quick succession. Two big clashes vaulted Peters and Simunic to the top of the counts and both times it involved pocket kings and pocket aces. Peters benefited from a three-way all in with aces against the kings of Team PokerStars Pro Randy Lew and the queens of Lukasz Cygan, while big stack Mazin Khoury ran with his kings into the only better pair of EPT11 Deauville €10,300 High Roller champion Simunic.
Hossein Ensan's bid for a second EPT title came to an end when his pocket jacks failed to get there against the pocket kings of Alexis Fleur. National Championship €1,100 Main Event runner-up Federico Petruzzelli, who missed out on a Platinum Pass twice during the festival so far, scored a big double through Pablo Melogno with flush versus straight before his set of sixes ran into the set of aces of Dimitar Danchev. Petruzzelli (pictured below) roared back after winning a flip against Nick Petrangelo, though, and has another shot at the free trip to the Bahamas.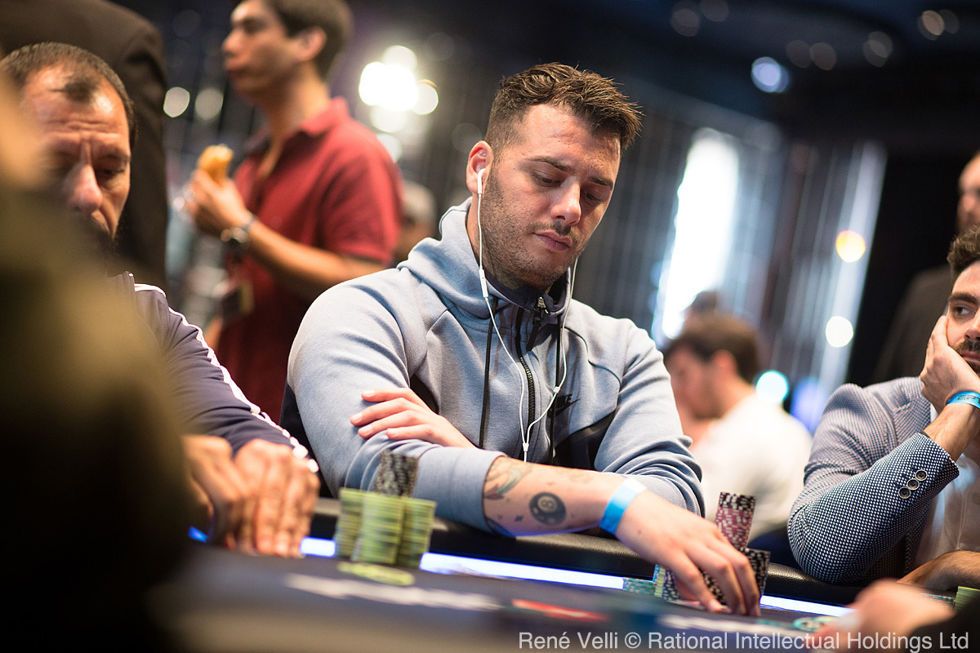 In the last level of the night, Mark Teltscher lost the vast majority of his stack with jacks against the pocket kings of Markku Koplimaa and Maxim Panyak took the remaining chips with eight-seven versus king-jack.
Ultimately, only 45 hopefuls bagged up chips and will be back for level 19 and blinds of 5,000/10,000 with a big blind ante of 10,000 when the action resumes on May 2 at noon local time. The PokerNews live reporting team will be there to provide all the action from the floor.
Main Event Day 4 Seat Draw
| Table | Seat | Player | Country | Chip Count | Big Blinds |
| --- | --- | --- | --- | --- | --- |
| 1 | 1 | Ole Schemion | Germany | 714,000 | 71 |
| 1 | 2 | Ouassini Mansouri | France | 305,000 | 31 |
| 1 | 3 | Davor Lanini | Italy | 737,000 | 74 |
| 1 | 4 | Eric Sfez | France | 744,000 | 74 |
| 1 | 5 | Jan Bednar | Czech Republic | 164,000 | 16 |
| 1 | 6 | Ekrem Sanioglu | Turkey | 195,000 | 20 |
| 1 | 7 | Anton Kraus | Bulgaria | 320,000 | 32 |
| 1 | 8 | Thomas Pettersson | Sweden | 187,000 | 19 |
| | | | | | |
| 2 | 2 | Stefan Huber | Switzerland | 449,000 | 45 |
| 2 | 3 | Georgios Karakousis | Greece | 455,000 | 46 |
| 2 | 4 | Markku Koplimaa | Estonia | 304,000 | 30 |
| 2 | 5 | Gavin O'Rourke | Ireland | 450,000 | 45 |
| 2 | 6 | Saar Wilf | Israel | 450,000 | 45 |
| 2 | 7 | Sadri Saleh | Canada | 165,000 | 17 |
| 2 | 8 | Mark Demirdjian | Lebanon | 1,190,000 | 119 |
| | | | | | |
| 3 | 1 | Krisztian Gyorgyi | Hungary | 335,000 | 34 |
| 3 | 2 | Alexis Fleur | France | 436,000 | 44 |
| 3 | 3 | Davidi Kitai | Belgium | 1,026,000 | 103 |
| 3 | 4 | Francesco Grieco | Italy | 194,000 | 19 |
| 3 | 5 | Yorane Kerignard | France | 85,000 | 9 |
| 3 | 6 | Danut Chisu | Romania | 123,000 | 12 |
| 3 | 7 | Javier Fernandez Alonso | Spain | 1,605,000 | 161 |
| 3 | 8 | Andre Akkari | Brazil | 218,000 | 22 |
| | | | | | |
| 4 | 1 | Federico Petruzzelli | Italy | 963,000 | 96 |
| 4 | 2 | Sonny Franco | France | 169,000 | 17 |
| 4 | 3 | Gary Miller | United Kingdom | 1,020,000 | 102 |
| 4 | 5 | Maxim Panyak | Russia | 173,000 | 17 |
| 4 | 6 | Tomas Jozonis | Lithuania | 1,141,000 | 114 |
| 4 | 7 | Ali Chaieb | France | 303,000 | 30 |
| 4 | 8 | Philipp Gruissem | Germany | 284,000 | 28 |
| | | | | | |
| 5 | 1 | Ville Tapio Sissonen | Finland | 151,000 | 15 |
| 5 | 2 | Dan Abouaf | France | 362,000 | 36 |
| 5 | 3 | Aleksandr Sheshukov | Russia | 76,000 | 8 |
| 5 | 4 | Chaofei Wang | China | 127,000 | 13 |
| 5 | 5 | Patrik Antonius | Finland | 778,000 | 78 |
| 5 | 7 | Said Butba | Russia | 132,000 | 13 |
| 5 | 8 | Nicolas Dumont | France | 341,000 | 34 |
| | | | | | |
| 6 | 1 | Dimitar Danchev | Bulgaria | 753,000 | 75 |
| 6 | 2 | Antoine Saout | France | 329,000 | 33 |
| 6 | 3 | Honglin Jiang | New Zealand | 561,000 | 56 |
| 6 | 4 | Adrian Mateos | Spain | 614,000 | 61 |
| 6 | 5 | Carl-Fredrik Tingvall | Sweden | 392,000 | 39 |
| 6 | 6 | David Peters | United States | 1,839,000 | 184 |
| 6 | 7 | Pierre Morin | France | 236,000 | 24 |
| 6 | 8 | Josip Simunic | Austria | 1,547,000 | 155 |