Event #6: €25,500 Short Deck High Roller No-Limit Hold'em
Dias: 3
Event #6: €25,500 Short Deck High Roller No-Limit Hold'em
Dia 3 Terminado
Nível 28 : 0/0, 1,000,000 ante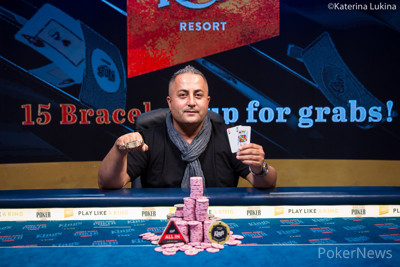 Another champion has been crowned in Europe's biggest poker arena at the King's Casino in Rozvadov as the sixth event of the 2019 World Series of Poker Europe has concluded. Out of 111 entries in Event #6: €25,500 Short Deck High Roller No-Limit Hold'em, it was Germany's Siamak Tooran that took home the lion's share of the €2,636,250 prize pool.
Tooran defeated Thai Ha in heads-up as he claimed his first gold bracelet and a career-best score to become the second player in WSOP history to win a Short Deck tournament. The first edition had taken place earlier this year in Las Vegas and Ha will have bittersweet memories as he finished second to Alex Epstein back then as well.
Heading into the final day there were four big stacks including Tooran, while Ha was the second-shortest stack. The American and fellow countryman Jonathan Depa were considered the odds-on favorite due to their cash game experience in Short Deck while most of the other finalists were taking a shot at the new highly popular poker format for the first time.
The background story of Tooran sounds very familiar to the one of 2019 WSOP Main Event champion Hossein Ensan as he was born in Iran and moved to Germany when he was 11 years old. Ensan had arrived at King's Casino the previous day and was among the first to embrace Tooran after his victory. The now 43-year-old currently lives in Goettingen, Germany and is buying and selling gold. There is one more special item of that available now, but it will certainly find a dedicated spot back home with his family.
Ha, who lists "Usually finish 2nd." in his Twitter profile, had to settle for a consolation prize of €457,964. High Roller and Super High Roller regular Orpen Kisacikoglu finished third, and the final day also featured Netanel Amedi, Besim Hot, Dusk Till Dawn's Rob Yong and aforementioned Jonathan Depa.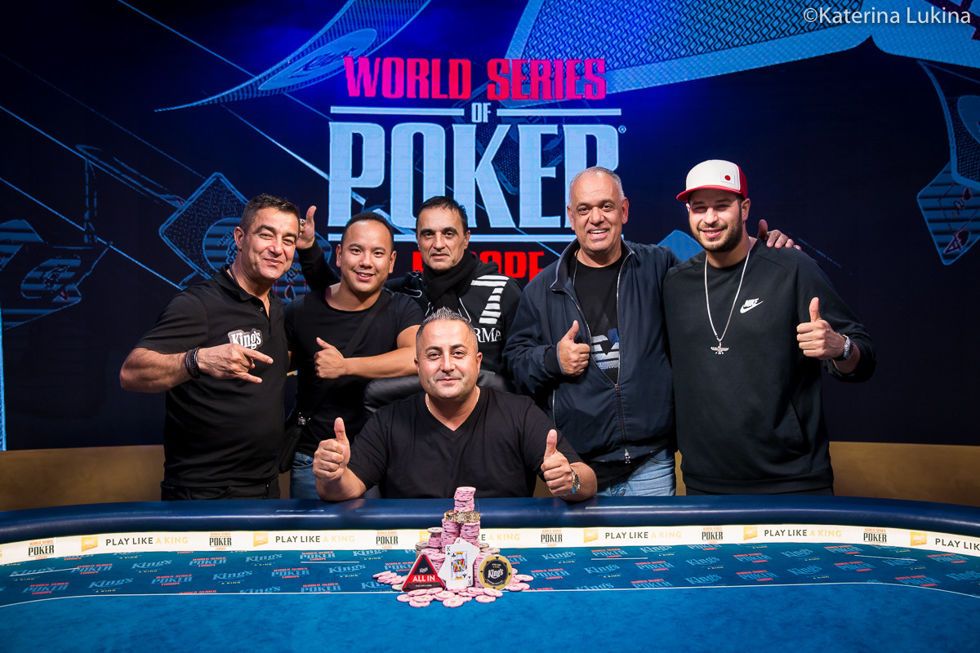 Event #6: €25,500 Short Deck High Roller No-Limit Hold'em Final Table Results
| Place | Winner | Country | Prize (in EUR) | Prize (in USD) |
| --- | --- | --- | --- | --- |
| 1 | Siamak Tooran | Germany | €740,996 | $822,506 |
| 2 | Thai Ha | United States | €457,964 | $508,340 |
| 3 | Orpen Kisacikoglu | Turkey | €323,553 | $359,144 |
| 4 | Netanel Amedi | Israel | €230,807 | $256,196 |
| 5 | Besim Hot | Switzerland | €166,258 | $184,546 |
| 6 | Rob Yong | United Kingdom | €120,946 | $134,250 |
| 7 | Jonathan Depa | United States | €88,861 | $98,636 |
Tooran has been playing poker for 15 years and used to play a special pub game with four open and one hidden card, but it was the first time for him with the Short Deck, which didn't seem to be a problem at all. He admitted that he didn't take any special advice before the event started and the final table itself.
"I learn very quickly and play a lot of tournaments, so it was no problem at all. There was just one specific hand with Phil Ivey but apart from that all went smoothly."
It was also a rare opportunity for Tooran to showcase his talents on the feature table of the King's Casino, which he regularly visits for bigger festivals.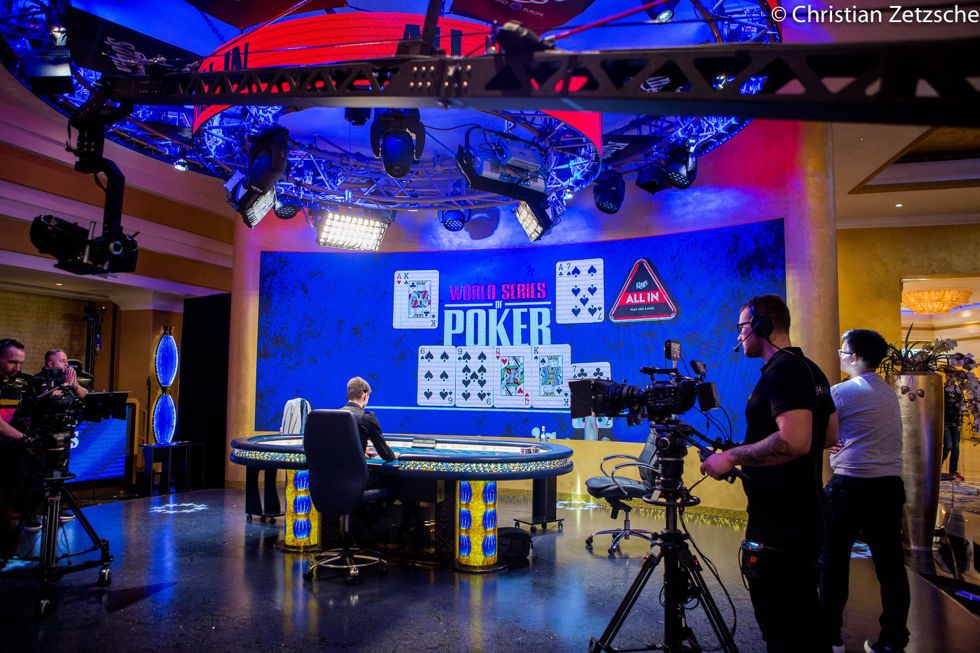 "At the beginning, it is somewhat strange but you get used to it quickly. I just blended everything out and simply focused on my game only," he added when asked about the live stream experience. Especially in heads-up against Thai Ha, Tooran seemed very relaxed despite a 1-2 chip disadvantage and quickly turned things around in fewer than one hour.
He will now take a short break and celebrate with friends before returning to the poker action, and he also plans to take part in the upcoming €10,350 Main Event as well.
"I don't think it [the big score] will change much but I might buy a new car. I will probably also play a few bigger events with a buy-in between 2-5k and I will definitely also give the Main Event a shot. But for now, I will just drive back home to see my family. When I called them earlier, the kids were screaming in excitement and I can't wait to see them again."
Tooran began the final day as one of the big stacks and carefully picked spots to boost his stack. He was even bluffed off trips by Netanel Amedi, who showed a lot of creativity on the feature table. Rob Yong, who entered the final day as far shortest stack, managed to ladder up one spot as Jonathan Depa found no help with jack-ten suited against the kings of Amedi.
Once Yong was gone in 6th place, the chip lead several times and Besim Hot had to settle for 5th place, a bluff cost him most of the stack and he never recovered from that. The final four all held the lead at some point and Amedi would end up on the rail next when his jack-ten was no good against the queen-ten of eventual champion Tooran.
Orpen Kisacikoglu went from chip leader to third-place finisher and his final hand provided a cruel run out when his pocket kings faced the ace-king suited of Thai Ha. There was no threat on flop and turn, but the ace on the river sent Kisacikoglu into a world of pain.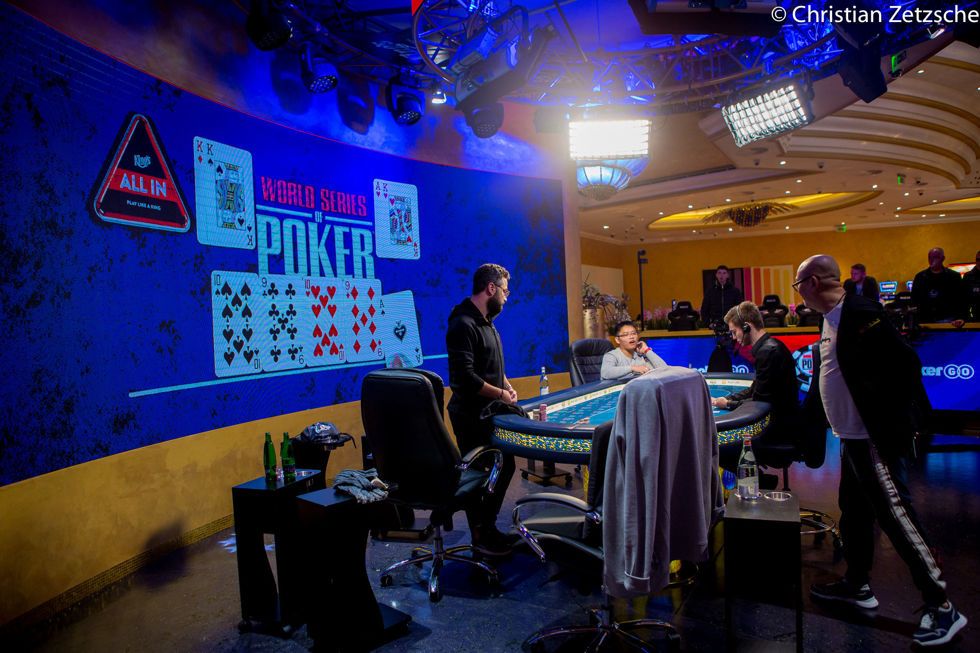 Ha held a 2-1 lead at the start of heads-up but Tooran was running hot and connected with most boards to quickly pull into a commanding lead. Ultimately, the fate of Ha was sealed when he shoved with ace-seven and Tooran held up with ace-king to crown a champion.
It was, however, not the only Short Deck tournament that gathered attention at the King's Casino today.
Leon Tsoukernik Defeats Phil Ivey in King's Short Deck 100K Super High Roller
While Event #6: €25,500 Short Deck High Roller played down to a champion, another epic Short Deck showdown took place right in front of the feature table as King's Resort owner Leon Tsoukernik battled with some of the biggest names of the international poker circuit in the King's Short Deck 100K Super High Roller.
There were a total of 29 entries to attract a prize pool of €2,755,000 and the top four spots were paid. Unfortunate bubble boy was Ben Lamb, Cary Katz and Paul Phua were eliminated by none other than Phil Ivey. Heads-up started with a big chip lead for Ivey, but three double-ups later Tsoukernik was in the driver's seat and closed out the victory.
The final hand saw a king-high flop with diamond flush draw and Tsoukernik held a 4-1 lead when the chips went in. Tsoukernik's top set had Ivey with king-jack for top pair crushed, the hopes of a runner-runner flush were no more when an off suit ace fell on the turn.
"Maybe I should only play Short Deck," Tsoukernik said with a big smile on the face. After all he had finished in the money in the €25,500 Short Deck High Roller in which he busted full house versus full house. His win against Ivey came with a payday of more than €1.1 million.
King's 100K Short Deck High Roller Final Table Results
| Place | Winner | Country | Prize (in EUR) | Prize (in USD) |
| --- | --- | --- | --- | --- |
| 1 | Leon Tsoukernik | Czech Republic | €1,102,000 | $1,223,220 |
| 2 | Phil Ivey | United States | €826,500 | $917,415 |
| 3 | Paul Phua | Malaysia | €551,000 | $611,610 |
| 4 | Cary Katz | United States | €275,500 | $305,805 |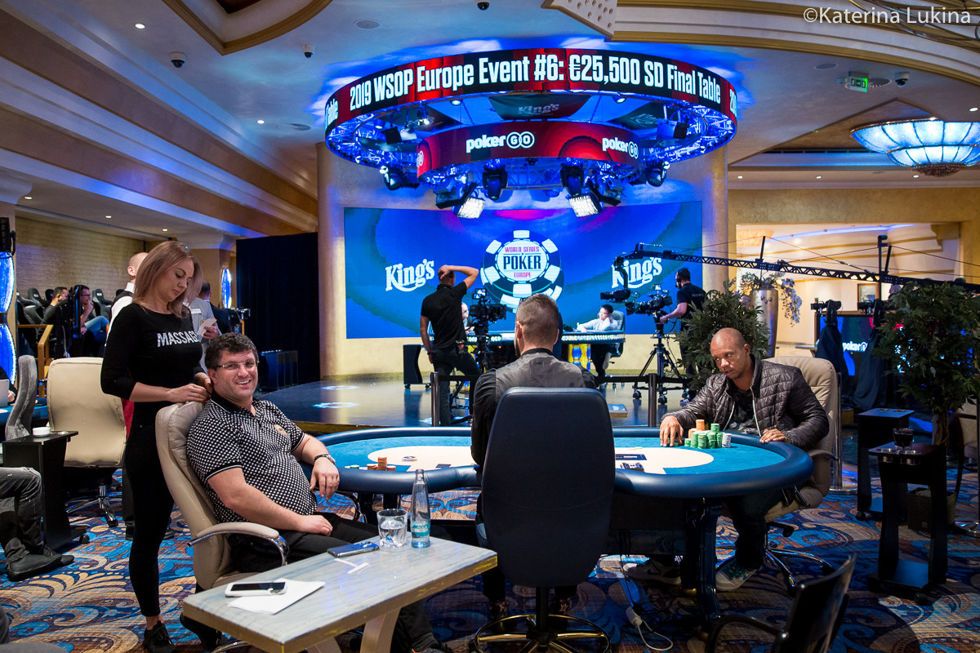 That wraps up the Short Deck live reporting by PokerNews at the 2019 WSOPE but more bracelet winners will be crowned in the days to come.
Nível 28 : 0/0, 1,000,000 ante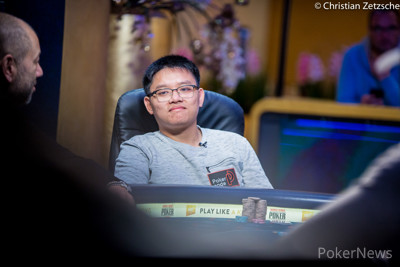 Thai Ha open-shoved for 43,900,000 and Siamak Tooran called, immediately walked to his rail and called his one time.
Thai Ha:

Siamak Tooran:
The
flop gave Ha a gutshot and the
turn added the flush draw on top. Tooran jumped up in excitement and realized the spades a second later. It was all over after the
river as Ha had to settle for another second-place finish.
Ha receives €457,964 for his efforts and Tooran claimed a maiden gold bracelet and a top prize of €740,996.
A recap of today's action and winner interview with Siamak Tooran are to follow.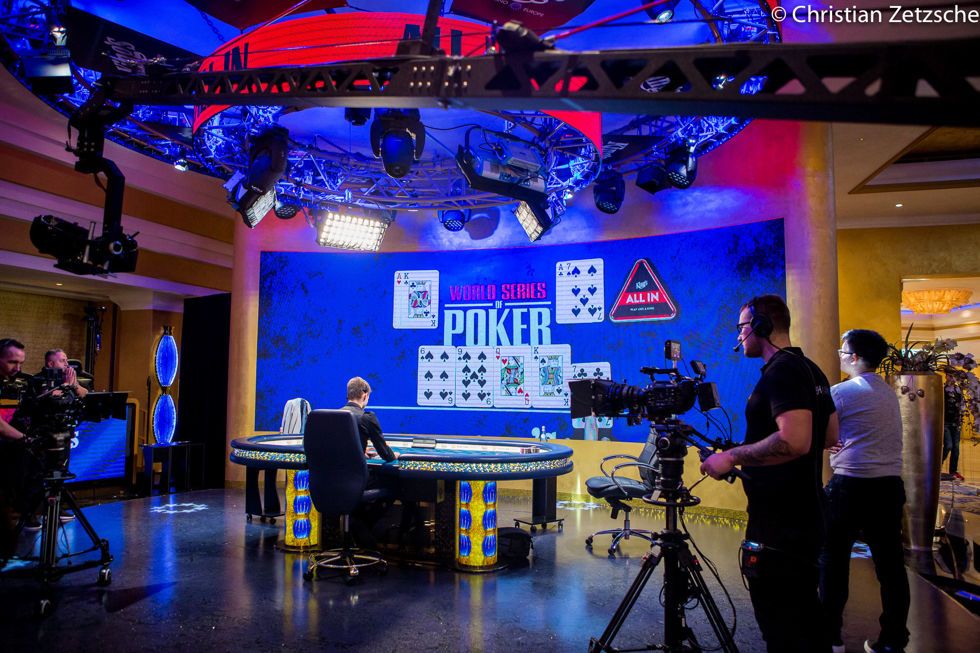 Nível: 28
Blinds: 0/0
Ante: 1,000,000
Nível 27 : 0/0, 800,000 ante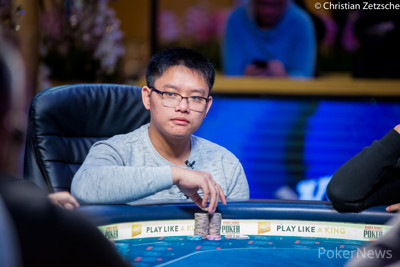 Thai Ha with the
and Siamak Tooran with
limped to the
flop and Ha check-called a bet of 3,000,000, which Tooran called.
After the
turn both checked and the
fell on the river. Ha now bet 6,500,000 and Tooran called to get shown the bad news.
Nível 27 : 0/0, 800,000 ante
Thai Ha opened to 4,800,000 with the
and Siamak Tooran called with the
. On the
flop, Ha bet 3,500,000 and Tooran called. After the
turn, Ha checked and Tooran took off his glasses to eyeball the stack of his opponent.
Tooran bet 6,000,000 and Ha called to go to the
river. Both checked and Tooran claimed another big pot to further extend his lead.
Nível 27 : 0/0, 800,000 ante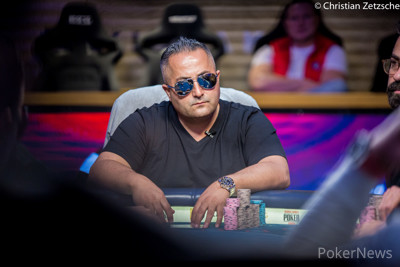 Siamak Tooran has jumped into the lead when making some great calls and seems very comfortable in heads-up as he picked up another pot to take the lead over Thai Ha.
In the first hand he held
which was good on a board of
when they invested 15,000,000 on the flop and 11,500,000 on the turn, the river was checked.
Ha then limped the
and Tooran had the
. Both checked the
flop and Tooran check-called a bet of 5,000,000 on the
turn, the
river was checked.
Nível 27 : 0/0, 800,000 ante
Siamak Tooran limped in with the
and Thai Ha raised to 6.6 million with the
, Tooran folded.
Tooran soon after chipped however to reduce the gap.
Nível 27 : 0/0, 800,000 ante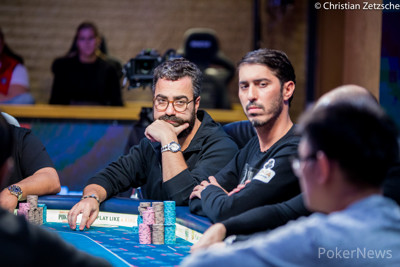 Thai Ha raised to 5,400,000 and Siamak Tooran folded his
. Orpen Kisacikoglu moved all in for 32,000,000 and Ha instantly called.
Orpen Kisacikoglu:

Thai Ha:
Tooran sighed to his rail when he saw the
flop as Kisacikoglu remained in the lead. Ha asked for the jack of hearts but the
turn came instead. Ha sat back down and Kisacikoglu needed to avoid one of the two remaining aces in the deck but the
fell on the river.
"This fuckin game" was all Kisacikoglu could say before shaking hands with his opponents. He takes home €323,553 for his efforts and Ha will enter heads-up with a 2-1 lead. There will now be a short break before the duel for the coveted gold bracelet commences.
Jogador
Fichas
Progresso

Thai Ha

75,900,000

33,400,000

Siamak Tooran

34,600,000

-1,200,000

Orpen Kisacikoglu

Eliminado
Nível: 27
Blinds: 0/0
Ante: 800,000