Event #3: €5,300 Pot-Limit Omaha
Dias: 2
Nível 15 : 1,500-3,000, 0 ante
We have reached our bubble and are now playing hand-for-hand.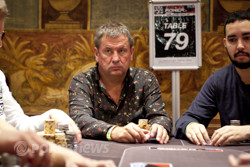 On a flop of
Alexander Dovzhenko bet 17,000 out of the big blind and Sam Trickett declared "pot". Almost instantaneously Dovzhenko moved all-in and Trickett called.
The turn
and river
were no good to Dovzhenko and Trickett moved towards the top of the leader board.
Jogador
Fichas
Progresso

Ramzi Jelassi

280,000

David Benyamine

240,000

40,000

Konstantin Uspenskiy

195,000

25,000

Oleksii Kovalchuk

182,000

61,500

Erich Kollmann

176,000

Michel Abecassis

170,000

Jerome Bradpiece

154,000

13,000

Jason Mercier

151,500

6,500

Sam Trickett

144,000

-2,000

David Callaghan

120,000

60,000

Sam Chartier

118,000

-26,000

Shawn Buchanan

115,000

5,000

Alfredo Vega

110,000

-10,000

Dimitry Motorov

100,000

8,000

Elie Payan

100,000

Michele Di Lauro

95,000

-21,000

Steve Billirakis

88,000

-7,000

Eoghan O'Dea

76,000

1,000

Sean Dempsey

75,000

-5,000

Alexander Dovzhenko

74,000

20,000
Nível: 15
Blinds: 1,500/3,000
Ante: 0
Nível 14 : 1,200-2,400, 0 ante
The remaining players are on break. The rest is probably drinking away their sorrows somewhere in this beautiful city.
Over at the chip leaders table and it looks as though Ramzi Jelassi is giving out chips for fun as his stack as been carved in half. We believe the first person to benefit from Jelassi's generosity was David Callaghan, and we have just seen him also double up Elie Payan.
There were a few limpers before Ramzi Jelassi nonchalantly raised to 12,500 in the cut-off. When the action folded around to Payan, he moved all-in for 48,100 and Jelassi made the call.
Board:
"Wow, where is all the luck that a chip leader is supposed to have?" Asked Jelassi.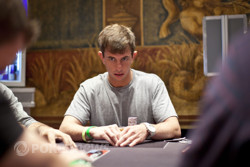 Alfredo Vegas raised pre flop to 4,800 from early position. The action got folded to Jason Mercier who flatted from the small blind. Shannon Shorr's been having a rough stretch and decided to pot to 14,400 with around 40,000 behind. Vega folded instantly so it was on to Mercier who tanked for quite some time before calling.
The flop was
and Mercier potted right away putting Shorr all-in. Shorr called and the cards went on their backs.
| | |
| --- | --- |
| Shannon Shorr | |
| Jason Mercier | |
The turn was the
and the river the
giving Mercier the pot and the knockout.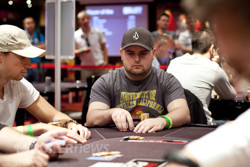 Erich Kollmann limps into the pot before Sam Stein presses the pot button and makes it 10,800 to play. Lurking just next to Stein was Dimitry Motorov and he made the call as did Kollmann.
Flop:
Kollmann checked to Stein who moved all-in, Motorov folded and Kollmann made the call.
Turn:
and river
and Stein was out.
Jogador
Fichas
Progresso

Erich Kollmann

176,000

34,000

Sam Stein

Eliminado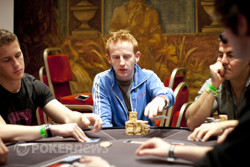 David Benyamine limped under the gun and there were four callers including Dermot Blain who checked his option in the big blind. The flop was
and Benyamine bet 12,000 and when the action folded around to Blain he check-raised to 39,000. Benyamine moved all-in and Blain called.
The
turn and
river kept Benyamine in the lead and the Irishman was eliminated.
When we arrived at the table the turn had just been dealt and the three players staring at the
board were Alexander Dovzhenko, Jason Mercier and Sam Chartier. Dovzhenko was first to act and he bet 15,000. Mercier folded but Chartier popped it up to 60,000 and Dovzhenko folded.
"Nice bluff," said Mercier.
Chartier broke out in a beaming smile.