Nível 10 : 500/1,000, 100 ante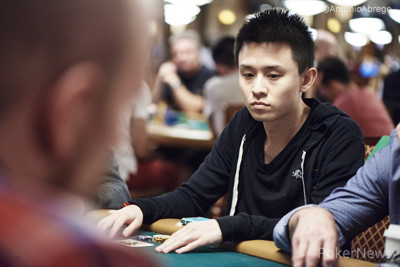 The players have bagged and headed home from Day 1 of Event #66. Five of the top ten players in the WSOP Player of the Year race advanced to Day 2 with Ben Yu (5th in POY) bagging the biggest of the current POY contenders with 93,700.
John Racener, who leads the POY race, bagged 34,000. Chris Ferguson (2nd in POY, 25,100), John Monnette (7th in POY, 20,000), and Pablo Mariz (9th in POY, 18,000) all made it through as well. This event's 1,956 entries makes this one of the biggest point-getters left on the WSOP schedule before the Main Event.
While the POY race is definitely taking center stage, Tommy Tran (187,000) and Nikolas Zawadzki (171,200) bagged two of the biggest stacks of the evening. Not to be outdone, Sam Grafton made a splash on the final hand of the night. Jerry Yang, Peter Murphy, and Grafton were all in and another player was in the tank for almost the full amount of the clock. Grafton had jacks against ace-king and ace-seven and flopped a full house. Yang still had four-of-a-kind outs but missed and hit the rail with Murphy on the final hand of the evening. Grafton chipped up to 97,000 to end the day.
Alan Widmann, aka "Hotted89", bagged on Day 1 of his first-ever WSOP event. With only 308 players returning and 294 set to make the money, there is a decent chance Widmann will make the money in his first shot at WSOP glory.
Play resumes Thursday at noon. Stay up to date with all the WSOP action right here on PokerNews.
| Room | Table | Seat | Player | Country | Chip Count | Big Blinds |
| --- | --- | --- | --- | --- | --- | --- |
| Pavilion | 294 | 1 | Kyle Frey | United States | 77,700 | 65 |
| Pavilion | 294 | 2 | Nick Abou Risk | India | 50,500 | 42 |
| Pavilion | 294 | 3 | Aaron Massey | United States | 20,300 | 17 |
| Pavilion | 294 | 4 | Brian Hastings | United States | 85,600 | 71 |
| Pavilion | 294 | 5 | Ammit Shergill | Canada | DNR | DNR |
| Pavilion | 294 | 6 | Theodore Driscoll | United States | 49,990 | 42 |
| Pavilion | 294 | 7 | Jonathan Therme | France | 22,800 | 19 |
| Pavilion | 294 | 8 | Aaron Johnson | United States | 60,600 | 51 |
| Pavilion | 294 | 9 | Foad Larki | Canada | 90,300 | 75 |
| | | | | | | |
| Pavilion | 295 | 1 | Ryan Leng | United States | 34,600 | 29 |
| Pavilion | 295 | 2 | Charles Hanson | United States | 68,200 | 57 |
| Pavilion | 295 | 3 | Steven Snyder | United States | 62,800 | 52 |
| Pavilion | 295 | 4 | Robert McLaughlin | United States | 45,500 | 38 |
| Pavilion | 295 | 5 | Neal Liptak | United States | 20,900 | 17 |
| Pavilion | 295 | 6 | Walter Treccarichi | Italy | 26,100 | 22 |
| Pavilion | 295 | 7 | Theo Tran | United States | 23,800 | 20 |
| Pavilion | 295 | 8 | Christopher Spurvey | Canada | 157,000 | 131 |
| Pavilion | 295 | 9 | Jerry Robinson | United States | 10,900 | 9 |
| | | | | | | |
| Pavilion | 296 | 1 | Denis Sedyshev | Russia | 10,500 | 9 |
| Pavilion | 296 | 2 | Jonathan Little | United States | 55,700 | 46 |
| Pavilion | 296 | 3 | Sam Grafton | United Kingdom | 97,000 | 81 |
| Pavilion | 296 | 4 | Italo Palao | Italy | 75,800 | 63 |
| Pavilion | 296 | 5 | In Sun Geoum | United States | 23,300 | 19 |
| Pavilion | 296 | 6 | Andrew Yim | United States | 46,000 | 38 |
| Pavilion | 296 | 7 | Lovell Wilkerson | United States | 100,000 | 83 |
| Pavilion | 296 | 8 | Wen Zhou | United States | 79,900 | 67 |
| Pavilion | 296 | 9 | Dutch Boyd | United States | 73,200 | 61 |
| | | | | | | |
| Pavilion | 297 | 1 | Ian O'Hara | United States | 130,600 | 109 |
| Pavilion | 297 | 2 | John Racener | United States | 34,000 | 28 |
| Pavilion | 297 | 3 | Kevin O'Donnell | United States | 116,400 | 97 |
| Pavilion | 297 | 4 | Rob Tepper | United States | 135,600 | 113 |
| Pavilion | 297 | 5 | Alessandro Minasi | Italy | 24,200 | 20 |
| Pavilion | 297 | 6 | Jeff Blenkarn | United States | 26,100 | 22 |
| Pavilion | 297 | 7 | Michael Wolf | United States | 13,900 | 12 |
| Pavilion | 297 | 8 | Devin Khera | Canada | 61,600 | 51 |
| Pavilion | 297 | 9 | John Esposito | United States | 25,600 | 21 |
| | | | | | | |
| Pavilion | 298 | 1 | Toko Luu | United States | 34,100 | 28 |
| Pavilion | 298 | 2 | Fred Berger | United States | 35,100 | 29 |
| Pavilion | 298 | 3 | Timothy Bolland | United States | 23,100 | 19 |
| Pavilion | 298 | 4 | Thomas Hall | United Kingdom | 64,900 | 54 |
| Pavilion | 298 | 5 | Jack Ellwood | United Kingdom | 88,400 | 74 |
| Pavilion | 298 | 6 | Jack Sambrook | United Kingdom | 72,800 | 61 |
| Pavilion | 298 | 7 | Tanya Kirk | United States | 28,000 | 23 |
| Pavilion | 298 | 8 | Daniel Le | Canada | 37,400 | 31 |
| Pavilion | 298 | 9 | Rodrigo Semeghini | Brazil | 53,400 | 45 |
| | | | | | | |
| Pavilion | 299 | 1 | Eugene Schwartz | United States | 122,900 | 102 |
| Pavilion | 299 | 2 | Eiji Matsumura | Japan | 23,200 | 19 |
| Pavilion | 299 | 3 | Shahriar Assareh | United States | 18,200 | 15 |
| Pavilion | 299 | 4 | Francisco Rafael | Brazil | 21,300 | 18 |
| Pavilion | 299 | 5 | Timothy Taylor | United States | 18,400 | 15 |
| Pavilion | 299 | 6 | Carlos Figueroafernandez | United States | 24,700 | 21 |
| Pavilion | 299 | 7 | Wang Yifei | China | 64,600 | 54 |
| Pavilion | 299 | 8 | Jeremy Wien | United States | 59,700 | 50 |
| Pavilion | 299 | 9 | Daniel Pehlivan | United States | 18,600 | 16 |
| | | | | | | |
| Pavilion | 300 | 1 | Waikiat Lee | United Kingdom | 103,500 | 86 |
| Pavilion | 300 | 2 | Tilmann Elster | Germany | 11,700 | 10 |
| Pavilion | 300 | 3 | Ashish Khanna | United States | 12,700 | 11 |
| Pavilion | 300 | 4 | Jamie Rosen | United States | 55,800 | 47 |
| Pavilion | 300 | 5 | Jennifer Nadon | Canada | 49,800 | 42 |
| Pavilion | 300 | 6 | Joe Serock | United States | 72,700 | 61 |
| Pavilion | 300 | 7 | Viktor Lavi | Israel | 66,500 | 55 |
| Pavilion | 300 | 8 | Alan Colwell | United States | 42,300 | 35 |
| Pavilion | 300 | 9 | David Welch | United Kingdom | 29,100 | 24 |
| | | | | | | |
| Pavilion | 301 | 1 | Joseph Shinn | United States | 16,100 | 13 |
| Pavilion | 301 | 2 | Michael Cirillo | United States | 38,900 | 32 |
| Pavilion | 301 | 3 | Yueqi Zhu | China | 41,300 | 34 |
| Pavilion | 301 | 4 | Daniel Zack | United States | 56,000 | 47 |
| Pavilion | 301 | 5 | Philippe Bretan | Germany | 21,200 | 18 |
| Pavilion | 301 | 6 | Andrew Jackson | United States | 21,500 | 18 |
| Pavilion | 301 | 7 | Melissa Gillett | Australia | 51,100 | 43 |
| Pavilion | 301 | 8 | Deividas Kvaselis | Lithuania | 63,400 | 53 |
| Pavilion | 301 | 9 | Oleksii Ievchenko | Ukraine | 33,300 | 28 |
| | | | | | | |
| Pavilion | 302 | 1 | Bart Lybaert | Belgium | 36,100 | 30 |
| Pavilion | 302 | 2 | Markus Prinz | Germany | 80,000 | 67 |
| Pavilion | 302 | 3 | Schuyler Thornton | United States | 23,100 | 19 |
| Pavilion | 302 | 4 | Michael Wang | United States | 82,700 | 69 |
| Pavilion | 302 | 5 | Grantland Hillman | United States | 11,600 | 10 |
| Pavilion | 302 | 6 | Joe Gotlieb | United States | 77,700 | 65 |
| Pavilion | 302 | 7 | Brian Holle | United States | 29,300 | 24 |
| Pavilion | 302 | 8 | Joseph Orsino | United States | 121,600 | 101 |
| Pavilion | 302 | 9 | Ran Azor | Israel | 27,600 | 23 |
| | | | | | | |
| Pavilion | 303 | 1 | Antal Mezei | Hungary | 96,800 | 81 |
| Pavilion | 303 | 2 | John Finnighan | United States | 87,400 | 73 |
| Pavilion | 303 | 3 | Anthony Schutter | United States | 41,700 | 35 |
| Pavilion | 303 | 4 | Luke Marsh | United Kingdom | 178,300 | 149 |
| Pavilion | 303 | 5 | Keun Kwak | United States | 136,000 | 113 |
| Pavilion | 303 | 6 | Paul Siem | United States | 13,100 | 11 |
| Pavilion | 303 | 7 | Peter Kaemmerlen | United States | 13,500 | 11 |
| Pavilion | 303 | 8 | Jesse Yaginuma | United States | 45,300 | 38 |
| Pavilion | 303 | 9 | Jeffrey Till | United States | 18,400 | 15 |
| Pavilion | 304 | 1 | Diego Bittar | Brazil | 15,200 | 13 |
| | | | | | | |
| Pavilion | 304 | 2 | Emile Schiff | Ocho Rios, JM | 87,600 | 73 |
| Pavilion | 304 | 3 | Shane Douglas | United States | 61,000 | 51 |
| Pavilion | 304 | 4 | Ben Yu | United States | 93,700 | 78 |
| Pavilion | 304 | 5 | Rahul Mehta | United States | 19,400 | 16 |
| Pavilion | 304 | 6 | Dmitry Vitkind | Canada | 15,000 | 13 |
| Pavilion | 304 | 7 | Ben Fitzgerald | United Kingdom | 28,900 | 24 |
| Pavilion | 304 | 8 | Milad Jorshari | United States | 89,300 | 74 |
| Pavilion | 304 | 9 | Darrell Hopkins | United States | 10,800 | 9 |
| Pavilion | 305 | 1 | Nicholas Wright | Australia | 34,500 | 29 |
| | | | | | | |
| Pavilion | 305 | 2 | Ryan Riess | United States | 24,100 | 20 |
| Pavilion | 305 | 3 | Rembert Net | Netherlands | DNR | DNR |
| Pavilion | 305 | 4 | Rachel Oneal | United States | 50,700 | 42 |
| Pavilion | 305 | 5 | Anton Pecovic | United States | 81,000 | 68 |
| Pavilion | 305 | 6 | Davis Aalvik | United States | 55,300 | 46 |
| Pavilion | 305 | 7 | Sergio Aido | Estonia | 25,900 | 22 |
| Pavilion | 305 | 8 | Brandon Setzer | United States | 40,500 | 34 |
| Pavilion | 305 | 9 | Tobias Peters | Netherlands | 38,400 | 32 |
| Pavilion | 306 | 1 | James Powell | United States | 18,000 | 15 |
| | | | | | | |
| Pavilion | 306 | 2 | Pawan Braich | Canada | 22,500 | 19 |
| Pavilion | 306 | 3 | Marijonas Rocius | United Kingdom | 26,700 | 22 |
| Pavilion | 306 | 4 | Louis Sabatini | United States | 8,800 | 7 |
| Pavilion | 306 | 5 | Eric Rappaport | United States | 12,600 | 11 |
| Pavilion | 306 | 6 | Ray Medlin | United States | DNR | DNR |
| Pavilion | 306 | 7 | Mike Leah | Canada | 10,600 | 9 |
| Pavilion | 306 | 8 | Joseph Gordon | United States | 16,800 | 14 |
| Pavilion | 306 | 9 | Mikolaj Zawadzki | Poland | 171,200 | 143 |
| | | | | | | |
| Pavilion | 307 | 1 | Emil Ekvardt | Sweden | 83,500 | 70 |
| Pavilion | 307 | 2 | Gary Chakoian | United States | 23,200 | 19 |
| Pavilion | 307 | 3 | Mark Fitzmaurice | United States | 28,600 | 24 |
| Pavilion | 307 | 4 | John Dolan | United States | 28,100 | 23 |
| Pavilion | 307 | 5 | Tony Gargano | United States | 26,400 | 22 |
| Pavilion | 307 | 6 | William Mckown | United States | 32,000 | 27 |
| Pavilion | 307 | 7 | Ruslan Gazaev | Russia | 55,000 | 46 |
| Pavilion | 307 | 8 | Christian Harder | United States | 102,400 | 85 |
| Pavilion | 307 | 9 | Ben Richardson | Australia | 87,700 | 73 |
| | | | | | | |
| Pavilion | 308 | 1 | Moses Mustonen | United States | 31,600 | 26 |
| Pavilion | 308 | 2 | Gil George | United States | 19,500 | 16 |
| Pavilion | 308 | 3 | Gilsoo Kim | United States | 68,500 | 57 |
| Pavilion | 308 | 4 | Peter Dykes | Australia | 24,300 | 20 |
| Pavilion | 308 | 5 | Anthony Ronalds | Austria | 44,800 | 37 |
| Pavilion | 308 | 6 | Michael Gentili | Canada | 28,200 | 24 |
| Pavilion | 308 | 7 | Justin Conley | United States | 45,300 | 38 |
| Pavilion | 308 | 8 | David Cabrera Polop | Spain | 23,000 | 19 |
| Pavilion | 308 | 9 | Pierre Plessis | United States | 23,100 | 19 |
| | | | | | | |
| Pavilion | 309 | 1 | Stan Jablonski | United States | 31,000 | 26 |
| Pavilion | 309 | 2 | Russell Thomas | United States | 50,200 | 42 |
| Pavilion | 309 | 3 | Gaurav Raina | United States | 20,300 | 17 |
| Pavilion | 309 | 4 | Joseph Beasy | United States | 78,500 | 65 |
| Pavilion | 309 | 5 | Kurt Jewell | United States | 64,900 | 54 |
| Pavilion | 309 | 6 | Bruno Lopes | Belgium | 42,300 | 35 |
| Pavilion | 309 | 7 | Mark Marasco | United States | 11,400 | 10 |
| Pavilion | 309 | 8 | Alan Widmann | Germany | 32,600 | 27 |
| Pavilion | 309 | 9 | Richard Yo | United States | 13,900 | 12 |
| | | | | | | |
| Pavilion | 310 | 1 | Mark Scacewater | United States | 21,500 | 18 |
| Pavilion | 310 | 2 | Akshay Nasa | India | 27,500 | 23 |
| Pavilion | 310 | 3 | Benjamin Zamani | United States | 32,000 | 27 |
| Pavilion | 310 | 4 | Matthew McEwan | United States | 22,200 | 19 |
| Pavilion | 310 | 5 | Darren Elias | United States | 91,100 | 76 |
| Pavilion | 310 | 6 | Mike Chiappetta | United States | 124,800 | 104 |
| Pavilion | 310 | 7 | Long Nguyen | United States | 11,300 | 9 |
| Pavilion | 310 | 8 | Paul Mitrano | United States | 69,500 | 58 |
| Pavilion | 310 | 9 | Jordan Young | United States | 93,800 | 78 |
| | | | | | | |
| Pavilion | 311 | 1 | Joseph Caruso | Australia | 16,000 | 13 |
| Pavilion | 311 | 2 | Asi Moshe | Israel | 50,700 | 42 |
| Pavilion | 311 | 3 | Pok Kim | United States | DNR | DNR |
| Pavilion | 311 | 4 | Mark Mazza | United States | 22,200 | 19 |
| Pavilion | 311 | 5 | Alex Bolotin | United States | 41,600 | 35 |
| Pavilion | 311 | 6 | Nicolas Chouity | Belgium | 45,300 | 38 |
| Pavilion | 311 | 7 | Henry Mlekoday | United States | 61,800 | 52 |
| Pavilion | 311 | 8 | Kirk Banks | United States | 112,000 | 93 |
| Pavilion | 311 | 9 | Hubei Xiao Xianli | China | 9,600 | 8 |
| | | | | | | |
| Pavilion | 312 | 1 | William Benson | United States | 31,100 | 26 |
| Pavilion | 312 | 2 | Mathew Moore | United States | 24,000 | 20 |
| Pavilion | 312 | 3 | Josh Weiss | United States | 58,900 | 49 |
| Pavilion | 312 | 4 | Alex Rocha | United States | 33,400 | 28 |
| Pavilion | 312 | 5 | Eric Blair | United States | 61,700 | 51 |
| Pavilion | 312 | 6 | Jackie Glazier | Australia | 74,700 | 62 |
| Pavilion | 312 | 7 | Filipp Khavin | United States | 77,600 | 65 |
| Pavilion | 312 | 8 | Bertrand Grospellier | France | 20,600 | 17 |
| Pavilion | 312 | 9 | Michael Murphy | United States | 43,200 | 36 |
| | | | | | | |
| Pavilion | 313 | 1 | Zo Karim | United States | 29,600 | 25 |
| Pavilion | 313 | 2 | Colin Lovelock | United Kingdom | 25,200 | 21 |
| Pavilion | 313 | 3 | Shaun Mcbride | United States | 36,400 | 30 |
| Pavilion | 313 | 4 | Lander Lijo | Estonia | 47,300 | 39 |
| Pavilion | 313 | 5 | Jason Les | United States | 38,800 | 32 |
| Pavilion | 313 | 6 | Roger Dickerman | United States | 45,700 | 38 |
| Pavilion | 313 | 7 | Taylor Black | United States | 74,600 | 62 |
| Pavilion | 313 | 8 | Anthony Wynn | United States | 42,400 | 35 |
| Pavilion | 313 | 9 | Jeffrey Tanouye | United States | 16,400 | 14 |
| | | | | | | |
| Pavilion | 314 | 1 | Stephen Declan Lennon | United States | 12,100 | 10 |
| Pavilion | 314 | 2 | Tom Braband | United States | 121,100 | 101 |
| Pavilion | 314 | 3 | Hoflehner Helmut | Austria | 25,500 | 21 |
| Pavilion | 314 | 4 | Chris Klodnicki | United States | 98,700 | 82 |
| Pavilion | 314 | 5 | Andy Zarro | Australia | 25,100 | 21 |
| Pavilion | 314 | 6 | Philip Rigby | United Kingdom | 60,700 | 51 |
| Pavilion | 314 | 7 | DID NOT REPORT 1 | United States | 19,100 | 16 |
| Pavilion | 314 | 8 | Sean Shah | United States | 17,100 | 14 |
| Pavilion | 314 | 9 | Aditya Prasetyo | United States | 77,600 | 65 |
| | | | | | | |
| Pavilion | 315 | 1 | Todor Kondevski | Australia | 41,700 | 35 |
| Pavilion | 315 | 2 | Fabian Quoss | Germany | 12,900 | 11 |
| Pavilion | 315 | 3 | Arthur Morris | United States | 72,200 | 60 |
| Pavilion | 315 | 4 | Lance Keating | United States | 27,100 | 23 |
| Pavilion | 315 | 5 | Kenny Hallaert | Belgium | 54,500 | 45 |
| Pavilion | 315 | 6 | John Monnette | United States | 20,000 | 17 |
| Pavilion | 315 | 7 | Alexandre Reard | France | 76,800 | 64 |
| Pavilion | 315 | 8 | Andrew Fleming | United Kingdom | 65,900 | 55 |
| Pavilion | 315 | 9 | Gerald Peltola | United States | 32,100 | 27 |
| Pavilion | 316 | 1 | Jay Glass | Canada | 26,300 | 22 |
| | | | | | | |
| Pavilion | 316 | 2 | Daniel Marcus | United States | 40,700 | 34 |
| Pavilion | 316 | 3 | Christopher Haydt | United States | 27,400 | 23 |
| Pavilion | 316 | 4 | Kuniharu Uchida | Japan | 61,400 | 51 |
| Pavilion | 316 | 5 | David Jacobson | United States | 26,900 | 22 |
| Pavilion | 316 | 6 | Rafael Moraes | Brazil | 143,700 | 120 |
| Pavilion | 316 | 7 | Andrew Kelsall | United States | 44,100 | 37 |
| Pavilion | 316 | 8 | Franco Bochini | Argentina | 22,400 | 19 |
| Pavilion | 316 | 9 | Conrad Monica | United States | 9,100 | 8 |
| | | | | | | |
| Pavilion | 317 | 1 | Charalampos Lappas | Brazil | 40,100 | 33 |
| Pavilion | 317 | 2 | Travis Tachibana | United States | 30,400 | 25 |
| Pavilion | 317 | 3 | Gregory Josifovski | United States | 33,500 | 28 |
| Pavilion | 317 | 4 | Jess Bishop | Canada | 55,100 | 46 |
| Pavilion | 317 | 5 | Jeff Bryan | United States | 56,700 | 47 |
| Pavilion | 317 | 6 | Vojtech Ruzicka | Czech Republic | 68,700 | 57 |
| Pavilion | 317 | 7 | Mario Prats Garcia | Estonia | 60,600 | 51 |
| Pavilion | 317 | 8 | Geoffrey Rasmussen | United States | 44,300 | 37 |
| Pavilion | 317 | 9 | Yulius Sepman | Russia | 12,700 | 11 |
| | | | | | | |
| Pavilion | 318 | 1 | Frank Kassela | United States | 9,800 | 8 |
| Pavilion | 318 | 2 | Chris Ferguson | United States | 25,100 | 21 |
| Pavilion | 318 | 3 | Enio Bozzano | Brazil | 19,900 | 17 |
| Pavilion | 318 | 4 | Jordan Kaplan | United States | 72,400 | 60 |
| Pavilion | 318 | 5 | Jonathan Kramer | United States | 22,900 | 19 |
| Pavilion | 318 | 6 | Victor Figueroa | United States | 71,500 | 60 |
| Pavilion | 318 | 7 | Anthony Tavera | United States | 22,200 | 19 |
| Pavilion | 318 | 8 | Dylan Hortin | United States | 35,800 | 30 |
| Pavilion | 318 | 9 | Henry Meacham | United States | 70,200 | 59 |
| | | | | | | |
| Pavilion | 319 | 1 | Jiushuang Wang | United Kingdom | 16,000 | 13 |
| Pavilion | 319 | 2 | Igor Yaroshevskyy | Ukraine | 22,500 | 19 |
| Pavilion | 319 | 3 | Sean Legendre | United States | 21,500 | 18 |
| Pavilion | 319 | 4 | Bradley Snider | United States | 81,300 | 68 |
| Pavilion | 319 | 5 | Aditya Sushant | India | 57,800 | 48 |
| Pavilion | 319 | 6 | Mustapha Kanit | Italy | 116,500 | 97 |
| Pavilion | 319 | 7 | Brian Morgan | United States | 36,100 | 30 |
| Pavilion | 319 | 8 | Aniket Dalal | United States | 34,300 | 29 |
| Pavilion | 319 | 9 | Damir Jezernik | Canada | 16,100 | 13 |
| | | | | | | |
| Pavilion | 320 | 1 | Ryan Buckholtz | United States | 140,400 | 117 |
| Pavilion | 320 | 2 | Nan Yu | United States | 64,000 | 53 |
| Pavilion | 320 | 3 | Pablo Mariz | Canada | 18,000 | 15 |
| Pavilion | 320 | 4 | Marvin Rettenmaier | Belgium | 45,500 | 38 |
| Pavilion | 320 | 5 | Richard Dubini | Argentina | 12,800 | 11 |
| Pavilion | 320 | 7 | Martin Finger | Austria | 51,200 | 43 |
| Pavilion | 320 | 8 | Cory Waaland | United States | 39,600 | 33 |
| Pavilion | 320 | 9 | Dmitry Savelyev | United States | 75,900 | 63 |
| | | | | | | |
| Pavilion | 321 | 1 | Paul Sokoloff | Canada | 50,100 | 42 |
| Pavilion | 321 | 3 | Dan Murariu | Canada | 28,500 | 24 |
| Pavilion | 321 | 4 | Yu Li | China | 13,800 | 12 |
| Pavilion | 321 | 5 | Griffin Abel | United States | 60,000 | 50 |
| Pavilion | 321 | 6 | Ben Greenberg | United States | 18,100 | 15 |
| Pavilion | 321 | 7 | Brent Hanks | United States | 17,000 | 14 |
| Pavilion | 321 | 8 | Boris Kolev | Bulgaria | 47,400 | 40 |
| Pavilion | 321 | 9 | Martial Blangenwitsch | France | 18,000 | 15 |
| | | | | | | |
| Pavilion | 322 | 1 | Gianluca Speranza | Italy | 62,900 | 52 |
| Pavilion | 322 | 2 | Ulrich Schnetter | United States | 63,500 | 53 |
| Pavilion | 322 | 3 | Li Fu | China | 74,900 | 62 |
| Pavilion | 322 | 4 | Peter Smaha | United States | 29,200 | 24 |
| Pavilion | 322 | 5 | Steven Fortner | United States | 30,000 | 25 |
| Pavilion | 322 | 7 | Atanas Kavrakov | Bulgaria | 6,700 | 6 |
| Pavilion | 322 | 8 | Sherif Elmessiri | Canada | 6,100 | 5 |
| Pavilion | 322 | 9 | Mike Heshmati | United States | 10,300 | 9 |
| | | | | | | |
| Pavilion | 323 | 1 | Fabian Schmidt | Austria | 49,300 | 41 |
| Pavilion | 323 | 2 | Edward Collins | United States | 33,700 | 28 |
| Pavilion | 323 | 3 | Kevin Laird | United States | 27,100 | 23 |
| Pavilion | 323 | 4 | Jonas Wexler | United States | 114,800 | 96 |
| Pavilion | 323 | 5 | Rodney Hobbs | United States | 73,200 | 61 |
| Pavilion | 323 | 6 | Donald Kilgore | United States | 32,800 | 27 |
| Pavilion | 323 | 7 | Felix Bleiker | Switzerland | 24,000 | 20 |
| Pavilion | 323 | 8 | Eddy Sabat | United States | 10,100 | 8 |
| | | | | | | |
| Pavilion | 324 | 2 | Tommy Tran | United States | 187,100 | 156 |
| Pavilion | 324 | 3 | Eric Laliberte | Canada | 21,800 | 18 |
| Pavilion | 324 | 4 | Angel Aguilar | United States | 70,500 | 59 |
| Pavilion | 324 | 5 | Vladas Tamasauskas | United States | 27,400 | 23 |
| Pavilion | 324 | 6 | Daniel Eichhorn | United States | 138,700 | 116 |
| Pavilion | 324 | 7 | Miguel Riera | United Kingdom | 36,000 | 30 |
| Pavilion | 324 | 8 | Narimaan Ahmadi | United States | 98,100 | 82 |
| Pavilion | 324 | 9 | Daniel Rudd | United Kingdom | 31,300 | 26 |
| | | | | | | |
| Pavilion | 325 | 1 | Andrey Pateychuk | Russia | 13,400 | 11 |
| Pavilion | 325 | 2 | Apoorva Goel | India | 23,200 | 19 |
| Pavilion | 325 | 3 | Mark Ayoub | United States | 52,900 | 44 |
| Pavilion | 325 | 4 | Lei Lei | United States | 42,100 | 35 |
| Pavilion | 325 | 5 | Saya Ono | United States | 51,900 | 43 |
| Pavilion | 325 | 6 | Jonathan Roberge | United States | 10,400 | 9 |
| Pavilion | 325 | 7 | Andrew Magbual | United States | 55,200 | 46 |
| Pavilion | 325 | 9 | Thain Hagan | United States | 27,900 | 23 |
| | | | | | | |
| Pavilion | 326 | 1 | Dean Chen | United States | 37,500 | 31 |
| Pavilion | 326 | 2 | Joseph Reddick | United States | 32,800 | 27 |
| Pavilion | 326 | 3 | Laurent Manderlier | Belgium | 35,900 | 30 |
| Pavilion | 326 | 4 | Edward Auslander | United States | 47,200 | 39 |
| Pavilion | 326 | 6 | Phillip Carter | United States | 114,400 | 95 |
| Pavilion | 326 | 7 | Akin Tuna | Germany | 182,800 | 152 |
| Pavilion | 326 | 8 | Jesse Cohen | United States | 20,600 | 17 |
| Pavilion | 326 | 9 | George Sevier | United States | 54,900 | 46 |
| | | | | | | |
| Pavilion | 327 | 1 | Jeffrey Smith | United States | 25,700 | 21 |
| Pavilion | 327 | 2 | Richard Pascual | United States | DNR | DNR |
| Pavilion | 327 | 3 | John Bunch | United States | 56,700 | 47 |
| Pavilion | 327 | 4 | Adi Aizin | Iraq | 29,500 | 25 |
| Pavilion | 327 | 5 | Joseph Teanotoga | France | 8,300 | 7 |
| Pavilion | 327 | 6 | Yordan Petrov | Bulgaria | 31,400 | 26 |
| Pavilion | 327 | 7 | Tomas Jozonis | Lithuania | 13,400 | 11 |
| Pavilion | 327 | 8 | Alex Smith | United States | 68,800 | 57 |
| Pavilion | 327 | 9 | Aleksandar Tojcic | United States | 36,800 | 31 |
| | | | | | | |
| Pavilion | 328 | 1 | Riley Fuller | United States | 40,900 | 34 |
| Pavilion | 328 | 2 | Lizzy Harrison | United States | 7,800 | 7 |
| Pavilion | 328 | 3 | Champie Douglas | United States | 71,400 | 60 |
| Pavilion | 328 | 4 | David Hoag | United States | 10,400 | 9 |
| Pavilion | 328 | 5 | James Dempsey | United Kingdom | 27,300 | 23 |
| Pavilion | 328 | 6 | Chang Luo | China | 37,900 | 32 |
| Pavilion | 328 | 7 | Chad Layne | United States | 145,500 | 121 |
| Pavilion | 328 | 8 | Thomas Blizniak | United States | 95,000 | 79 |
| Pavilion | 328 | 9 | Nathan Tuthill | United States | 39,000 | 33 |