Event #48: $10,000 Seven Card Stud Hi-Lo 8 or Better Championship
Dias: 3
Event #48: $10,000 Seven Card Stud Hi-Lo 8 or Better Championship
Dia 3 Terminado
Nível 26 : 150,000-300,000, 30,000 ante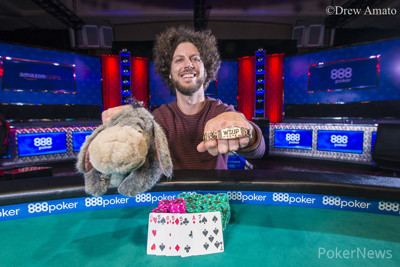 For the second consecutive summer, Chris Vitch has won a World Series of Poker gold bracelet. Last summer, he topped a field of 236 entries in a $2,500 Mixed Triple Draw. Early Tuesday morning, he bested a field of 125 players in Event #48: $10,000 Seven Card Stud Hi-Lo 8 or Better Championship.
For the 34-year-old Vitch, it's more than just the money and the second bracelet.
"It feels different," Vitch said of winning bracelet No. 2. "(The first one) was in Mixed Triple Draw, which is probably my best game. I also consider Stud-8 to be a really good game of mine, but I've never done super well in a $10K before, so I was really proud to win a $10K because the quality of play in the entire field is just so high, and I really feel like it's a different accomplishment. To get one in a $10K makes me feel like I really can compete against the elite fields, and that makes me feel great. "
An elite field it was, and a predictably stacked final table it was as well, but Vitch navigated his way to victory when all was said and done.
"Things went really smoothly for me all day. I mostly had plenty of chips throughout the whole thing. It was just one of those days where everything really went my way."
Vitch ascended the chip counts and found himself three-handed with three-time bracelet winner Benny Glaser and two-time bracelet winner Abe Mosseri. A tumultuous battle ensued that saw each player trade turns as chip leader and short stack. However, Vitch rode a mini heater and took big pots off both Glaser and Mosseri to get himself in prime position for heads-up play.
"I felt really comfortable short handed. I used to play a lot of short-handed Stud Eight-or-Better online, so to me it's a very comfortable game. I made a lot of good hands, so it made everything seem easy."
The battle with Glaser was intense; a four-hour heads-up duel that saw Glaser survive six all-in hands. In fact, Glaser overcame a nearly 15:1 chip lead to battle back and take the chip lead during heads-up play. Vitch had nothing but praise for his heads-up opponent.
"He played great. I really wanted to put him away because I knew that anything could happen, and then it looked like anything was going to happen because he had me outchipped at times, but I was prepared. I feel like the fact that I won one last year, I was a lot more comfortable with the heads up. I was a lot more ready to play as long a time as needed. I really never felt like it got away from me, and I just knew it was going to be a battle. He's a great player. He told me he's never lost heads-up at the WSOP, so I'm glad to say that I was the first one to beat him heads up, but really I just had the cards at the end. Either one of us could have won because the levels were just so high at the end."
A key moment in the heads-up duel was a big fold that Vitch made, showing two pair on seventh street when Glaser didn't have a pair showing.
"It was a huge pot but I almost think I put in too many bets, because when I made a pair of open kings and he still called me on fifth street, I think I should have been a little bit more concerned about what he might have, and the fact that I even put in a bet and called his raise on sixth street...I just wasn't totally confident in what he had. I never expected to get raised. It's such an unlikely thing for him to raise against my strong board, but in the end I hadn't seen him do anything really crazy the entire heads-up play. We played for a while, so I decided on the end that he simply had to have some sort of three-of-a-kind, and I made the fold."
Glaser took the lead with that hand, but Vitch made a bold call with just one pair a few hands later to regain control of the match.
"That was a really interesting hand. There was really no point in the hand I think I could have folded before the river, because I kept catching overcards in case he had some sort of pair, and these pots get so big so quickly. I picked up a straight draw on sixth street, and then I caught a deuce on the end, which is obviously a good card for me because it makes it less likely he has three of a kind. He had been playing pretty cautiously on the end with two pair, so I kind of thought he was either going to show me some kind of a monster, which would be understandable, or maybe just a low. I was hoping to chop, and of course for him to miss everything...I was fortunate to scoop that, but in heads-up play obviously you get stubborn with pairs and hope for the best, and that's part of why I feel like I ran so well, to have a hand like that hold up is definitely lucky."
Luck or not, Vitch earned his second bracelet in one of the toughest tournaments and fields of the summer.
| Place | Player | Country | Payout |
| --- | --- | --- | --- |
| 1 | Chris Vitch | United States | $320,193 |
| 2 | Benny Glaser | United Kindom | $197,838 |
| 3 | Abe Mosseri | United States | $138,608 |
| 4 | Jameson Painter | United States | $99,342 |
| 5 | Jonathan Duhamel | Canada | $72,876 |
| 6 | Andrew Kelsall | United States | $54,748 |
| 7 | Brock Parker | United States | $42,146 |
| 8 | Alex Luneau | France | $33,265 |
| 9 | Phil Hellmuth | United States | $26,938 |

Nível 26 : 150,000-300,000, 30,000 ante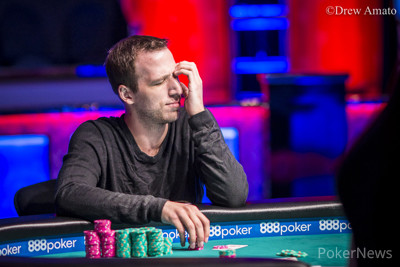 Vitch:
/

Glaser:
/
Glaser completed from the bring in. Vitch made it two bets and Glaser moved all in. Vitch had
under while Glaser was holding
. Their board completed like so:
Vitch:
/
/

Glaser:
/
/
Vitch filled up on seventh street and Glaser couldn't improve to win. With that Glaser was eliminated in 2nd place and received $197,838 for his run in this tournament.
Nível 26 : 150,000-300,000, 30,000 ante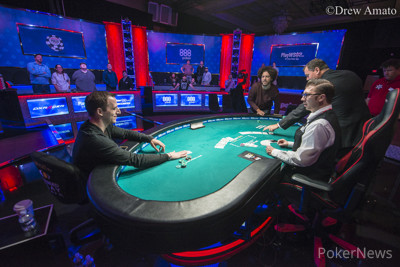 Vitch:
/
/

Glaser:
/
/
Benny Glaser had the bring in, Chris Vitch completed, and Glaser called.
Glaser check-called a bet on fourth street, then called bets from Vitch on fifth and sixth, before folding to a bet on seventh street.
Vitch showed
for jacks full, while Glaser said he had two-three-four-five that didn't get there.
Nível: 26
Limites: 150,000/300,000
Ante: 30,000

Nível 25 : 120,000-240,000, 30,000 ante
Vitch:
/

Glaser:
/
— Folded
Benny Glaser completed then called a two-bet from Vitch. Glaser check-called a bet from Vitch on fourth street. On fifth street, Glaser checked again. Vitch bet and Glaser let it go.
Nível 25 : 120,000-240,000, 30,000 ante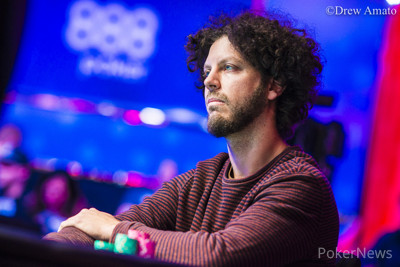 Vitch:
/
/

Glaser:
/
/
Benny Glaser was the bring in, Chris Vitch completed, Glaser raised, and Vitch called.
Glaser made an open pair on fourth street and bet. Vitch called, then called Glaser's bets on every street the rest of the way.
"You got it," said Glaser, who showed
for a pair of deuces.
Vitch tabled
for a pair of sixes to win the pot.

Nível 25 : 120,000-240,000, 30,000 ante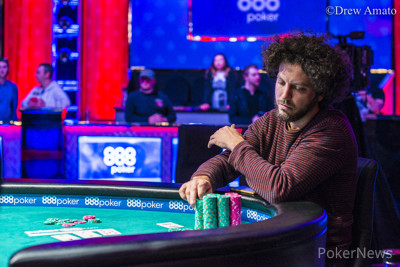 Vitch:
/
/

Glaser:
/
/
Vitch completed and was called by Glazer. Vitch then bet on fourth and fifth and Glaser called twice. On sixth both players checked. Vitch then led out and seventh and Glaser called.
"Queens up," Vitch said. He showed
and that was good to earn him the whole pot.
Nível 25 : 120,000-240,000, 30,000 ante
Glaser:
/
/

Vitch:
/
/
Benny Glaser was the bring in, Chris Vitch completed, and Glaser called.
Vitch bet on fourth street, Glaser called, and both players checked on fifth street. Glaser bet on sixth with the open pair, Vitch called, Glaser bet seventh, and Vitch folded.