Faraz Jaka Day 1 Chip Leader in Event #36: $5,000 No-Limit Hold'em 6-Handed
Nível 10 : 500-1,000, 100 ante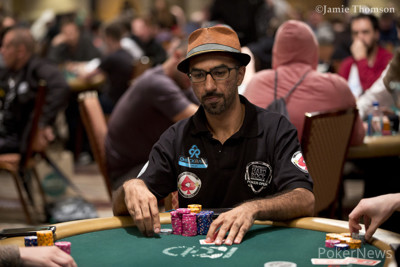 Day 1 of Event #36 $5,000 No-Limit Hold'em 6-Handed is in the books. The event drew 574 runners, up from 541 entries last year. After ten hour-long levels of play, 191 remain.
Many top players entered the field, but it was Faraz Jaka who bagged the chip lead. Jaka accumulated chips rapidly in the final levels of play and finished the night with a stack of 255,400. Dejan Boskovic (237,400), Steve Warburton (209,590), and Ankush Mandavia (202,900) also ended the first day of play over the 200,000-chip mark.
Some notable players who bagged over 100,000-chip stacks include Kitty Kuo (185,200), Mike Leah (161,000), Chris Hunichen (150,600), Olivier Busquet (142,400), Adrian Mateos (118,500), and John Racener (113,200).
Several other big names are also advancing to Day 2, including Antonio Esfandiari (89,800), Jeff Gross (88,400), James Obst (88,400), Bill Klein (72,600), Doug Polk (70,900), Alex Rocha (67,000), Dylan Linde (64,200), Mohsin Charania (58,900), Jason Les (57,800), Greg Merson (55,500), Daniel Negreanu (37,600), Andrew Lichtenberger (36,000), Stephen Chidwick (33,300), and Jason Mercier (26,900).
Some of those players unfortunate to bust out here on Day 1 include Eddy Sabat, three-time bracelet winner Frank Kassela, two-time bracelet winner Brian Yoon, 2010 Main Event champion Jonathan Duhamel, 2013 Main Event champion Ryan Riess, November Niner Joshua Beckley, Christian Harder, and David Peters.
The event is scheduled to last three more days, with the Day 2 restart Monday at 2 p.m. The tournament director announced before the end of play that the complete prize pool and payout information will be available by the start of Day 2.
| Room | Table | Seat | Player | Country | Chip Count | Big Blinds |
| --- | --- | --- | --- | --- | --- | --- |
| Miranda | 600 | 1 | Jonathan Cohen | Canada | 44,300 | 37 |
| Miranda | 600 | 2 | Tanveer Dhanjal | Canada | 119,600 | 100 |
| Miranda | 600 | 3 | Carlos Boyd | Panama | 63,700 | 53 |
| Miranda | 600 | 4 | Phong Nguyen (WA) | United States | 63,900 | 53 |
| Miranda | 600 | 5 | Niall Farrell | United Kingdom | 156,100 | 130 |
| Miranda | 600 | 6 | Kane Kalas | United States | 44,300 | 37 |
| | | | | | | |
| Miranda | 601 | 1 | Roman Korenev | Russia | 38,400 | 32 |
| Miranda | 601 | 2 | Alex Rocha | United States | 67,000 | 56 |
| Miranda | 601 | 3 | James Miller | United States | 104,400 | 87 |
| Miranda | 601 | 4 | Bart Lybaert | Meihelen, BE | 37,000 | 31 |
| Miranda | 601 | 5 | Andjelko Andrejevic | United States | 51,000 | 43 |
| Miranda | 601 | 6 | Jesse Sylvia | United States | 71,300 | 59 |
| | | | | | | |
| Miranda | 602 | 1 | Paul Degiulio | United States | 144,600 | 121 |
| Miranda | 602 | 2 | Bernardo Dias | Brazil | 18,200 | 15 |
| Miranda | 602 | 4 | Stuart Marshak | United States | 95,900 | 80 |
| Miranda | 602 | 5 | Aditya Agarwal | Canada | 44,300 | 37 |
| Miranda | 602 | 6 | Martin Mathis | United States | 66,400 | 55 |
| | | | | | | |
| Miranda | 603 | 1 | Robert Spano | Israel | 23,400 | 20 |
| Miranda | 603 | 2 | Aaron Kaiser | United States | 100,500 | 84 |
| Miranda | 603 | 3 | Kenny Hallaert | Belgium | 66,600 | 56 |
| Miranda | 603 | 4 | Sergi Reixach | Spain | 37,900 | 32 |
| Miranda | 603 | 5 | Jimmy Guerrero | France | 124,000 | 103 |
| Miranda | 603 | 6 | Ho Kit Ng | Hong Kong | 87,000 | 73 |
| | | | | | | |
| Miranda | 604 | 1 | Tuan Le | United States | 50,500 | 42 |
| Miranda | 604 | 2 | Dylan Linde | United States | 64,200 | 54 |
| Miranda | 604 | 3 | Shu Yu Chan | Canada | 13,700 | 11 |
| Miranda | 604 | 4 | Daniel Dizenzo | United States | 131,600 | 110 |
| Miranda | 604 | 5 | Patrick Mahoney | United States | 66,300 | 55 |
| | | | | | | |
| Miranda | 604 | 6 | Patrick Leonard | Canada | 60,000 | 50 |
| Miranda | 605 | 2 | Tai Nguyen | United States | 43,000 | 36 |
| Miranda | 605 | 3 | Giuseppe Pantaleo | Germany | 23,100 | 19 |
| Miranda | 605 | 4 | Antonio Esfandiari | United States | 89,800 | 75 |
| Miranda | 605 | 5 | Harrison Gimbel | United States | 31,200 | 26 |
| Miranda | 605 | 6 | Rocco Palumbo | Italy | 90,600 | 76 |
| | | | | | | |
| Miranda | 606 | 1 | Diegoalfonso Venturachunga | Peru | 29,300 | 24 |
| Miranda | 606 | 2 | Jason Les | United States | 57,800 | 48 |
| Miranda | 606 | 3 | Michael Mizrachi | United States | 152,600 | 127 |
| Miranda | 606 | 4 | Ran Ilani | Israel | 47,500 | 40 |
| Miranda | 606 | 5 | Louis Linard | France | 103,700 | 86 |
| Miranda | 606 | 6 | Russell Thomas | United States | 174,200 | 145 |
| | | | | | | |
| Miranda | 609 | 1 | Uri Reichenstein | United States | 136,600 | 114 |
| Miranda | 609 | 3 | Rich Rice | United States | 26,500 | 22 |
| Miranda | 609 | 4 | Nick Palma | United States | 70,000 | 58 |
| Miranda | 609 | 5 | Imad Samouna | United States | 82,400 | 69 |
| Miranda | 609 | 6 | Yen Han Chen | Taiwan | 50,800 | 42 |
| | | | | | | |
| Miranda | 610 | 1 | Thomas Paul | United States | 134,100 | 112 |
| Miranda | 610 | 2 | Dale Schuman | United States | 17,800 | 15 |
| Miranda | 610 | 3 | Jerry Payne | United States | 25,400 | 21 |
| Miranda | 610 | 4 | Tony Cousineau | United States | 12,000 | 10 |
| Miranda | 610 | 5 | John Gorsuch | United States | 129,000 | 108 |
| Miranda | 610 | 6 | Tim West | United States | 40,900 | 34 |
| | | | | | | |
| Miranda | 611 | 1 | Sam Grafton | United Kingdom | 157,700 | 131 |
| Miranda | 611 | 2 | DID NOT REPORT 1 | United States | 137,300 | 114 |
| Miranda | 611 | 3 | Boris Kotleba | Slovakia | 55,500 | 46 |
| Miranda | 611 | 4 | Sam Soverel | United States | 67,000 | 56 |
| Miranda | 611 | 5 | Jim Collopy | United States | 12,100 | 10 |
| Miranda | 611 | 6 | Jon Ragnar Viggen | Norway | 62,500 | 52 |
| | | | | | | |
| Miranda | 612 | 1 | Yan Shing Tsang | Hong Kong | 55,600 | 46 |
| Miranda | 612 | 2 | Garrett Garvin | United States | 90,400 | 75 |
| Miranda | 612 | 3 | Nadar Kakhmazov | Russia | 74,800 | 62 |
| Miranda | 612 | 4 | Jeff Hakim | Lebanon | 66,600 | 56 |
| Miranda | 612 | 5 | Joao Vieira | Portugal | 27,900 | 23 |
| Miranda | 612 | 6 | Yue Du | China | 45,100 | 38 |
| | | | | | | |
| Miranda | 613 | 1 | Michael Gentili | Canada | 53,200 | 44 |
| Miranda | 613 | 2 | Dietrich Fast | Austria | 130,600 | 109 |
| Miranda | 613 | 3 | Julian Stuer | Germany | 25,000 | 21 |
| Miranda | 613 | 4 | Anatoly Filatov | United States | 85,000 | 71 |
| Miranda | 613 | 5 | Jose Tavares | United States | 95,000 | 79 |
| Miranda | 613 | 6 | Talal Shakerchi | United Kingdom | 53,200 | 44 |
| | | | | | | |
| Miranda | 614 | 1 | William Klein | United States | 72,600 | 61 |
| Miranda | 614 | 2 | Damien Le Goff | United Kingdom | 40,500 | 34 |
| Miranda | 614 | 3 | Steve Gross | United States | 37,100 | 31 |
| Miranda | 614 | 4 | Chris Moorman | United Kingdom | 51,200 | 43 |
| Miranda | 614 | 5 | Kurt Lichtman | United States | 28,800 | 24 |
| Miranda | 614 | 6 | Valerii Lubenets | Ukraine | 47,600 | 40 |
| | | | | | | |
| Miranda | 615 | 1 | Benjamin Stroh | United States | 64,800 | 54 |
| Miranda | 615 | 2 | John Crisp | United States | 13,500 | 11 |
| Miranda | 615 | 3 | Joseph Couden | United States | 14,700 | 12 |
| Miranda | 615 | 4 | Roy Thung | United States | 65,000 | 54 |
| Miranda | 615 | 5 | Paul Hoefer | Austria | 13,300 | 11 |
| | | | | | | |
| Miranda | 618 | 1 | Matthew Leecy | United States | 64,600 | 54 |
| Miranda | 618 | 2 | Harish Palakuri | United States | 59,200 | 49 |
| Miranda | 618 | 3 | Faraz Jaka | United States | 255,400 | 213 |
| Miranda | 618 | 4 | Lisa Hamilton | United States | 34,200 | 29 |
| Miranda | 618 | 5 | Dejan Boskovic | Austria | 237,400 | 198 |
| Miranda | 618 | 6 | Fredrick Arni | United States | 75,200 | 63 |
| | | | | | | |
| Miranda | 619 | 1 | Kurt Fitzgerald | United States | 98,300 | 82 |
| Miranda | 619 | 2 | Steven Warburton | United Kingdom | 209,500 | 175 |
| Miranda | 619 | 3 | David Litt | United States | 57,300 | 48 |
| Miranda | 619 | 4 | Salim Admon | United States | 116,100 | 97 |
| Miranda | 619 | 5 | Christopher Brammer | United Kingdom | 24,200 | 20 |
| Miranda | 619 | 6 | Chris Hunichen | United States | 150,600 | 126 |
| | | | | | | |
| Miranda | 620 | 1 | Mohsin Charania | United States | 58,900 | 49 |
| Miranda | 620 | 2 | Dan Abouaf | France | 72,000 | 60 |
| Miranda | 620 | 3 | Rajkumar Ramakrishnan | Austria | 35,700 | 30 |
| Miranda | 620 | 4 | Anton Astapau | Latvia | 145,500 | 121 |
| Miranda | 620 | 5 | Rafael Lebron | United States | 28,600 | 24 |
| Miranda | 620 | 6 | Stephen Chidwick | United Kingdom | 33,300 | 28 |
| | | | | | | |
| Miranda | 621 | 1 | Gilbert Diaz | France | 112,000 | 93 |
| Miranda | 621 | 2 | Tristan Wade | United States | 44,000 | 37 |
| Miranda | 621 | 3 | Marcos Antunes | Canada | 86,200 | 72 |
| Miranda | 621 | 4 | Jonathan Jaffe | United States | 58,800 | 49 |
| Miranda | 621 | 5 | Jonathan Abdellatif | Belgium | 80,800 | 67 |
| Miranda | 621 | 6 | John Castaldo | United States | 109,200 | 91 |
| | | | | | | |
| Miranda | 622 | 1 | Charlie Carrel | United Kingdom | 40,000 | 33 |
| Miranda | 622 | 2 | Eric Wasserson | United States | 57,000 | 48 |
| Miranda | 622 | 3 | Gerard Ohresser | France | 63,500 | 53 |
| Miranda | 622 | 4 | Kitty Kuo | Taiwan | 188,200 | 157 |
| Miranda | 622 | 5 | Jasper Wetemans | Netherlands | 84,600 | 71 |
| Miranda | 622 | 6 | Jan Eric Schwippert | Germany | 26,500 | 22 |
| | | | | | | |
| Miranda | 623 | 1 | Mazin Khoury | United States | 29,100 | 24 |
| Miranda | 623 | 2 | Robert Mather | United States | 157,900 | 132 |
| Miranda | 623 | 4 | Adam Owen | United Kingdom | 68,000 | 57 |
| Miranda | 623 | 5 | Zhaoxing Wang | United States | 67,300 | 56 |
| Miranda | 623 | 6 | Conor Beresford | United Kingdom | 24,700 | 21 |
| | | | | | | |
| Miranda | 624 | 1 | James Romero | United States | 126,000 | 105 |
| Miranda | 624 | 2 | Mohsin Virani | United States | 84,000 | 70 |
| Miranda | 624 | 3 | Christian Christner | United Kingdom | 52,400 | 44 |
| Miranda | 624 | 4 | Nick Petrangelo | United States | 135,000 | 113 |
| Miranda | 624 | 6 | Moritz Dietrich | Austria | 102,200 | 85 |
| | | | | | | |
| Miranda | 627 | 1 | Jeff Gross | United States | 88,400 | 74 |
| Miranda | 627 | 2 | Ankush Mandavia | United States | 202,900 | 169 |
| Miranda | 627 | 3 | Mike Leah | Canada | 161,000 | 134 |
| Miranda | 627 | 4 | Tony Ruberto | United States | 108,000 | 90 |
| Miranda | 627 | 5 | Martin Jacobson | Sweden | 89,600 | 75 |
| Miranda | 627 | 6 | Alex Foxen | United States | 50,100 | 42 |
| | | | | | | |
| Miranda | 628 | 2 | James Lex | United States | 36,000 | 30 |
| Miranda | 628 | 3 | Taylor Black | United States | 142,200 | 119 |
| Miranda | 628 | 4 | Jeffrey Trudeau | United States | 109,300 | 91 |
| Miranda | 628 | 5 | Davis Aalvik | United States | 165,700 | 138 |
| Miranda | 628 | 6 | Doug Polk | United States | 70,900 | 59 |
| | | | | | | |
| Miranda | 629 | 1 | Fabian Quoss | MUNICH, , DE | 94,600 | 79 |
| Miranda | 629 | 2 | Garrett Greer | United States | 107,400 | 90 |
| Miranda | 629 | 3 | Pablo Mariz | Canada | 59,600 | 50 |
| Miranda | 629 | 4 | Hank Sitton | United States | 55,300 | 46 |
| Miranda | 629 | 5 | George Turner | United Kingdom | 48,800 | 41 |
| Miranda | 629 | 6 | John Racener | United States | 113,200 | 94 |
| | | | | | | |
| Miranda | 630 | 1 | Blake Eastman | United States | 40,700 | 34 |
| Miranda | 630 | 2 | [Removed:172] | Austria | 125,600 | 105 |
| Miranda | 630 | 3 | Bobby Oboodi | United States | 73,500 | 61 |
| Miranda | 630 | 4 | Jacob Haller | United States | 49,600 | 41 |
| Miranda | 630 | 5 | Matthew Parry | United States | 101,600 | 85 |
| Miranda | 630 | 6 | Dzmitry Urbanovich | Poland | 69,900 | 58 |
| | | | | | | |
| Miranda | 631 | 1 | Shyam Srinivasan | Canada | 63,500 | 53 |
| Miranda | 631 | 2 | David Lopez | United States | 52,300 | 44 |
| Miranda | 631 | 3 | Joseph Cappello | United States | 114,100 | 95 |
| Miranda | 631 | 4 | Robert Park | United States | 54,400 | 45 |
| Miranda | 631 | 5 | Alexander Lynskey | Australia | 45,600 | 38 |
| Miranda | 631 | 6 | Timothy Cramer | United States | 66,800 | 56 |
| | | | | | | |
| Miranda | 632 | 1 | Nicholas Wright | Australia | 26,400 | 22 |
| Miranda | 632 | 2 | James Obst | Australia | 88,400 | 74 |
| Miranda | 632 | 3 | Hector Rodriguez | United Kingdom | 115,500 | 96 |
| Miranda | 632 | 4 | Andrew Lichtenberger | United States | 36,000 | 30 |
| Miranda | 632 | 5 | Paul Dlugozima | United States | 69,400 | 58 |
| Miranda | 632 | 6 | Brendon Rubie | Australia | 72,000 | 60 |
| | | | | | | |
| Miranda | 636 | 1 | Jason Mercier | United States | 26,900 | 22 |
| Miranda | 636 | 2 | Greg Merson | United States | 55,500 | 46 |
| Miranda | 636 | 3 | Christian Rudolph | Germany | 63,800 | 53 |
| Miranda | 636 | 4 | Joseph Alban | United States | 36,400 | 30 |
| Miranda | 636 | 5 | Asi Moshe | Israel | 43,200 | 36 |
| Miranda | 636 | 6 | Will Failla | United States | 27,200 | 23 |
| | | | | | | |
| Miranda | 637 | 1 | Sean Getzwiller | United States | 130,800 | 109 |
| Miranda | 637 | 2 | Dario Sammartino | Canada | 91,300 | 76 |
| Miranda | 637 | 3 | Paul Michaelis | Germany | 120,500 | 100 |
| Miranda | 637 | 4 | Ahmed Abdella | Arabic Emirates | 79,100 | 66 |
| Miranda | 637 | 5 | Olivier Busquet | United States | 142,400 | 119 |
| Miranda | 637 | 6 | Vinny Ta | United States | 22,100 | 18 |
| | | | | | | |
| Miranda | 638 | 1 | Thi Nguyen | Vietnam | 57,000 | 48 |
| Miranda | 638 | 2 | Benjamin May | United States | 54,700 | 46 |
| Miranda | 638 | 3 | Ryan Drossel | United States | 98,300 | 82 |
| Miranda | 638 | 4 | James Mackey | United States | 66,000 | 55 |
| Miranda | 638 | 5 | Cristiano Guerra | Italy | 63,300 | 53 |
| Miranda | 638 | 6 | Lev Milman | United States | 112,600 | 94 |
| | | | | | | |
| Miranda | 639 | 1 | Luke Haag | United States | 46,600 | 39 |
| Miranda | 639 | 2 | Adrian Mateos | Spain | 118,500 | 99 |
| Miranda | 639 | 3 | Kyle Bowker | United States | 89,000 | 74 |
| Miranda | 639 | 4 | Ryan Jones | United States | 74,600 | 62 |
| Miranda | 639 | 5 | Lyle Randall Vincent | United States | 1 | 0 |
| Miranda | 639 | 6 | Christopher Staats | United States | 69,500 | 58 |
| | | | | | | |
| Miranda | 640 | 1 | Roy Upshaw | United States | 33,000 | 28 |
| Miranda | 640 | 2 | Daniel Negreanu | Canada | 37,000 | 31 |
| Miranda | 640 | 3 | Ian O'Hara | United States | 93,800 | 78 |
| Miranda | 640 | 4 | Jonathan Little | United States | 117,800 | 98 |
| Miranda | 640 | 5 | Julian Parmann | United States | 121,600 | 101 |
| Miranda | 640 | 6 | Oliver Weis | United States | 67,300 | 56 |
| | | | | | | |
| Miranda | 641 | 1 | Rob Tepper | United States | 82,700 | 69 |
| Miranda | 641 | 2 | Simon Deadman | United Kingdom | 63,600 | 53 |
| Miranda | 641 | 3 | Adrien Delmas | United Kingdom | 83,600 | 70 |
| Miranda | 641 | 4 | Daniel McAulay | United Kingdom | 33,300 | 28 |
| Miranda | 641 | 5 | Alexandre Reard | France | 83,500 | 70 |
| Miranda | 641 | 6 | Layne Flack | United States | 92,300 | 77 |