Event #84: $3,000 H.O.R.S.E.
Dias: 4
Event #84: $3,000 H.O.R.S.E.
Dia 4 Começado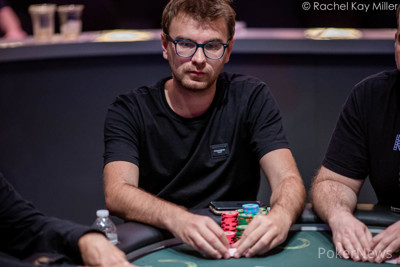 Three days wasn't enough to determine a winner in Event #84: $3,000 H.O.R.S.E. so the final three players will return to the Bally's Event Center at 2 p.m. PT to battle one final time for the WSOP gold bracelet and $205,139 first prize.
Each of Tomasz Gluszko, Roberto Marin, and Lawrence Brandt had their moments atop the leaderboard on Day 3, but no one could close it out before the end of ten levels, so here we are with the World Series of Poker's version of overtime.
Day 4 Seating and Chip Counts
| SEAT | PLAYER | COUNTRY | CHIP COUNT | BIG BETS |
| --- | --- | --- | --- | --- |
| 1 | Lawrence Brandt | United States | 3,300,000 | 6 |
| 2 | Roberto Marin | United States | 4,465,000 | 8 |
| 3 | Tomasz Gluszko | Poland | 5,320,000 | 10 |
While he does have the shortest stack of the remaining trio of hopefuls, Brandt has had the most success at the WSOP with $434,882 in cashes, and he'll be looking to join recent Main Event winner (and Tag Team event winner with Patrick Leonard) Espen Jorstad as a two-time bracelet winner in 2022, as he won Event #58: $1,500 Pot-Limit Omaha Hi-Lo 8 or Better just a couple of weeks ago.
Chip Leader Gluszko could make history as the first Polish-born player to win a live WSOP bracelet. The country does have an online winner from international events on GGPoker in Dominik Panka, but none ever on the live felt.
Meanwhile, Marin comes in as the Cinderella story of the final table with just $5,176 in WSOP earnings over three cashes. Having guaranteed himself at least $87,687 for his work in this event so far, he's already blown away his previous best WSOP cash of $2,597 from the Mini Main Event this summer, and he's also surpassed his best-ever live cash of almost $68,000 from an event in Florida in 2013.
Action will resume at Level 31 with the first hand of Razz, with Stud game antes of 75,000 with a 250,000 bring-in and 250,000 / 500,000 limits. Flop games will also have limits of 250,000 / 500,000, so with the stakes so high, it will be a sprint to the finish.
PokerNews will have all the action from this frenetic finish to the final mixed game event of the 53rd World Series of Poker from its new home at Bally's and Paris Las Vegas.

With millions of dollars at stake, it's reasonable for players at the World Series of Poker (WSOP) Main Event final table to take their time to think when facing a difficult decision. But poker Twitter wasn't so understanding when eventual runner-up Adrian Attenborough tanked for 19 minutes in one hand before folding nothing but a pair of fours during heads-up play.
In the newest installment of The Muck, we take a look at the hand that tilted many on social media.
Attenborough, an Aussie, lost a heads-up match against Norway's Espen Jorstad with the world title on the line. During that fairly brief battle, the runner-up faced two all-in wagers from Jorstad, and both times he went into a lengthy tank with the hand often referred to as "flat tire."

The final three players have taken their seats to play down to a winner in the $3,000 H.O.R.S.E. finale.
Nível: 31
Limit Blinds: 125,000/250,000
Stud Bring In/Complete: 75,000/250,000 Ante: 50,000
Limits: 250,000/500,000

Nível 31
Razz
Roberto Marin has taken early control of today's action by winning four of the first six Razz hands, with none of them getting past fifth street.
Regardless, with the limits at 250,000 / 500,000, those pots have easily and quickly vaulted him into the chip lead.
Jogador
Fichas
Progresso

Roberto Marin

6,000,000

1,535,000

Tomasz Gluszko

3,650,000

-1,670,000

Lawrence Brandt

3,440,000

140,000

Nível 31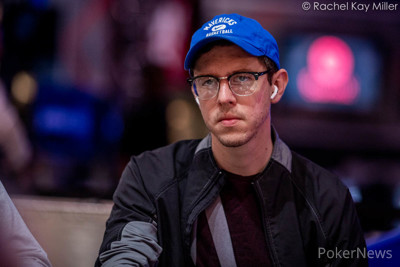 Stud:
Lawrence Brandt:
/

Roberto Marin:
/
Picking action up on fourth street, Lawrence Brandt bet and was called by Roberto Marin.
On fifth street, Marin picked up an ace and took over the betting lead. Brandt called after a minute of deliberation.
Sixth street saw Brandt pair nines, while Marin paired his four. With the betting lead once again, Brandt fired out and was called by Marin.
On seventh street, he bet again and was called by Marin.
Brandt showed a nine-high straight, while Marin flipped over a third four for losing trip fours.
Jogador
Fichas
Progresso

Lawrence Brandt

5,900,000

2,460,000

Roberto Marin

4,100,000

-1,900,000

Tomasz Gluszko

3,250,000

-400,000

Nível 31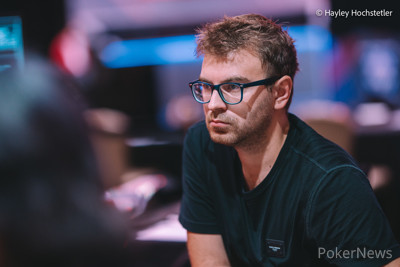 Stud 8 or Better
Lawrence Brandt:
/
/

Tomasz Gluszko:
/
/
After losing a huge pot to Lawrence Brandt when his eight low lost the low half of the pot to Brandt's seven low and a winning ace high for the high half of the pot, Tomasz Gluszko got the last of his chips in on fifth street against Brandt a hand later.
Brandt had trip threes versus Gluszko's sixes. A low draw came for Gluszko on sixth, but he bricked seventh while Brandt made a full house.

Nível 31
Limit Hold'em
Roberto Marin and Lawrence Brandt exchanged three raises preflop, leading to each player committing a million to the pot.
On the
flop, Brandt check-called a bet from Marin.
The players checked the
turn, then on the
river, Brandt bet and was called by Marin.
Brandt showed
, but was beaten by Marin's
, evening the stacks as the heads-up duel is underway.

Nível 31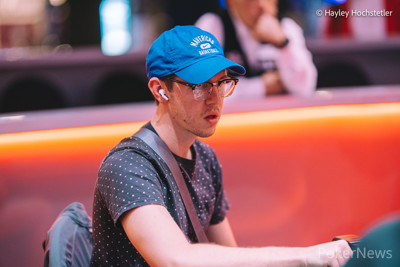 Omaha 8 or Better
A string of "small" pots won by Lawrence Brandt has seen him regain a sizeable chip lead, with several two-pair hands pipping Roberto Marin to extend his lead to almost four to one.