Event #36: $1,500 Seven Card Stud Hi-Lo 8 or Better
Dias: 3
Event #36: $1,500 Seven Card Stud Hi-Lo 8 or Better
Dia 3 Terminado
Nível 34 : 250,000-500,000, 50,000 ante
After three days of play, Ali Eslami claimed victory in the 2022 World Series of Poker Event #36: $1,500 Seven Card Stud Hi-Lo 8 or Better for $135,260 and his first ever WSOP gold bracelet.
The event drew 471 entries and generated a prize pool of $628,785. Just 71 of those players made the money, and when all was said and done, Eslami took the biggest slice.
He overcame Chris Papastratis in heads-up play to secure the win inside Bally's Event Center. Papastratis, who just had $11,399 in recorded tournament earnings, took home his largest ever payday - cashing for $83,598.
Event #36: $1,500 Seven Card Stud Hi-Lo 8 or Better Final Table Results
| Place | Player | Country | Prize |
| --- | --- | --- | --- |
| 1 | Ali Eslami | United States | $135,260 |
| 2 | Chris Papastratis | United States | $83,598 |
| 3 | Jeff Madsen | United States | $58,537 |
| 4 | Scott Lake | United States | $41,693 |
| 5 | Thomas Taylor | Canada | $30,215 |
| 6 | Kenny Hsiung | United States | $22,287 |
| 7 | John Holley | United States | $16,737 |
| 8 | David Arganian | United States | $12,801 |
Winner's Reaction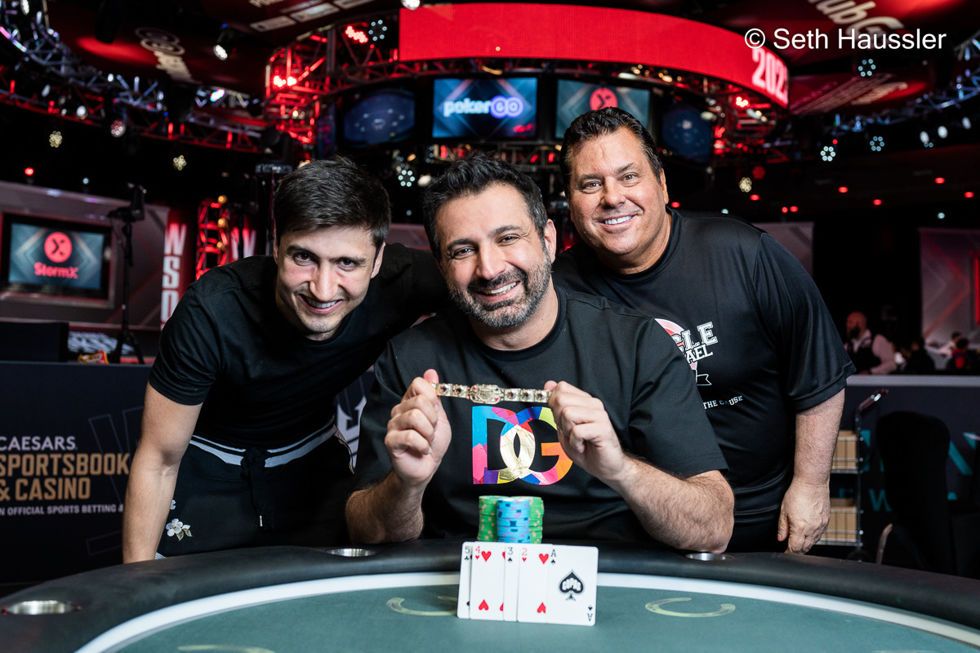 Eslami, who had just booked his first tournament win in over ten years, was buoyed by the experience.
"I'm feeling great actually, especially as I haven't been playing poker for six years or something, so to come back and get the win is great," he told PokerNews.
However, there was no time to waste for Eslami, who was already planning his next bracelet hunt.
"I don't know how late they're playing in the $10,000 Seven Card Stud 8 or better, but that started today. So I feel like I should go play, right? I mean, that's the championship event. Isn't this kind of like a qualifier today?" he said.
Eslami did indeed run off to play in that event after the interview. Before he left, Eslami gave a tribute to a friend who had recently departed and dedicated the win to him.
"I want to dedicate this to Chad Brown, who passed away from cancer. Many poker players knew him. He was a legend, and it [Stud] was one of his favorite games, too. We were very good friends, and we talked a lot about the game too. So this one goes out to Chad."
Final Day Recap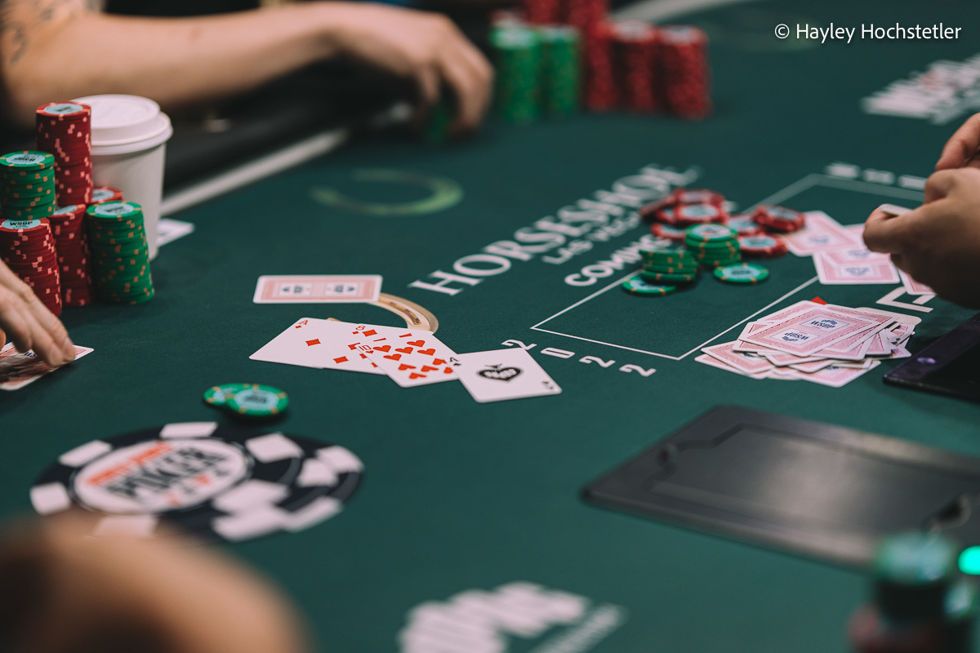 The day started with 15 players but that number was quickly slashed down to nine. Early exits in the day included Kirill Tsyngalev, Pearce Arnold, Brian Scholl, Chad Campbell, Teemu Kangasvieri and Jon Kyte.
John Bunch fell next and his elimination marked the start of the official final table. Kenny Hsiung ousted Bunch with two pair after the former failed to hit his full house and flush outs.
Short stack David Arganian was the first final table casualty. He could not make a low for half the pot with Jeff Madsen's sevens up remaining best.
One of the most talkative players at the table, John Holley, had entertained many throughout the last few days with his table chat, but he lost his voice after being despatched by Eslami and Thomas Taylor.
Hsiung, who had consistently been one of the bigger stacks, suffered the baddest beat of the day. He had trip aces on fifth street and ended up with an ace-high flush by seventh street. Eslami had other ideas and ended up catching running fives to make a full house to send the one-time WSOP bracelet winner out in sixth place.
Taylor quickly followed him out of the door to set up four-handed play. Then following the elimination of Scott Lake, the final three players took their positions.
The three finalists, Eslami, Papastratis and Jeff Madsen exchanged the chip lead several times before Madsen hit the rail. He could not beat Papastratis' two pair or Eslami's low to survive.
Heads-up play lasted for just under an hour, and in that time it was all Eslami. Papastratis failed to find any momentum against his nemesis. The last hand of the day saw Papastratis make aces up, but Eslami had already made a wheel on fifth street and held to see out the tournament.
This concludes PokerNews' coverage of the event, but there is still plenty more to come from the 2022 WSOP, so be sure to keep it locked in.
Nível 34 : 250,000-500,000, 50,000 ante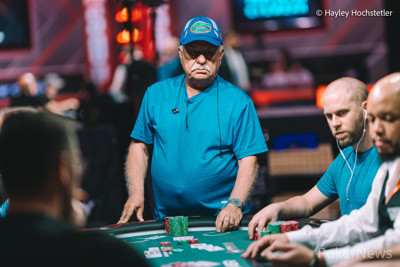 Chris Papastratis:
/
/

Ali Eslami:
/
/
Chris Papastratis completed and was called by Ali Eslami.
Papastartis check-called bets on fourth and fifth street before he ended up getting his whole stack in the middle on sixth street.
Papastratis saw he was drawing dead as Eslami had already made a wheel. The final cards were dealt and Papastratis congratulated Eslami on his victory.
Well done to Eslami, who has won his first-ever WSOP bracelet. Final Day recap to follow up shortly.
Nível 34 : 250,000-500,000, 50,000 ante
Nível 34 : 250,000-500,000, 50,000 ante
Ali Eslami has raked in several consecutive pots on fourth and fifth street with Chris Papastratis unable to battle back so far.
Nível 34 : 250,000-500,000, 50,000 ante
Nível 34 : 250,000-500,000, 50,000 ante
Ali Eslami:
/

Chris Papastratis:
/
Chris Papastratis completed and then called the raise from Ali Eslami.
Papastratis check-called a bet on fourth street bet then folded on fifth street after he faced a bet.
Nível: 34
Limites: 250,000/500,000
Ante: 50,000
Nível 33 : 200,000-400,000, 50,000 ante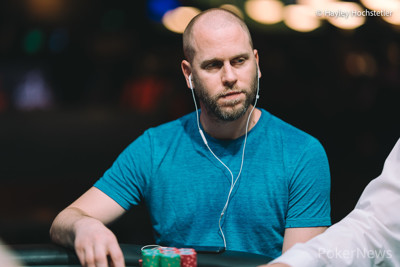 Jeff Madsen:
/

Ali Eslami:
/

Chris Papastratis:
/
Chris Papastratis started off with a call before Jeff Madsen completed. Ali Eslami called and so did Papastratis.
Madsen bet on fourth street and bpth opponents called.
On fifth street, Madsen moved all-in for 320,000 and was called again by the two active players.
Action checked down on sixth and seventh street and the players tabled their cards.
Madsen had a pair of aces, with no low. However, Papstratis had two pair and Eslami made seven-six low, which confirmed Madsen's exit.
Nível 33 : 200,000-400,000, 50,000 ante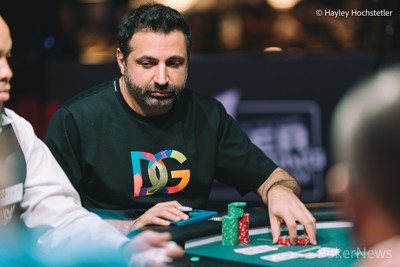 Ali Eslami just climbed to the top of the chip counts following a three way pot.
He scooped up all the chips after his two pair, aces and sixes, was ruled best. Neither Jeff Madsen or Chris Papastratis made a low.
Jogador
Fichas
Progresso

Ali Eslami

5,500,000

3,200,000

Chris Papastratis

3,675,000

-2,200,000

Jeff Madsen

2,600,000

-2,000,000