Event #80: $3,000 6-Handed Pot-Limit Omaha
Dias: 3
Event #80: $3,000 6-Handed Pot-Limit Omaha
Dia 3 Terminado
Nível 29 : 80,000/160,000, 0 ante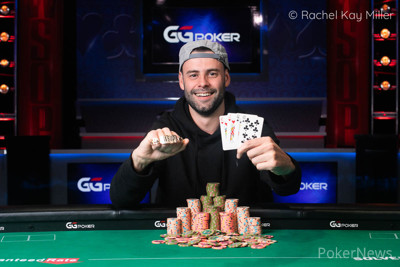 On Friday night, the 2021 World Series of Poker (WSOP) Event #80: $3,000 6-Handed Pot Limit-Omaha ended and after nearly twelve hours of blazing play on Day 3. It was Robert Cowen who emerged from an original starting field of 496 runners as the winner of his first WSOP Bracelet and the grand prize of $280,916.
It took a few minutes for the reality to set in for the poker pro hailing from Swansea, Wales who looked to be still in the zone from the grueling day of poker but was starting to loosen up thanks to a boisterous rail of friends who were over the moon for their friend.
"It's not quite sunk in yet. It's a big load off," he said. "I have been wanting one of these (WSOP Bracelet) for 15 years after watching the main and stuff on ESPN".
It was a great event for Cowen to win as he stated he is primarily a PLO cash game specialist and loves to compete in the game of PLO first and foremost.
Despite the preference for PLO, Cowen is fresh off a 39th-place finish in the Main Event just a few days ago as he was able to ride that deep run momentum to a bracelet.
"I have had quite a few deep runs. I played well all series really; I have not made many mistakes it's just that this one landed as the big winner," he said referring to his other four cashes, including three top 70 finishes in PLO events.
One of the key hands that propelled Cowen to the bracelet came three-handed when he was down to one card, drawing to a king against eventual second-place finisher Robert Emmerson and that king would come to breath new life into Cowen's bid to win.
"I don't often cheer when I win a hand but that one was big. And I had no doubts that I was going to win the tournament," said Cowen.
Event #80 Final Table Results
Action of the Day
The day began with 24 players and action was red hot from the first spark as the players were engulfed left and right until the inferno scorched over half the field before the first break, leaving only ten remaining amidst the smoldering ruins.
Play would cool down with ten remaining as it would take an hour and a half before a bombastic double elimination claimed the stacks of David Coleman and Naor Slobodskoy in one fell swoop. The next victim would not come for another 90 minutes as Raphael Schreiner was eliminated in eighth place to bring the field down to its unofficial final table.
Mike "The Mouth" Matusow navigated the fiery early parts of the day with his short stack, having a hose ready to douse his stack each time it got close to being completely consumed. He was able to keep himself alive all the way down to the unofficial final table, but that is where his journey ultimately ended as he was swallowed up in seventh place.
Two hours later after the dinner break, Karel Mokry went from big stack to short stack in a hurry and was eliminated in sixth place.
Five-handed play ended up being a marathon as it took about two and a half hours of back and forth play before William Benson was sent to pack up his bags in fifth place when he ran into a full house.
The eliminations went bang-bang as Dylan Weisman was taken out in fourth place only a couple of hands later when his aces were cracked by the nut flush as his bid for a second pot-limit Omaha bracelet of this WSOP came just short.
Uri Reichenstein had a deep run in a rare PLO event for him as he departed in third place after navigating his way through the field before eventually falling when he could not find a flush to overcome trips.
That would set up the heads-up battle of the Brits named Robert, which appeared to have the potential to be an epic and long battle as both players were very deep and Cowen held just a slight lead over Emmerson. But Cowen took a commanding lead quickly as he grabbed a hold of the proceedings with some aggressive play. Emmerson would claw back close to even until Cowen eventually took control again and capped it off with a dramatic final hand where he would win with a king-high flush that Emmerson called off on the river after a tortured tank.
Congratulations to Robert Cowen, winner of Event #80: $3,000 6-Handed Pot Limit-Omaha!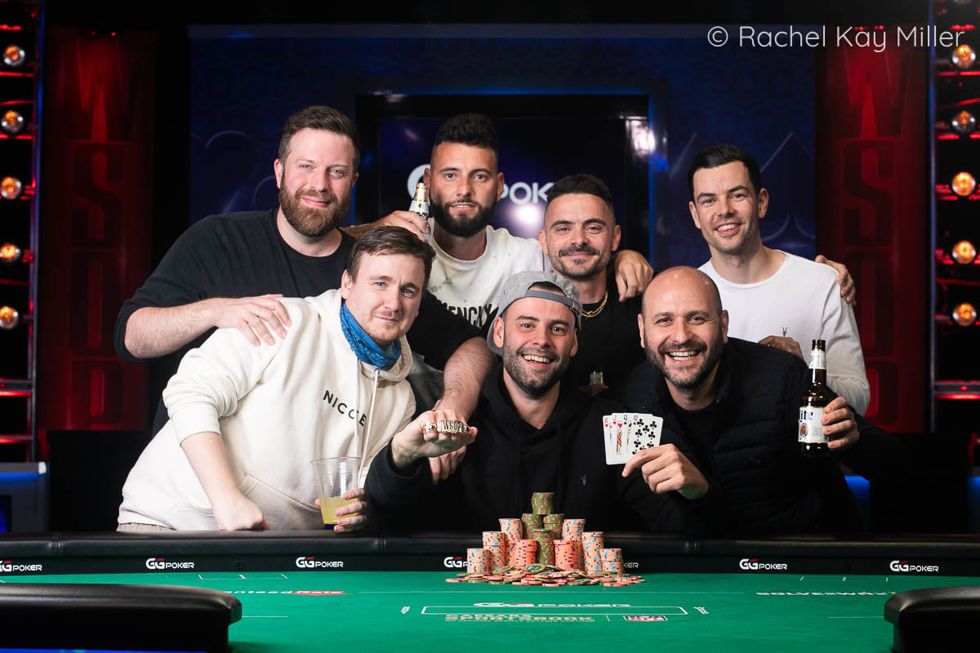 Nível 29 : 80,000/160,000, 0 ante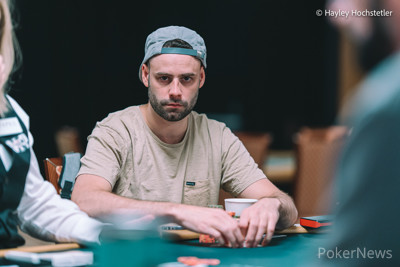 Robert Cowen has defeated Robert Emmerson heads up and claimed his first World Series of Poker Bracelet for $280,916.
He conquered a field of 496 players.
A full recap of today's events will be posted shortly.

Nível 29 : 80,000/160,000, 0 ante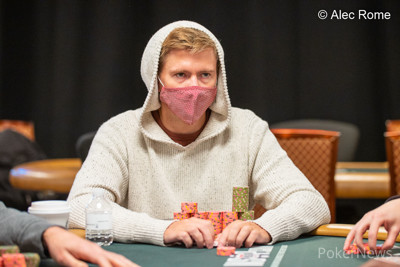 On what would be the final hand of the tournament, Robert Emmerson limped in, Robert Cowen raised to 480,000, and Emmerson called.
The flop was
and both players checked to the turn
. Cowen bet 1,100,000 and Emmerson potted to 4,420,000. Cowen took some time before calling.
The river was the
and Cowen bet of 2,000,000, enough to cover Emmerson.
Both rails gathered around the table and Emmerson went into the tank. He shrugged, counted out his remaining chips, and tossed in a call.
Cowen revealed
for a rivered heart flush and Emmerson's hand went into the muck.
Emmerson picks up a nice payday of more than $170,000 for his great run.
Nível 29 : 80,000/160,000, 0 ante
Action was on the turn as the board read
. From the big blind, Robert Cowen bet 600,000 and was called by Robert Emmerson from the button.
The river came the
. Cowen bet again, this time for 1,500,000. Emmerson called again.
Cowen tabled the
for the boat and took the pot to widen his lead.

Nível 29 : 80,000/160,000, 0 ante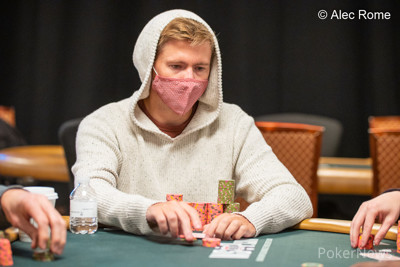 Robert Cowen raised to 380,000 and Robert Emmerson called.
The flop was
and Emmerson led for 350,000. Cowen called.
On the turn
Emmerson sized up to 750,000, Cowen potted and Emmerson called all in.
Robert Emmerson:

Robert Cowen:
Emmerson held a set of nines and Cowen had straight and flush draws. The river bricked for Cowen and Emmerson doubled.
Nível 29 : 80,000/160,000, 0 ante
From the button Robert Emmerson raised and Robert Cowen called.
The flop came
. Cowen checked raised a bet of 375,000 to 875,000, Emmerson called.
The turn was the
. Cowen again check-raised, this time upping a bet of 850,000 to the pot which was 2,875,000. Emmerson quickly folded after the second check-raise as Cowen collected the pot to take a commanding chip lead in the Battle of the British Roberts.
Nível: 29
Blinds: 80,000/160,000
Ante: 0

Nível 28 : 60,000/120,000, 0 ante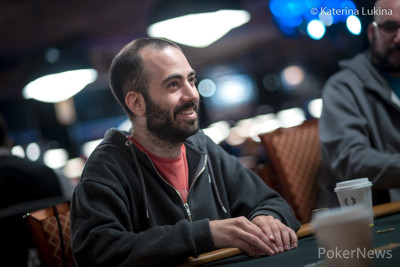 Robert Cowen raised to 240,000 on the button and Uri Reichenstein called from the big blind.
The flop was
and Reichenstein check-called a bet of 400,000.
On the turn
, Reichenstein checked and Cowen bet 1,100,000. Reichenstein then potted all in and Cowen called.
Uri Reichenstein:

Robert Cowen:
Reichenstein held queens and jacks with a flush draw but Cowen was ahead with a set of sixes.
The river peeled off the
and Reichenstein improved to kings and queens but it was not enough as he was eliminated in third. He picks up more than $115,000 for his deep run.

Nível 28 : 60,000/120,000, 0 ante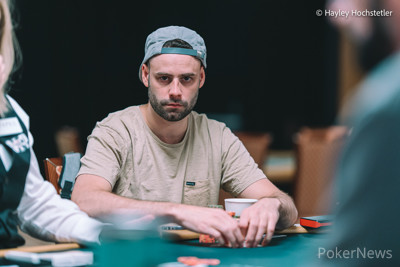 Robert Emmerson raised to 250,000 and Robert Cowen called.
The flop was
and there was a bet and call to see the turn
.
Cowen checked and Emmerson bet 825,000. Cowen raised the pot and Emmerson called to put Cowen at risk.
Robert Cowen:

Robert Emmerson:
Emmerson was ahead with the king-high straight while Cowen held a queen-high straight. The river was the
and Cowen survived with a chop.