Event #69: $1,500 Seven Card Stud Hi-Lo 8 or Better
Dias: 3
Event #69: $1,500 Seven Card Stud Hi-Lo 8 or Better
Dia 3 Terminado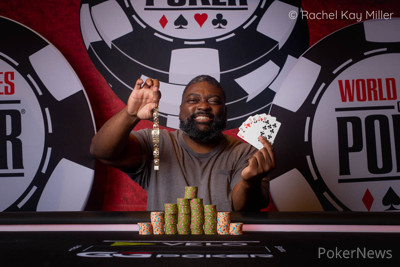 Jermaine Reid had some bad news for people watching him from back home in New York City that he was about to bust out. But things didn't quite work out that way for the newest World Series of Poker champion in Event #69: $1,500 Seven Card Stud Hi-Lo 8 or Better.
Reid defeated Peder Berge heads-up following a marathon final table to win his first WSOP bracelet and the $113,459 top prize. A regular in the cash games at the Borgata in Atlantic City, it was the culmination of a dream Reid had for himself.
"It means a lot. It is something I set out to do this year," Reid shared with PokerNews after his victory. "I really didn't think I would accomplish it. It was just a stretch goal. So I'm very, very surprised I actually got it. It feels amazing. The money is irrelevant. The bracelet is everything."
It almost never happened. Reid came back from the dinner break at the bottom of the leaderboard among the four remaining players. He expected to be eliminated and told everyone he would soon be on his way back home.
"I expected to go out in fifth place," Reid said. "In fact, I sent out a message to my girlfriend saying, sorry, bad news. Things just turned around. I just got very lucky. Very, very lucky."
Final Table Results
| Place | Name | Country | Prize |
| --- | --- | --- | --- |
| 1 | Jermaine Reid | United States | $113,459 |
| 2 | Peder Berge | United States | $70,126 |
| 3 | John Hoang | United States | $48,138 |
| 4 | John Monnette | United States | $33,734 |
| 5 | Esther Taylor | United States | $24,145 |
| 6 | Carol Fuchs | United States | $17,658 |
| 7 | Espen Sandvik | Norway | $13,202 |
| 8 | John Racener | United States | $10,095 |
Day 3 Action
Day 3 began with 13 players remaining out of a starting field of 372. Joseph Kupresanin, Richard Bremer, Glenn Cozen, Perry Friedman, and Joe Ranciato all hit the rail early in the day, bringing the field down to the final table of eight.
John Racener, who began the day as chip leader, was eliminated in eighth place, followed by bracelet winners Espen Sandvik (seventh) and Carol Fuchs (sixth). Esther Taylor, making her sixth WSOP final table appearance, would be the next to fail, but not before some controversy.
Taylor was involved in a big pot against John Monnette that went to seventh street. Taylor had just 10,000 chips behind and received the
. When the dealer gave her the card, it hit her chip stack in the middle and flipped over. Monnette protested, and after a long pause, as a tournament official was called, it was ruled the card must be replaced.
Taylor failed to improve on the hand and was eliminated soon after. Monnette himself would finish in fourth place, just missing out on his fifth bracelet and second this year, but not before having some choice words for the dealers.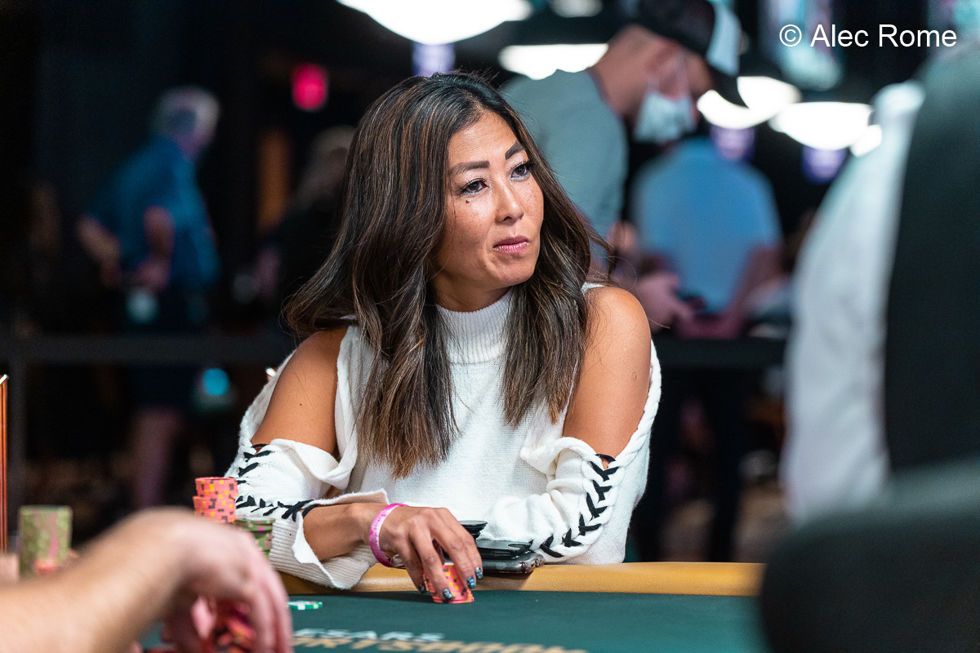 Then came the marathon three-handed session, as Reid, Berge, and John Hoang exchanged chips for more than three hours. Finally, in an all-in pot between Berge and Hoang, Berge turned up the
to go with his
to make a full house and beat Hoang's
.
Heads-up play would take nearly another two hours before Reid made a straight with
to beat Berge's
for two pair.
Reid nearly went wire-to-wire in the tournament. He had the chip lead after Day 1 and kept that momentum all the way to the end. Even more remarkably, he did it while also working his day job. Reid is Vice President of Global Integration Systems at a tech company in New York. With the three-hour time difference between New York and Las Vegas, he worked during the day and finished just as this tournament was starting.
He was also in a hurry to leave the Rio All-Suite Hotel & Casino. He expected to be at the airport to fly back to New York by 9 p.m. PST. He managed to reschedule for 7 a.m., just four hours after the tournament was completed.
He now has a piece of gold jewelry to carry in his luggage.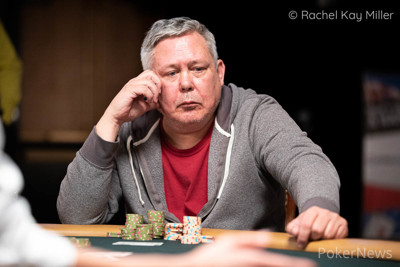 Peder Berge:
/
/

Jermaine Reid:
/
/
Peder Berge and Jermaine Reid went to sixth street when Berge bet and Reid raised. Berge called the bet, then raised when Reid bet on seventh. Reid re-raised to put Berge all in, and Berge called.
Berge finished with
for two pair, queens and deuces. Reid showed
for a straight to win the pot, eliminating Berge in second place.

Nível 34
On third street, Peder Berge opted to open for a completion showing the
and was raised by Jermaine Reid holding the
. Berge called to see fourth street, then called another bet from Reid.
On fifth street, Reid had the betting lead and did so, but was then raised by Berge. Reid called.
Sixth street saw Berge make a pair of sevens and now have the betting lead. He indeed bet and Reid called.
The players' action-inducing boards read,
Peder Berge:
/
/

Jermaine Reid:
/
/
Action was checked through on seventh street and Reid showed
for two pair, nines and eights which was enough for the win.
Jermaine Reid:
/

Peder Berge:
/
- folded
Peder Berge completed and called after Jermaine Reid raised. Berge bet his pair of deuces on fourth and Reid called. On fifth, Berge bet again but folded when Reid raised.
The next hand, Berge completed again with the
and finished with
showing. He bet on every street and Reid called with
on his board.
"I have nothing," Berge said on seventh. Reid showed
for a pair of aces to take the pot.

Nível 34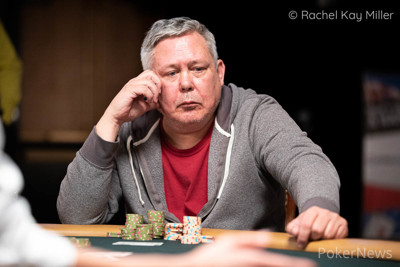 Peder Berge and Jermaine Reid traded raises back and forth through fourth, fifth and sixth streets until Berge was all-in.
Peder Berge:
/

Jermaine Reid:
/
Reid thought he was in great shape and on the verge of a bracelet as he showed
in the hole for two pair, aces and kings, but the queen Berge hit on sixth street had given him trips to go with the
he had in the hole.
Reid couldn't improve on seventh street with the
, giving Berge a double-up and the chip lead.
Nível: 34
Ante: 50000
Low Card: 75000
Completion: 250000
Limits: 250000-500000

Nível 33
The players have taken a short five-minute break before proceeding with Level 34 and limits of 250,000 and 500,000.
Jermaine Reid:
/
/

Peder Berge:
/
/
Peder Berge completed, then called down to seventh street as Jermaine Reid bet. On seventh, Reid had a pair of threes showing and bet.
"I can't beat that," Berge said as he folded.
Shortly afterward, Berge bet on every street with
showing. Reid called and turned over
for a flush, beating Berge's trip sixes.

Nível 33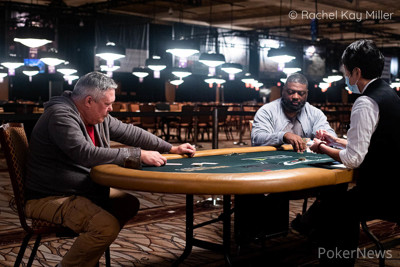 After the excitement and craziness during Day 4 of the Main Event that was played around them all day, the scene of Peder Berge and Jermaine Reid dueling heads-up for a bracelet in the empty Amazon room is certainly one of the most surreal ones you'll ever see at the World Series of Poker.