Event #61: $600 Deepstack Championship No-Limit Hold'em
Dias: 2
Event #61: $600 Deepstack Championship No-Limit Hold'em
Dia 2 Começado
| ROOM | TABLE | SEAT | PLAYER | Country | CHIP COUNT |
| --- | --- | --- | --- | --- | --- |
| Pavilion | 100 | 1 | Jefferson James | United States | 245,000 |
| Pavilion | 100 | 2 | Kevin Lee | United States | 77,000 |
| Pavilion | 100 | 3 | Alexandre Mongrain | Canada | 48,000 |
| Pavilion | 100 | 4 | Sahar Bakhshi | United States | 392,000 |
| Pavilion | 100 | 5 | Brett Brucaleri | United States | 97,000 |
| Pavilion | 100 | 6 | Martin Pineiro | Argentina | 616,000 |
| Pavilion | 100 | 7 | Timothy Stull | United States | 421,000 |
| Pavilion | 100 | 8 | Chaeyeon Lee | South Korea | 481,000 |
| Pavilion | 100 | 9 | Lawrence Engerman | United States | 331,000 |
| | | | | | |
| Pavilion | 101 | 1 | Nicholas Pasto | United States | 192,000 |
| Pavilion | 101 | 2 | Joseph Sigafoos | United States | 113,000 |
| Pavilion | 101 | 3 | Kumail Ally | United States | 122,000 |
| Pavilion | 101 | 4 | Rex Clinkscales | United States | 105,000 |
| Pavilion | 101 | 5 | Alon Messica | Canada | 220,000 |
| Pavilion | 101 | 6 | John Berreman | United States | 250,000 |
| Pavilion | 101 | 7 | Hyun Kim | South Korea | 336,000 |
| Pavilion | 101 | 8 | Vadim Rozin | Canada | 111,000 |
| Pavilion | 101 | 9 | Kevin Gabbay | United States | 288,000 |
| | | | | | |
| Pavilion | 102 | 1 | Bryce Williams | United States | 243,000 |
| Pavilion | 102 | 2 | Stefan Nemetz | Austria | 258,000 |
| Pavilion | 102 | 3 | Pedro Neves | United States | 177,000 |
| Pavilion | 102 | 4 | Nick Palma | United States | 282,000 |
| Pavilion | 102 | 5 | Aleksandr Shevliakov | Argentina | 444,000 |
| Pavilion | 102 | 6 | Ari Eiblum | United States | 134,000 |
| Pavilion | 102 | 7 | Michael Killory | United States | 159,000 |
| Pavilion | 102 | 8 | Clinton Koppenhafer | United States | 92,000 |
| Pavilion | 102 | 9 | Charles Francois | United States | 152,000 |
| | | | | | |
| Pavilion | 103 | 1 | Michele Saccani | Italy | 520,000 |
| Pavilion | 103 | 2 | Paul Dewald | United States | 208,000 |
| Pavilion | 103 | 3 | Bariz Sudhanshu | United States | 348,000 |
| Pavilion | 103 | 4 | Jordan Kelly | Canada | 271,000 |
| Pavilion | 103 | 5 | Steven Buckner | United States | 342,000 |
| Pavilion | 103 | 6 | James Liddell | United States | 185,000 |
| Pavilion | 103 | 7 | Daniel Lewis | United States | 237,000 |
| Pavilion | 103 | 8 | Hieu Le | United States | 137,000 |
| Pavilion | 103 | 9 | Sean Dunleavy | United States | 342,000 |
| | | | | | |
| Pavilion | 104 | 1 | David Bradshaw | United States | 417,000 |
| Pavilion | 104 | 2 | Andre Busato De Oliveir | United States | 60,000 |
| Pavilion | 104 | 3 | William Whalen | United States | 165,000 |
| Pavilion | 104 | 4 | Mario Arribas | United States | 236,000 |
| Pavilion | 104 | 5 | Dan Wagner | Israel | 436,000 |
| Pavilion | 104 | 6 | Henry Pronyk | Portugal | 224,000 |
| Pavilion | 104 | 7 | Russ Rancourt | United States | 134,000 |
| Pavilion | 104 | 8 | Gary Bousquet | United States | 1 |
| Pavilion | 104 | 9 | Trung Pham | United States | 154,000 |
| | | | | | |
| Pavilion | 105 | 1 | Jeffrey Daniels | United States | 136,000 |
| Pavilion | 105 | 2 | Seth Fischer | United States | 193,000 |
| Pavilion | 105 | 3 | Aymon Hata | United States | 275,000 |
| Pavilion | 105 | 4 | David Vanco | United States | 105,000 |
| Pavilion | 105 | 5 | Evan Sandberg | United States | 662,000 |
| Pavilion | 105 | 6 | Yosuke Kuroda | Japan | 317,000 |
| Pavilion | 105 | 7 | Edward Meadows | United States | 205,000 |
| Pavilion | 105 | 8 | Catherine Dever | United States | 499,000 |
| Pavilion | 105 | 9 | Ronald Daniels | United States | 189,000 |
| | | | | | |
| Pavilion | 106 | 1 | Jeffrey Rodino | United States | 96,000 |
| Pavilion | 106 | 2 | Maria Lampropulos | Argentina | 132,000 |
| Pavilion | 106 | 3 | Clement Bonnant | United States | 170,000 |
| Pavilion | 106 | 4 | Adam Schluter | United States | 209,000 |
| Pavilion | 106 | 5 | Nana Sanechika | Japan | 646,000 |
| Pavilion | 106 | 6 | Larry Baxter | United States | 144,000 |
| Pavilion | 106 | 7 | Brendan Kamin | United States | 342,000 |
| Pavilion | 106 | 8 | Yong Kim | United States | 283,000 |
| Pavilion | 106 | 9 | Vishnu Pabbathi | United States | 17,000 |
| | | | | | |
| Pavilion | 107 | 1 | Brett Apter | United States | 197,000 |
| Pavilion | 107 | 2 | Drew Soik | United States | 410,000 |
| Pavilion | 107 | 3 | Jesse Vilchez | United States | 324,000 |
| Pavilion | 107 | 4 | Robbie Calhoun | United States | 185,000 |
| Pavilion | 107 | 5 | Eran Soffer | Israel | 243,000 |
| Pavilion | 107 | 6 | Joseph Robertson | United States | 150,000 |
| Pavilion | 107 | 7 | Dayane Kotoviezy | United States | 197,000 |
| Pavilion | 107 | 8 | Jean-Francois Alexandre | Canada | 532,000 |
| Pavilion | 107 | 9 | Thomas Cerjance | United States | 32,000 |
| | | | | | |
| Pavilion | 108 | 1 | John Simonian | United States | 309,000 |
| Pavilion | 108 | 2 | Justinandrew Pimpedly | United States | 296,000 |
| Pavilion | 108 | 3 | Jason Blount | United States | 259,000 |
| Pavilion | 108 | 4 | Ihor Kotyk | United Kingdom | 251,000 |
| Pavilion | 108 | 5 | Hong Li | United States | 204,000 |
| Pavilion | 108 | 6 | Sejin Park | South Korea | 229,000 |
| Pavilion | 108 | 7 | Cody Kirshner | United States | 229,000 |
| Pavilion | 108 | 8 | Loic Chaine | Tahiti | 368,000 |
| Pavilion | 108 | 9 | Seoyoung Kong | South Korea | 430,000 |
| | | | | | |
| Pavilion | 109 | 1 | Darius Narmontas | Israel | 289,000 |
| Pavilion | 109 | 2 | Wai Kit Lo | Hong Kong | 586,000 |
| Pavilion | 109 | 3 | Hana Cho | United States | 246,000 |
| Pavilion | 109 | 4 | Ping Liu | United States | 702,000 |
| Pavilion | 109 | 5 | John Fagg | United States | 141,000 |
| Pavilion | 109 | 6 | Jamshidbek Begmatov | United States | 198,000 |
| Pavilion | 109 | 7 | Richard Chun | United States | 208,000 |
| Pavilion | 109 | 8 | Apolinario Luis | United States | 269,000 |
| Pavilion | 109 | 9 | Michael Leanos | United States | 312,000 |
| | | | | | |
| Pavilion | 110 | 1 | Gaston Gurevich | Canada | 329,000 |
| Pavilion | 110 | 2 | Jerry Payne | United States | 263,000 |
| Pavilion | 110 | 3 | Faraz Iqbal | Argentina | 134,000 |
| Pavilion | 110 | 4 | Sohrab Alem Mortazavi | United States | 584,000 |
| Pavilion | 110 | 5 | Yukimitsu Hata | United States | 409,000 |
| Pavilion | 110 | 6 | Adekunle Olonoh | United States | 157,000 |
| Pavilion | 110 | 7 | Jason House | United States | 261,000 |
| Pavilion | 110 | 8 | Mark Liedtke | United States | 480,000 |
| Pavilion | 110 | 9 | Marcelo Fernandez | Argentina | 111,000 |
| | | | | | |
| Pavilion | 111 | 1 | Levon Kesaplyan | Armenia | 538,000 |
| Pavilion | 111 | 2 | Samuel Taylor | United States | 838,000 |
| Pavilion | 111 | 3 | Joseph Di Rosa Rojas | Spain | 440,000 |
| Pavilion | 111 | 4 | David Yu | United States | 106,000 |
| Pavilion | 111 | 5 | Nicolas De Bari | Argentina | 248,000 |
| Pavilion | 111 | 6 | Justin Belforti | United States | 299,000 |
| Pavilion | 111 | 7 | James Sutherland | United States | 216,000 |
| Pavilion | 111 | 8 | Radoslav Stoyanov | Bulgaria | 830,000 |
| Pavilion | 111 | 9 | Blair Miller | United States | 78,000 |
| | | | | | |
| Pavilion | 112 | 1 | Victor Rodriguez | Mexico | 425,000 |
| Pavilion | 112 | 2 | Endri Foto | United States | 196,000 |
| Pavilion | 112 | 3 | Selahaddin Bedir | United States | 178,000 |
| Pavilion | 112 | 4 | Daegeon Shon | South Korea | 1 |
| Pavilion | 112 | 5 | Michael Bailey | United States | 261,000 |
| Pavilion | 112 | 6 | Gilles Dalco | United States | 289,000 |
| Pavilion | 112 | 7 | Paul Bianchi | United States | 386,000 |
| Pavilion | 112 | 8 | Philip Tom | United States | 150,000 |
| Pavilion | 112 | 9 | Philippe Souki | United Kingdom | 548,000 |
| | | | | | |
| Pavilion | 113 | 1 | Todd Funderburg | United States | 193,000 |
| Pavilion | 113 | 2 | Marc Rangel | United States | 155,000 |
| Pavilion | 113 | 3 | Daniil Maksimchuk | Russia | 129,000 |
| Pavilion | 113 | 4 | Brian Darmanin | United States | 142,000 |
| Pavilion | 113 | 5 | Brian Payne | United States | 232,000 |
| Pavilion | 113 | 6 | Arnaud Enselme | France | 105,000 |
| Pavilion | 113 | 7 | Gregory Kappes | United States | 329,000 |
| Pavilion | 113 | 8 | Toko Luu | United States | 175,000 |
| Pavilion | 113 | 9 | Aashka Shah | United States | 223,000 |
| | | | | | |
| Pavilion | 114 | 1 | Nikolas Metaxas | United States | 506,000 |
| Pavilion | 114 | 2 | Besnainou Ange | France | 170,000 |
| Pavilion | 114 | 3 | Ruben Correia | Portugal | 237,000 |
| Pavilion | 114 | 4 | Sukhdeep Sandhu | Canada | 143,000 |
| Pavilion | 114 | 5 | Liping Zhong | United States | 140,000 |
| Pavilion | 114 | 6 | Paul Molter | United States | 345,000 |
| Pavilion | 114 | 7 | Jared Griener | United States | 347,000 |
| Pavilion | 114 | 8 | Michael Obrien | Canada | 125,000 |
| Pavilion | 114 | 9 | Corey Zhu | United States | 411,000 |
| | | | | | |
| Pavilion | 115 | 1 | Ivin Arquiza | United States | 113,000 |
| Pavilion | 115 | 2 | Reuven Zohar | Israel | 160,000 |
| Pavilion | 115 | 3 | Zachary Lerma | United States | 216,000 |
| Pavilion | 115 | 4 | Dragoljub Martinovic | Russia | 193,000 |
| Pavilion | 115 | 5 | Lee Cox | United States | 97,000 |
| Pavilion | 115 | 6 | Shuchi Chamaria | India | 307,000 |
| Pavilion | 115 | 7 | Kc Vaughan | United States | 743,000 |
| Pavilion | 115 | 8 | Malcolm Mcfarlane | United States | 125,000 |
| Pavilion | 115 | 9 | Yulia Lisichkina | United States | 237,000 |
| | | | | | |
| Pavilion | 116 | 1 | Jeffrey Evans | United States | 216,000 |
| Pavilion | 116 | 2 | Kindah Sakkal | United States | 108,000 |
| Pavilion | 116 | 3 | Brian Leblanc | United States | 546,000 |
| Pavilion | 116 | 4 | Michael Byers | United States | 121,000 |
| Pavilion | 116 | 5 | Leonidas Gicain | United States | 62,000 |
| Pavilion | 116 | 6 | Yoav Richter | Israel | 421,000 |
| Pavilion | 116 | 7 | Vid Zagar | Singapore | 205,000 |
| Pavilion | 116 | 8 | Erwin Fonacier | United States | 223,000 |
| Pavilion | 116 | 9 | Adam Travis | United States | 97,000 |
| | | | | | |
| Pavilion | 117 | 1 | Steven Lamon | United States | 190,000 |
| Pavilion | 117 | 2 | Huy Nguyen (AZ) | United States | 266,000 |
| Pavilion | 117 | 3 | Steven Grady | United States | 244,000 |
| Pavilion | 117 | 4 | Delvin Smith | United States | 183,000 |
| Pavilion | 117 | 5 | Jeremy Heiskanen | United States | 152,000 |
| Pavilion | 117 | 6 | Ted Gonzalez | United States | 415,000 |
| Pavilion | 117 | 7 | Jason Morton | United States | 142,000 |
| Pavilion | 117 | 8 | Nipun Java | United States | 125,000 |
| Pavilion | 117 | 9 | David Ha | United States | 230,000 |
| | | | | | |
| Pavilion | 118 | 1 | Shi Chen | United States | 290,000 |
| Pavilion | 118 | 2 | Erdal Gulseven | Turkey | 61,000 |
| Pavilion | 118 | 3 | Paul Trybus | United States | 153,000 |
| Pavilion | 118 | 4 | Joseph Steur | United States | 375,000 |
| Pavilion | 118 | 5 | Ryan Adhari | United States | 315,000 |
| Pavilion | 118 | 6 | Liron Altman | Israel | 518,000 |
| Pavilion | 118 | 7 | Donnie Phan | United States | 212,000 |
| Pavilion | 118 | 8 | Roland Israelashvili | United States | 217,000 |
| Pavilion | 118 | 9 | Austin Reilly | United States | 437,000 |
| | | | | | |
| Pavilion | 119 | 1 | Andrew Dubuque | United States | 425,000 |
| Pavilion | 119 | 2 | Chris Furbert | United States | 70,000 |
| Pavilion | 119 | 3 | Brandon Noe | United States | 340,000 |
| Pavilion | 119 | 4 | Rodney St John | Canada | 509,000 |
| Pavilion | 119 | 5 | John Brown | United States | 149,000 |
| Pavilion | 119 | 6 | Brett Lim | United States | 420,000 |
| Pavilion | 119 | 7 | Martynas Vitkauskas | Lithuania | 317,000 |
| Pavilion | 119 | 8 | Kara Bigos | United States | 118,000 |
| | | | | | |
| Pavilion | 120 | 1 | Derrick Yamada | United States | 198,000 |
| Pavilion | 120 | 2 | Joel Gilmore | United States | 234,000 |
| Pavilion | 120 | 3 | Derek Gomez | United States | 343,000 |
| Pavilion | 120 | 4 | Paul Dhaliwal | Canada | 83,000 |
| Pavilion | 120 | 5 | Xiangdong Huang | Canada | 189,000 |
| Pavilion | 120 | 6 | Vladimir Geshkenbein | Russua | 400,000 |
| Pavilion | 120 | 7 | Juan Aguirre | United States | 254,000 |
| Pavilion | 120 | 8 | Michael Bernat | United States | 214,000 |
| Pavilion | 120 | 9 | Christopher Allen | United States | 332,000 |
| | | | | | |
| Pavilion | 121 | 1 | Kory Shope | United States | 334,000 |
| Pavilion | 121 | 3 | Frank Dilorenzo | United States | 103,000 |
| Pavilion | 121 | 4 | Francisco Benitez | Uruguay | 634,000 |
| Pavilion | 121 | 5 | Tsung Lu | United States | 209,000 |
| Pavilion | 121 | 6 | Clayton Fletcher | United States | 201,000 |
| Pavilion | 121 | 7 | Travis Lusignan | United States | 426,000 |
| Pavilion | 121 | 8 | Terry Johnson | United States | 161,000 |
| Pavilion | 121 | 9 | Greg Dyer | United States | 90,000 |
| | | | | | |
| Pavilion | 122 | 1 | Peter Robinson | United Kingdom | 383,000 |
| Pavilion | 122 | 2 | Daniel Eichhorn | United States | 313,000 |
| Pavilion | 122 | 3 | Gregory Gratton | United States | 657,000 |
| Pavillion | 122 | 4 | Nipun Ajmani | United States | 249,000 |
| Pavilion | 122 | 5 | Philip Giuffre | United States | 151,000 |
| Pavilion | 122 | 6 | Ian Tang | Canada | 46,000 |
| Pavilion | 122 | 7 | David Dahan | Canada | 369,000 |
| Pavilion | 122 | 8 | Anthony Shively | United States | 50,000 |
| Pavilion | 122 | 9 | Ross Santos | United States | 300,000 |
| | | | | | |
| Pavilion | 123 | 1 | Kevin Tatum | United States | 161,000 |
| Pavilion | 123 | 2 | David Lambert | United States | 44,000 |
| Pavilion | 123 | 3 | Shawn Gill | United States | 169,000 |
| Pavilion | 123 | 4 | Justin Moeller | United States | 276,000 |
| Pavilion | 123 | 5 | David Versteeg | United States | 117,000 |
| Pavilion | 123 | 6 | Jacob Lewis | United States | 132,000 |
| Pavilion | 123 | 7 | Michael Kinney | United States | 125,000 |
| Pavilion | 123 | 8 | David Galyean | United States | 69,000 |
| Pavilion | 123 | 9 | Matthew Reed | United States | 131,000 |
| | | | | | |
| Pavilion | 124 | 1 | Jorge Mendez | United States | 115,000 |
| Pavilion | 124 | 2 | Judith Bielan | United States | 72,000 |
| Pavilion | 124 | 3 | Matas Budginas | United States | 719,000 |
| Pavilion | 124 | 4 | Amanda Baker (NV) | United States | 132,000 |
| Pavilion | 124 | 5 | Jose Alvarez | United States | 55,000 |
| Pavilion | 124 | 6 | Richard Dixon | United States | 424,000 |
| Pavilion | 124 | 7 | Alan Ferraro | Argentina | 686,000 |
| Pavilion | 124 | 8 | Buzzard Alavi | United States | 60,000 |
| Pavilion | 124 | 9 | Jason R. Smith | United States | 272,000 |
| | | | | | |
| Pavilion | 125 | 1 | Koji Takagi | Japan | 297,000 |
| Pavilion | 125 | 2 | Ivan Tschudy | Argentina | 259,000 |
| Pavilion | 125 | 3 | Jeremy Mcdowell | United States | 200,000 |
| Pavilion | 125 | 4 | Robert Hankins | United States | 868,000 |
| Pavilion | 125 | 5 | Russell Dohan | United States | 120,000 |
| Pavilion | 125 | 6 | William Pappas | United States | 245,000 |
| Pavilion | 125 | 7 | Anbuselvan Sentamilselvan | United States | 162,000 |
| Pavilion | 125 | 8 | Matthew Myers | United States | 438,000 |
| Pavilion | 125 | 9 | Sami Rustom | United States | 525,000 |
| | | | | | |
| Pavilion | 126 | 1 | Gjozef Nicaj | United States | 49,000 |
| Pavilion | 126 | 2 | Arkadi Bruchis | Israel | 148,000 |
| Pavilion | 126 | 3 | Kevin Davis | United States | 433,000 |
| Pavilion | 126 | 4 | Francois Evard | Switzerland | 218,000 |
| Pavilion | 126 | 5 | Robert Merrill | United States | 379,000 |
| Pavilion | 126 | 6 | Stephen Goldsmith | United States | 298,000 |
| Pavilion | 126 | 7 | Squanto Oakley | Canada | 70,000 |
| Pavilion | 126 | 8 | David Bashel | United States | 176,000 |
| Pavilion | 126 | 9 | Zachary Peay | United States | 399,000 |
| | | | | | |
| Pavilion | 127 | 1 | Christian Morales | United States | 214,000 |
| Pavilion | 127 | 2 | Gary Smith | United States | 210,000 |
| Pavilion | 127 | 3 | Michael Orton | United States | 98,000 |
| Pavilion | 127 | 4 | Anatoly Zharnitsky | Canada | 102,000 |
| Pavilion | 127 | 5 | Scott Robbins | United States | 384,000 |
| Pavilion | 127 | 6 | Ronald Slucker | United States | 360,000 |
| Pavilion | 127 | 7 | Jinnifer Rister | United States | 143,000 |
| Pavilion | 127 | 8 | Antony Darmani | France | 283,000 |
| Pavilion | 127 | 9 | Daniel Chan | United States | 116,000 |
| | | | | | |
| Pavilion | 128 | 1 | Lee Ci | China | 238,000 |
| Pavilion | 128 | 2 | Mark Katz | United States | 519,000 |
| Pavilion | 128 | 3 | Giancarlo Santolin | Canada | 502,000 |
| Pavilion | 128 | 4 | Edward Holstein | United States | 390,000 |
| Pavilion | 128 | 5 | Daniel Corbett | United States | 236,000 |
| Pavilion | 128 | 6 | Jonas Wexler | United States | 194,000 |
| Pavilion | 128 | 7 | Edgardo Rosario | Puerto Rico | 339,000 |
| Pavilion | 128 | 8 | Zachary Fischer | United States | 419,000 |
| Pavilion | 128 | 9 | Daniel Vandyke | United States | 188,000 |
| | | | | | |
| Pavilion | 129 | 1 | Brandon Sheils | United Kingdom | 497,000 |
| Pavilion | 129 | 2 | Sean Balfour | Canada | 196,000 |
| Pavilion | 129 | 3 | Michael Halford | United States | 337,000 |
| Pavilion | 129 | 4 | George Westphal | United States | 306,000 |
| Pavilion | 129 | 5 | Samy Dubonnet | France | 240,000 |
| Pavilion | 129 | 6 | Jun Flores | United States | 294,000 |
| Pavilion | 129 | 7 | Rittie Chuaprasert | United States | 128,000 |
| Pavilion | 129 | 8 | Daniel Jones | United States | 100,000 |
| Pavilion | 129 | 9 | Ran Ilani | Israel | 587,000 |
| | | | | | |
| Pavilion | 130 | 1 | Jeff Shapiro | United States | 370,000 |
| Pavilion | 130 | 2 | Muthu Veerappan | United States | 330,000 |
| Pavilion | 130 | 3 | Stan Jablonski | United States | 131,000 |
| Pavilion | 130 | 4 | John Freemon | United States | 285,000 |
| Pavilion | 130 | 5 | Sean Hovelkamp | Canada | 194,000 |
| Pavilion | 130 | 6 | Junyeob Song | South Korea | 431,000 |
| Pavilion | 130 | 7 | DID NOT REPORT 2 | United States | 362,000 |
| Pavilion | 130 | 8 | Farhad Jamasi | United States | 177,000 |
| Pavilion | 130 | 9 | Marco Damico | Italy | 180,000 |
| | | | | | |
| Pavilion | 131 | 1 | Carlos Ponce | Guatemala | 122,000 |
| Pavilion | 131 | 2 | Jeremiah Fitzpatrick | United States | 153,000 |
| Pavilion | 131 | 3 | Lowell Carlson | United States | 196,000 |
| Pavilion | 131 | 4 | Andrew Mackenzie | United States | 226,000 |
| Pavilion | 131 | 5 | Hyojung Urm | South Korea | 290,000 |
| Pavilion | 131 | 6 | Yanick Labattaglia | Canada | 374,000 |
| Pavilion | 131 | 7 | Howard Mash | United States | 366,000 |
| Pavilion | 131 | 8 | Joe Ky | United States | 236,000 |
| Pavilion | 131 | 9 | Jon Gisler | United States | 290,000 |
| | | | | | |
| Pavilion | 132 | 1 | Joseph Holland | United States | 129,000 |
| Pavilion | 132 | 2 | Dhaval Mudgal | India | 786,000 |
| Pavilion | 132 | 3 | Perry Ernest | United States | 287,000 |
| Pavilion | 132 | 4 | Mark Seif | United States | 556,000 |
| Pavilion | 132 | 5 | Bobby Law | United States | 215,000 |
| Pavilion | 132 | 6 | Raghavendra Dronavalli | United States | 237,000 |
| Pavilion | 132 | 7 | James Bomar | United States | 361,000 |
| Pavilion | 132 | 8 | Randall Dorff | United States | 207,000 |
| Pavilion | 132 | 9 | Benson Tang | United States | 289,000 |
| | | | | | |
| Pavilion | 133 | 1 | Justin Arnwine | United States | 779,000 |
| Pavilion | 133 | 2 | James Golder | United States | 671,000 |
| Pavilion | 133 | 3 | Cosmin Joldis | Romania | 291,000 |
| Pavilion | 133 | 4 | Serhii Koreniev | United States | 357,000 |
| Pavilion | 133 | 5 | Kyle Turner | Canada | 108,000 |
| Pavilion | 133 | 6 | Evelyn Iraheta | United States | 61,000 |
| Pavilion | 133 | 7 | Charles Kneff | United States | 307,000 |
| Pavilion | 133 | 8 | Luis Matalia | Argentina | 297,000 |
| Pavilion | 133 | 9 | Neil Macleod | Canada | 112,000 |
| | | | | | |
| Pavilion | 134 | 1 | Rick Whitesell | United States | 150,000 |
| Pavilion | 134 | 2 | Kevin O'Toole | United States | 249,000 |
| Pavilion | 134 | 3 | Kenny Hsiung | United States | 382,000 |
| Pavilion | 134 | 5 | Masao Shimizu | United States | 27,000 |
| Pavilion | 134 | 6 | Tanya Kirk | United States | 593,000 |
| Pavilion | 134 | 7 | Fernando Galvan | United States | 106,000 |
| Pavilion | 134 | 8 | Rajendra Ajmani | United States | 398,000 |
| Pavilion | 134 | 9 | Parmod Soni | United States | 239,000 |
| | | | | | |
| Pavilion | 135 | 1 | Stephen Silverman | United States | 137,000 |
| Pavilion | 135 | 2 | Sultan Khair | Jordan | 163,000 |
| Pavilion | 135 | 3 | Derek Childress | United States | 108,000 |
| Pavilion | 135 | 4 | Sonia Shashikhina | Russia | 327,000 |
| Pavilion | 135 | 5 | Armen Poghosyan | United States | 178,000 |
| Pavilion | 135 | 6 | Jose Deandrade | United States | 308,000 |
| Pavilion | 135 | 7 | Kyung Lee | United States | 281,000 |
| Pavilion | 135 | 8 | Hiroki Nawa | Japan | 395,000 |
| Pavilion | 135 | 9 | Jeffrey Krusinski | United States | 108,000 |
| | | | | | |
| Pavilion | 136 | 1 | Carlos Pal | Costa Rico | 150,000 |
| Pavilion | 136 | 2 | Domenico Giannone | Italy | 165,000 |
| Pavilion | 136 | 3 | Jimmy Setna | Canada | 320,000 |
| Pavilion | 136 | 4 | Monte Phelps | United States | 160,000 |
| Pavilion | 136 | 5 | Shawn Sparks | United States | 297,000 |
| Pavilion | 136 | 6 | Nicholas Carter | United States | 258,000 |
| Pavilion | 136 | 7 | Christopher Kay | United States | 95,000 |
| Pavilion | 136 | 8 | Liyingxue Ji | United States | 550,000 |
| Pavilion | 136 | 9 | Satish Gorrela | United States | 126,000 |
| | | | | | |
| Pavilion | 137 | 1 | John Adam Smith | United States | 468,000 |
| Pavilion | 137 | 2 | Lee Chau | United States | 113,000 |
| Pavilion | 137 | 3 | Michael Coombs | United States | 323,000 |
| Pavilion | 137 | 4 | Luke Richard | United States | 596,000 |
| Pavilion | 137 | 5 | DID NOT REPORT 1 | United States | 215,000 |
| Pavilion | 137 | 6 | Matthew Mallams | United States | 144,000 |
| Pavilion | 137 | 7 | Barry Greenstein | United States | 136,000 |
| Pavilion | 137 | 8 | Rhodora Luck | United States | 240,000 |
| Pavilion | 137 | 9 | Jonathan Smith | United States | 305,000 |
| | | | | | |
| Pavilion | 138 | 1 | Demond Williams | United States | 286,000 |
| Pavilion | 138 | 2 | Michael Youngman | United States | 444,000 |
| Pavilion | 138 | 3 | Phungoc Bao | Canada | 381,000 |
| Pavilion | 138 | 4 | Pedro Cairat | United States | 430,000 |
| Pavilion | 138 | 5 | Richard Block | United States | 132,000 |
| Pavilion | 138 | 6 | Andrew Gilmore | United States | 211,000 |
| Pavilion | 138 | 7 | Heather Beck | United States | 169,000 |
| Pavilion | 138 | 8 | Troy Baker | United States | 86,000 |
| Pavilion | 138 | 9 | Christopher Herrin | United States | 358,000 |
| | | | | | |
| Pavilion | 139 | 1 | Robert Skutelsky | United States | 392,000 |
| Pavilion | 139 | 2 | Matthew Ferrari | United States | 256,000 |
| Pavilion | 139 | 3 | Kenneth Oppenheimer | United States | 106,000 |
| Pavilion | 139 | 4 | Eduards Kudrjavcevs | Latvia | 250,000 |
| Pavilion | 139 | 5 | William Thompson | United States | 110,000 |
| Pavilion | 139 | 6 | Kharlin Sued | United States | 224,000 |
| Pavilion | 139 | 7 | Ali Mehraban | United States | 36,000 |
| Pavilion | 139 | 8 | Cedric Danneker | France | 134,000 |
| Pavilion | 139 | 9 | Christopher Dupuy | United States | 401,000 |
| | | | | | |
| Pavilion | 140 | 1 | John Cautela | United States | 214,000 |
| Pavilion | 140 | 2 | John Long | United States | 159,000 |
| Pavilion | 140 | 3 | Diana Allen | United States | 668,000 |
| Pavilion | 140 | 4 | Rubin Chappell (CA) | United States | 412,000 |
| Pavilion | 140 | 5 | Rolands Norietis | Latvia | 174,000 |
| Pavilion | 140 | 6 | Dwayne Pelham | United States | 177,000 |
| Pavilion | 140 | 7 | Jeremy Eyer | United States | 308,000 |
| Pavilion | 140 | 8 | Boaz Madhala | Israel | 554,000 |
| Pavilion | 140 | 9 | Kevin Merchant | United States | 68,000 |
| | | | | | |
| Pavilion | 141 | 1 | Mark Bansemer | United States | 175,000 |
| Pavilion | 141 | 2 | Gabriel Tudorache | United States | 58,000 |
| Pavilion | 141 | 3 | Geoffrey Rasmussen | United States | 104,000 |
| Pavilion | 141 | 4 | Matthew Bloch | United States | 504,000 |
| Pavilion | 141 | 5 | Kyle Lorenz | United States | 168,000 |
| Pavilion | 141 | 6 | Sean Mates | United States | 186,000 |
| Pavilion | 141 | 7 | Dawn Thomas | United States | 318,000 |
| Pavilion | 141 | 8 | Gabriel Whitehead | United States | 157,000 |
| Pavilion | 141 | 9 | Micha Hoedemaker | Netherlands | 146,000 |
| | | | | | |
| Pavilion | 142 | 1 | Fernanda Lopes | United States | 328,000 |
| Pavilion | 142 | 2 | Adam Swan | United States | 356,000 |
| Pavilion | 142 | 3 | Chrishan Sivasundaram | Canada | 316,000 |
| Pavilion | 142 | 4 | Aharon Tsveniashvili | Israel | 340,000 |
| Pavilion | 142 | 5 | Denys Prydvor | United Kingdom | 195,000 |
| Pavilion | 142 | 6 | Viliyan Petleshkov | Bulgaria | 393,000 |
| Pavilion | 142 | 7 | Alan Neuhauser | United States | 188,000 |
| Pavilion | 142 | 8 | Bao Le | United States | 226,000 |
| Pavilion | 142 | 9 | Diana Abaryan | United States | 650,000 |
| | | | | | |
| Pavilion | 143 | 1 | Brett Rosen | United States | 466,000 |
| Pavilion | 143 | 2 | Gintautas Putinas | United States | 126,000 |
| Pavilion | 143 | 3 | Douglas Long | United States | 297,000 |
| Pavilion | 143 | 4 | Jody Page | United States | 264,000 |
| Pavilion | 143 | 5 | Cole Ferraro | United States | 625,000 |
| Pavilion | 143 | 6 | Herbert Steele | United States | 97,000 |
| Pavilion | 143 | 7 | Jonathan Grimm | United States | 102,000 |
| Pavilion | 143 | 8 | Samuel Coen | Canada | 483,000 |
| Pavilion | 143 | 9 | Kimlong Lav | United States | 74,000 |
| | | | | | |
| Pavilion | 144 | 1 | Oleg Titov | Russia | 156,000 |
| Pavilion | 144 | 2 | Florian Dietrich | France | 208,000 |
| Pavilion | 144 | 3 | Nissar Quraishi | United States | 687,000 |
| Pavilion | 144 | 4 | Antony Dickson | United States | 342,000 |
| Pavilion | 144 | 5 | Bart Lybaert | Belgium | 523,000 |
| Pavilion | 144 | 6 | Damian Salas | Argentina | 530,000 |
| Pavilion | 144 | 7 | Aoi Oyama | Japan | 308,000 |
| Pavilion | 144 | 8 | John Cavanaugh | United States | 113,000 |
| Pavilion | 144 | 9 | Baker Abdallah | United States | 383,000 |
| | | | | | |
| Pavilion | 145 | 1 | Barry Shulman | United States | 258,000 |
| Pavilion | 145 | 2 | Harold Hankins | United States | 202,000 |
| Pavilion | 145 | 3 | Mike Sowers | United States | 207,000 |
| Pavilion | 145 | 4 | Zachary Walker | United States | 168,000 |
| Pavilion | 145 | 5 | Brian Hobbs | United States | 218,000 |
| Pavilion | 145 | 6 | Mario Desouza | Argentina | 85,000 |
| Pavilion | 145 | 7 | Santiago Vila | United States | 186,000 |
| Pavilion | 145 | 8 | Pete Chen | Taiwan | 132,000 |
| Pavilion | 145 | 9 | Allan Barnes | Canada | 227,000 |
| | | | | | |
| Pavilion | 146 | 1 | Bradley Hinson | United States | 292,000 |
| Pavilion | 146 | 2 | Dominick French | Canada | 194,000 |
| Pavilion | 146 | 3 | Terry Fleischer | United States | 530,000 |
| Pavilion | 146 | 4 | Samy Boujmala | Argentina | 230,000 |
| Pavilion | 146 | 5 | Maxence Decorne | Canada | 287,000 |
| Pavilion | 146 | 6 | Stuart W. Gold | United States | 497,000 |
| Pavilion | 146 | 7 | Fernando Viana Da Costa | Argentina | 171,000 |
| Pavilion | 146 | 8 | Ricky Welch | United States | 500,000 |
| Pavilion | 146 | 9 | David Byer | United States | 47,000 |
| | | | | | |
| Pavilion | 147 | 1 | Abhishek Goindi | India | 131,000 |
| Pavilion | 147 | 2 | Senthuran Vijayaratnam | Canada | 188,000 |
| Pavilion | 147 | 3 | Michael Chaplin | United States | 98,000 |
| Pavilion | 147 | 4 | Mitsuru Sano | Argentina | 201,000 |
| Pavilion | 147 | 5 | Lawrence Obrien | Canada | 170,000 |
| Pavilion | 147 | 6 | Pavan Komkai | United States | 438,000 |
| Pavilion | 147 | 7 | John Gallenberg | United States | 107,000 |
| Pavilion | 147 | 8 | Alpheus Chan | Canada | 405,000 |
| Pavilion | 147 | 9 | Jean Guillette | Canada | 420,000 |
| | | | | | |
| Pavilion | 148 | 1 | Sayoko Matsumoto | Japan | 230,000 |
| Pavilion | 148 | 2 | Luigi Petrone | United States | 115,000 |
| Pavilion | 148 | 3 | Luc Campeau | Canada | 152,000 |
| Pavilion | 148 | 4 | Avraham Azulay | United States | 437,000 |
| Pavilion | 148 | 5 | Jorge Hou | Panama | 152,000 |
| Pavilion | 148 | 6 | Samuel Hendrickson | United States | 169,000 |
| Pavilion | 148 | 7 | Angelo Miele | United States | 247,000 |
| Pavilion | 148 | 8 | Arash Ghaneian | United States | 56,000 |
| Pavilion | 148 | 9 | Nikolay Yosifov | Bulgaria | 65,000 |
| | | | | | |
| Pavilion | 149 | 1 | Allyn Shulman | United States | 102,000 |
| Pavilion | 149 | 2 | Brett Bachman | United States | 454,000 |
| Pavilion | 149 | 3 | Jeremy Wien | United States | 31,000 |
| Pavilion | 149 | 4 | Kyle Grosshanten | United States | 231,000 |
| Pavilion | 149 | 5 | Kazuyoshi Miyashita | Japan | 387,000 |
| Pavilion | 149 | 6 | Fabio Muhr | Austria | 134,000 |
| Pavilion | 149 | 7 | Jessica Plusko | United States | 230,000 |
| Pavilion | 149 | 8 | Ivan Obradovic | Canada | 183,000 |
| Pavilion | 149 | 9 | Nicholas Rivas | United States | 261,000 |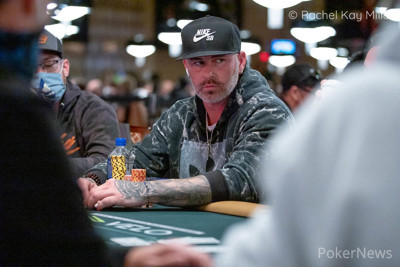 After nine levels of late registration on Day 1 in Event #61: $600 Deepstack Championship a field of 3,916 entrants created a prizepool of $1,997,160 and a first place prize of $252,491. The end of the day saw 448 players bagging a stack with each guaranteed a payout of at least $1,051.
At the top of the chip counts was Tennessee native Robert Hankins, who bagged 868,000. Hankins is no stranger to deep runs in big fields. Hankins is a big name on the WSOP circuit with 10 WSOP rings to his name. In total Hankins has 18 cashes at the WSOP and further 100 on the circuit.
Hankins got a big stack after the dinner break and continued to build upon it as the day went on. There will be no doubt that Hankins will be looking to add a bracelet to his already impressive WSOP resume.
Following him in the chip counts are Samuel Taylor (838,000), Radoslav Stoyanov (830,000), and Dhuval Mudgal (786,000).
Some bracelet winners also will be looking to add to their already distinguished collections. Mark Saif (556,000), Barry Shulman (258,000), Sejin Park (229,000), Barry Greenstein (136,000), and Allyn Shulman (102,000) will all be looking to add another bracelet to their resume.
2020 Main Event Champion Damian Salas (530,000) holds the distinction of the last remaining main event champion in the field. Other well known pros include Liyingxue Ji (550,000), Bart Lybaert (523,000), Daniel Eichorn (313,000), Aymon Hata (275,000) and Maria Lampropulos (132,000).
Day 2 will restart at 12 p.m. PT on November 2 at the The Rio All-Suite Hotel and Casino.
The 448 remaining players will be starting at Level 18 with 5,000/10,000 blinds and a 10,000 big blind ante. They will play 10 levels with a duration of 60-minutes each. There will be 15-minute breaks every two levels and a 60-min dinner break after Level 23 (≈ 6:30 p.m.). The remaining players will bag at the end of the day and the remaining players will return for Day 3 the following day.
Stay tuned toPokerNews to keep track of all the updates from the WSOP.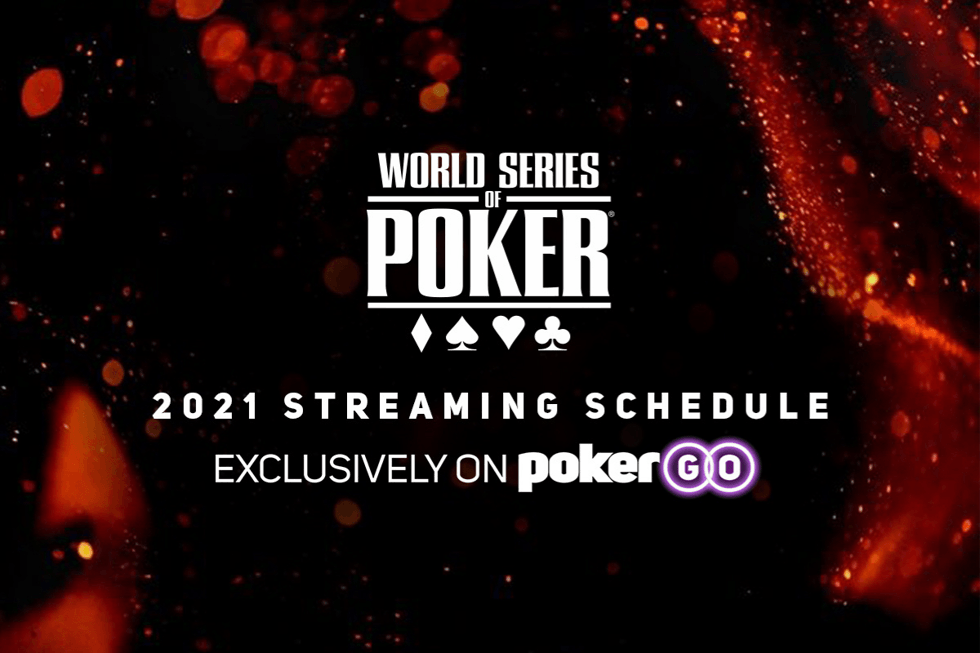 The 2021 World Series of Poker is in full swing, and PokerGO is live streaming many of the events.
PokerGO has partnered with CBS Sports Network to provide WSOP coverage with the likes of Lon McEachern, Norman Chad, and Jamie Kerstetter returning to the WSOP broadcast booth this year, along with PokerNews Podcast co-host Jeff Platt from time to time.
CBS Sports Network will televise 16 pre-produced and edited episodes of the 2021 World Series of Poker Main Event, after striking a multi-year deal earlier this year. This deal sees coverage of the WSOP Main Event return to its original broadcast partner after featuring on CBS Sports Spectacular in the mid-1970s.
All 16 episodes will be televised following the conclusion of the tournament.
PokerGO will provide live streaming duties of the World Championship event starting on Day 1A (November 4) until the end on November 17, except Day 1B (November 5).
Away from the Main Event, there will be additional coverage of more than two dozen tournaments thru November 23, 2021. They include the $50,000 Poker Players Championship and the $250,000 Super High Roller.
Here's a look at the remaining PokerGO live-stream schedule:
*Dates, times, and specific events of this schedule are subject to change.
Remember, poker fans can catch live updates from every single bracelet event from start to finish right here on PokerNews. Make sure to bookmark the 2021 World Series of Poker Hub, with all the reporting, news, interviews, and more from Las Vegas.
If you're not currently subscribed to PokerGO, you can get a monthly subscription for $14.99, a three-month plan for $29.99, and an annual subscription for $99.99. You can also save $10 off an annual subscription by using promo code "PokerNews" at checkout. Click here to subscribe.
Nível: 18
Blinds: 5,000/10,000
Ante: 10,000
Nível 18 : 5,000/10,000, 10,000 ante
Players have sat down in their seats, cards are in the air.
Nível 18 : 5,000/10,000, 10,000 ante
Samuel Coen went all-in from the small blind and in the big blind, Kimlong Lav called for his last 74,000.
Kimlong Lav:

Samuel Coen:
The board ran out
giving Coen three eights which left Lav with zero chips.
Nível 18 : 5,000/10,000, 10,000 ante
Boaz Madhala opened from the hijack for 30,000. The action folded to Diana Allen in the big blind and she defended.
They went heads-up to flop which came
. Mahala continued for 25,000 when it was checked to him. Allen then three-bet to 100,000.
Mahala thought for a minute before he mucked his hand. Allen chips up moving out of the blinds.
Nível 18 : 5,000/10,000, 10,000 ante
Pace of eliminations is rapid.
Nível 18 : 5,000/10,000, 10,000 ante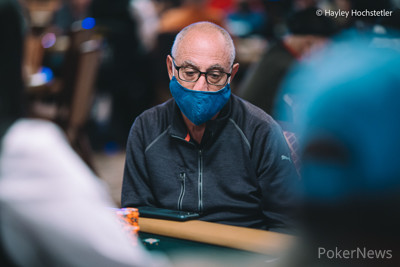 Against one caller in early position and one caller in late position, Barry Greenstein went all in for 190,000.
John Adam Smith in early position called with the effective stack, the small blind folded.
"I'm in trouble," Greenstein said.
John Adam Smith:

Barry Greenstein:
The board ran out
and Smith was awarded the double.
Jogador
Fichas
Progresso

John Adam Smith

265,000

-203,000

Barry Greenstein

72,000

-64,000