Event #60: $50,000 Poker Players Championship
Dias: 2
Event #60: $50,000 Poker Players Championship
Dia 2 Começado
| ROOM | TABLE | SEAT | Player | Country | Chip Count |
| --- | --- | --- | --- | --- | --- |
| Amazon | 427 | 1 | Julien Martini | France | 134,000 |
| Amazon | 427 | 3 | Adam Friedman | United States | 221,500 |
| Amazon | 427 | 5 | Dario Sammartino | Italy | 520,500 |
| Amazon | 427 | 6 | Brian Rast | United States | 437,000 |
| | | | | | |
| Amazon | 428 | 1 | Jose Ignacio Barbero | Argentina | 430,000 |
| Amazon | 428 | 2 | Mike Wattel | United States | 271,500 |
| Amazon | 428 | 3 | Christopher Vitch | United States | 504,500 |
| Amazon | 428 | 4 | David "ODB" Baker | United States | 192,500 |
| | | | | | |
| Amazon | 429 | 1 | Michael Mizrachi | United States | 189,000 |
| Amazon | 429 | 3 | Paul Volpe | United States | 409,000 |
| Amazon | 429 | 4 | Frank Kassela | United States | 300,000 |
| Amazon | 429 | 6 | Anthony Zinno | United States | 272,000 |
| | | | | | |
| Amazon | 430 | 1 | George Wolff | United States | 190,000 |
| Amazon | 430 | 2 | Yuval Bronshtein | Israel | 440,500 |
| Amazon | 430 | 3 | Roman Yitzhaki | United States | 276,000 |
| Amazon | 430 | 5 | David Benyamine | France | 300,000 |
| Amazon | 430 | 6 | John Monnette | United States | 253,000 |
| | | | | | |
| Amazon | 437 | 1 | Robert Mizrachi | United States | 423,000 |
| Amazon | 437 | 3 | Randy Ohel | United States | 457,000 |
| Amazon | 437 | 4 | Bryce Yockey | United States | 653,000 |
| Amazon | 437 | 6 | Ryan Leng | United States | 433,000 |
| | | | | | |
| Amazon | 438 | 1 | Benny Glaser | United Kingdom | 267,000 |
| Amazon | 438 | 3 | Naoya Kihara | Japan | 394,500 |
| Amazon | 438 | 4 | Scott Bohlman | United States | 350,000 |
| Amazon | 438 | 5 | Chad Campbell | United States | 439,000 |
| | | | | | |
| Amazon | 439 | 1 | Aaron Katz | United States | 379,000 |
| Amazon | 439 | 2 | Johannes Becker | Germany | 284,500 |
| Amazon | 439 | 3 | Shaun Deeb | United States | 448,500 |
| Amazon | 439 | 4 | Bradley Berman | United States | 49,000 |
| Amazon | 439 | 5 | Tony Hartmann | United States | 267,500 |
| | | | | | |
| Amazon | 446 | 1 | Yuri Dzivielevski | Brazil | 351,000 |
| Amazon | 446 | 2 | Eli Elezra | Israel | 460,500 |
| Amazon | 446 | 4 | Matt Glantz | United States | 373,000 |
| Amazon | 446 | 6 | Robert Campbell | Australia | 246,000 |
| | | | | | |
| Amazon | 447 | 1 | Felipe Ramos | Brazil | 320,000 |
| Amazon | 447 | 2 | Daniel Weinman | United States | 225,000 |
| Amazon | 447 | 4 | Scott Seiver | United States | 366,000 |
| Amazon | 447 | 5 | Timofey Kuznetsov | Russia | 203,000 |
| Amazon | 447 | 6 | Daniel Negreanu | Canada | 77,000 |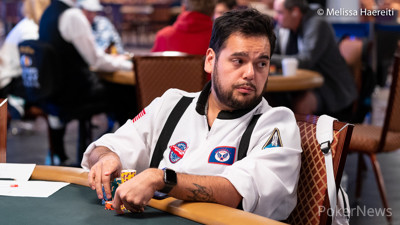 Welcome to Day 2 of Event #60: Poker Players Championship, where Bryce Yockey leads a star-studded field in one of the World Series of Poker's most prestigious tournaments.
Yockey will be looking to better his fourth-place finish in 2019 after building his starting stack of 300,000 to the overnight chip lead with 653,000. Two other players bagged more than half a million chips, as Dario Sammartino (520,500) sits second and Chris Vitch (504,500) is third after Day 1. Eli Elezra and Randy Ohel round out the top five, while several 2021 WSOP bracelet winners are lurking not far behind.
Top 10 Counts Day 1 Event #60: $50,000 Poker Players Championship
| Position | Player | Country | Chip Count |
| --- | --- | --- | --- |
| 1 | Bryce Yockey | United States | 653,000 |
| 2 | Dario Sammartino | Italy | 520,500 |
| 3 | Chris Vitch | United States | 504,500 |
| 4 | Eli Elezra | Israel | 460,500 |
| 5 | Randy Ohel | United States | 457,000 |
| 6 | Shaun Deeb | United States | 448,500 |
| 7 | Yuval Bronshtein | Israel | 440,500 |
| 8 | Chad Campbell | United States | 439,000 |
| 9 | Brian Rast | United States | 437,000 |
| 10 | Ryan Leng | United States | 433,000 |
This includes Shaun Deeb, who is fresh off his fifth career bracelet in Event #53: $25,000 Pot-Limit Omaha High Roller. Yuval Bronshtein, Ryan Leng and two-time PPC champion Brian Rast are all among the top ten stacks through six levels of play.
The event rotates through a nine-game format of No-Limit Hold'em, Seven Card Stud, Omaha Hi-Lo 8 or Better, Razz, Pot-Limit Omaha, Limit Hold'em, Seven Card Stud Hi-Lo 8 or Better, No-Limit 2-7 Lowball Draw, and 2-7 Lowball Triple Draw. The PPC champion earns a WSOP gold bracelet and their name on the Chip Reese Memorial Trophy, named in memory of the inaugural tournament champ in 2006.
Play is scheduled to begin at 2 p.m. local time on level seven. Levels remain 100 minutes in length and players will get 15-minute breaks after every level and a one-hour dinner break after level 10. Late registration remains open until the start of level 11.
Stick with PokerNews for full coverage on the road to crowning the next Poker Players Champion!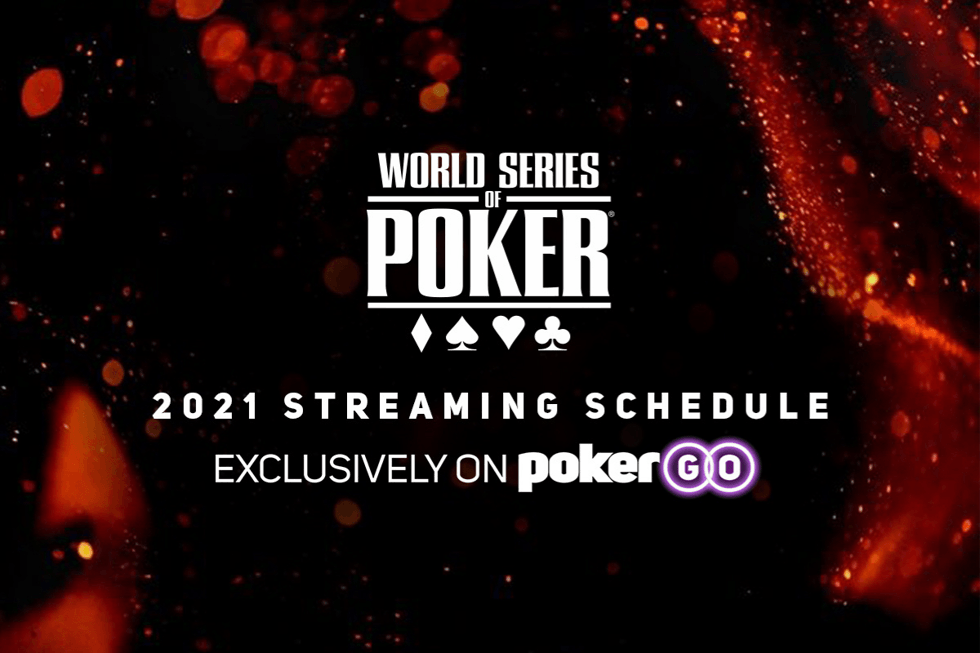 The 2021 World Series of Poker is in full swing, and PokerGO is live streaming many of the events.
PokerGO has partnered with CBS Sports Network to provide WSOP coverage with the likes of Lon McEachern, Norman Chad, and Jamie Kerstetter returning to the WSOP broadcast booth this year, along with PokerNews Podcast co-host Jeff Platt from time to time.
CBS Sports Network will televise 16 pre-produced and edited episodes of the 2021 World Series of Poker Main Event, after striking a multi-year deal earlier this year. This deal sees coverage of the WSOP Main Event return to its original broadcast partner after featuring on CBS Sports Spectacular in the mid-1970s.
All 16 episodes will be televised following the conclusion of the tournament.
PokerGO will provide live streaming duties of the World Championship event starting on Day 1A (November 4) until the end on November 17, except Day 1B (November 5).
Away from the Main Event, there will be additional coverage of more than two dozen tournaments thru November 23, 2021. They include the $50,000 Poker Players Championship and the $250,000 Super High Roller.
Here's a look at the remaining PokerGO live-stream schedule:
*Dates, times, and specific events of this schedule are subject to change.
Remember, poker fans can catch live updates from every single bracelet event from start to finish right here on PokerNews. Make sure to bookmark the 2021 World Series of Poker Hub, with all the reporting, news, interviews, and more from Las Vegas.
If you're not currently subscribed to PokerGO, you can get a monthly subscription for $14.99, a three-month plan for $29.99, and an annual subscription for $99.99. You can also save $10 off an annual subscription by using promo code "PokerNews" at checkout. Click here to subscribe.
Nível: 7
Limit Flop / Draw: 2,000/4,000, Limits 4,000 / 8,000
Stud Games: Ante 1,000, Bring-In 1,000, Completion 4,000 - Limits 4,000 / 8,000
NL and PL: Ante 2,000 / 3,000, Blinds 1,000 / 2,000
Nível 7 : 1,000/2,000, 2,000 ante
On the latest episode of the PokerNews Podcast, Jeff Platt and Chad Holloway come to you from the 2021 World Series of Poker (WSOP)!
They highlight Doyle Brunson's much-bantered return to the WSOP since his last event in 2018, and also offer an audio clip from Phil Ivey discussing whether or not he'll be at the WSOP this year. Chad then talks about partying with Ivey at the launch party for his NFT while Jeff offers a 2021 WSOP Player of the Year update.
Toss in bracelet winner interviews with Shaun Deeb, Brian Rast, Darrin Wright, Farzad Bonyadi, Nicholas Julia, and Gershon Distenfeld, and it's a must-listen episode of the PokerNews Podcast. Speaking of Distenfeld, find out how and why he donated all his $204,000 in winnings to charity.
Nível 7 : 1,000/2,000, 2,000 ante
The winner of Event #2: $25,000 H.O.R.S.E., Jesse Klein, has entered the field right from the start on Day 2 to increase the field size to 44 entries. Further notables are expected to join the competition thanks to the extended late registration until approximately 10.20 pm local time.
Nível 7 : 1,000/2,000, 2,000 ante
Limit Hold'em
Seated next to each other, Scott Seiver and Timofey Kuznetsov took their hand to showdown on the
runout. Seiver's river bet was called and he declared "full house" as he turned over
and Kuznetsov mucked.
Nível 7 : 1,000/2,000, 2,000 ante
Limit Hold'em
John Monnette raised from under the gun and David Benyamine called in the big blind. Benyamine opted to check-call the
flop and they then checked the
on the turn. Another check by Benyamine followed on the
river and Monnette bet to win the pot uncontested.
Nível 7 : 1,000/2,000, 2,000 ante
Limit Hold'em
Action folded to the blinds, where Eli Elezra raised from the small. Matt Glantz called from the big.
"I'll bet now. That way I don't have to pretend to look," Elezra said. He then tossed in a bet before the
flop was dealt. Glantz called.
Elezra bet again on the
turn and Glantz again called.
Both players checked on the
river and Elezra showed
. It was good and Glantz mucked — awarding the pot to Elezra.