Event #59: $1,000 Tag Team
Dias: 1
Event #59: $1,000 Tag Team
Dia 1 Começado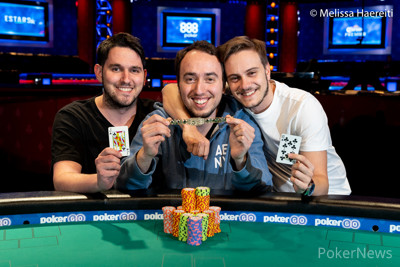 Today at 2 p.m. local time, Day 1 of Event #57: $1,000 Tag Team No-Limit Hold'em takes off which is considered the most fun tournament of the 51st Annual World Series of Poker by some. In this unique event, only one partner is allowed, unlike in previous years.
The tag team concept was first introduced here at the Rio All-Suite Hotel & Casino in 2016. Doug Polk and Ryan Fee defeated the 863-strong field. The second time the event was held in 2017 it was Aditya Sushant and Nipun Java who beat Pablo Mariz and David Guay heads-up when the tournament attracted 843 teams. This also meant that they won the first two bracelets ever for India. 2019 saw Barak Wisbod, Daniel Dayan, and Ohad Geiger take down the field of 976 entries and bring home $56,131 each.
This year, the event will be a three-day tournament with 11 levels of play scheduled for the first two days. Each level will last 60 minutes and all teams will start with 20,000 chips. Late registration is possible for the first eight levels until approximately 10 p.m. local time. There are no breaks during the tournament except for the color-up breaks.
All teams must register together, each teammate must check in at their table prior to the end of the registration period. All teammates must play at least one round of blinds at some point in the tournament or the whole team will be disqualified. Players may tag a teammate anytime they're not in an active hand and the payouts will be calculated based on the number of teams and distributed evenly amongst the teammates.
The PokerNews live reporting team will be chasing all the tag team action on the floor so make sure to see which team will work together the best to win their bracelets at the end of the line.
Slight delay as the teams are finding their way to their tables.
Nível: 1
Blinds: 100/100
Ante: 100
Nível 1 : 100/100, 100 ante
Cards are in the air and action is underway in Event #57: $1,000 Tag Team No-Limit Hold'em after a slight delay.
Nível 1 : 100/100, 100 ante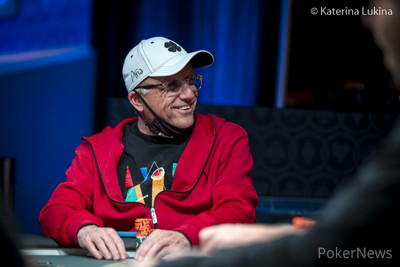 Eli Elezra was spotted early in Level 1 playing on Team Nastasa with Gabriel Nastasa. Elezra told PokerNews he will let his partner do most of the work as he hops over into Event #60: $50,000 Poker Players Championship.
"I need a fifth bracelet," Elezra laughed.
Jogador
Fichas
Progresso

Gabriel Nastasa - Eli Elezra

20,000
Nível 1 : 100/100, 100 ante
On a flop of
, Adrian Wan from Team Wan raised check-raised to 1,200 and his opponent made the call.
The
fell on the turn and Wan checked before his opponent threw in a bet of 1,800, which he called.
The river was the
and Wan check-called once again, this time the bet was 3,200. His opponent tabled
and Wan took down the pot when he showed
, making a full house.
Jogador
Fichas
Progresso

Adrian Wan - Jeffrey Hsu

27,000
Nível 1 : 100/100, 100 ante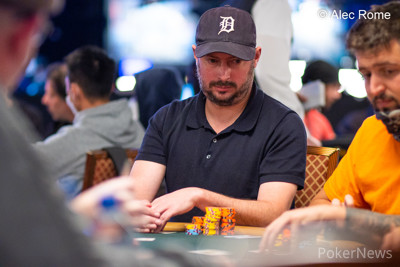 Nate Silver opened in early position and a player in late position called. Silver fired out a continuation bet of 400 the flop reading
and his opponent folded.
Silver has partnered up with Maria Ho for the tag team tournament.
Jogador
Fichas
Progresso

Maria Ho - Nate Silver

21,000
Nível 1 : 100/100, 100 ante
Jogador
Fichas
Progresso

Brad Knipping - David Knipping

20,000

20,000

Sarah Wien - Jeremy Wien

20,000

20,000

Maurice Hawkins - Jesus Caberallo

20,000

20,000

Vincent Lam - Nohad Teliani

20,000

20,000

Haven Werner - Sandy Taylor

20,000

20,000

Scott Drobes - Alan Vaughn

20,000

Scotter Clark - Darren Utley

15,000

15,000
Nível 1 : 100/100, 100 ante
A player limped under-the-gun and Jeff Miller of Team Miller raised to 1,000. The small blind completed and the limper came along as well.
On the flop came
and the action checked to Miller who put in a bet of 2,200. The player in the small blind raised to 6,000 and the third player quickly folded before Miller announced all-in. The small blind thought about it for a few seconds and eventually called off her stack of about 19,000.
Small blind:

Team Miller:
It was a cooler situation for the small blind but the
on the turn gave her team some life as they picked up a flush draw. Unfortunately for their team though the
on the river was no help.
Jogador
Fichas
Progresso

Jeff Miller - Ian Rakestraw

42,000