Nível:

15
Blinds:

4,000/8,000
Ante:

8,000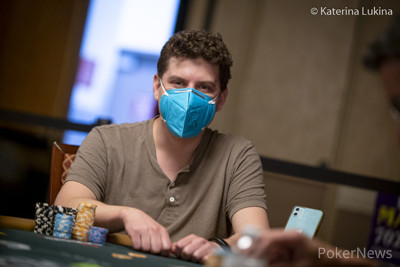 Day 2 of Event #48: $1,500 Shootout will begin shortly with 80 players returning out of the 800 starting entrants. Ten tables will play eight-handed and by the end of the day, only one player from each table will survive and combine into one final table to be played on Wednesday, October 27.
Today's action will resume at 12 p.m. local time, everyone returning is already in the money and has cashed for a minimum of $5,549. Each player will be hoping to win their table and survive another day to increase their payday to at least $16,197 and potentially, the $204,063 first-place prize in addition to a coveted WSOP gold bracelet.
All of the returning players will have roughly the same stack, with slight differences based on chips from players who arrived late that were put into the well and out of play by dealers.
Some notables returning today who are looking for a spot at the final table include Joseph Cheong (247,000), Michael Trivett (249,000), Ari Engel (246,000), Gershon Distenfeld (246,000), Sam Grafton (247,000), Brian Yoon (247,000), and Ray Henson (247,000).
Day 2 starts at 12 p.m. local time on October 26 at the Rio All-Suite Hotel & Casino. The tournament will restart with blinds at 2,000/4,000/4,000.
Stay tuned as the PokerNews live reporting team continues to bring live updates of the tournament action.
| | | | | | |
| --- | --- | --- | --- | --- | --- |
| Room | Table | Seat | Player | Country | Chips |
| Amazon | 449 | 1 | Orson Young | United States | 248,000 |
| Amazon | 449 | 2 | Mark Miller | United States | 246,000 |
| Amazon | 449 | 3 | Renato Spahiu | United States | 247,000 |
| Amazon | 449 | 4 | Lewis Murray | United States | 246,000 |
| Amazon | 449 | 6 | Taylor Black | United States | 246,200 |
| Amazon | 449 | 7 | Walter Rodriguez | Mexico | 247,000 |
| Amazon | 449 | 8 | Alan Goasdoue | France | 248,000 |
| Amazon | 449 | 9 | Pedro Madeira | Brazil | 247,000 |
| | | | | | |
| Amazon | 450 | 1 | Sean Yu | United States | 245,000 |
| Amazon | 450 | 2 | Hiep Tran | United States | 246,000 |
| Amazon | 450 | 3 | Sammy Bolung | Poland | 250,000 |
| Amazon | 450 | 4 | Raymond Henson | United States | 247,000 |
| Amazon | 450 | 6 | Dominykas Mikolaitis | Lithuania | 245,000 |
| Amazon | 450 | 7 | Phillip Monday | United States | 246,000 |
| Amazon | 450 | 8 | Craig Welko | United States | 247,000 |
| Amazon | 450 | 9 | Ugur Secilmis | Turkey | 245,000 |
| | | | | | |
| Amazon | 451 | 1 | Steve Chanthabouasy | United States | 248,000 |
| Amazon | 451 | 2 | Brandon Caputo | United States | 247,000 |
| Amazon | 451 | 3 | Victoria Livschitz | United States | 247,000 |
| Amazon | 451 | 4 | Clayton Kalisek | United States | 244,000 |
| Amazon | 451 | 6 | Chris Brand | United States | 247,000 |
| Amazon | 451 | 7 | Christopher Conrad | United States | 247,000 |
| Amazon | 451 | 8 | Gershon Distenfeld | United States | 246,000 |
| Amazon | 451 | 9 | Chebli Chebli | Lebanon | 244,000 |
| | | | | | |
| Amazon | 456 | 1 | Ap Garza | United States | 247,000 |
| Amazon | 456 | 2 | Brad Anderson | United States | 246,000 |
| Amazon | 456 | 3 | Mukul Pahuja | United States | 246,000 |
| Amazon | 456 | 4 | Alexandre Vuilleumier | Switzerland | 268,000 |
| Amazon | 456 | 6 | Emrah Cakmak | France | 245,000 |
| Amazon | 456 | 7 | Alejandro Perez | Argentina | 248,000 |
| Amazon | 456 | 8 | Carlos Caldas | United States | 246,000 |
| Amazon | 456 | 9 | Aurelien Debaillie | France | 248,000 |
| | | | | | |
| Amazon | 457 | 1 | Russell Thomas | United States | 242,000 |
| Amazon | 457 | 2 | Gilles Lamy | France | 265,000 |
| Amazon | 457 | 3 | Mitchell Collins | United States | 246,000 |
| Amazon | 457 | 4 | Ari Engel | United States | 246,000 |
| Amazon | 457 | 6 | Hwany Lee | South Korea | 248,000 |
| Amazon | 457 | 7 | Christopher Putz | Germay | 246,000 |
| Amazon | 457 | 8 | Michael Banducci | United States | 246,000 |
| Amazon | 457 | 9 | Selahaddin Bedir | United States | 246,000 |
| | | | | | |
| Amazon | 458 | 1 | Sam Grafton | United Kingdom | 247,000 |
| Amazon | 458 | 2 | Johan Schumacher | Belgium | 248,000 |
| Amazon | 458 | 3 | Nicholas Manganaro | United States | 247,000 |
| Amazon | 458 | 4 | Renan Bruschi | Brazil | 247,000 |
| Amazon | 458 | 6 | William Draper | United States | 247,000 |
| Amazon | 458 | 7 | Joseph Cheong | United States | 247,000 |
| Amazon | 458 | 8 | Clayton Fletcher | United States | 247,000 |
| Amazon | 458 | 9 | Michael Abrams | United States | 246,000 |
| | | | | | |
| Amazon | 463 | 1 | Taylor Pollard | United States | 248,000 |
| Amazon | 463 | 2 | Jonathan Betancur | United States | 248,000 |
| Amazon | 463 | 3 | Tim Reilly | United States | 245,000 |
| Amazon | 463 | 4 | Ben Farrell | United Kingdom | 246,000 |
| Amazon | 463 | 6 | Valentyn Shabelnyk | Ukraine | 247,000 |
| Amazon | 463 | 7 | Nicholas Verderamo | United States | 246,000 |
| Amazon | 463 | 8 | Alfredo Pacheco | United States | 250,000 |
| Amazon | 463 | 9 | Evan Schwartz | United States | 247,000 |
| | | | | | |
| Amazon | 464 | 1 | Martin Stausholm | Denmark | 248,000 |
| Amazon | 464 | 2 | Roman Hrabec | Mexico | 266,000 |
| Amazon | 464 | 3 | Michael Leanos | United States | 248,000 |
| Amazon | 464 | 4 | Jason Obinger | United States | 246,000 |
| Amazon | 464 | 6 | Sohale Khalili | United States | 245,000 |
| Amazon | 464 | 7 | Jeremy Menard | United States | 248,000 |
| Amazon | 464 | 8 | Ulysse Harry | United Kingdom | 245,000 |
| Amazon | 464 | 9 | Shiva Dudani | United States | 243,000 |
| | | | | | |
| Amazon | 465 | 1 | Wayne Harmon | United States | 241,000 |
| Amazon | 465 | 2 | Taylor Paur | United States | 244,000 |
| Amazon | 465 | 3 | Brian Yoon | United States | 247,000 |
| Amazon | 465 | 4 | Alexandra Brierton | United States | 244,000 |
| Amazon | 465 | 6 | Ryan Hand | United States | 247,000 |
| Amazon | 465 | 7 | Mark Darner | United States | 247,000 |
| Amazon | 465 | 8 | Thomas Boivin | Belgium | 246,000 |
| Amazon | 465 | 9 | Nicholas Ruggieri | United States | 248,000 |
| | | | | | |
| Amazon | 466 | 1 | Ron McMillen | United States | 247,000 |
| Amazon | 466 | 2 | Mats Ullereng | Norway | 247,000 |
| Amazon | 466 | 3 | Nick Schwarmann | United States | 247,000 |
| Amazon | 466 | 4 | Reiji Kono | Japan | 246,000 |
| Amazon | 466 | 6 | Craig Trost | United States | 245,000 |
| Amazon | 466 | 7 | Jared Jaffee | United States | 246,000 |
| Amazon | 466 | 8 | Michael Trivett | United States | 249,000 |
| Amazon | 466 | 9 | Juan Pardo Dominguez | Spain | 245,000 |
Event #48: $1,500 Shootout No-Limit Hold'em
Dia 2 Começado