Event #47: $5,000 Freezeout No-Limit Hold'em 8-Handed
Dias: 2
Event #47: $5,000 Freezeout No-Limit Hold'em 8-Handed
Dia 2 Começado
| | | | | | | |
| --- | --- | --- | --- | --- | --- | --- |
| Amazon | 505 | 1 | Ping Liu | United States | 278,000 | 35 |
| Amazon | 505 | 2 | Petar Kalev | United States | 234,000 | 29 |
| Amazon | 505 | 3 | Salim Admon | United States | 237,000 | 30 |
| Amazon | 505 | 4 | Johan Guilbert | France | 103,000 | 13 |
| Amazon | 505 | 5 | Christopher Basile | United States | 393,000 | 49 |
| Amazon | 505 | 6 | Daniel Negreanu | Canada | 617,000 | 77 |
| Amazon | 505 | 7 | Bjorn Kozenkai | United States | 153,000 | 19 |
| Amazon | 505 | 8 | Benjamin Heath | United Kingdom | 49,000 | 6 |
| | | | | | | |
| Amazon | 506 | 1 | Mathew Moore | United States | 336,000 | 42 |
| Amazon | 506 | 2 | Dario Sammartino | Italy | 379,000 | 47 |
| Amazon | 506 | 3 | Daniel Rezaei | Austria | 702000 | 88 |
| Amazon | 506 | 4 | Johan Martinet | Mexico | 450,000 | 56 |
| Amazon | 506 | 5 | Kris Lee Steinbach | Canada | 177,000 | 22 |
| Amazon | 506 | 6 | Arthur Conan | France | 101,000 | 13 |
| Amazon | 506 | 7 | Jose Ignacio Barbero | Argentina | 388,000 | 49 |
| | | | | | | |
| Amazon | 507 | 1 | Adam Weik | United States | 306,000 | 38 |
| Amazon | 507 | 2 | Jerry Wong | United States | 410,000 | 51 |
| Amazon | 507 | 3 | Kevin Rabichow | United States | 123,000 | 15 |
| Amazon | 507 | 4 | Nicholas Davidson | United States | 183,000 | 23 |
| Amazon | 507 | 5 | Benjamin Chalot | France | 733000 | 92 |
| Amazon | 507 | 6 | Darren Grant | Canada | 343,000 | 43 |
| Amazon | 507 | 8 | Luigi Curcio | United States | 92,000 | 12 |
| | | | | | | |
| Amazon | 508 | 1 | Alexandros Theologis | Greece | 151,000 | 19 |
| Amazon | 508 | 2 | Eric Blair | United States | 366,000 | 46 |
| Amazon | 508 | 3 | Jehu Bordier Licona | United States | 363,000 | 45 |
| Amazon | 508 | 4 | Jeremy Wien | United States | 272,000 | 34 |
| Amazon | 508 | 6 | Patrick Kennedy | United Kingdom | 180,000 | 23 |
| Amazon | 508 | 7 | Tony Miles | United States | 429,000 | 54 |
| Amazon | 508 | 8 | Paul Vogel | United States | 106,000 | 13 |
| Amazon | 509 | 8 | Qing Liu | United States | 165,000 | 21 |
| | | | | | | |
| Amazon | 512 | 1 | James Romero | United States | 275,000 | 34 |
| Amazon | 512 | 2 | Justin Garcia | United States | 101,000 | 13 |
| Amazon | 512 | 3 | Mike Sowers | United States | 137,000 | 17 |
| Amazon | 512 | 4 | Noah Bronstein | United States | 214,000 | 27 |
| Amazon | 512 | 5 | Raul Manzanares | United Kingdom | 292,000 | 37 |
| Amazon | 512 | 6 | Paul Kuzmich | United States | 375,000 | 47 |
| Amazon | 512 | 7 | Amir Mirrasouli | United States | 234,000 | 29 |
| Amazon | 512 | 8 | Raul Martinez | United Kingdom | 98,000 | 12 |
| | | | | | | |
| Amazon | 513 | 1 | Jongwook Lee | South Korea | 430,000 | 54 |
| Amazon | 513 | 2 | Vlad Darie | Romania | 145,000 | 18 |
| Amazon | 513 | 3 | Ankush Mandavia | United States | 331,000 | 41 |
| Amazon | 513 | 4 | Ryan Pedigo | United States | 105,000 | 13 |
| Amazon | 513 | 5 | Ziao Guo | United States | 64,000 | 8 |
| Amazon | 513 | 6 | Justin Lapka | United States | 81,000 | 10 |
| Amazon | 513 | 7 | Ivan Galinec | Croatia | 561,000 | 70 |
| | | | | | | |
| Amazon | 514 | 1 | Joni Jouhkimainen | Finland | 559,000 | 70 |
| Amazon | 514 | 2 | Taus Lilius | Denmark | 375,000 | 47 |
| Amazon | 514 | 3 | David Lewis | United States | 353,000 | 44 |
| Amazon | 514 | 4 | Barry Hutter | United States | 137,000 | 17 |
| Amazon | 514 | 5 | Jaime Alvarez | United States | 185,000 | 23 |
| Amazon | 514 | 6 | Pete Chen | Taiwan | 95,000 | 12 |
| Amazon | 514 | 7 | Ran Ilani | Israel | 169,000 | 21 |
| Amazon | 514 | 8 | Houston Howie | United States | 355,000 | 44 |
| | | | | | | |
| Amazon | 519 | 1 | Jean Guillette | Canada | 1 | 0 |
| Amazon | 519 | 2 | Dimitar Danchev | Bulgaria | 232,000 | 29 |
| Amazon | 519 | 3 | Joao Simao | Brazil | 133,000 | 17 |
| Amazon | 519 | 4 | Shaun Deeb | United States | 287,000 | 36 |
| Amazon | 519 | 5 | Ian O'Hara | United States | 278,000 | 35 |
| Amazon | 519 | 6 | Patrick Howard | United States | 316,000 | 40 |
| Amazon | 519 | 7 | Ren Lin | United States | 248,000 | 31 |
| | | | | | | |
| Amazon | 520 | 1 | Diogo Veiga | Portugal | 168,000 | 21 |
| Amazon | 520 | 2 | Rok Gostisa | Slovenia | 301,000 | 38 |
| Amazon | 520 | 3 | Derek Wolters | United States | 57,000 | 7 |
| Amazon | 520 | 4 | Romain Lewis | France | 55,000 | 7 |
| Amazon | 520 | 5 | Andrew Kelsall | United States | 136,000 | 17 |
| Amazon | 520 | 6 | Conrad Simpson | United States | 127,000 | 16 |
| Amazon | 520 | 7 | Dylan Destefano | United States | 273,000 | 34 |
| Amazon | 520 | 8 | Jamie Sequeira | Canada | 1,070,000 | 134 |
| | | | | | | |
| Amazon | 521 | 1 | Craig Mason | United States | 170,000 | 21 |
| Amazon | 521 | 2 | Chad Eveslage | United States | 155,000 | 19 |
| Amazon | 521 | 3 | Scott Seiver | United States | 89,000 | 11 |
| Amazon | 521 | 4 | Daniel Lazrus | United States | 597,000 | 75 |
| Amazon | 521 | 5 | Giuliano Lentini | United States | 145,000 | 18 |
| Amazon | 521 | 6 | Andres Gonzalez | Spain | 232,000 | 29 |
| Amazon | 521 | 7 | Huy Lam | United States | 294,000 | 37 |
| Amazon | 521 | 8 | Jake Schwartz | United States | 232,000 | 29 |
| | | | | | | |
| Amazon | 522 | 1 | Alan Sternberg | United States | 193,000 | 24 |
| Amazon | 522 | 2 | Ivan Zufic | Croatia | 299,000 | 37 |
| Amazon | 522 | 3 | Alexandre Reard | France | 395,000 | 49 |
| Amazon | 522 | 4 | Daniel Strelitz | United States | 193,000 | 24 |
| Amazon | 522 | 7 | Ilyas Muradi | United States | 352,000 | 44 |
| Amazon | 522 | 8 | Julian Milliard-Feral | France | 250,000 | 31 |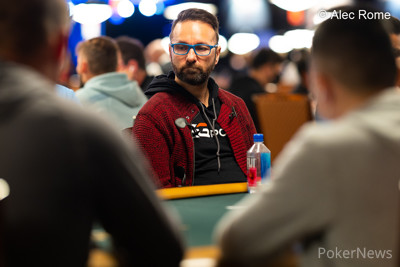 Daniel Negreanu is among the chip leaders heading into Day 2 of Event #47: $5,000 Freezeout (8-Handed) at the 2021 World Series of Poker. Negreanu, who is after his seventh WSOP bracelet, sits fourth in chips with a healthy stack of 617,000, trailing only Daniel Rezaei (702,000), Benjamin Chalot (733,000) and chip leader Jamie Sequeira. Sequeira was the only player to surpass a million chips on Day 1 with a stack of 1,070,000.
A total of 421 players entered the single-entry event and only 82 survived to bag and tag on Day 1. A total of 64 places will be paid, with a minimum cash being worth $8,000 and the first-place prize being worth $426,694.
Event #47 Day 1 Top 10 Chip Counts
| RANK | PLAYER | Country | CHIP COUNT | Big Blinds |
| --- | --- | --- | --- | --- |
| 1 | Jamie Sequeira | Canada | 1,070,000 | 134 |
| 2 | Benjamin Chalot | France | 733,000 | 92 |
| 3 | Daniel Rezaei | Austria | 702,000 | 88 |
| 4 | Daniel Negreanu | Canada | 617,000 | 77 |
| 5 | Daniel Lazrus | United States | 597,000 | 75 |
| 6 | Ivan Galinec | Croatia | 561,000 | 70 |
| 7 | Joni Jouhkimainen | Finland | 559,000 | 70 |
| 8 | Johan Martinet | Mexico | 450,000 | 56 |
| 9 | Jongwook Lee | South Korea | 430,000 | 54 |
| 10 | Tony Miles | United States | 429,000 | 54 |
Negreanu is searching for his first bracelet of the series after final tabling both Event #32: $3,000 H.O.R.S.E. and Event #36: $10,000 Dealers Choice 6-Handed Championship but ultimately coming up short in both. To earn the bracelet, Kid Poker will have to navigate through a field that includes Shaun Deeb, Scott Seiver, Joni Jouhkimainen, Alexandre Reard, Dario Sammartino, Joao Simao and Johan Guilbert.
Some of the biggest names in poker were in the field in Day 1 but failed to make it to the second day of play, including Phil Hellmuth, Joe Hachem, Chance Kornuth, Maria Ho, Anthony Zinno, James Chen, Dan Shak and Darren Elias.
Be sure to stay tuned as the PokerNews live reporting is ready to bring you updates as soon as Day 2 action commences at 2 p.m. Pacific Time.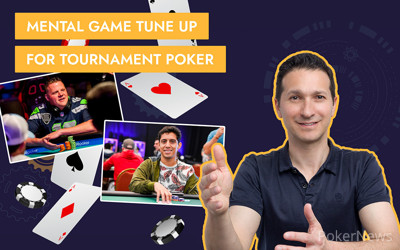 Jared Tendler has been coaching elite poker players for over a dozen years, with those players going on to win WSOP Gold Bracelets, prestigious tournaments and stacks of cash. Tendler has now released his own video training course titled Mental Game Tune Up for Tournament Poker and it is sure to get you on track to improve your results and your psyche when playing either online or live.
The course walks players through the checks they need to get through for them be at their best and play optimum poker. Tendler has gone to the effort of breaking down the course into easy to digest modules, the content is simple to follow yet compact and powerful allowing you to be best prepared ahead of the 2021 World Series of Poker and future poker festivals.
PokerNews readers can get $50 off the course using the code: PokerNews when purchasing Mental Game Tune Up for Tournament Poker.
Nível: 16
Blinds: 4,000/8,000
Ante: 8,000

Nível 16 : 4,000/8,000, 8,000 ante
Cards are in the air in Day 2 of Event #47: $5,000 Freezeout No-Limit Hold'em 8-Handed with 82 players remaining.
Nível 16 : 4,000/8,000, 8,000 ante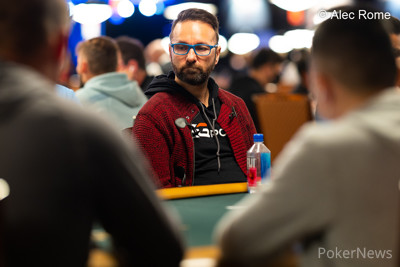 Daniel Negreanu in the hijack opened to 18,000 and Ping Liu called from the small blind.
Negreanu continued with a bet of 13,000 on the flop of
and Liu check-called. Both players then checked on the
turn.
The river came the
and Liu took a minute before leading out with a bet of 57,000. Negreanu folded and speculated out loud that his opponent had ace-queen.

Nível 16 : 4,000/8,000, 8,000 ante
On a raised pot in a blind versus blind situation, the flop showed
when Diogo Veiga called a bet of 10,000 from Jamie Sequeira. The same action happened on the
turn, this time for 22,000.
The river was the
and Sequeira sent 60,000 in the middle, putting Veiga into a decision. The latter ended up calling, showing
for two pairs. Sequeira, who held
, conceded the pot to Veiga.

Nível 16 : 4,000/8,000, 8,000 ante
Justin Lapka shoved preflop for his last 81,000 and was called by Jongwook Lee, who had the bigger stack.
Justin Lapka:

Jongwook Lee:
The board came
, no help for Lapka as Lee scored the knockout.
Nearby, Pete Chen jammed from early position for the last of his chips and was called by Taus Lilius.
Pete Chen:

Taus Lilius:
"That's the worst case for me," said Lilius.
Fortunately for Lilius, the board came
, to create a chop pot.
Nível 16 : 4,000/8,000, 8,000 ante
Huy Lam opened from under the gun and Scott Seiver three-bet to around 55,000 in the cutoff. Lam responded with a four-bet jam and Seiver snap-called with slightly less.
Scott Seiver:

Huy Lam:
Seiver had his opponent pipped and doubled up with the ladies as the board ran out a safe
. Lam was left with just around 25,000 chips after paying the big blind and ante in the next hand.