Event #43: $1,000 Double Stack
Dias: 3
Event #43: $1,000 Double Stack
Dia 3 Começado
| ROOM | TABLE | SEAT | Player | Country | Chips | Big Blinds |
| --- | --- | --- | --- | --- | --- | --- |
| Pavilion | 100 | 1 | Aneris Adomkevicius | Lithuania | 880,000 | 29 |
| Pavilion | 100 | 2 | Adam Swan | United States | 685,000 | 23 |
| Pavilion | 100 | 3 | Matthew Raffoul | Canada | 1,680,000 | 56 |
| Pavilion | 100 | 4 | Will Berry | United States | 670,000 | 22 |
| Pavilion | 100 | 5 | Terry Presley | United States | 865,000 | 29 |
| Pavilion | 100 | 6 | Nikolay Yosifov | Bulgaria | 1,690,000 | 56 |
| Pavilion | 100 | 7 | Robert Mather | United States | 600,000 | 20 |
| Pavilion | 100 | 8 | Andrew Hedley | United Kingdom | 840,000 | 28 |
| Pavilion | 100 | 9 | Ralph Massey | United States | 1,460,000 | 49 |
| | | | | | | |
| Pavilion | 101 | 1 | Triet Nguyen | United States | 1,010,000 | 34 |
| Pavilion | 101 | 2 | Pejman Niyati | United States | 1,015,000 | 34 |
| Pavilion | 101 | 3 | Dustin Goff | United States | 1,150,000 | 38 |
| Pavilion | 101 | 4 | Niall Farrell | United Kingdom | 960,000 | 32 |
| Pavilion | 101 | 5 | Avraham Azulay | United States | 2,715,000 | 91 |
| Pavilion | 101 | 6 | Denys Chufarin | United Kingdom | 585,000 | 20 |
| Pavilion | 101 | 7 | Gary Thill | United States | 1,450,000 | 48 |
| Pavilion | 101 | 8 | David Avina | United States | 1,120,000 | 37 |
| Pavilion | 101 | 9 | Caleb Servi | United States | 335,000 | 11 |
| | | | | | | |
| Pavilion | 102 | 2 | Anthony Denove | United States | 1,035,000 | 35 |
| Pavilion | 102 | 3 | Bryan Walden | United States | 1,900,000 | 63 |
| Pavilion | 102 | 4 | Gary Floyd | United States | 905,000 | 30 |
| Pavilion | 102 | 5 | Rajaee Wazwaz | United States | 875,000 | 29 |
| Pavilion | 102 | 6 | Shawn Gill | United States | 605,000 | 20 |
| Pavilion | 102 | 7 | Nikolas Ferrandino | United States | 745,000 | 25 |
| Pavilion | 102 | 8 | Zachary Vankeuren | United States | 1,000,000 | 33 |
| Pavilion | 102 | 9 | Carlos Garcia | Colombia | 1,730,000 | 58 |
| | | | | | | |
| Pavilion | 103 | 1 | Kathy Stahl | United States | 2,485,000 | 83 |
| Pavilion | 103 | 2 | Veselin Dimitrov | United States | 975,000 | 33 |
| Pavilion | 103 | 3 | Rupesh Pattni | United States | 400,000 | 13 |
| Pavilion | 103 | 4 | Ivan Zhechev | Bulgaria | 1,000,000 | 33 |
| Pavilion | 103 | 5 | Tuan Le | United States | 1,150,000 | 38 |
| Pavilion | 103 | 6 | Robert Lenhart | United States | 515,000 | 17 |
| Pavilion | 103 | 7 | Michael Jozoff | United States | 920,000 | 31 |
| Pavilion | 103 | 8 | JeWook Oh | United States | 335,000 | 11 |
| Pavilion | 103 | 9 | Jeremy Pekarek | United States | 875,000 | 29 |
| | | | | | | |
| Pavilion | 104 | 1 | Forrest Kollar | United States | 1,570,000 | 52 |
| Pavilion | 104 | 2 | Orestis Kanakopoulos | United States | 1,780,000 | 59 |
| Pavilion | 104 | 3 | Mark Wiser | United States | 595,000 | 20 |
| Pavilion | 104 | 4 | Andrew Moreno | United States | 1,240,000 | 41 |
| Pavilion | 104 | 5 | Steven Stolzenfeld | United States | 1,970,000 | 66 |
| Pavilion | 104 | 7 | Dany Georges | United States | 1,005,000 | 34 |
| Pavilion | 104 | 8 | Eloy Rios | United States | 675,000 | 23 |
| Pavilion | 104 | 9 | Gytis Lazauninkas | Lithuania | 735,000 | 25 |
| | | | | | | |
| Pavilion | 109 | 1 | Jordan Morgan | United States | 1,400,000 | 47 |
| Pavilion | 109 | 2 | David Sutherland | United States | 1,220,000 | 41 |
| Pavilion | 109 | 3 | Daniel Dayan | Israel | 1,235,000 | 41 |
| Pavilion | 109 | 4 | Katsushi Yoshida | United States | 525,000 | 18 |
| Pavilion | 109 | 5 | Joshua Heinzl | United States | 1,130,000 | 38 |
| Pavilion | 109 | 6 | Allyn Shulman | United States | 545,000 | 18 |
| Pavilion | 109 | 7 | Brian McDaniel | United States | 920,000 | 31 |
| Pavilion | 109 | 8 | Eduardo Amaral | Brazil | 880,000 | 29 |
| Pavilion | 109 | 9 | Dennis Meisinger | United States | 830,000 | 28 |
| | | | | | | |
| Pavilion | 110 | 1 | Pedro Neves | Portugal | 1,790,000 | 60 |
| Pavilion | 110 | 2 | Paul Fiore | United States | 570,000 | 19 |
| Pavilion | 110 | 3 | Guifang Liu | China | 145,000 | 5 |
| Pavilion | 110 | 4 | Daniel Eichhorn | United States | 635,000 | 21 |
| Pavilion | 110 | 5 | Joseph Pombriant | United States | 615,000 | 21 |
| Pavilion | 110 | 6 | Rosemarie Alcivar | United States | 1,165,000 | 39 |
| Pavilion | 110 | 7 | Yale Greenfield | United States | 535,000 | 18 |
| Pavilion | 110 | 8 | Sylvain Naets | Belgium | 2,740,000 | 91 |
| Pavilion | 110 | 9 | Edwin Lee | United States | 1,240,000 | 41 |
| | | | | | | |
| Pavilion | 111 | 1 | Antoine Saout | France | 1,465,000 | 49 |
| Pavilion | 111 | 2 | David Ivers | United States | 1,045,000 | 35 |
| Pavilion | 111 | 3 | Matthew Taylor | United States | 600,000 | 20 |
| Pavilion | 111 | 4 | Camille Brown | United States | 1,035,000 | 35 |
| Pavilion | 111 | 5 | Matthew Mich | United States | 950,000 | 32 |
| Pavilion | 111 | 6 | Joseph Hebert | United States | 460,000 | 15 |
| Pavilion | 111 | 7 | Adrian Jimenez | Argentina | 1,225,000 | 41 |
| Pavilion | 111 | 8 | Sejin Park | South Korea | 670,000 | 22 |
| Pavilion | 111 | 9 | Dusti Smith | United States | 305,000 | 10 |
| | | | | | | |
| Pavilion | 112 | 1 | Brandon Kitchen | Canada | 2,150,000 | 72 |
| Pavilion | 112 | 2 | Jose Esparza | United States | 1,300,000 | 43 |
| Pavilion | 112 | 3 | Kenneth Inouye | United States | 500,000 | 17 |
| Pavilion | 112 | 4 | Matthew Vaughan | United States | 2,255,000 | 75 |
| Pavilion | 112 | 5 | Martin Jacobson | Sweden | 590,000 | 20 |
| Pavilion | 112 | 6 | Lawrence Brandt | United States | 580,000 | 19 |
| Pavilion | 112 | 7 | Ernest Smith | United States | 1,005,000 | 34 |
| Pavilion | 112 | 8 | Austin Peck | United States | 885,000 | 30 |
| Pavilion | 112 | 9 | Arnaud Enselme | France | 440,000 | 15 |
| | | | | | | |
| Pavilion | 118 | 1 | Gene Harrill | United States | 2,610,000 | 87 |
| Pavilion | 118 | 2 | Algirdas Saveikis | Lithuania | 1,555,000 | 52 |
| Pavilion | 118 | 3 | Vid Zagar | Slovenia | 590,000 | 20 |
| Pavilion | 118 | 4 | Casey Hatmaker | United States | 365,000 | 12 |
| Pavilion | 118 | 5 | Silvio Costa | Portugal | 715,000 | 24 |
| Pavilion | 118 | 6 | Alexander Farahi | United States | 1,795,000 | 60 |
| Pavilion | 118 | 7 | Monika Thorn | United States | 875,000 | 29 |
| Pavilion | 118 | 8 | Haile Kuo | Canada | 785,000 | 26 |
| Pavilion | 118 | 9 | Carl Bevilacqua | United States | 750,000 | 25 |
| | | | | | | |
| Pavilion | 119 | 1 | Drew Soik | United States | 1,440,000 | 48 |
| Pavilion | 119 | 2 | Jimmy Lee | Canada | 1,005,000 | 34 |
| Pavilion | 119 | 3 | Jeffrey Platt | United States | 3,315,000 | 111 |
| Pavilion | 119 | 4 | Thomas McArthur | United States | 500,000 | 17 |
| Pavilion | 119 | 5 | David Rodwell | Ireland | 870,000 | 29 |
| Pavilion | 119 | 6 | Simeon Naydenov | Bulgaria | 1,750,000 | 58 |
| Pavilion | 119 | 7 | Sebastian Hoyos | Colombia | 640,000 | 21 |
| Pavilion | 119 | 8 | Michael Holtz | United States | 1,480,000 | 49 |
| Pavilion | 119 | 9 | Michael Wang | United States | 775,000 | 26 |
| | | | | | | |
| Pavilion | 120 | 1 | Joshua Harrison | United States | 1,660,000 | 55 |
| Pavilion | 120 | 2 | Juli Black | United States | 1,135,000 | 38 |
| Pavilion | 120 | 3 | Nelson Laino | United States | 610,000 | 20 |
| Pavilion | 120 | 4 | Jeff Sluzinski | United States | 445,000 | 15 |
| Pavilion | 120 | 5 | Timothy Little | United States | 1,290,000 | 43 |
| Pavilion | 120 | 6 | Mitchell Cogert | United States | 605,000 | 20 |
| Pavilion | 120 | 7 | Ugur Secilmis | Turkey | 2,000,000 | 67 |
| Pavilion | 120 | 9 | Steven McCartney | United States | 1,165,000 | 39 |
| | | | | | | |
| Pavilion | 121 | 1 | Hojin Kim | South Korea | 604,000 | 20 |
| Pavilion | 121 | 2 | Gytis Bernatavicius | Lithuania | 1,125,000 | 38 |
| Pavilion | 121 | 3 | Vincent Indrizzo | United States | 955,000 | 32 |
| Pavilion | 121 | 4 | Yasin Ahmady | United States | 590,000 | 20 |
| Pavilion | 121 | 5 | Steven Dunkelberg | United States | 340,000 | 11 |
| Pavilion | 121 | 6 | Alex Kulev | Ireland | 265,000 | 9 |
| Pavilion | 121 | 7 | David Guay | Canada | 2,900,000 | 97 |
| Pavilion | 121 | 8 | Steve Moca | United States | 1,330,000 | 44 |
| Pavilion | 121 | 9 | Matija Dobric | Hungary | 1,950,000 | 65 |
| | | | | | | |
| Pavilion | 127 | 1 | Mark Tamondong | United States | 315,000 | 11 |
| Pavilion | 127 | 2 | Lawrence Whyte | United States | 320,000 | 11 |
| Pavilion | 127 | 3 | Joseph Whitlock | United States | 540,000 | 18 |
| Pavilion | 127 | 4 | Raymond Ross | United States | 590,000 | 20 |
| Pavilion | 127 | 5 | Brandon Sheils | United Kingdom | 1,100,000 | 37 |
| Pavilion | 127 | 6 | Kenny Nguyen | United States | 1,250,000 | 42 |
| Pavilion | 127 | 7 | Mike Azzaro | United States | 1,815,000 | 61 |
| Pavilion | 127 | 8 | Josue Aguirre | United States | 2,175,000 | 73 |
| Pavilion | 127 | 9 | Allan Haupert | United States | 890,000 | 30 |
| | | | | | | |
| Pavilion | 128 | 1 | Paul Stanechewski | United States | 300,000 | 10 |
| Pavilion | 128 | 2 | David Yonnotti | United States | 850,000 | 28 |
| Pavilion | 128 | 3 | Zach Daly | United States | 2,905,000 | 97 |
| Pavilion | 128 | 4 | Samy Dubonnet | France | 560,000 | 19 |
| Pavilion | 128 | 5 | Yuhei Sanada | Japan | 285,000 | 10 |
| Pavilion | 128 | 6 | Jonathan Dokler | United States | 1,520,000 | 51 |
| Pavilion | 128 | 7 | Mario Mosbock | Austria | 1,365,000 | 46 |
| Pavilion | 128 | 8 | Alexey Mishuk | Israel | 835,000 | 28 |
| Pavilion | 128 | 9 | James Burns | United States | 965,000 | 32 |
| | | | | | | |
| Pavilion | 129 | 1 | Eric Smidinger | United States | 845,000 | 28 |
| Pavilion | 129 | 2 | Anthony Harb | United States | 665,000 | 22 |
| Pavilion | 129 | 3 | Raffaele Sorrentino | Italy | 715,000 | 24 |
| Pavilion | 129 | 5 | Tim Reilly | United States | 380,000 | 13 |
| Pavilion | 129 | 6 | Daniel Palau | Mexico | 425,000 | 14 |
| Pavilion | 129 | 7 | Masoud Shojaei | United States | 1,145,000 | 38 |
| Pavilion | 129 | 8 | Justin Zaki | United States | 1,090,000 | 36 |
| Pavilion | 129 | 9 | Wojciech Barzantny | Germany | 1,400,000 | 47 |
| | | | | | | |
| Pavilion | 130 | 1 | Daniel Bugni | United States | 270,000 | 9 |
| Pavilion | 130 | 2 | Frank Lagodich | United States | 1,255,000 | 42 |
| Pavilion | 130 | 3 | Yin Wu | China | 1,585,000 | 53 |
| Pavilion | 130 | 4 | Hong Li | United States | 1,835,000 | 61 |
| Pavilion | 130 | 5 | Sihao Zhang | Luxembourg | 2,250,000 | 75 |
| Pavilion | 130 | 6 | Farid Moshirbahram | United States | 545,000 | 18 |
| Pavilion | 130 | 7 | Carlos Mejia | Colombia | 1,300,000 | 43 |
| Pavilion | 130 | 8 | Giancarlo Santolin | Canada | 725,000 | 24 |
| Pavilion | 130 | 9 | Eyal Eshkar | Israel | 750,000 | 25 |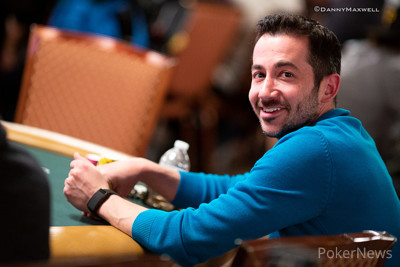 Day 3 of Event #43: $1,000 Double Stack No-Limit Hold'em gets underway at 10:00 a.m. local time with 149 players returning to the felt. The remaining players are guaranteed to take home a payday of at least $3,124 but they will all be trying to capture the first place prize of $446,983 and of course a World Series of Poker gold bracelet.
Leading the way is Jeff Platt, who is well-known for providing commentary on ESPN and PokerGO as well as being the co-host of the PokerNews Podcast. Platt will be looking to win his first WSOP gold bracelet and with a chip leading stack of 3,315,000, the poker broadcaster is in great shape. He is followed by Zach Daly (2,905,000) and David Guay who rounds out the top three with 2,900,000.
Former WSOP bracelet champions that are still in contention include Sejin Park (670,000), Martin Jacobson (590,000), and Michael Wang (775,000).
Play will begin at Level 21 which features a small blind of 10,000, big blind of 25,000 and an ante of 25,000. There will be a 15-minute break every two levels and a 60-minute dinner break after Level 19, at approximately 7:00 p.m.
Keep following the live updates here on PokerNews to find out which players make it through to Day 4.
The remaining 149 players have taken their seats, and action has begun.
Nível: 22
Blinds: 15,000/30,000
Ante: 30,000
Nível 22 : 15,000/30,000, 30,000 ante
Pedro Neves, in the hijack, raised to 60,000 preflop and was three-bet by Giufang Liu who made it 130,000 on the button. Neves called and a flop was dealt.
The flop came
and Neves checked to Liu who bet 200,000. Neves went all in for 1,500,000 and Liu called, who was the at risk player.
Guifang Liu:

Pedro Neves:
Neves flopped two pair against Liu's pocket queens. The
turn and
river improved Neves to a full house and left Liu with zero chips.
Nível 22 : 15,000/30,000, 30,000 ante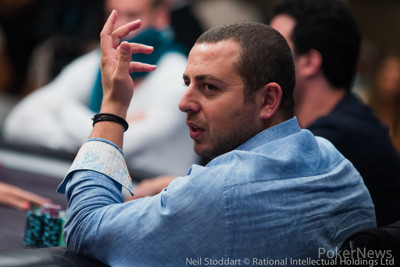 In one of the first hands of the day, Tim Reilly shoved all-in preflop for 380,000 and Raffaele Sorrentino called with chips behind.
Tim Reilly:

Raffaele Sorrentino:
The board ran out
and Sorrentino won with ace-high to knock Reilly out of the tournament.
Nível 22 : 15,000/30,000, 30,000 ante
The action was picked up on the river with the board showing
.
Mark Wiser checked to Steven Stolzenfeld who bet 500,000 and Wiser went into the tank.
After thinking for a long time Wiser raised all-in putting him at risk and Stolzenfeld quickly called.
Wiser showed
but Stolzenfeld turned over
for the nut flush and eliminated Wiser.
Nível 22 : 15,000/30,000, 30,000 ante
Michael Jozoff got his stack of 830,000 in preflop and was called by Tuan Le.
Michael Jozoff:

Tuan Le:
The board run out offered no help to Le who was left on life support after the hand. Jozoff's double up puts him near 2 million in chips and Le was eliminated shortly after.
Nível 22 : 15,000/30,000, 30,000 ante
The action was picked up with the board showing
and the turn was checked to the river.
The river was the
and with 1.3 million in the pot both players elected to check again.
Ugur Secilmis turned over
and Josua Harrison mucked his hand without showing as Secilmis scooped the pot.