Event #42: $1,500 Razz
Dias: 2
John Fahmy was all in against Jose Paz-Gutierrez for his last 12,000 chips.
Jose Paz-Gutierrez:

John Fahmy:
Paz-Gutierrez had the pot locked up on sixth street, as Fahmy was dealt a full house to end his run early.
At a nearby table, Kyle Montgomery took Espen Sandvik's final bet after making an 8-6-5-4-3.
Robert Campbell:
/
/

Julien Martini:
/
/
Robert Campbell, the reigning WSOP Player of the Year, bet on fifth street against Julien Martini, and Martini called. Martini took the lead on both sixth and seventh streets, with Campbell calling both bets.
Martini showed a queen-low, while Campbell turned over
for 10-9-8-2-A to win the pot.
"That's why he's Player of the Year, folks," tablemate James Woods said.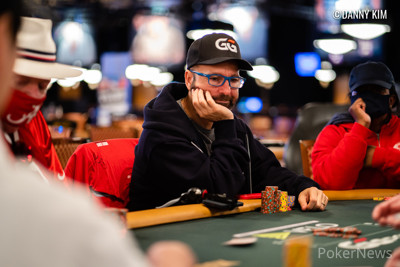 After losing his first pot, Daniel Negreanu came up short again for his last 8,000 chips as he headed for the exit. It was a similar story for WSOP bracelet winner Matt Waxman, who also hit the rail early.
Daniel Negreanu:
/
- folded
Mehrdad Shelechi:
/
Daniel Negreanu called a bet from Mehrdad Shelechi on fourth street. Shelechi bet again on fifth. "I can beat a pair. I didn't pair the king," Negreanu said as he called.
Shelechi bet on sixth and this time Negreanu folded. "I'll save this bet for next hand," he said.
Day 2 is now underway. Play begins in Level 16.
Nível: 16
Ante: 1000
Bring-In: 1000
Completion: 4000
Limits: 4000-8000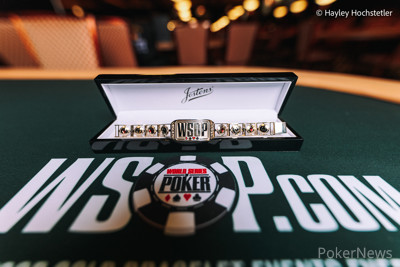 Day two of Event #42: $1,500 Razz will see 98 players continue their quest for a World Series of Poker gold bracelet and the $99,188 top prize.
Ariel Shefer led the field with 254,000 chips after Day one, which saw a total of 311 entrants play fifteen 40-minute Levels.
Other players with notable stacks include 2017 event runner-up David "ODB" Baker, 2021 two-time bracelet winner Anthony Zinno, and reigning WSOP Player of the Year Robert Campbell. There are also some prominent short stacks entering the day, including bracelet winners Matt Waxman, Tom McEvoy and Daniel Negreanu who'ssearching for his series-leading 11th cash of the 2021 WSOP.
Play will resume at 2 p.m. local time, with 10 Levels scheduled that now shift to 60 minutes in length. The 98 remaining players will look to survive the money bubble at 47, guaranteeing themselves at least $2,431.
Stay tuned to the PokerNews live blog for updates throughout the day.
Event #42: $1,500 Razz
Dia 2 Começado
| Room | Table | Seat | Player | Country | Chips |
| --- | --- | --- | --- | --- | --- |
| Amazon | 400 | 1 | Brett Feldman | United States | 51,000 |
| Amazon | 400 | 2 | Andrew Glauberg | United States | 24,000 |
| Amazon | 400 | 3 | Mike Puskarich | United States | 49,000 |
| Amazon | 400 | 4 | Hansu Chu | United States | 20,000 |
| Amazon | 400 | 5 | Tom McEvoy | United States | 15,000 |
| Amazon | 400 | 6 | Brock Parker | United States | 24,000 |
| Amazon | 400 | 7 | Anthony Zinno | United States | 103,000 |
| Amazon | 400 | 8 | David Avina | United States | 138,000 |
| | | | | | |
| Amazon | 401 | 1 | Richard Bai | United States | 85,500 |
| Amazon | 401 | 2 | Raymond Matthaei | United States | 59,500 |
| Amazon | 401 | 3 | Jonathan Dickten | United States | 59,000 |
| Amazon | 401 | 4 | Amnon Filippi | United States | 177,000 |
| Amazon | 401 | 5 | Todd Dakake | United States | 231,500 |
| Amazon | 401 | 6 | Michael Frejka | United States | 165,000 |
| Amazon | 401 | 7 | John Zaleski | United States | 71,000 |
| Amazon | 401 | 8 | Yueqi Zhu | United States | 136,000 |
| | | | | | |
| Amazon | 402 | 1 | Jay Johnson | United States | 55,000 |
| Amazon | 402 | 2 | Frank Kassela | United States | 181,000 |
| Amazon | 402 | 3 | Tom Gity | United States | 67,500 |
| Amazon | 402 | 4 | Yuval Bronshtein | Israel | 60,000 |
| Amazon | 402 | 5 | Amir Nematinia | United States | 142,000 |
| Amazon | 402 | 6 | Ariel Shefer | United Kingdom | 254,000 |
| Amazon | 402 | 7 | Jason Wiske | United States | 61,500 |
| Amazon | 402 | 8 | Theodore Manios | United States | 63,500 |
| | | | | | |
| Amazon | 403 | 1 | Timothy Woodward | United States | 46,500 |
| Amazon | 403 | 2 | Joshua Rhodes | United States | 27,000 |
| Amazon | 403 | 3 | Mohammadreza Golestani | United States | 101,000 |
| Amazon | 403 | 4 | Everett Carlton | United States | 51,500 |
| Amazon | 403 | 5 | Paul Mattioda | United States | 26,500 |
| Amazon | 403 | 6 | David "ODB" Baker | United States | 205,000 |
| Amazon | 403 | 8 | Anna Wroblewski | United States | 52,500 |
| | | | | | |
| Amazon | 404 | 1 | Craig Chait | United States | 133,000 |
| Amazon | 404 | 3 | Hassan Kamoei | United States | 97,000 |
| Amazon | 404 | 4 | Rafael Rovirasoler | United States | 140,500 |
| Amazon | 404 | 5 | Jesse Sylvia | United States | 68,000 |
| Amazon | 404 | 6 | Jimmy Gorham | United States | 35,000 |
| Amazon | 404 | 7 | Ryan Riess | United States | 83,000 |
| Amazon | 404 | 8 | Scott Silverman | United States | 103,500 |
| | | | | | |
| Amazon | 405 | 2 | Tom McCormick | United States | 65,500 |
| Amazon | 405 | 3 | Mehrdad Shelechi | United States | 98,500 |
| Amazon | 405 | 4 | Kosei Ichinose | Japan | 56,000 |
| Amazon | 405 | 5 | Jason Papastavrou | United States | 38,500 |
| Amazon | 405 | 6 | Daniel Negreanu | Canada | 25,500 |
| Amazon | 405 | 7 | Thomas Taylor | Canada | 87,500 |
| Amazon | 405 | 8 | David Levi | United States | 45,000 |
| | | | | | |
| Amazon | 406 | 1 | Steven Cage | Canada | 197,000 |
| Amazon | 406 | 2 | Rupesh Pattni | United States | 57,000 |
| Amazon | 406 | 3 | Matt Grapenthien | United States | 129,000 |
| Amazon | 406 | 4 | Katherine Fleck | United States | 51,500 |
| Amazon | 406 | 5 | Perry Green | United States | 29,000 |
| Amazon | 406 | 6 | David "Bakes" Baker | United States | 63,000 |
| Amazon | 406 | 7 | Alex Livingston | Canada | 173,500 |
| Amazon | 406 | 8 | Ted Forrest | United States | 66,000 |
| | | | | | |
| Amazon | 409 | 1 | Ari Engel | United States | 50,000 |
| Amazon | 409 | 2 | Charles Sinn | United States | 35,000 |
| Amazon | 409 | 3 | Kyle Montgomery | United States | 33,000 |
| Amazon | 409 | 4 | Kevin Newman | United States | 85,000 |
| Amazon | 409 | 5 | Benjamin Primus | United States | 27,500 |
| Amazon | 409 | 6 | Mark Gallo | United States | 59,000 |
| Amazon | 409 | 7 | Espen Sandvik | Norway | 3,500 |
| Amazon | 409 | 8 | Christian Roberts | United States | 103,000 |
| | | | | | |
| Amazon | 410 | 1 | Peter Lynn | United States | 175,000 |
| Amazon | 410 | 3 | Andrew Barber | United States | 69,000 |
| Amazon | 410 | 4 | Jordan Siegel | United States | 94,000 |
| Amazon | 410 | 5 | Perry Friedman | United States | 134,000 |
| Amazon | 410 | 6 | Larry Wright (TX) | United States | 44,500 |
| Amazon | 410 | 7 | Yuri Dzivielevski | Brazil | 88,500 |
| Amazon | 410 | 8 | John Bunch | United States | 76,500 |
| | | | | | |
| Amazon | 411 | 1 | Scott Epstein | United States | 34,500 |
| Amazon | 411 | 2 | Joe Aronesty | United States | 101,000 |
| Amazon | 411 | 3 | Koray Aldemir | Austria | 19,000 |
| Amazon | 411 | 4 | Michael Newberg | United States | 43,000 |
| Amazon | 411 | 5 | John Evans | United States | 47,000 |
| Amazon | 411 | 6 | Richard Ferro | United States | 45,000 |
| Amazon | 411 | 8 | Aaron Sinukoff | Canada | 47,500 |
| | | | | | |
| Amazon | 412 | 1 | Robert Campbell | Australia | 83,500 |
| Amazon | 412 | 2 | Andres Korn | United States | 58,500 |
| Amazon | 412 | 3 | Christopher Stephan | United States | 94,500 |
| Amazon | 412 | 4 | Christopher Perkins | United States | 39,000 |
| Amazon | 412 | 5 | Matt Waxman | United States | 11,500 |
| Amazon | 412 | 6 | James Woods | United States | 145,500 |
| Amazon | 412 | 7 | Julien Martini | France | 108,000 |
| Amazon | 412 | 8 | Nicholas Derke | United States | 63,000 |
| | | | | | |
| Amazon | 413 | 1 | Sebastian Pauli | Germany | 26,500 |
| Amazon | 413 | 2 | Leonard August | United States | 128,500 |
| Amazon | 413 | 3 | Jose Paz-Gutierrez | Bolivia | 52,000 |
| Amazon | 413 | 5 | Jeffrey Mitseff | United States | 27,500 |
| Amazon | 413 | 6 | Alan Myerson | United States | 71,000 |
| Amazon | 413 | 7 | James Chen | Taiwan | 85,000 |
| Amazon | 413 | 8 | John Fahmy | United States | 12,000 |
| | | | | | |
| Amazon | 414 | 1 | John Cover | United States | 1 |
| Amazon | 414 | 2 | Andreas Hole | Norway | 42,500 |
| Amazon | 414 | 3 | Jason Lipiner | United States | 87,500 |
| Amazon | 414 | 4 | Michael Coombs | United States | 82,500 |
| Amazon | 414 | 5 | Nikhil Gera | United States | 100,000 |
| Amazon | 414 | 6 | Bryan Micon | United States | 150,500 |
| Amazon | 414 | 7 | Bradley Berman | United States | 104,000 |
| Amazon | 414 | 8 | Eric Potterton | United States | 53,000 |