Event #39: $1,500 Pot-Limit Omaha
Dias: 2

Nível 18 : 5,000/10,000, 10,000 ante
Nível 18 : 5,000/10,000, 10,000 ante
Simon Lofberg was seen getting up and walking to payouts as his hand was in the muck having lost to the
of Filippos Stavrakis.
The board read
to give Stavrakis the best of it and eliminate Lofberg.

Nível 18 : 5,000/10,000, 10,000 ante
Tyler Cornell shoved under-the-gun for his last 38,000 and Danny Chang called from the big blind.
Tyler Cornell:

Danny Chang:
The board came
and Chang made a flush to eliminate Cornell.
Nível 18 : 5,000/10,000, 10,000 ante
The flop read
and Josh Arieh had the chance to take out two opponents as all the chips got into the middle.
Jeffrey Cheezum:

Ryan Conrad:

Josh Arieh:
The turn was the
and the river the
to give Arieh broadway and overtake the set of kings of Conrad as Arieh gathered in the pot to start Day 2 just as his Day 1 ended.

Nível 18 : 5,000/10,000, 10,000 ante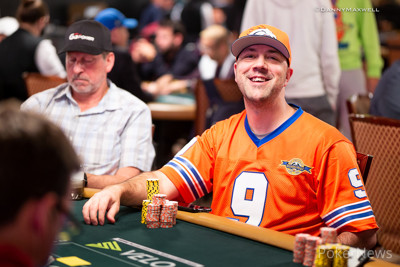 Craig Varnell opened to 23,000 from early position and Danny Chang called from the button to see the
flop. Varnell continued for 23,000 and Chang called again.
On the
turn, Varnell slowed down with a check and Chang bet 35,000. Varnell peeled to the
river and action went check-check.
"Set," announced Chang.
It was no good however has Varnell tabled
for the broadway straight.
Nível: 18
Blinds: 5,000/10,000
Ante: 10,000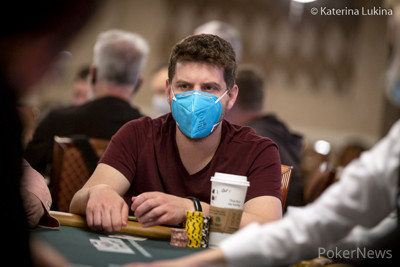 Day 2 of Event #39: $1,500 Pot-Limit Omaha (8-Handed) begins at noon today with 58 players returning for their shot at WSOP gold and the first-place prize of $204,766.
A plethora of previous bracelet winners remain in the field, including Ari Engel (394,000), who took home his second career bracelet in Event #9: $10,000 Omaha Hi-Lo 8 or Better Championship. Craig Varnell also bagged a healthy stack of (566,000).
Perhaps in the best position heading into Day 2 is Josh Arieh (1,000,000). The two-time bracelet winner bagged the chip lead and will have 100 big blinds to work with.
A few other bracelet winners in the field include Filippos Stavrakis (320,000), Daniel Zack (479,000), Ben Yu (128,000), and Tyler Cornell (63,000), who took home his first bracelet this year in Event #6: $25,000 High Roller No-Limit Hold'em.
Play will continue with the blinds at 5,000/10,000/10,000 and the field will be whittled down to five players.
Make sure to keep it tuned to PokerNews for more scintillating PLO action.
| Room | Table | Seat | Player | Country | Chip Count | Big Blinds |
| --- | --- | --- | --- | --- | --- | --- |
| Amazon | 404 | 1 | Robert Blair | United States | 852,000 | 85 |
| Amazon | 404 | 2 | Ryan Leng | United States | 847,000 | 85 |
| Amazon | 404 | 3 | Charles Wilt | United States | 427,000 | 43 |
| Amazon | 404 | 4 | Colin McHugh | United States | 345,000 | 35 |
| Amazon | 404 | 5 | Eugene Lee | United States | 75,000 | 8 |
| Amazon | 404 | 6 | Dien Le | United States | 627,000 | 63 |
| Amazon | 404 | 7 | Jeffrey Hood | United States | 399,000 | 40 |
| Amazon | 404 | 8 | Travis Doran | United States | 400,000 | 40 |
| | | | | | | |
| Amazon | 405 | 1 | Andrei Mitsiuk | United States | 469,000 | 47 |
| Amazon | 405 | 2 | Ryan Conrad | United States | 294,000 | 29 |
| Amazon | 405 | 3 | Mihails Morozovs | Latvia | 84,000 | 8 |
| Amazon | 405 | 4 | Heng Zhang | United States | 298,000 | 30 |
| Amazon | 405 | 5 | Josh Arieh | United States | 1,000,000 | 100 |
| Amazon | 405 | 6 | Fred Goldberg | United States | 653,000 | 65 |
| Amazon | 405 | 7 | Jeffrey Cheezum | United States | 66,000 | 7 |
| Amazon | 405 | 8 | Vadim Yevdokimov | United States | 392,000 | 39 |
| | | | | | | |
| Amazon | 406 | 1 | Tyler Cornell | United States | 63,000 | 6 |
| Amazon | 406 | 2 | Ari Engel | United States | 394,000 | 39 |
| Amazon | 406 | 3 | Filippos Stavrakis | United States | 320,000 | 32 |
| Amazon | 406 | 4 | Zachary Bergevin | United States | 512,000 | 51 |
| Amazon | 406 | 5 | Klas Lofberg | Sweden | 94,000 | 9 |
| Amazon | 406 | 7 | Oshri Lahmani | United States | 168,000 | 17 |
| | | | | | | |
| Amazon | 412 | 1 | Robert Cowen | Swansea, , GB | 268,000 | 27 |
| Amazon | 412 | 2 | Peter Kelly | United States | 216,000 | 22 |
| Amazon | 412 | 4 | Danny Chang | United States | 325,000 | 33 |
| Amazon | 412 | 5 | Jan-Peter Jachtmann | Denmark | 405,000 | 41 |
| Amazon | 412 | 6 | Gerald Tejada | United States | 238,000 | 24 |
| Amazon | 412 | 7 | Anthony Cesare | United States | 133,000 | 13 |
| Amazon | 412 | 8 | Craig Varnell | United States | 566,000 | 57 |
| | | | | | | |
| Amazon | 413 | 1 | Ivan Deyra | France | 635,000 | 64 |
| Amazon | 413 | 2 | Scott Baumstein | United States | 160,000 | 16 |
| Amazon | 413 | 3 | Yashuo Chin | United States | 201,000 | 20 |
| Amazon | 413 | 4 | Maxx Coleman | United States | 383,000 | 38 |
| Amazon | 413 | 5 | Quirin Zech | Germany | 243,000 | 24 |
| Amazon | 413 | 6 | Tommy Le | United States | 493,000 | 49 |
| Amazon | 413 | 7 | Ryan Franklin | United States | 483,000 | 48 |
| Amazon | 413 | 8 | Nitesh Rawtani | United States | 563,000 | 56 |
| | | | | | | |
| Amazon | 414 | 1 | Lior Abudi | Israel | 492,000 | 49 |
| Amazon | 414 | 2 | Daniel Zack | United States | 479,000 | 48 |
| Amazon | 414 | 3 | Ashor Ochana | United States | 470,000 | 47 |
| Amazon | 414 | 4 | Adam Hendrix | United States | 465,000 | 47 |
| Amazon | 414 | 5 | Tamon Nakamura | Japan | 416,000 | 42 |
| Amazon | 414 | 6 | George Wolff | United States | 396,000 | 40 |
| Amazon | 414 | 7 | Will Jaffe | United States | 273,000 | 27 |
| | | | | | | |
| Amazon | 420 | 1 | Gabriel Andrade | United States | 645,000 | 65 |
| Amazon | 420 | 2 | Damjan Radanov | United States | 106,000 | 11 |
| Amazon | 420 | 4 | Scott Haze | United States | 388,000 | 39 |
| Amazon | 420 | 5 | Rod Fani | United States | 167,000 | 17 |
| Amazon | 420 | 6 | Amnon Filippi | United States | 163,000 | 16 |
| Amazon | 420 | 7 | Joseph Weinberger | United States | 267,000 | 27 |
| Amazon | 420 | 8 | Alfie Adam | United Kingdom | 106,000 | 11 |
| | | | | | | |
| Amazon | 421 | 1 | Christian Harder | United States | 213,000 | 21 |
| Amazon | 421 | 2 | Alex Ferrari | United States | 391,000 | 39 |
| Amazon | 421 | 3 | Thomas Zanot | United States | 318,000 | 32 |
| Amazon | 421 | 4 | Jered Bettencourt | United States | 73,000 | 7 |
| Amazon | 421 | 5 | Salim Valimahomed | United States | 78,000 | 8 |
| Amazon | 421 | 6 | Artem Maksimov | Russia | 458,000 | 46 |
| Amazon | 421 | 8 | Ben Yu | United States | 128,000 | 13 |
Event #39: $1,500 Pot-Limit Omaha
Dia 2 Começado