Event #36: $10,000 Dealer's Choice Championship
Dias: 1
Event #36: $10,000 Dealer's Choice Championship
Dia 1 Começado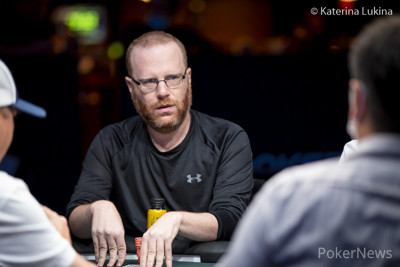 One of the mixed game highlights of the 2021 World Series of Poker will unfold throughout the next three days at the Rio All-Suite Hotel & Casino. At 3pm local time, Event #36: $10,000 Dealer's Choice Championship will get underway in the tan section of the Amazon Room and mixed game specialists from all over the world will be showcasing their skills to determine the next WSOP gold bracelet winner.
The defending champion for this tournament is Adam Friedman, who came out on top of a field of 122 entries in 2019. He defeated Shaun Deeb in heads-up to claim his third career bracelet and walked away with the top prize of $312,417 and made history after winning the very same tournament in back-to-back years.
Friedman has already been involved in plenty of the mixed game events during the ongoing festival and it seems certain that he will return for more glory and aim to make it a three-peat.
All levels on Day 1 will last 60 minutes each and ten of them are played to begin with. There will be a 15-minute break every two levels and the action concludes at around 2 am local time.
This tournament is played in a six-handed format and the level duration as of Day 2 will then increase to 90 minutes each. That's also when the registration will close for the next high-stakes contest.
In total, there are 20 different poker variants in rotation that the players get to pick from every orbit. In flop games, the ante is posted from the Big Blind. In pot limit, the ante only counts as part of the pot
"AFTER THE FLOP." In pot limit, the ante is equal to the big blind. In no-limit, the ante is equal to 1.5 times the big blind.
Stay tuned for the PokerNews live updates from this event which is certain to attract some of the biggest names in the world of poker.
Nível: 1
Limit Flop / Draw: 300/500
Stud Games: 100 ante, 200 bring-in, 500 completion
No-Limit & Pot-Limit: 200/300 ante, 100/200 blinds
Nível 1 : 500/1,000, 0 ante
The screens show 13 players registered at the start and the following players have already sat down.
Jogador
Fichas
Progresso

Kevin Gerhart

60,000

60,000

Peter Neff

60,000

Yueqi Zhu

60,000

60,000

Jon Turner

60,000

60,000

Randy Ohel

60,000

60,000

Yehuda Buchalter

60,000

60,000

Mike Wattel

60,000

60,000

Felipe Ramos

60,000

60,000

David Benyamine

60,000

60,000

Pj Cha

60,000

60,000

Anatolii Zyrin

60,000

60,000
Nível 1 : 500/1,000, 0 ante
A-5 Triple Draw
"Alright, this is for the chip lead," Randy Ohel joked after he raised the button and was called by Yueqi Zhu in the big blind. Both discarded two and Zhu bet, Ohel called. Zhu then drew one while Ohel took two once more. A bet by Zhu and a call by Ohel followed.
Both took one more card on the third draw and Zhu's bet was called. He rolled over the
and that won the pot.
Nível 1 : 500/1,000, 0 ante
There are now three tables in play and among the latest players to sit down were Christopher Claesson, Alex Ferrari and Bryce Yockey.
Nível 1 : 500/1,000, 0 ante
Stud Hi-Lo
Kevin Gerhart:
/
/

Anatolii Zyrin:
/
/
Kevin Gerhart bet on fifth street when it was checked to him by Anatolii Zyrin and then did so again on sixth. Zyrin also check-called seventh and was shown the
for a set of treys by Gerhart. Zyrin had the
for a low and they chopped it up.
Nível 1 : 500/1,000, 0 ante
Stud Hi-Lo
Anatolii Zyrin:
/

Felipe Ramos:
/
fold on fifth
The action started four ways but a raise by Anatolii Zyrin on fourth was only called by Felipe Ramos. Zyrin then bet fifth with his queen-ten showing and Ramos folded when he picked up a jack.
Jogador
Fichas
Progresso

Felipe Ramos

64,000

4,000

Kevin Gerhart

62,000

-2,000

Bryce Yockey

59,000

-1,000

Alex Ferrari

58,000

-2,000

Anatolii Zyrin

55,000

-2,000
Nível 1 : 500/1,000, 0 ante
Badeucey
Prior to the second draw, Chad Campbell called a bet by Pj Cha and both discarded two. They checked to the final draw on which both took another two cards. Cha bet once more and Campbell mucked the
face-up while mucking the fifth card.
Nível 1 : 500/1,000, 0 ante
5-Card Draw High
The tournament screens show 24 entries but not all of them have taken a seat yet. John Monnette entered recently and was involved in a pot with Mike Wattel. After he discarded one and Wattel took three new cards, Monnette bet and Wattel sent the cards into the muck.