Event Info
| | |
| --- | --- |
| Premiação | $2,254,500 |
| Players | 835 |
Informações do Nível
| | |
| --- | --- |
| Nível | 34 |
| Blinds | 150,000 / 300,000 |
| Ante | 0 |
Event #85: $3,000 Pot-Limit Omaha 6-Handed
Dia 4 Terminado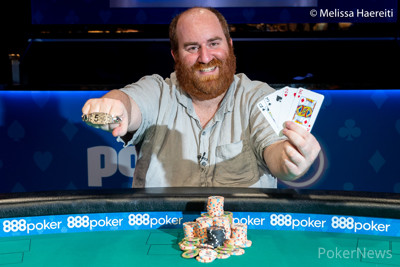 As the 2019 World Series of Poker winds down, there were still some gold bracelets to be awarded. On the penultimate day of the series, only six players returned to the felt for Event #85: $3,000 Pot-Limit Omaha 6-Handed and Alan Sternberg reigned victorious to capture his first-ever bracelet along with $448,392 in prize money.
Sternberg entered the day fourth in chips and a hard-fought battle with Evangelos Kokkalis throughout the day saw the two share the chip lead multiple times.
"Coming into today, my goal was to at least make top four and then I got hit with the deck of cards. I made the best hand a lot so that makes it pretty easy," Sternberg said. Entering the heads-up match, Sternberg was a two-to-one dog in chips but persevered, turning the tables after a couple of hours.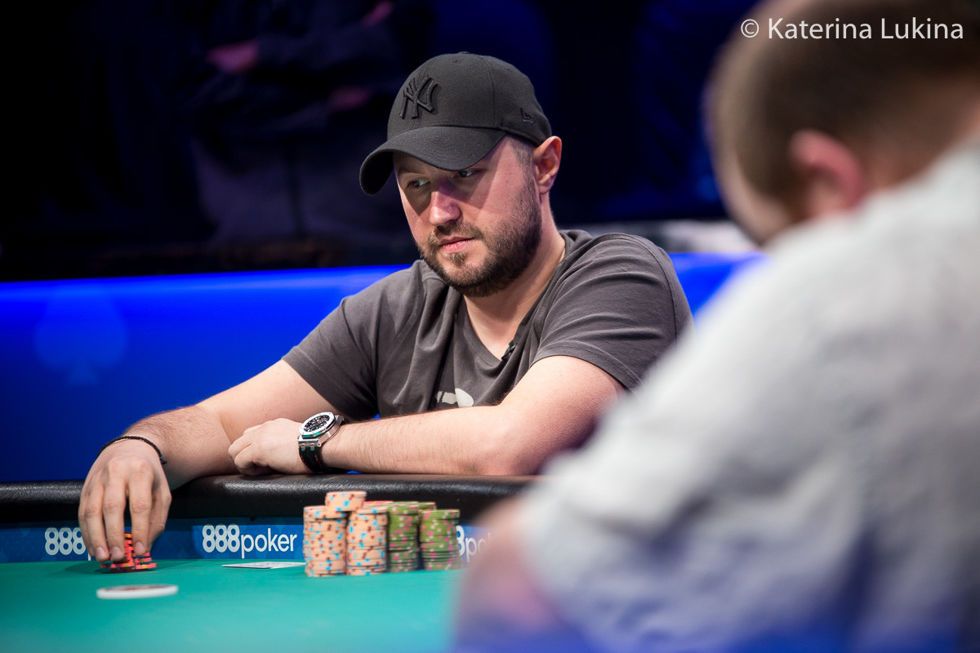 In the final hand of the night, Kokkalis found himself all-in with a pair, straight draw, and flush draw only to run into Sternberg's straight draw, larger flush draw and larger pair. The turn gave Sternberg the straight and the river bricked off as Sternberg celebrated with a couple of his friends on the rail.
Sternberg has played the game for quite some time now but recently began playing more pot-limit Omaha. His largest cash came back in 2011 when he won the $10,000 WPT Shooting Star Championship for over $1,000,000. When asked how this compares to his two circuit ring titles, he said there is no comparison to be made.
"This by far feels the best, not even close. I've won a WPT title which is kind of similar but this feels way better right now."
This is Sternberg's first recorded PLO title but he admits that it's not always his favorite game: "It's not my best game, I prefer no-limit hold'em but I still play some PLO cash games here and there."
Sternberg was forced to face some adversity after losing a large chip lead but said he just played his game. "I kept having mediocre ace-highs and calling off against aces which didn't feel very good but it worked out in the end."
Final Table Results
| Place | Player | Country | Prize |
| --- | --- | --- | --- |
| 1st | Alan Sternberg | United States | $448,392 |
| 2nd | Evangelos Kokkalis | Greece | $227,087 |
| 3rd | John Richards | United States | $187,670 |
| 4th | Millard Hale | United States | $129,313 |
| 5th | Ka Kwan Lau | Hong Kong | $90,674 |
| 6th | Joseph Cheong | United States | $64,722 |
A field of 835 players was whittled down to just six over the course of three days for the final table of the last pot-limit Omaha tournament of the 2019 WSOP. For five of the players, they were in search of their first-ever gold bracelet while Joseph Cheong was looking for his second of the summer.
The day began with Cheong and Ka Kwan Lau on the short stacks with around 10 big blinds each. Despite Lau finding a double up early on, it wasn't enough to prevent the two players from being the first to hit the rail. In a big three-way all in, Cheong and Lau were both at risk against Kokkalis. Both Kokkalis and Lau held suited aces while Cheong had some suited connectors of his own. The flop provided a little hope for each player but Kokkalis turned the nut straight and rivered the nut flush to send Cheong out in sixth place and Lau in fifth place.
That left the remaining four players all with over 40 big blinds each and the seatbelts were fastened for what could be a long and grueling battle. They did not disappoint as four-handed play lasted for over five hours. The first couple levels of the day belonged to Kokkalis who built up a sizeable chip lead over his remaining three counterparts. However, after the first break, Sternberg battled back with a huge double up and it was his turn to dominate the next couple of levels.
Millard Hale and John Richards ground out the short stack constantly, but found timely double-ups time and time again when needed. In fact, there were seven double-ups in total before the next elimination would occur. That finally came in the sixth level of the day when Hale got his chips in the middle with four broadway cards. He was up against a small double-suited connector hand from Richards and a turned flush left Hale drawing dead.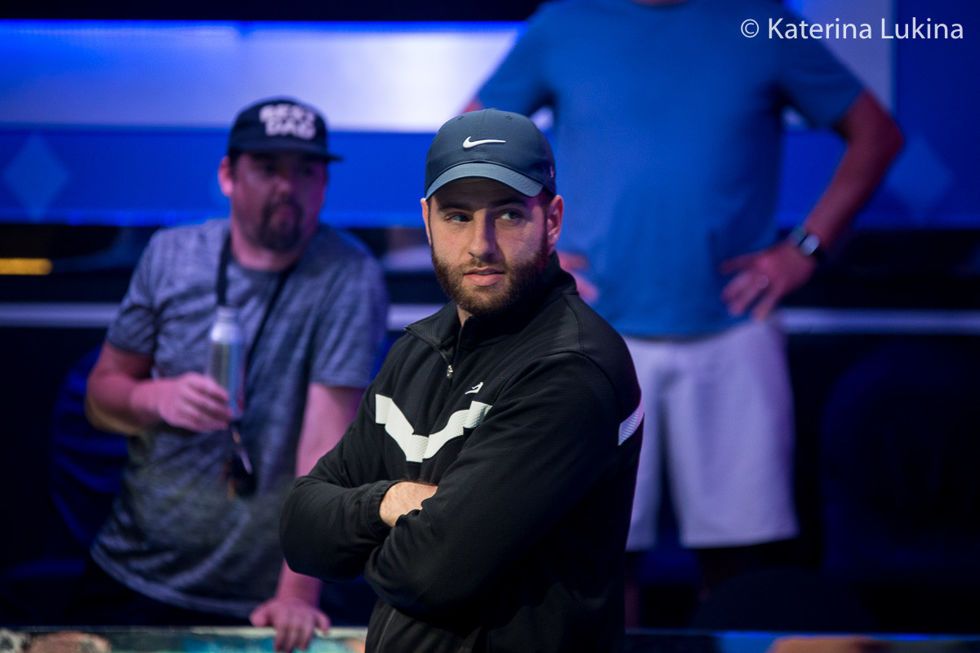 When the final three players returned to their seats, just over 80 big blinds were in play with the stacks fairly level. After losing an early pot, Richards was the shortest of the three but it would be a cooler flop that would decide his fate. Kokkalis flopped top set against Richards' top two pair and the man they call "Cheese" was ousted in third place.
That set up the heads-up battle between Sternberk and Kokkalis with the lion's share of the prize pool still up for grabs. With the roars from the Main Event in the background, the two players were forced to maintain their concentration throughout all of it.
"I was able to block most of it out," Sternberg commented following his win. "There were times it got really loud and it was impossible but I did a good job concentrating today."
That wraps up the live coverage from PokerNews for this event but there is still action taking place in the confines of the Rio All-Suite and Hotel until tomorrow evening, Tuesday, July 16, so be sure to keep it locked here.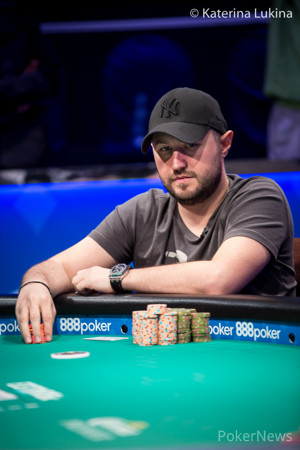 Evangelos Kokkalis raised to 900,000 and Alan Sternberg called. The flop came
. Kokkalis bet 1,800,000, Sternberg raised to 3,200,000 and Kokkalis called to put himself all in.
Evangelos Kokkalis
Alan Sternberg
The turn came the
. The river was the
and Kokkalis's tournament was ended in 2nd place.
Alan Sternberg just called on the button and Evangelos Kokkalis chose to see a flop of
. Kokkalis checked to Sternberg who bet 400,000 and Kokkalis called.
The turn was the
and Kokkalis check-called another bet of 1,000,000 from Sternberg. The
completed the board and Kokkalis checked for the third time. Sternberg slid out a pot-sized bet of 3,400,000.
Kokkalis threw his head back and rolled his eyes as he dipped into the tank again. After a few minutes, Kokkalis finally flicked his cards to the muck and Sternberg collected the pot.
Alan Sternberg limped in on the button and Evangelos Kokkalis checked his big blind. The flop fell
and Kokkalis check-called a bet of 300,000 from Sternberg.
Both players checked the
on the turn and the
completed the board. Kokkalis led out for 800,000 and Sternberg made a quick call. Sternberg tabled
for trip eights and Kokkalis sent his cards to the muck.
Nível:

34
Blinds:

150,000/300,000
Ante:

0
Another two levels have passed and the two players are taking a 15-minute break from the action. They will return to the blinds at 150,000/300,000.
Evangelos Kokkalis raised to 720,000 pre-flop and Alan Sternberg called.
The flop came
, Kokkalis bet 800,000 and Sternberg called. The turn was the
. Kokkalis checked and Sternberg bet 1,400,000 and Kokkalis called.
The river came the
. Kokkalis checked again and Sternberg fired a bet of 1,800,000 which sent Kokkalis deep into the tank before he eventually folded after about two minutes of thought.
Photography by Katerina Lukina
Alan Sternberg limped in on the button and Evangelos Kokkalis checked his option. The flop came
and Kokkalis check-called a bet of 300,000 from Sternberg.
The turn was the
and both players checked to the
on the river. Kokkalis checked for the third time and Sternberg splashed in a bet of 500,000. Kokkalis thought for a minute before making the call. Sternberg tabled
for two pair and Kokkalis conceded.
Sternberg has picked up the last few pots in a row, mostly by letting Kokkalis bet into him.