Event #77: $3,000 Limit Hold'em 6-Handed
Dias: 2
Event #77: $3,000 Limit Hold'em 6-Handed
Dia 2 Começado

| Room | Table | Seat | Player | Country | Chip Count |
| --- | --- | --- | --- | --- | --- |
| Amazon | 412 | 1 | Calvin Anderson | United States | 60,500 |
| Amazon | 412 | 2 | Ian O'Hara | United States | 65,000 |
| Amazon | 412 | 3 | Zachary Gruneberg | United States | 137,000 |
| Amazon | 412 | 4 | Brandon Wong | United States | 20,500 |
| Amazon | 412 | 5 | Mark Radoja | Canada | 117,000 |
| Amazon | 412 | 6 | Tu Dao | Canada | 87,500 |
| | | | | | |
| Amazon | 413 | 1 | Roland Israelashvili | United States | 47,000 |
| Amazon | 413 | 2 | Amir Shayesteh | United States | 35,000 |
| Amazon | 413 | 3 | Jan Suchanek | New Zealand | 66,000 |
| Amazon | 413 | 4 | Georgios Sotiropoulos | Greece | 10,500 |
| Amazon | 413 | 5 | James Little | United States | 73,500 |
| Amazon | 413 | 6 | Kevin Song | United States | 56,000 |
| | | | | | |
| Amazon | 414 | 1 | Joe McKeehen | United States | 12,500 |
| Amazon | 414 | 2 | Ian Johns | United States | 79,500 |
| Amazon | 414 | 3 | Joao Vieira | Portugal | 50,000 |
| Amazon | 414 | 4 | Marco Johnson | United States | 64,500 |
| Amazon | 414 | 5 | Oleg Chebotarev | Russia | 118,500 |
| Amazon | 414 | 6 | Matthew Boyd | United States | 44,500 |
| | | | | | |
| Amazon | 415 | 1 | Charles Tucker | United States | 75,000 |
| Amazon | 415 | 2 | Stuart Rutter | United Kingdom | 130,500 |
| Amazon | 415 | 3 | Tracy Nguyen | United States | 19,500 |
| Amazon | 415 | 4 | Yaser Al-Keliddar | United States | 38,000 |
| Amazon | 415 | 5 | Ron Carmona | United States | 142,500 |
| Amazon | 415 | 6 | Enio Bozzano | Brazil | 72,500 |
| | | | | | |
| Amazon | 420 | 1 | Joseph Souza | United States | 77,500 |
| Amazon | 420 | 2 | Daniel Zack | United States | 82,000 |
| Amazon | 420 | 3 | Jeff Shulman | United States | 81,500 |
| Amazon | 420 | 4 | Brandon Wittmeyer | United States | 33,500 |
| Amazon | 420 | 5 | Patrick Leonard | United Kingdom | 114,000 |
| Amazon | 420 | 6 | Christopher Vitch | United States | 60,500 |
| | | | | | |
| Amazon | 421 | 1 | Omar Mehmood | United States | 16,500 |
| Amazon | 421 | 3 | Dave Tobin | United States | 23,500 |
| Amazon | 421 | 4 | Alex Torry | United States | 109,000 |
| Amazon | 421 | 5 | Dan Matsuzuki | United States | 45,500 |
| Amazon | 421 | 6 | Kyle Ray | United States | 45,000 |
| | | | | | |
| Amazon | 422 | 1 | Dirk Wenkemann | Germany | 16,000 |
| Amazon | 422 | 2 | Alain Alinat | | 106,000 |
| Amazon | 422 | 3 | Kenny Shei | United States | 61,000 |
| Amazon | 422 | 4 | Millie Shiu | United States | 28,500 |
| Amazon | 422 | 5 | Damien Leforbes | United States | 14,000 |
| Amazon | 422 | 6 | Joshua Turner | United States | 139,000 |
| | | | | | |
| Amazon | 428 | 2 | Rehan Alwani | Canada | 102,000 |
| Amazon | 428 | 3 | Xiaofei Wen | United States | 107,000 |
| Amazon | 428 | 4 | Jason Bawadi | United States | 129,000 |
| Amazon | 428 | 5 | Max Pescatori | Italy | 44,000 |
| Amazon | 428 | 6 | Chad Eveslage | United States | 94,000 |
| | | | | | |
| Amazon | 429 | 1 | Ruiko Mamiya | Japan | 44,000 |
| Amazon | 429 | 2 | Jeremy Heartberg | United States | 56,000 |
| Amazon | 429 | 4 | Kevin Erickson | United States | 84,500 |
| Amazon | 429 | 5 | Jeffrey Neeman | United States | 83,000 |
| Amazon | 429 | 6 | Robert Campbell | Australia | 49,500 |
| | | | | | |
| Amazon | 430 | 1 | Greg Mueller | Canada | 63,000 |
| Amazon | 430 | 2 | Joshua Griffith | United States | 74,000 |
| Amazon | 430 | 3 | Robert Albrecht | United States | 91,500 |
| Amazon | 430 | 4 | Christopher Dandrea | United States | 92,500 |
| Amazon | 430 | 5 | David Fhima | France | 10,000 |
| Amazon | 430 | 6 | Pakinai Lisawad | Thailand | 81,000 |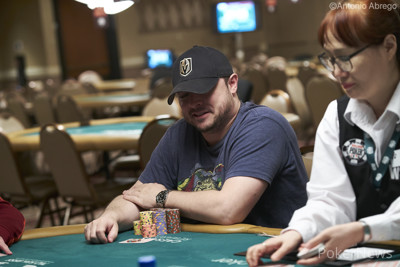 At 2 p.m. on Tuesday, the remaining 57 players will assemble in the Amazon Tan section at the Rio All-Suite Hotel and Casino to do battle on Day 2 of Event #77: $3,000 Limit Hold'em 6-Handed , each knowing that 29 players will reach the money for minimum of $2,249 and a $133,189 first prize awaits the winner.
Ron Carmona will lead the pack with a chip stack of 142,500, with Joshua Turner (139,000) and Zachary Gruneberg (137,000) his closest rivals.
Yesterday saw 193 players come together, 21 players less than last year's event, to create a $521,100 prize pool with a host of WSOP bracelet holders scattered among the field, but many didn't find a bag at the end of the day, including Chris Ferguson, Ismael Bojang, Daniel Negreanu, David Bach, Benny Glaser, Phil Hui and James Obst.
Yaser Al-Keliddar (38,000), the defending champion, is just one of the names who will be returning today alongside other well-known players Mark Radoja (117,000), Ian Johns (79,500), Marco Johnson (64,500), Calvin Anderson (60,500) and the 2015 Main Event Champion Joe McKeehen who will be looking to double up as he returns with a short stack of 12,500.
Just like yesterday, ten 60-minute levels will be played today with a 15-minute break every two levels. There will be a 60-minute dinner break after Level 6 (≈ 8:30 p.m.) The limits will begin at 2,000/4,000 and with average stack at 53,611.
PokerNews has activated the My Stack App for this event, allowing you to directly adjust your chip counts in our live reporting blog using your iPhone or Android phone.
You can download the app for iPhone or Android now to get started. Then, create a new PokerNews account or update your current one to start updating your status immediately. Your followers can see all the live action that you're involved in.
Click here to download the My Stack app for iPhone, or click here to download the My Stack app for Android.
Look below for the full table draw for the six-handed tables in the Amazon Tan and stay tuned on PokerNews.com for all the live updates.
Nível: 11
Limites: 2,000/4,000
Ante: 0

Nível 11 : 2,000/4,000, 0 ante
Cards are now in the air in Amazon Tan for the 57 remaining players of Event #77: $3,000 Limit Hold'em 6-Handed.
Nível 11 : 2,000/4,000, 0 ante
It folded to Dan Matsuzuki in the small blind and he raised to 4,000. Kyle Ray was in the big blind position and he called.
On the
flop, Matsuzuki continued for 2,000. Ray called. Both players checked the
turn and the river card was the
. Matsuzuki checked again and Ray bet 4,000. Matsuzuki quickly folded.
Nível 11 : 2,000/4,000, 0 ante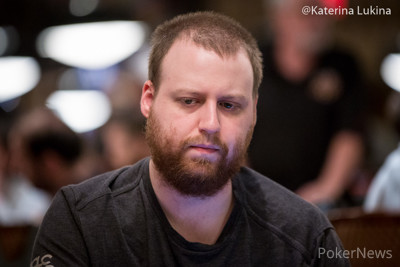 Former Main Event Champion Joe McKeehen has been eliminated. Coming into Day 2 with 12,500, around six big blinds, it was always going to be a tall order to spin his stack up, so it was not surprising when he hit the rail within the first 10 minutes of play.
Jogador
Fichas
Progresso

Joe McKeehen

Eliminado

Nível 11 : 2,000/4,000, 0 ante
Roland Israelashvili raised under the gun and it folded to Kevin Song who called in the big blind.
The flop brought the
and there was no betting action. On the
turn, Song tanked or a minute before checking. Israelashvili made a second bet and Song quickly raised. Israelashvili called.
The river was the
and Song led out with a bet. Israelashvili called again but only to see
in Song's hand for the nut flush and he mucked
.

Nível 11 : 2,000/4,000, 0 ante
Marco Johnson raised his small blind and Oleg Chebotarev called. The flop brought
and Johnson continued with a bet before calling a raise from Chebotarev.
The
appeared on the turn and Johnson check-called another bet from Cheotarev. The
river went check-check and Johnson showed
, which was enough to grab the pot.
Nível 11 : 2,000/4,000, 0 ante
Two players were extremely short on Alex Torry's table and he got it all in preflop against both of them.
Alex Torry:

Omar Mehmood:

Dave Tobin:
Torry paired his six on the
flop and held through the
turn and the
river, to knock out both opponents and net a decent pot.