Event #29: $10,000 H.O.R.S.E. Championship
Dias: 4
Event #29: $10,000 H.O.R.S.E. Championship
Dia 4 Terminado
Nível 28 : 200,000/400,000, 0 ante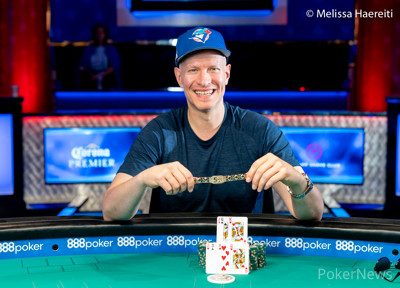 He was all in with a bottom pair. No kicker. No fold equity. And it worked out magnificently. Greg Mueller got it right. He survived the critical situation and catapulted himself back to a playable stack in Event #29: $10,000 H.O.R.S.E. Championship. A few hours later, Mueller closed it out. He captured his third WSOP bracelet and the $425,347 top-prize, defeating a field of 172 entries.
In 2009, Mueller won his first bracelet. It took him only two weeks to claim his second. For number three, he had to wait ten years.
"A good attitude, a fortune of good luck, and good friends around made the difference," Mueller said.
Mueller's first two wins came in limit hold'em, and today was a testament to his success from the previous decade. Mueller's triumph was largely influenced by one particular play in limit hold'em.
With three players left, Mueller was nearly on his way out. He had fewer than four big bets, but an unorthodox play with five-three offsuit changed the fate of the tournament. Mueller check-raised a flop with a bottom pair. Then he faced a bet from Dario Sammartino on the turn with the board featuring straight and flush possibilities. Mueller check-shoved without the smallest chance to make Sammartino fold. He trusted his instincts, and it paid off.
It all came down to a tell.
"Technically, I'm dead. What can I beat? I just looked at him. He doesn't have a hand!"
Sammartino bricked the river with a double gutter, and Mueller's epic ride towards the glory had begun. It's one thing to get a value from a good hand. But make a double out of nothing, that is a massive confidence boost. With Mueller's history as a former professional athlete—he played hockey in Germany for nine years—the spirit can become crucial.
"I got instant confidence and swagger."
Mueller called it a turning point, and while there was still a long road ahead of him, it seemed that the script had been set in stone. Mueller suddenly started to make good hands, and he built his stack to overtake the chip lead.
Shortly after dinner, Mueller busted Sammartino in a hand of stud hi-lo, and the subsequent heads up lasted just one hand. Mueller made a flush to eliminate Daniel Ospina in second place.
Final table results:
| Place | Player | Country | Prize |
| --- | --- | --- | --- |
| 1 | Greg Mueller | Canada | $425,347 |
| 2 | Daniel Ospina | Colombia | $262,882 |
| 3 | Dario Sammartino | Italy | $184,854 |
| 4 | Scott Clements | United States | $132,288 |
| 5 | Craig Chait | United States | $96,378 |
| 6 | Mikhail Semin | Russia | $71,505 |
| 7 | Matthew Gonzales | United States | $54,043 |
While Mueller admitted that he doesn't have as much passion for poker as he used to, today's victory is an outcome of his grind off the felt. "I put a lot of effort not so much into studying the game, just into my own physical and mental state."
For Mueller, it's all about feeling good and following his healthy routine. He said he wouldn't run from tournament to tournament, trying to chase cashes and POY points as hard as many professional players at WSOP. That's why he doesn't have a strict plan.
Will he play the Poker Players Championship? Likely. But Mueller won't give any promises. Everything is a game-time decision. If he wakes up and thinks that he'd rather have a day off, he'll get it. There is no must-do on Mueller's mind.
"When I'm in Canada, I don't play one hand of poker. I do my thing: work out, play hockey three times a week, watch a ton of sports."
However, when the clock was ticking for the start of the 50th Annual World Series of Poker, something bugged Mueller's mind. His best results seemed to have been the thing of the past. Just like what happens in a career of professional athletes, Mueller started to question whether his shine at the felt was over.
"I just thought, 'Do I still have it? Has that game passed me by?' and I told myself that I will play a little bit and that I'll be focused."
And so Mueller did come and found his answer: he is still able to compete in one of the most complex tournaments on the WSOP schedule. Heck, he can win it outright.
WSOP 10k H.O.R.S.E. history:
| Year | Winner | Country | First prize | Entries |
| --- | --- | --- | --- | --- |
| 2010 | Ian Gordon | United States | $611,666 | 241 |
| 2011 | Fabrice Soulier | France | $609,130 | 240 |
| 2012 | David "Bakes" Baker | United States | $451,779 | 178 |
| 2014 | Chris Wallace | United States | $507,614 | 200 |
| 2015 | Andrew Barber | United States | $517,766 | 204 |
| 2016 | Jason Mercier | United States | $422,874 | 171 |
| 2017 | David Bach | United States | $383,208 | 150 |
| 2018 | John Hennigan | United States | $414,692 | 166 |
| 2019 | Greg Mueller | Canada | $425,347 | 172 |
Nível 28 : 200,000/400,000, 0 ante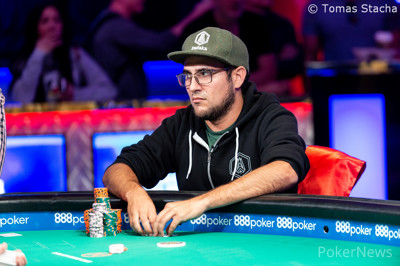 Stud Hi-Lo
Greg Mueller completed, Daniel Ospina raised, and Mueller called. Ospina peeled a low card on fourth street and he fired again. Mueller called and hit a third heart on fifth, so he led out. Ospina called and Mueller blasted again on sixth street. Ospina raised all in for 50,000 more and Mueller immediately called.
Ospina:
/

Mueller:
/
Mueller was ahead with a pair of queens versus pair of eights, and he was first to peel his river card. It was the
and that left Ospina drawing dead as Mueller finished with an ace-high flush. Ospina opened a meaningless
to make official end to his run in the $10k H.O.R.S.E. Ospina took home $262,882 for his second-place finish.
Greg Mueller emerged champion, ten years after winning a double at WSOP. Mueller's third bracelet comes along with a $425,347 top-prize.
Nível 28 : 200,000/400,000, 0 ante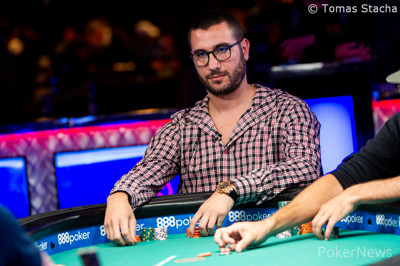 Stud Hi-Lo
Dario Sammartino:
/
/

Greg Mueller:
/
/
Dario Sammartino ended up all in for 650,000 on third and showed split sixes with a king, while Greg Mueller had nines. Sammartino failed to catch any help until sixth and Mueller improved to a set in order to leave Sammartino drawing dead. This made seventh redundant and Sammartino was already on his way out to collect $184,854 for his efforts.
Nível 28 : 200,000/400,000, 0 ante
Stud
Greg Mueller brought in and Daniel Ospina called. Ospina called a bet on fourth and they checked the following two streets. Mueller checked on the river again and Ospina took it down with an uncalled bet.
Ospina:
/

Mueller:
/
Nível 28 : 200,000/400,000, 0 ante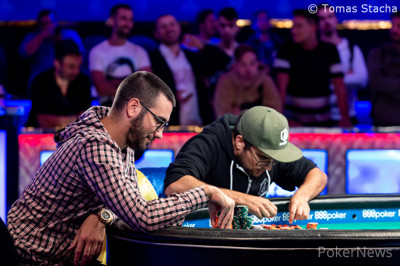 Razz
Dario Sammartino:
/
/

Daniel Ospina:
/
/
Dario Sammartino completed with a deuce and Daniel Ospina raised, Sammartino called. Sammartino bet fourth and Ospina called before they got it in on fifth.
Ospina showed trey-deuce in the hole and made the wheel on sixth to secure his double up, while Sammartino mucked his cards which included
.
Jogador
Fichas
Progresso

Greg Mueller

7,800,000

-300,000

Daniel Ospina

1,700,000

1,100,000

Dario Sammartino

800,000

-1,800,000
Nível 28 : 200,000/400,000, 0 ante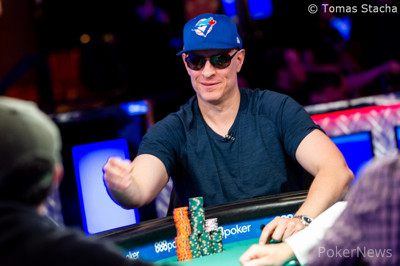 Omaha Hi-Lo
Greg Mueller raised on the button and both Dario Sammartino and Daniel Ospina called. Ospina fired on the
flop and Mueller raised. Sammartino let his hand go and Ospina called.
The
turn was checked and the
completed the board. Ospina checked, Mueller fired, and Ospina called. Muller showed a strong hand with
for a full house and Ospina was tackled to fewer than two big bets.
Nível 28 : 200,000/400,000, 0 ante
Omaha Hi-Lo
Dario Sammartino limped from the button and Daniel Ospina folded his hand. Greg Mueller checked and he checked again on the
flop. Sammartino bet and Mueller called. The
landed on the turn and Mueller led out. Sammartino quickly folded.
Nível: 28
Hold'em / O8 - 100,000/200,000 200,000/400,000
Razz/Stud/Stud 8 - 50,000 BI 50,000 200,000 200,000-400,000
Nível 27 : 150,000/300,000, 0 ante
Players are on a 60-minute dinner break. Play will resume at 9:30 p.m. local time.