Event #6: $365 GIANT No-Limit Hold'em
Dias: 1a
Event #6: $365 GIANT No-Limit Hold'em
Dia 1a Terminado

Nível 21 : 12,000/24,000, 4,000 ante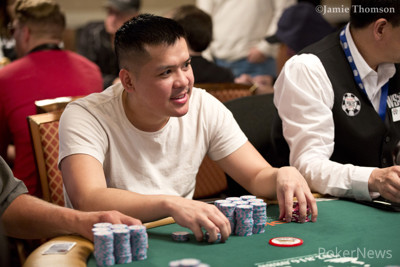 A total of 1,289 players came together on Day 1a of Event #6: The GIANT, though only 80 of them were left in action by the close of play. This is the first of five Day 1s of the GIANT, spread across five consecutive Fridays. At the end of the first one it is Justin Sternberg who leads the field, and appears to be the only player next to Danny Nguyen with over one million, although several players pushed him close.
Nguyen won a big pot towards the end of the night against former chip leader Martin Zamani. After Zamani opened, Nguyen defended his big blind. The pair checked a flop of ten-four-deuce and Nguyen check-called a bet of 30,000 on the turn, which was another ten. The river was a three. Nguyen checked again and Zamani bet 120,000. Nguyen moved all in for 430,000 and Zamani called. Nguyen showed ace-five for a wheel, and his opponent mucked.
Other big stacks include Elvis Toomas (995,000), Josh Reichard (935,000), Adam Richardson (895,000) and Vincent Lee (810,000). Both Andrew Kelsall (290,000) and Matt Affleck (210,000) also bagged stacks ahead of Day 2.
Several well-known players were in action early, including a whole host of bracelet winners. David "ODB" Baker, Konstantin Puchkov, Phil Laak and Allyn Shulman all know what it takes to win a WSOP gold bracelet, with Scott Davies winning his in the 2014 WSOP APAC Main Event.
There was a good start of proceedings for Laak, Andrew Kelsall and Matt Affleck who soon shot up to double starting stack after some early skirmishes at their respective tables.
Several players took advantage of the unlimited re-entry policy, including Jamie Kerstetter, Adam Owen and Shulman, and with the 20-minute levels it was imperative to get things going as soon as possible once you entered.
The likes of Dzmitry Urbanovich, Tom Hall, Fernando Brito, Calvin Anderson, Ryan Laplante, Craig Varnell and Kathy Liebert all featured on Day 1a, but bust short of the money.
A total of 194 players were guaranteed a min-cash worth $557. Adam Owen was eliminated just short of the money, after running ace-queen into ace-king, but it was Maxime Heroux who bubbled Day 1a of the GIANT after his kings were cracked by the ace-six of Eric Bunch.
The final few levels were a hectic mix of clashes leading to various changes in the chip lead. However, by the end of the night it was Sternberg who emerged as the overall chip leader for Day 1a, leading the final 80 players.
This year's event features five weekly Friday Day 1s, with the next taking place on 8th June before the Day 1 flights are combined on Saturday 30th June, and play down to a winner on Sunday 1st July. Stay tuned to PokerNews for all the live updates from the rest of the GIANT and the whole of the 2018 World Series of Poker.

Nível 21 : 12,000/24,000, 4,000 ante
Jogador
Fichas
Progresso

Justin Sternberg

1,215,000

Danny Nguyen

1,120,000

730,000

Elvis Toomas

1,000,000

Adam Richardson

935,000

935,000

Joshua Reichard

935,000

Vincent Lee

820,000

-150,000

Edmund Eng

790,000

David Grimbley

760,000

Mario Saur

715,000

140,000

Martin Zamani

650,000

-500,000

Kristin Hutton

640,000

290,000

James Howden

635,000

35,000

Mark Trester

620,000

Matthew Swenton

595,000

Gina Stagnitto

565,000

Yang Zhang

565,000

Gary Smith

565,000

Neil Stemmler

535,000

Van Vandergriff

535,000

405,000

Zhiqiang Ou

530,000

Erin Constantino

525,000

Michael Hamblin

510,000

Rob Jenkins

500,000

Keith Burt

495,000

Michael Krumenacker

480,000

Nível 21 : 12,000/24,000, 4,000 ante
James Howden opened to 40,000 in middle position. The player in the next position moved all in for 240,000 (10bb). It folded back around to Howden who took his time before calling.
James Howden:

Opponent:
There was to be no cooler to close out Day 1a, as the board came
and Howden moved to around double average.

Nível 21 : 12,000/24,000, 4,000 ante
The tournament clock has ticked into the final level of the day, with three players vying for the chip lead with 101 players remaining and the average hovering just over 300,000.
Nível: 21
Blinds: 12,000/24,000
Ante: 4,000

Nível 20 : 10,000/20,000, 3,000 ante
Vincent Lee's table just broke and as he was taking his seat at his new one he was greeted by one of his tablemates.
"Welcome the winner of the 2018 Giant," said one player, looking at Lee's stack.
Lee laughed. "Not yet," he replied. He sits on 770,000 with not long left in the penultimate level of the day.

Nível 20 : 10,000/20,000, 3,000 ante
On a flop of
Mario Saur bet 60,000 and his opponent called. The turn was the
and Saur checked. His opponent wasted no time in moving all in for around 70,000. Saur asked for a count before calling.
Mario Saur:

Opponent:
Saur had both straight and flush draws, while his opponent had a gutshot straight draw plus overcards. The river was the
and the player was eliminated.
"That was a good card," Saur said to the table, pointing towards the turn.
Nível: 20
Blinds: 10,000/20,000
Ante: 3,000

Nível 19 : 8,000/16,000, 2,000 ante
With just over two levels left on Day 1a of the GIANT, a new chip leader has emerged. Josh Reichard appears to be the first player over 800,000 in chips. We will have to wait and see whether he can hold onto this over the remainder of the day.