Event #43: $1,500 Limit Hold'em
Dias: 2
Event #43: $1,500 Limit Hold'em
Dia 2 Terminado
Nível 20 : 8,000/16,000, 0 ante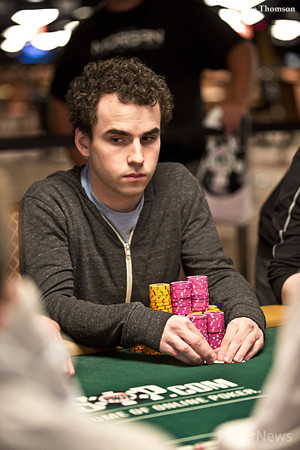 Dan Kelly will return for Day 3 as the chip leader, having bagged up an impressive 734,000 in chips. His quiet demeanor coupled with a relentless focus helped him pick up those extra bets whenever possible and saw his stack steadily grow throughout the day.
Hoping to slow down Kelly will be David Chiu in second place, who finished on 473,000, and Sean Berrios with 373,000 in third.
Out of a starting field of 657 on Day 1, a total of 118 would return at the start of the Day 2. By the end of 10 levels of play, the official final table was set in the very last hand of the night as Steven Wolansky was eliminated by Brandon Shack-Harris to leave Shack-Harris on 269,000.
The money bubble was the first significant obstacle for the remaining players to overcome today, and with 72 places getting paid it fell to Ben Yu to be the bubble boy at the start of the third level of play to give the rest of the room a reason for a small round of applause as they were guaranteed a return on their investment of at least $2,501.
Those who didn't make it through included Daniel Negreanu, Antonio Esfandiari, Terrence Chan, Berry Johnston, and Mike Leah.
Join the PokerNews Live Reporting team on Sunday from 2 p.m. local time as for all the action down to a winner who will receive the famous gold bracelet and $195,167.
In the meantime, check out the new episode of Ivey Stories:
Nível 20 : 8,000/16,000, 0 ante
Jogador
Fichas
Progresso

Dan Kelly

734,000

84,000

David Chiu

473,000

123,000

Sean Berrios

373,000

48,000

Yegor Tsurikov

361,000

61,000

Jesse Katz

294,000

19,000

Brandon Shack-Harris

269,000

-6,000

Jeff Lisandro

177,000

27,000

Ron Burke

166,000

-39,000

Bryce Landier

112,000

-78,000
Nível 20 : 8,000/16,000, 0 ante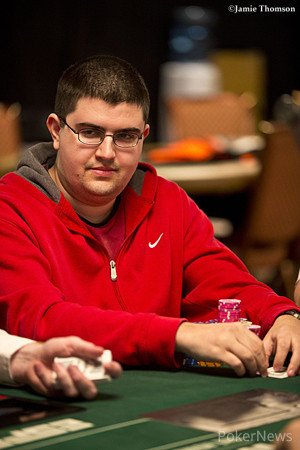 On the last hand of the evening, Steven Wolansky opened from the small blind and Brandon Shack-Harris called from the big blind. The flop came
and the two exchanged bets until Wolansky was all in. It was a showdown of newly minted bracelet winners and Wolansky had to feel he was in good shape with his
but unfortunately for him Shack-Harris had flopped big with
. The turn was the
and the river was the
and Wolansky said "good luck tomorrow everyone" as he was officially eliminated in 10th place for $11,681.
Nível 20 : 8,000/16,000, 0 ante
| Seat | Name |
| --- | --- |
| 1 | Yegor Tsurikov |
| 2 | David Chiu |
| 3 | Ron Burke |
| 4 | Steven Wolansky |
| 5 | Brandon Shack-Harris |
| 6 | Dan Kelly |
| 7 | Jesse Katz |
| 8 | Jeff Lisandro |
| 9 | Bryce Landier |
| 10 | Sean Berrios |
Jogador
Fichas
Progresso

Dan Kelly

650,000

191,000

David Chiu

350,000

50,000

Sean Berrios

325,000

80,000

Yegor Tsurikov

300,000

107,000

Jesse Katz

275,000

-45,000

Brandon Shack-Harris

275,000

14,000

Steven Wolansky

275,000

197,000

Ron Burke

205,000

115,000

Bryce Landier

190,000

28,000

Jeff Lisandro

150,000

-6,000
Nível 20 : 8,000/16,000, 0 ante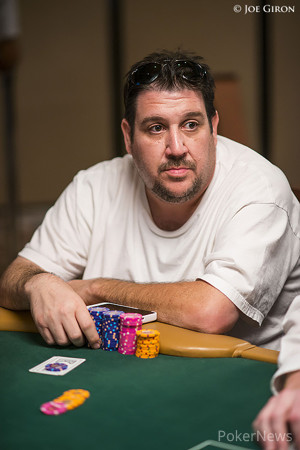 Eric Bensamochan had found himself ground down to a short stack and he opened on Jeff Lisandro's big blind and Lisandro made the call. The flop came
and Lisandro check-raised Bensamochan's continuation bet. Lisandro led out on the
turn and again on the
river. The river bet was enough to set Bensamochan all in and he made the call. Lisandro turned over
for fives and fours and Bensamochan flung his cards into the muck as he was eliminated in 11th place.
Nível 20 : 8,000/16,000, 0 ante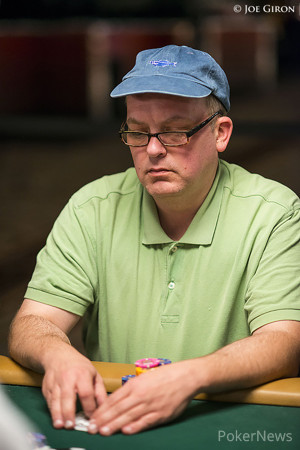 Before the deal Mark Chilton was in the big blind with not much behind. "I guess I'm pot committed." he said.
David Chiu bet and Jesse Katz called in the small blind. Chilton put in 5,000 extra and the other two players matched it.
Chiu and Katz checked it down to the river on a final board of
.
"Can you beat nine high?" Chilton asked. Katz could as he turned over
and Chilton was the next to be eliminated.
Nível 20 : 8,000/16,000, 0 ante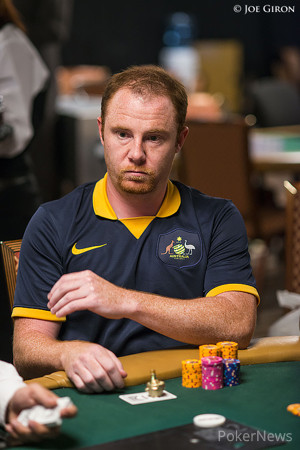 Mike Lancaster opened for a raise and it was three-bet by Yegor Tsurikov. Jeff Lisandro called and Lancaster called all in for less. The flop came
, Tsurikov bet, and Lisandro called. Those actions repeated themselves on the
turn. On the
river, Tsurikov fired a third bullet but this time Lisandro raised. Tsurikov quickly called and said "your flush is good."
Lisandro said "two pair" without turning over his hand and Tsurikov was quick to say "no good" as he tabled
for a flopped set of sixes. Lisandro mucked and the all-in Lancaster turned over a loser in
. Lancaster was eliminated in 13th place for $9,330.
Nível: 20
Limites: 8,000/16,000
Ante:
Nível 19 : 6,000/12,000, 0 ante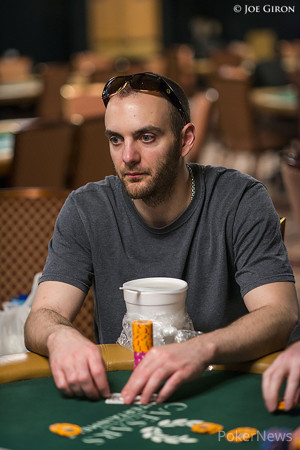 Jeff Lisandro bet in the small blind and short stacked Jerid Zewin called in the big blind.
They saw a flop of
. Lisandro bet and Zewin called. The rest of it went in on the turn
.
Lisandro had
and Sewin showd
.
The river
put the nail in Zewin's coffin and he was the next to head out of the tournament.