Event #13: $10,000 No-Limit 2-7 Draw Lowball Championship
Dias: 1
Nível: 6
Blinds: 250/500
Ante: 125
Nível 5 : 200-400, 100 ante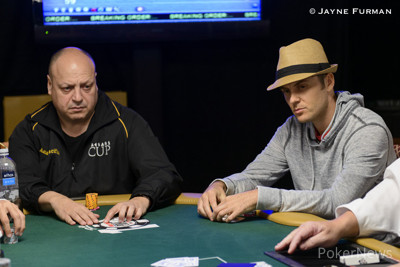 Prahlad Friedman has fallen at the hands of Jeff Lisandro.
According to Jason Mercier, he opened with a pre-draw raise and Lisandro flatted. Friedman three-bet shipped all in and Mercier folded. Lisandro called and took one new card. Friedman stood pat.
Friedman tabled a made jack-seven with
. Unfortunately for the WSOP bracelet winner, Lisandro made his draw and showed a winning
. Friedman was eliminated from play and Lisandro boosted his stack to about 34,000.
Jeffrey Lisandro knocked me out.
Follow @PrahladFriedman
Nível 5 : 200-400, 100 ante
Mike Wattel raised to 1,500 from under the gun and David Williams three-bet shipped all in from middle position for his last 3,725. Action came back to Wattel and he tossed out a call.
Both players stood pat and the hands were turned on their backs.
Williams:

Wattel:
Williams was dealt the better pat hand - a ninety-eight - and was able to earn the double up. He's now sitting on 9,300 while Wattel has dropped to 15,000.
Nível 5 : 200-400, 100 ante
Chino Rheem raised to 1,200 from middle position and found a call from Eli Elezra in the cutoff. Frank Kassela peered at his cards on the button and announced a three-bet to 3,600. The player in the small blind came right over the top with a four-bet ship all in for 15,350. Rheem and Elezra folded and Kassela called.
For the draw, Kassela's opponent took one card while the two-time bracelet winner stood pat.
Kassela:

Opponent:
Kassela's opponent was drawing live to score the double, but ultimately pulled an
. He was eliminated from play and Kassela was pushed a pot that brings his stack up to 53,200.
Nível 5 : 200-400, 100 ante
We missed the pre-draw action, but can confirm that Shawn Buchanan and Brian Hastings each committed 8,300 in chips. Both players stood pat and Hastings checked over to Buchanan. Buchanan knocked the table back and rolled over
. Hastings threw his hand into the muck and Buchanan was pushed the pot.
Buchanan's stack is now up to about 74,000 in chips. Hastings, on the other hand, has dropped to 8,900.
Nível 5 : 200-400, 100 ante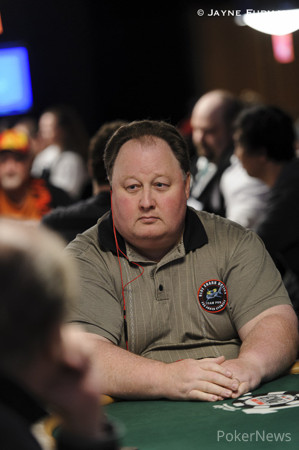 A late positioned player raised to 1,100 and Dan Smith flatted from the button. Greg Raymer three-bet shoved all in for 10,650 from the small blind and it folded back to the original raiser who followed suit. Smith went into the tank for some time before dropping out a call. Both players took one card and their hands were tabled.
Smith:

Raymer:
"Let's see what I have to beat," said Raymer, prompting Smith to squeeze out the
for a jack-eight low.
Raymer flipped over his card - the
- pairing his four and ensuring his elimination.
"I never win those," said Raymer with a smile. "If I have the better draw, that is. I have to have a shit-ass draw to win."
The 2004 WSOP Main Event champion made his exit from the table and Smith was pushed the pot. He's now sitting on about 35,500 in chips.
Nível 5 : 200-400, 100 ante
Layne Flack was under the gun and raised the action to 1,500. A middle position player three-bet to 4,500 and it came back around to Flack who flatted. Flack stood pat at the draw while his opponent opted for one new card.
Both players checked the final betting round and Flack rolled over
. Flack's opponent mucked his hand and the six-time WSOP bracelet winner was pushed the pot. Flack now has about 27,400 in chips.
Jogador
Fichas
Progresso

Layne Flack

27,400

5,400
Nível 5 : 200-400, 100 ante
Jogador
Fichas
Progresso

Shawn Buchanan

53,500

19,000

Matt Glantz

52,500

-9,500

David "Bakes" Baker

44,500

-2,000

Jean-Robert Bellande

41,000

10,500

Larry Wright

40,000

2,000

Matthew Ashton

37,500

-4,750

Nick Schulman

37,500

8,300

George Danzer

36,500

300

Ray Dehkharghani

35,000

5,000

Jason Mercier

33,200

-8,800

Galen Hall

33,000

-500

Dan O'Brien

27,100

-3,500

Jeff Lisandro

27,000

3,000

Phil Galfond

23,500

-5,000

Shawn Sheikhan

22,000

-4,000

Erik Seidel

22,000

-1,800

Brian Hastings

19,000

-8,300

Rep Porter

18,500

-15,700

Prahlad Friedman

12,300

1,650
Nível 5 : 200-400, 100 ante
Nível: 5
Blinds: 200/400
Ante: 100