Event #58: $10,000 Main Event
Dias: 4
Event #58: $10,000 Main Event
Dia 4 Começado
Day 4 is upon us in the 2011 World Series of Poker Main Event and we're sure everyone would like to know the table and seat draw to begin the day. You can find that seat draw here, complete with everyone's chip count.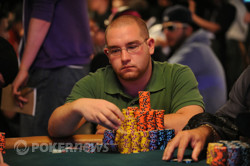 Day 4 of the WSOP Main Event begins with 852 players returning to fight for the 693 spots that pay. The first three days are all about survival and Day 4 is the day to move up the chip counts. Patrick Poirier (1,328,000) and Daryl Jace (1,282,500) return as the only players to cross the million chip mark.
Joining Poirer and Jace at the top of the counts are Lars Bonding (769,500), Peter Jetten (657,00), Sami Kelopuro (654,000), Matt Stout (602,000), Bryan Devonshire (596,500), Ben Tollerene (595,000), Sam Simon (509,000) and JP Kelly (492,000).
Notables looking to make some moves today include Daniel Negreanu (207,500), Phil Hellmuth (77,000), Ben Lamb (354,500), Joeseph Cheong (410,500), Jake Cody (121,000), Jean-Robert Bellande (104,500), Eli Elezra (118,500), Gary Gates, (224,000), Erick Lindgren (356,000), Allen Cunningham (274,000), Adam Junglen (248,000), Christian Harder (191,000), Vanessa Rousso (298,500), Berry Johnston (130,500) and Robert Varkonyi (265,500).
Also of note is that Poirier's table is absolutely stacked with chips. In fact, over 2% of the total chips in play are at this table. Here's a look at this stacked table draw.
| Table | Seat | Player | Chips |
| --- | --- | --- | --- |
| 363 | 1 | Guillaume Darcourt | 701,500 |
| 363 | 2 | Sam Barnhart | 469,500 |
| 363 | 3 | Zohair Karim | 594,500 |
| 363 | 4 | John Wilson | 115,000 |
| 363 | 5 | Patrick Poirier | 1,328,000 |
| 363 | 6 | Steven Watts | 198,000 |
| 363 | 7 | Fried Meulders | 127,500 |
| 363 | 8 | Stuart Tuvey | 539,500 |
| 363 | 9 | Yohan Zaoui | 191,000 |
Tournament officials fully expect to hit the money bubble somewhere around halfway through today's schedule. Those that make the money will be guaranteed at least $19,935. One of the signature moments of the Main Event is hand for hand play at the money bubble. The very unfortunate player that finishes in 694th place will receive the usual prize of a buy-in for next year's Main Event.
Day 4 will also feature live streaming coverage through ESPN3, and you can expect camera crews to be out in full force again. Their task will be a bit easier will players in the Amazon Room through the Orange, Purple and Blue sections.
The day is scheduled for four levels of action before Day 4 survivors bag and tag their chips for Day 5. Follow all the Main Event action here at Pokernews.com.
Nível: 15
Blinds: 2,000/4,000
Ante: 500
Nível 15 : 2,000/4,000, 500 ante
Cards are in the air for the start of Day 4.
Nível 15 : 2,000/4,000, 500 ante
John Strzemp's Day 4 is done. In the context of the WSOP Main Event, Strzemp is of course best remembered for having finished runner-up to Stu Ungar in 1997 at the one and only WSOP ME final table played outdoors.
Today Strzemp entered play with but 27,000 chips. He dropped about a third of that on the first hand after calling a raise then letting go his hand to a flop bet. He folded Hand #2. Then, on the third hand, Nikita Nikolaev opened with a raise to 9,000 from middle position, and Strzemp committed his last 16,500 with a reraise from a couple of seats over. It folded back around and Nikolaev made the call.
Strzemp showed
, but Nikolaev had the edge with his
. That edge increased following the
flop, giving Nikolaev a set. The
on the turn provided hope to Strzemp, but the
fell on the river, and Strzemp leaves us, having failed in his attempt to score a fourth career ME cash.
Daniel Retallick is now close to one million in chips after taking out an opponent in one of the first hands on table 287.
As Retallick recounted to us (as he was still stacking up his chips), the opponent had moved the last of his money into the middle with
, but Retallick called with
and it was off to the races.
Retallick picked up a boatload of outs with the
flop, but the turn and river came running kings to give him trips instead. Could you have hit that board any harder?
We found Raymond Dehkarghani all in and at risk on a
flop for the 74,000 he had left with around 132,000 already in the pot.
Dehkarghani:

Opponent:
Dehkarghani had flopped the nuts with Broadway but his opponent still had full house outs with an ace or jack. The opponent called for a jack but the turn and river came the
and
and Dehkarghani doubled.
Craig Sweden has doubled up his short stack after pushing all in over the top of Christian Harder's button raise with
. Harder made the call with
but the board came
making both the straight and the flush for Sweden as he doubled up to a much more respectable, but still short, 85,000.
Here are the big names to watch in this section today - mind you, this will be the first section to break as the field gets whittled down, so stay tuned!
Jogador
Fichas
Progresso

Daniel Retallick

960,000

Lars Bonding

769,500

Takaaki Nakayama

657,000

Peter Jetten

657,000

David Vamplew

451,000

447,500

Bryan Colin

383,000

Christopher Brammer

373,000

Tony Hachem

355,500

Team Pro (Australia)

Allen Cunningham

274,000

Philip Meulyzer

265,500

Tyler Bonkowski

236,500

Alex Kamberis

201,500

150,000

Thomas Fuller

142,000

Jeffrey Lisandro

106,000

73,500