Event #58: $10,000 Main Event
Dias: 1d
Event #58: $10,000 Main Event
Dia 1d Começado
It's almost time for the final starting day of the 2011 World Series of Poker Main Event. Yesterday was Day 1c and the largest starting day of the three so far with 2,181 players coming out to action. Day 1d is always the largest, so we can expect the numbers to be massive here today. Many WSOP officials are saying that the total size of today's final starting flight will be well over 3,000. A few even commented that they should cap out at around 4,100. The total field size so far is 4,063 entrants.
Fred Berger emerged as chip leader after Day 1a with 209,500 in chips. After Day 1b, Ben Lamb bagged the most with 188,925. After Day 1c, Kevin Song ended with 163,325. It's interesting to note that Berger is the overall chip leader so far after playing in the starting day with the least amount of players (897). From there, the larger the starting the field, the smaller the chip leader's stack at the end of the day. If that trend sticks today, the Day 1d chip leader will finish with the least amount of the four Day 1 chip leaders. As stated before, no overall Day 1 chip leader has ever gone on to win the WSOP Main Event. Joe Cada was Day 1c chip leader in 2009, but he was far from the overall leader entering the Day 2s.
Song, the leader from yesterday's flight, is a gold bracelet winner and has plenty of solid results on the WSOP felt. His bracelet win came back in 1997 in the $2,000 Limit Hold'em event. For that win, Song earned $397,120 in prize money. He holds $848,596 in WSOP all-time earnings and over $3.275 million in career tournament earnings. He has eight WSOP final tables. His ending stack is good enough for fifth on the overall leader board.
Overall Top Five Chip Stacks
| Place | Player | Chips | Starting Day |
| --- | --- | --- | --- |
| 1 | Fred Berger | 209,500 | 1a |
| 2 | Ben Lamb | 188,925 | 1b |
| 3 | Shane Sigsbee | 182,600 | 1a |
| 4 | Andrew Hinrichsen | 175,480* | 1b |
| 5 | Kevin Song | 163,325 | 1c |
*Hinrichsen's chip count has an error because there is no way to have 175,480 in chips due to the smallest domination chip being 25. This is his official chip count as given by the WSOP.
Play kicks off today at 12:00 PM PT again and it's going to be an exhilarating day of poker. As always with Day 1d, there will be hundreds and hundreds of big names in the field as they like to wait until the last starting day to play. Many of them enjoy playing without a break before their Day 2w while others enjoy how large the field size is.
Be sure to stay tuned to PokerNews for all of the live coverage straight from the Rio. Players will be spread out across both the Pavilion and Amazon Room, but we'll be scouring both all day long. While you wait, check out the July 10th update video from our very own Lynn Gilmartin. We apologize in advance for our lack of dance skills.
Nível: 1
Blinds: 50/100
Ante: 0
Nível 1 : 50/100, 0 ante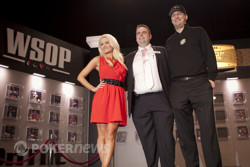 Tournament Director Jack Effel gave the daily announcements here on the bracelet stage in the Pavilion Room. Among the highlights was Phil Gordon presenting Phil Hellmuth with an award for biggest contributor to Bad Beat on Cancer during the 2011 WSOP.
When presented with the award, Hellmuth deadpanned, "I finally won something." The entire room seemed to know Hellmuth finished runner up three times this year, so the joke got a pretty good laugh. After that, Hellmuth was joined by Holly Madison, of Playboy, "The Girls Next Door," and "Peepshow" fame, and they jointly gave the ceremonial "Shuffle up and deal!"
With that, the cards are in the air and Day 1d is officially underway.
Still some empty seats, but a quick pass through the Black section here in the Pavilion Room at the start of play reveals a number of familiar folks seated and ready for action.
Jogador
Fichas
Progresso

30,000

Owais Ahmed

30,000

Antonio Esfandiari

30,000

30,000

Max Pescatori

30,000

30,000

Abe Mosseri

30,000

Barry Greenstein

30,000

30,000

30,000

Vanessa Rousso

30,000

Liv Boeree

30,000

30,000

30,000

30,000

30,000

30,000

Dani Stern

30,000

Miguel Proulx

30,000

Alex Wice

30,000

30,000

Josh Tieman

30,000

30,000

30,000

30,000
Jogador
Fichas
Progresso

Bertrand Grospellier

30,000

30,000

30,000

Alex Kostritsyn

30,000

Micah Raskin

30,000

30,000

30,000

30,000

30,000

Anthony Gregg

30,000

Mike Minetti

30,000

30,000
... there'll be pay in your pocket tonight!
That's a Midnight Oil reference, for those of you keeping score at home.
Jogador
Fichas
Progresso

30,000

Dwyte Pilgrim

30,000

Rene Angelil

30,000

30,000

30,000

Justin Young

30,000

30,000

30,000

Jennifer Tilly

30,000

Waki Waki

30,000
Jogador
Fichas
Progresso

Julian Thew

30,000

Age Spets

30,000

30,000

Johan van Til

30,000

Scott Bohlman

30,000

30,000

Francesco Torres

30,000

30,000

30,000

30,000

Tony Cousineau

30,000
Jogador
Fichas
Progresso

30,000

Noah Boeken

30,000

Team Pro (Netherlands)

30,000

30,000

30,000

Prahlad Friedman

30,000

Nelly

30,000

Paul Magriel

30,000

John Juanda

30,000

Tom Marchese

30,000

Alexandre Gomes

30,000

30,000

30,000

Mark "Pegasus" Smith

30,000

Victor Ramdin

30,000

Jesse Martin

30,000
We've just taken a quick scan around the Orange section, and it's pretty well scattered with notables. Most notable is the fact that we have a couple of former Main Event final tablists with us over here. In 2006, Mike Binger finished in third place overall behind Paul Wasicka and Jamie Gold, good enough for a score of more than $4 million for Binger. (Incidentally, brother Nick just one-upped him this week by winning the family's first bracelet.)
Two years later, the November Nine was formed, and Ivan Demidov was one of the inaugural members. He made it all the way to heads-up before falling to Peter Eastage, a feat that earned him more than $5.8 million. Demidov is here in our section today, too.
Joe Cada took the title the next year, besting Darvin Moon heads-up. Moon is one of those hard-to-describe characters in the poker world, and he's made his return to the WSOP today in the Orange section as well.
We're also privileged to have a 2010 November Niner in our area as John Dolan, the sixth-place finisher, is here.
Jogador
Fichas
Progresso

Robert Williamson III

30,000

Olga Varkonyi

30,000

Nichoel Jurgens

30,000

Ivan Demidov

30,000

Team Pro (Russia)

John Dolan

30,000

Matthew Jarvis

30,000

Steve Zolotow

30,000

30,000

Cyndy Violette

30,000

30,000

Lana O'Brien

30,000

Michael Chow

30,000

30,000

30,000

Shawn Sheikhan

30,000

30,000

30,000

30,000

30,000

Michael Binger

30,000

30,000

30,000