Nível 24 : 50,000/100,000, 12,500 ante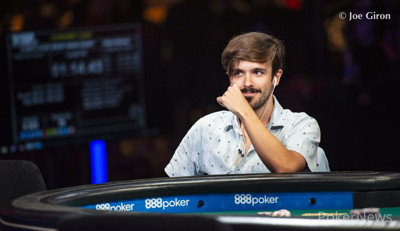 After almost 8.5 hours, Day 1 of the PokerStars 2021 SCOOP-22-H: $2,100 NLHE [Progressive KO, Thursday Thrill SE] has come to an end with 26 players making it through to the final day which will take place on Saturday, April 10. The tournament attracted 539 players to create a prize pool of $1,078,000 which easily surpassed the original $1,000,000 that was set aside.
After all the dust had settled, "darogio" went on a late surge to claim the chip lead with 16,284,694 in the bag for Day 2. "darogio" was hovering around the middle of the pack for most of the day but when there were 34 players left, they skyrocketed to the top.
Following "darogio" in the counts is a more familiar name in Yuri "theNERDguy" Dzivielevski with 13,213,812. The Brazilian won his first SCOOP title in SCOOP 09-M: $215 HORSE, $65K Gtd for $17,024 and will be looking for another win here.
Completing the top five are "lildani9" (10,546,668, Jonah "RaiseUpBlind" Silverstein (10,227,214), and "pappos_11" (8,014,796). But there are some more familiar names to be found if you look further down the list of chip counts. Joao "joaovbarb" Barbosa, Jans "Graftekkel" Arends, and Mike "SirWatts" Watson are just some of the many players who managed to find a virtual bag at the end of the night.
SCOOP-22-H: $2,100 NLHE [Progressive KO, Thursday Thrill SE] Top Ten Chip Counts
| Rank | Player | Country | Chip Count | Big Blinds* |
| --- | --- | --- | --- | --- |
| 1 | "darogio" | Poland | 16,284,694 | 136 |
| 2 | Yuri "theNERDguy" Dzivielevski | Brazil | 13,213,812 | 110 |
| 3 | "lildani9" | Hungary | 10,546,668 | 88 |
| 4 | Jonah "RaiseUpBlind" Silverstein | Canada | 10,227,214 | 85 |
| 5 | "pappos_11" | Greece | 8,014,796 | 67 |
| 6 | Pedro "LgwZ" Grochocki | Brazil | 6,922,301 | 58 |
| 7 | "roohoz" | Finland | 6,742,654 | 56 |
| 8 | "drew.derzh" | Ukraine | 6,719,537 | 56 |
| 9 | "BasedAces" | Finland | 5,531,824 | 46 |
| 10 | "roo_400" | Canada | 5,518,739 | 46 |
*number of big blinds based on Level 25: 60,000/120,000/15,000
Action of the Day
Kayhan "KayhanMok" Roshanfekr would be responsible for claiming the first bounty of the day when he took out "untouchble10" but he wouldn't make it to the money stages himself either. As today's tournament was a freezeout, many of the big names fell before the late registration period closed. Recent SCOOP winners Julian "julianpineda" Pineda, Thiago "KKremate" Crema, Samuel "€urop€an" Vousden, Jargo "bungakat" Alavali, Bruno "great dant" Volkmann, Ilya "Leqenden" Anatsky, Talal "raidalot" Shakerchi, and Ilari "Fabahaba" Tahkokallio all busted before that point.
It was a similar story for the PokerStars Ambassadors. Parker "tonkaaaa" Talbot, Ramon "RamonColillas" Colillas, Sam "SamSquid" Grafton, and [/b]Fintan "EasyWithAces" Hand[/b] all busted in the earlier stages of the tournament with Hand running the deepest, finishing in 179th place.
With only 63 players getting paid, a lot of poker talent saw their hopes of a deep run in this event dashed before even cashing. Dejan "dejanlc357" Kaladjurdjevic has won three SCOOP events this year already but wouldn't make it four in this one as he was eliminated as the bubble boy when his raise was called by "vladxxxro". On the four-five-deuce flop, "vladxxxro" check-shoved on Kaladjurdjevic's continuation-bet and was called. "vladxxxro" had flopped the open-ended straight draw while Kaladjurdjevic held the overpair with the pocket jacks. In the end, "vladxxxro" would hit the runner-runner flush to burst the bubble.
Things moved fast from there onwards. Many more well-known players would find their way to the rail like Andy "BowieEffect" Wilson, Dario "Secret_M0d3" Sammartino, Ismael "Isidinho" Bojang, and Dominik "Bounatirou" Nitsche.
"darogio" took out Anatoly "NL_Profit" Filatov and Jonas "donut604" Mackoff in one hand, to then bust David "dpeters17" Peters, before downing "baneris" in 28th place. This would normally mean that the rest would break for the final day but "grigorq77" had put their tournament life at risk at the same time to bust to Silverstein to get the field down to 26.
Plan for Day 2
The 26 returning players will finish the last few seconds of Level 24, on Saturday, April 10 at 7:05 p.m. CEST, which features a small blind of 50,000, a big blind of 100,000, and a running ante of 12,500. The level after that features a small blind of 60,000, a big blind of 120,000, and a running ante of 15,000. The level duration should remain at 20 minutes but might increase once the final table has been reached.
All 26 players have secured $4,064 but will all be looking to add more bounties and that first-place prize of $83,473 to their bankrolls.
The PokerStars Twitch stream will be live too with hole cards coverage on a 30-minute delay so the PokerNews updates will be on a similar delay to avoid any spoilers. Make sure to keep following along with all the action.
Left to Play for:
| Place | Prize |
| --- | --- |
| 1 | $83,473 |
| 2 | $83,473 |
| 3 | $53,731 |
| 4 | $40,332 |
| 5 | $30,274 |
| 6 | $22,724 |
| 7 | $17,057 |
| 8 | $12,803 |
| 9 | $9,611 |
| 10-13 | $7,214 |
| 14-17 | $5,415 |
| 18-26 | $4,064 |