Mattson Leads the Final Table of the PokerStars SCOOP-13-H: $10,300 NLHE [8-Max], $1M Gtd

Nível 23 : 35,000-70,000, 8,750 ante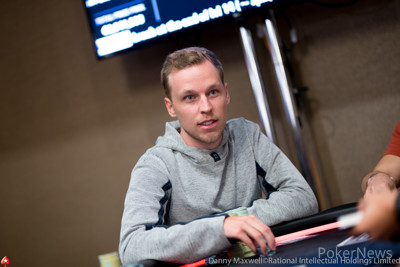 After just over 8.5 hours, Day 1 of the SCOOP-13-H: $10,300 NLHE [8-Max], $1M Gtd has come to an end with Simon "C. Darwin2" Mattsson claiming the chip lead for Day 2's final table. The thirteenth High buy-in event of the 2021 PokerStars Spring Championship of Online Poker attracted 68 unique players who reentered 37 times to get to a total of 105 entries to create a prize purse of $1,050,000.
Mattsson spent the latter stages of the day on the table that featured the bigger stacks of the tournament and he benefitted most from it as he comes back for Day 2 with 10,820,020 which is almost three times as much as Timothy "Tim0thee" Adams who was the table leader on the other table.
Adams returns for Day 2 with 3,898,342 in chips which is worth 56 big blinds. Christoph "26071985" Vogelsang is the only other player who would end up with an above-average stack for the final table with 2,934,643, worth 42 big blinds.
Two unfamiliar names in "Piggysnipz" and "psihodelik31" join them on the final table together with Wiktor "Iimitless" Malinowski, Pablo "pabritz" Brito, Joni "bustoville" Jouhkimainen, and Pedro "pvigar" Garagnani.
SCOOP-13-H: $10,300 NLHE [8-Max], $1M Gtd Final Table Chip Counts
| Rank | Player | Country | Chip Count | Big Blinds |
| --- | --- | --- | --- | --- |
| 1 | Simon "C. Darwin2" Mattsson | Sweden | 10,820,050 | 155 |
| 2 | Timothy "Tim0thee" Adams | Canada | 3,898,342 | 56 |
| 3 | Christoph "26071985" Vogelsang | Germany | 2,934,643 | 42 |
| 4 | Piggysnipz | Canada | 2,036,135 | 29 |
| 5 | psihodelik31 | Russia | 1,823,385 | 26 |
| 6 | Wiktor "Iimitless" Malinowski | Poland | 1,741,973 | 25 |
| 7 | Pablo "pabritz" Brito | Brazil | 1,213,970 | 17 |
| 8 | Joni "bustoville" Jouhkimainen | Finland | 913,810 | 13 |
| 9 | Pedro "pvigar" Garagnani | Brazil | 867,692 | 12 |
Action of the Day
The tournament kicked off with eight players in their seats but were quickly joined by more players. Newly minted PokerStars Ambassador Sam "SamSquid" Grafton joined in the second level of the day and quickly joined the top of the counts when he doubled up through Bert "girafganger7" Stevens and stayed there until the registration period closed.
This wasn't the case for everyone though as Laszlo "omaha4rollz" Bujtas and Artur "mararthur1" Martirosian both used three bullets within the first five hours of the day. But there weren't the only players who used three buy-ins to end up not cashing. Matthias "iambest2" Eibinger, Michael "imluckbox" Addamo, David "MissOracle" Yan, and Sam "Str8$$$Homey" Greenwood all busted without getting any return on their investment.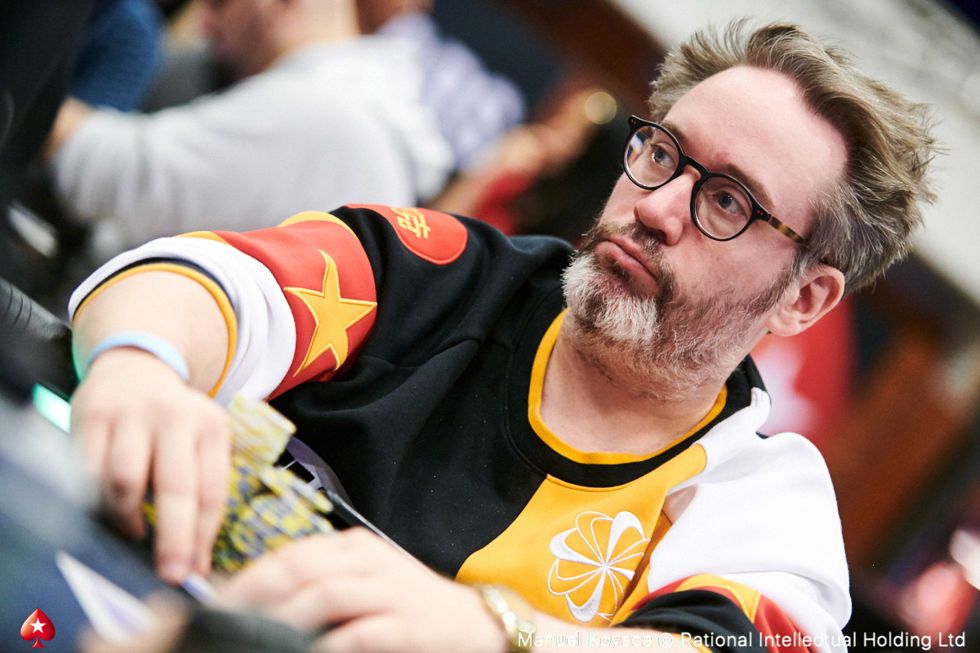 Grafton had doubled up Mattsson when he saw his flopped top pair get overturned by the flush of the Swede to leave him just over a big blind. Adrian "Amadi_017" Mateos busted before Grafton saw his last few chips go to Samuel "€urop€an" Vousden who held pocket sixes. Vousden couldn't keep hold of those chips though as he was next to go.
Hand-for-hand play started, two away from the money and several double-ups took place before Jans "Graftekkel" Arends would bust to Ivan "zufo16" Zufic who flopped a set with the lower pocket pair. But Zufic couldn't keep his run going as he saw his stack disappear when he shoved on the jack-four-ace-jack-five board with queen-ten. Mattsson had the jack-nine for trips to burst the bubble.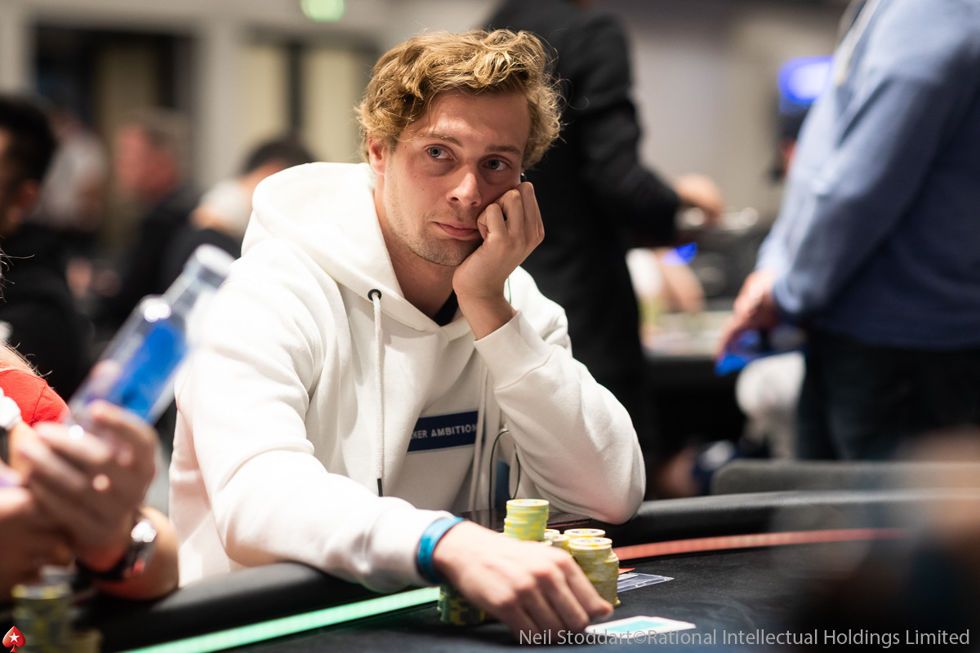 Niklas "Lena900" Astedt busted in the first hand once the money had been reached as he ran his ace-king into the ace-jack of Vogelsang. The German flopped the straight and didn't look back. Teun "tinnoemulder" Mulder then busted in a three-way all-in pot with "psihodelik31" and "Piggysnipz" before his fellow countryman was eliminated by Malinowski.
Over on the other table, Mattsson was blowing through the stack of his opponents, putting pressure on them all, and building his stack up even more. In the end, he would be responsible for taking out Juan "Malaka$tyle" Pardo when he raise-called the shove of the Spaniard in a blind-vs-blind battle. Mattsson's pocket tens held for two pair to signal the end of the day.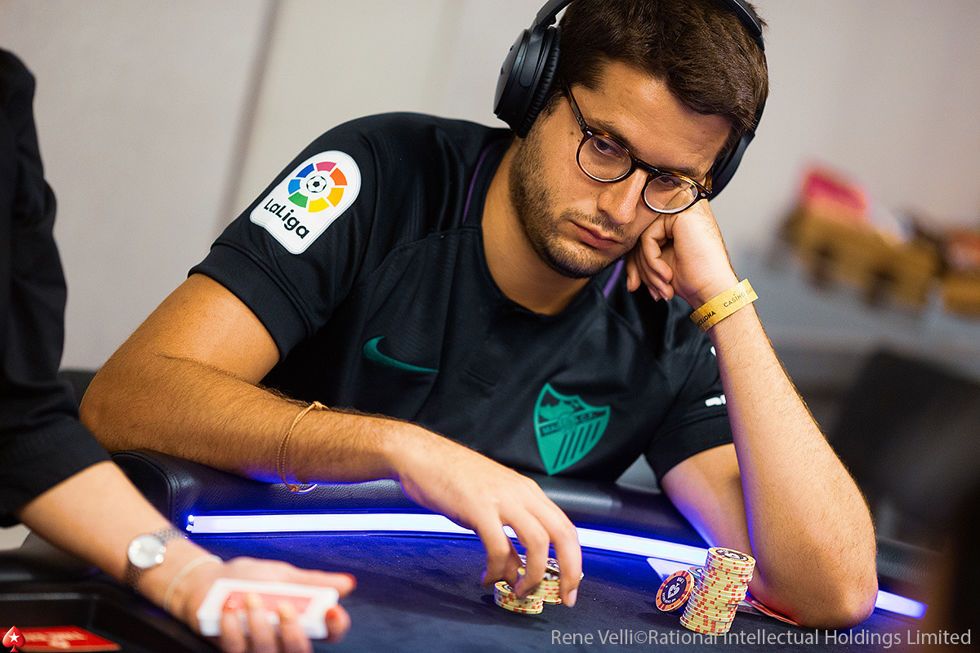 Plan for Day 2
When the players return on Wednesday, April 7 at 7:05 p.m. CEST, they will finish the remainder of Level 23 which features a small blind of 35,000, a big blind of 70,000, and a running ante of 8,750. Once they're done with that level, the duration of each level will be increased to 30 minutes and play will continue until a new SCOOP champion can be crowned.
The PokerStars Twitch channel will be live too with James Hartigan and Joe Stapleton behind their mics and cams. The hole cards will be shown on a 30-minute security delay and the PokerNews updates will be on the same delay to avoid spoilering the stream.
This is what is still left to play for as all returning players have secured at least $31,822 but will all be eyeing up that first-place prize of $241,957.
| Place | Prize |
| --- | --- |
| 1 | $241,957 |
| 2 | $185,766 |
| 3 | $142,624 |
| 4 | $109,502 |
| 5 | $84,072 |
| 6 | $64,547 |
| 7 | $49,557 |
| 8 | $38,048 |
| 9 | $31,822 |